Veterans of all ages may be eligible for a free medical alert system from providers that have partnered with the Department of Veterans Affairs. These systems can help you or your loved one remain safer and more independent even when living alone. These devices are sometimes referred to as personal emergency response systems (PERS) and usually take the form of a bracelet or pendant. The features and functionality vary, from basics such as two-way speech to automatic fall detection, GPS and voice guidance.
Whether it's needed due to a physical disability, health concerns or a simple matter of the years adding up, veterans may qualify for a free medical alert system from the VA or state assistance programs. The VA recommends wearing a medical alert bracelet to get help quickly in many scenarios, from food allergies to Alzheimer's disease, and for storing vital health information to be accessed in an emergency.
This guide explains the options available for veterans interested in getting a free medical alert system from the VA and how to submit a request. Other potential sources of assistance are also detailed, as well as a state-by-state list of Medicaid programs that may cover the cost.
Free Medical Alert Systems from the VA
As of 2022, there are two VA-approved medical alert systems, Latitude Mobile Alert (formerly known as LiveLife Mobile) and MedEquip Alert, which are described below in further detail. Both of these devices are free for eligible veterans — with no upfront, monthly or other costs — when prescribed by a VA physician and authorized by the VA. In order to receive a free device, the VA physician is required to document the reason and need for the PERS, such as fall risk, cognitive impairment and other medical conditions that require immediate medical attention when emergencies happen.
Latitude Mobile Alert
The Latitude Mobile Alert works indoors and out and offers more features than the alternative VA-approved device, including fall detection, GPS and 4G mobile connection in even the standard model.
The Latitude Mobile Alert has its own mobile number and can receive calls, although the device isn't meant to be used casually as a replacement for other phones. This capability gives close contacts another way of reaching the user in a suspected emergency.
The device can be programmed to automatically answer trusted callers and also activate speakerphone mode to make it easier to use for a person with restricted mobility. MedEquip Alert devices lack these features and instead provide 24/7 monitored service with a call center.
During the order process, veterans can submit the contact details of up to six people and/or organizations. Latitude staff will then program the device so it's ready to go as soon as it arrives, and users can customize the list at any time.
Latitude USA has a contract with the Department of Veterans Affairs authorizing it to provide this device at no cost to eligible veterans anywhere in the country. Likewise, there's no cost for ongoing service, maintenance or upkeep.
Latitude Mobile Alert Features and Functionality
| | |
| --- | --- |
| Connection | AT&T cellular network |
| Location Services | Provided via GPS, Bluetooth 5 and Wi-Fi |
| Monitoring Service | Unmonitored (can be programmed to call 911) |
| Communication Options | Text, speech, custom alerts |
| Device Style | Small pendant |
| Charging | Home charging station, magnetic USB cable |
| Programmable? | Programmable with up to six contacts in order of priority |
| Fall Detection | Automatic alerts, adjustable sensitivity |
MedEquip Alert
The alternative for veterans who need a free personal emergency response system through the VA is MedEquip Alert. It has fewer features than Latitude Mobile Alert, but the 24/7 monitoring service is important for many veterans and their families.
Although this device looks fairly similar to those provided by Latitude USA, and both share many similar features, one of the major differences is that MedEquip Alert devices are monitored. This allows the user to quickly contact the monitoring center for help at any time, day or night, while the Latitude device is unmonitored and can only send alerts to programmed contacts.
Furthermore, operators at the monitoring center are automatically provided with the name, address and GPS location associated with the MedEquip Alert device in an emergency situation, which can help reduce response times.
As with the Latitude USA product, the MedEquip Alert system is provided to eligible veterans with no initial or ongoing costs attached.
MedEquip Alert Features and Functionality
| | |
| --- | --- |
| Connection | AT&T cellular network |
| Location Services | GPS |
| Monitoring Service | 24/7 monitoring center |
| Communication Options | Text, speech |
| Device Style | Small pendant |
| Charging | Adapter, magnetic USB cable |
| Programmable? | No |
| Fall Detection | Automatic alerts |
How to Qualify and Apply for a Free Medical Alert System From the VA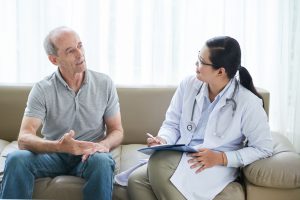 Qualifying for a medical alert system through the VA depends on the veteran's health conditions, functional abilities and quality of life, and eligibility is determined as part of the application process.
To request a medical alert system paid for by the VA:
Contact the individual's VA primary care doctor or VA hospital clinician
Discuss the reasons for requesting a medical alert system (no family nearby, risk of falls, previous incidents, etc.)
The physician may then send a prescription to the VA for authorization
If approved, the requested device is provided at no cost directly through Latitude USA or MedEquip
The VA Benefits helpline can be contacted at (800) 827-1000. Veterans can also contact their state's Department of Veterans' Affairs office to arrange in-person assistance.
Other VA Assistance for Medical Alert Systems
Two VA programs, Aid and Attendance and the Housebound Allowance can be used to cover the cost of a medical alert system. These programs aren't specifically limited to providing medical alert systems, and the benefits are intended to help veterans pay for care due to disability or other limitations by increasing their monthly VA pension amount.
Aid and Attendance benefits are for veterans who receive a pension and meet at least one of these conditions:
Require assistance with activities of daily life (hygiene, mobility, meal preparation, etc.)
Limited to bed for much of the day due to illness
Living in a nursing home due to physical and/or mental disability
Limited eyesight
Housebound Allowance benefits are for veterans who receive a pension and are limited to their home for much of the day due to a permanent disability.
Further details and a downloadable application form can be found on the VA website. Help is also available at regional VA offices.
Other Ways to Get a Free or Low-Cost Medical Alert System
The following programs and organizations are potential sources of full or partial coverage for a medical alert system and can provide information on how to qualify. The Eldercare Locator and local AAA offices are good places to start.
| | | |
| --- | --- | --- |
| Program Name | Contact Information | Services Available |
| Local Area Agencies on Aging | Call the Eldercare Locator at (800) 677-1166 or search for local services online | Area Agencies on Aging can connect seniors and veterans with disabilities with local and state assistance programs that may help cover the cost of medical alert systems. |
| Medicare Advantage (Part C) | Call (877) 839-2675 or find local assistance via the website | Personal emergency response systems and similar alert devices are covered by some Medicare Advantage plans, but this coverage varies depending on the plan chosen. Medicare beneficiaries can call or visit the linked website for help with determining coverage. |
| Long-Term Care Insurance | Learn more via the website then contact a local insurance agent or broker | LTC insurance policies often cover some or all of the costs associated with medical alert and personal response systems. This website explains long-term care insurance, who it's for, what it covers and how to get it. |
| AARP Member Discount for Philips Lifeline | (855) 345-0130 | There are two types of Philips Lifeline medical alert systems available with a 15% discount on the monthly subscription cost for AARP members. Both systems provide 24/7 monitored service. |
State-by-State Guide for Free Medical Alert Systems
While the VA provides a fairly standard set of benefits and services nationwide, the states are left to decide on coverage for medical alert systems via Medicaid and its waiver programs, so there may be another pathway to getting a free system in your state.
We've made a list of the applicable Medicaid waiver programs for each state, which are generally available to low-income residents who meet other requirements. For example, most programs require applicants to be aged at least 60 years old or have a qualifying disability as defined by Social Security. For the purposes of Medicaid and waiver coverage, medical alert systems are usually categorized as personal emergency response systems and sometimes more broadly as assistive technology (AT).