COVID-19 Rules for Assisted Living in Carlsbad
For assisted living communities, COVID-19 rules and regulations are typically set at the state level. You can view specific rules on our guide to assisted living in CA. These rules change often, and many communities have policies in place that go above and beyond what's required by the state, so you should contact your local community for more information. Additionally, you can contact your local Area Agency on Aging to learn more.
How to Pay for Assisted Living in Carlsbad
The average cost for an assisted living facility in Carlsbad is $5,475 per month. This is $225 higher than the average for the state of California and nearly $1,000 more than the average for the United States.
Assisted Living in Carlsbad vs. Nearby Cities
Among Southern California's coastal cities, Carlsbad has neither the highest nor lowest assisted living prices. Rates are slightly lower in Los Angeles, where the monthly average is $5,250. Oxnard has a median rate of $5,750, which is slightly higher than Carlsbad. Inland cities range from $4,000 per month in Riverside to $6,150 per month in El Centro.
Carlsbad: $5,475
California: $5,250
United States: $4,500
Los Angeles: $5,250
El Centro: $6,150
Riverside: $4,000
Oxnard: $5,750
Assisted Living vs. Other Types of Care in Carlsbad, CA
Assisted living is one of the most affordable care options for seniors in Carlsbad. Adult day health care is less expensive at $2,058 per month, but it is available during limited hours and does not offer permanent residence. For seniors who want to receive full-time care within their existing homes, the average cost is considerably higher than assisted living. Homemaker services cost $6,387 per month, and home health care costs $6,473 per month. Nursing homes are the most expensive type of care in Carlsbad, at $9,384 a month.
Assisted Living: $5,475
Homemaker Services: $6,387
Home Health Care: $6,473
Adult Day Health Care: $2,058
Nursing Homes (semiprivate room): $9,384
Note: Data for Carlsbad was unavailable, so data for the nearest city, San Diego, was used instead.
Financial Assistance for Assisted Living in Carlsbad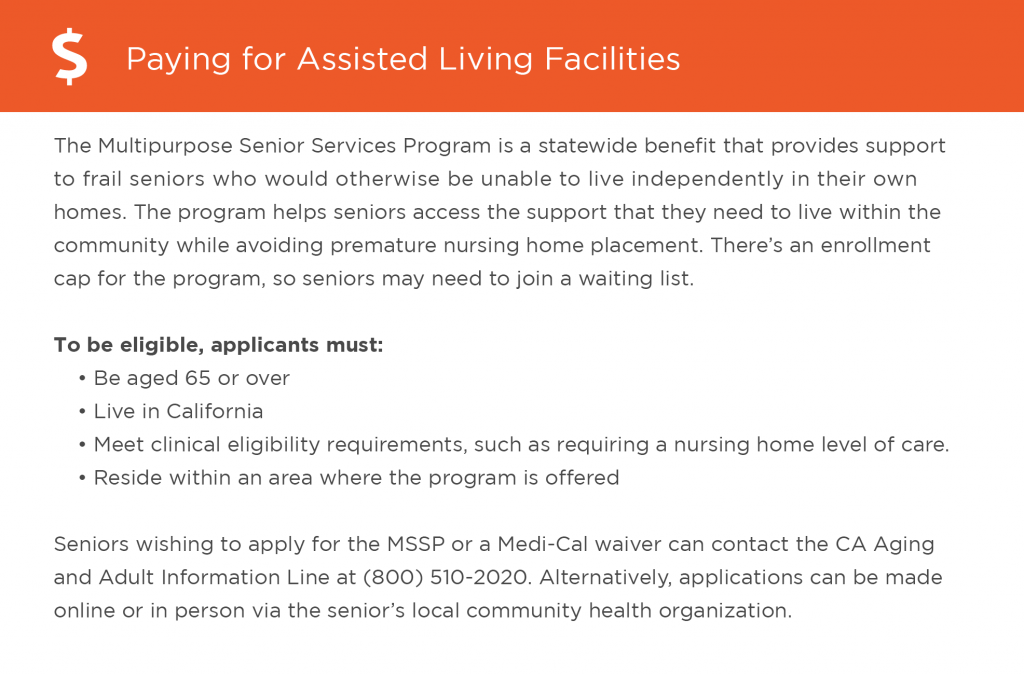 Other Ways to Pay for Assisted Living in Carlsbad
Since not everyone can afford to pay for assisted living out-of-pocket, it's important to find alternative methods to help make assisted living more affordable. Some of these options include:
Veterans Benefits
Life Insurance Policy
Long-Term Care Insurance
Reverse Mortgage
For more information about your options for making assisted living more affordable, visit our guide to Assisted Living in Carlsbad.
Free and Low-Cost Assisted Living Resources for Seniors in Carlsbad
The following resources available to families in Carlsbad may help seniors find assisted living and improve quality of life within long-term care communities.
| | | |
| --- | --- | --- |
| Resource | Contact | Service |
| Carlsbad Senior Center | (442) 339-2650 | Assisted living residents can visit the Carlsbad Senior Center to meet new people and participate in an array of social and recreational activities. The center hosts everything from bingo and line dancing to gardening clubs and crafting courses. The programs and activities at the senior center are designed to fulfill the city's commitment to its Age-Friendly Carlsbad policy. |
| Reduced Transportation Fares | (619) 233-3004 | Seniors in Carlsbad have access to both the San Diego Metro Transit System (SDMTS) and the North County Transit District (NCTD). SDMTS offers reduced fares on buses, trolleys and COASTER for anyone aged 65 and older. NCTD offers half-priced fares and passes on SPRINT, Breeze and Flex rides for anyone on Medicare or aged 65 and older. |
| Veterans Association of North County | (760) 722-1277 | Veterans who served at Camp Pendleton, MCAS Miramar or other bases and now live in Carlsbad can contact the Veterans Association of North County (VANC) for assistance with their benefits. VANC is staffed by Veteran Service Representatives (VSRs) who can help seniors with their pensions, VA health care or Aid & Attendance benefits, which can be used to pay for some services within assisted living. |
| Interfaith Community Services | (760) 448-5696 | Project Care refers seniors in need to helpful service providers in Carlsbad. It also offers information packets that may be useful to older adults in emergency situations. Trained client advocates strive to help seniors remain within the community rather than move into nursing homes. Interfaith Community Services is a not-for-profit organization with an office in Carlsbad. |
| Aging and Independence Services | (800) 339-4661 | The Area Agency on Aging that serves seniors in Carlsbad is operated by San Diego County's Aging and Independence Services department. It offers Adult Protective Services to investigate reports of abuse in assisted living. Its other services include care coordination, fall prevention, health insurance counseling, mental health assistance, advocacy and senior volunteer opportunities. |
Assisted Living Laws and Regulations in Carlsbad
Assisted Living Communities in Carlsbad are required to follow a set of rules and regulations that are determined by the state. For more specific information, talk with your local community or Area Agency on Aging.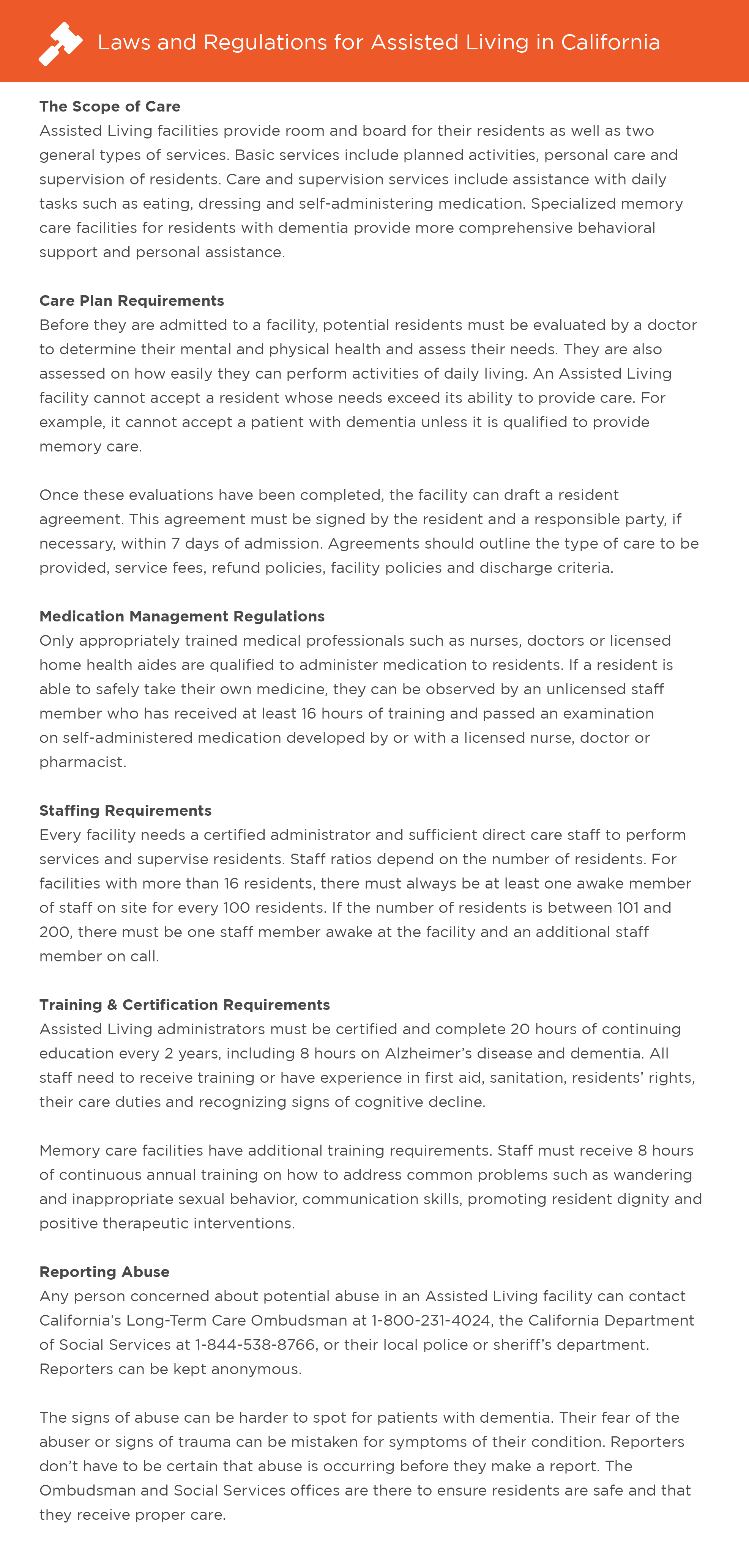 The Top Assisted Living Communities in the Carlsbad Area
In order to find the top assisted living communities in the Carlsbad area, our team of researchers:
Sorted through 47 communities using our unique methodology
Spent over 15 hours researching assisted living communities in Carlsbad
Read more than 375 reviews left by residents and their family members
After filtering out facilities that didn't meet our high standards, we were left with 10 assisted living communities that earned our seal of approval. Through this process we discovered that the average cost of assisted living in the city of Carlsbad is $5,475, which is higher than the state average of $5,250 and considerably higher than the national average of $4,500.

Jonathan Frank
Licensed Social Worker and Certified Dementia Practitioner
Jonathan Frank
Licensed Social Worker and Certified Dementia Practitioner
Jonathan Frank is a Licensed Social Worker with over 10 years experience working with the geriatric population in a variety of different settings. He received his Masters degree from Rutgers University with a certificate in Aging and Gerontological Services. Additionally, he is a Certified Dementia Practitioner accredited by the National Council of Certified Dementia Practitioners. Jonathan also has Bachelors degree in psychology and worked as an Emergency Medical Technician for 14 years. His passion lies with the elderly and ensuring they age with dignity.
Read on for in-depth information about the top assisted living facilities in Carlsbad, a brief dive into our methodology for determining the best assisted living communities, and a searchable directory of475 communities in the Carlsbad area.
AssistedLiving.org Trusted Communities
AssistedLiving.org spent dozens of hours researching the top assisted living communities in the Carlsbad area to allow seniors and their families to find the community that's right for them. Click through the facilities listed below to read in-depth reviews, what residents are saying, and details such as base pricing, room types, and more. Studios, 1-Bedroom Apartments, 2-Bedroom Apartments, Companion Suites
Assisted Living, Memory Care, Respite Situated near La Costa Urgent Care and Scripps Coastal Medical Center, Sunrise at La Costa is a vibrant assisted living community that accommodates up to 103 residents. Seniors can enjoy stimulating physical, mental and spiritual activities every day and forge new interests. Sunrise at La Costa focuses on promoting strong physical and mental health through its well-balanced meals and environment. The community is also adjacent to the Carlsbad City Library, which hosts opera performances, the local flower festival and other activities.
What Residents are Saying:
Numerous residents and visitors at Sunrise of La Costa have mentioned how much they enjoy the community's modern aesthetics and helpful staff. One resident's family member said, "It seems to be very well-kept, and it's a very pretty facility. It's active and clean, and the attendants seemed very attentive and answered all of our questions."
4.43 out of 5 stars
(66) Reviews
7020 Manzanita Street, Carlsbad, CA 11174
La Costa Heights Assisted Living
Our Methodology
It's not what we research, but the way we research that makes AssistedLiving.org stand out. We start by identifying problems and challenges in the senior care industry by gaining insight from conversations with industry professionals, older adults, and those that care for them. Next, our research team led by industry experts apply our data-driven research techniques to understand the magnitude of the challenge and how to overcome it. Finally, we present our findings in easy-to-understand guides and studies and share our actionable results with influencers and caregivers, as well as the general public.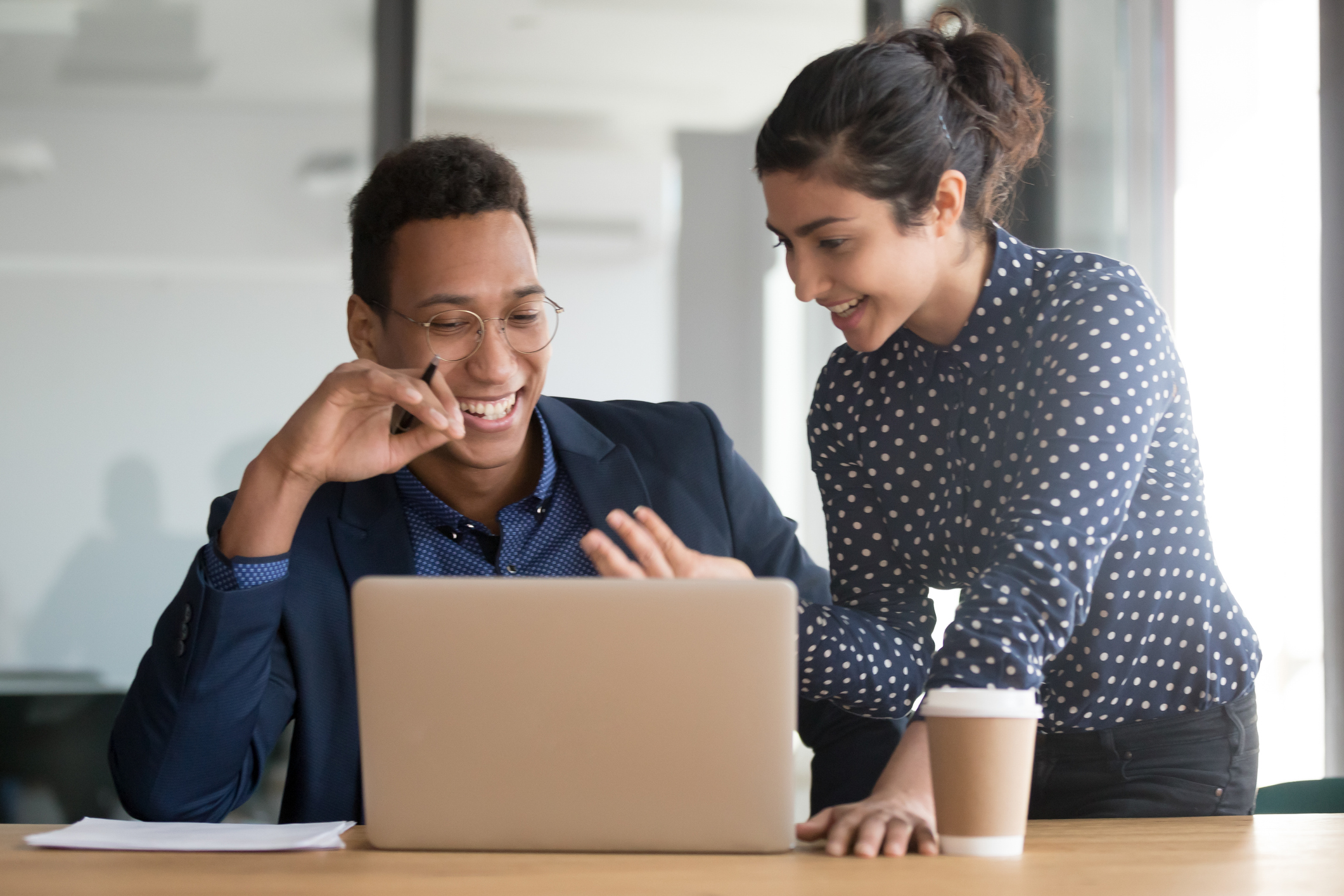 Facility Features (40%)
Facility Health Services Graded on health services provided
on the facility including, but not
limited to, on-site nursing,
pharmacy, skilled nursing,
medicine administration, etc
Facility Amenities Graded on the available
amenities.
Affordability Financial assistance acceptance
and overall costs and value.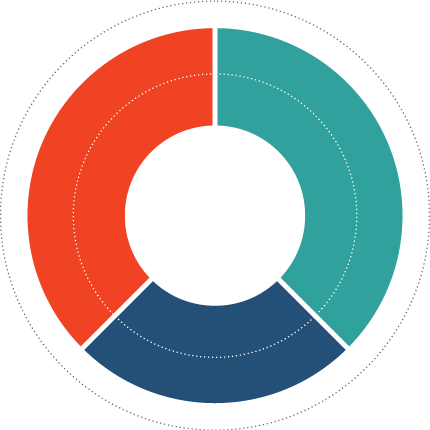 Residential Quality (40%)
Resident Satisfaction Polling & survey of overall facility satisfaction.
Facility Complaint and Violations Number of complaints and violations the facility had. Taking into account improvement over time.
Online Reviews Aggregated verified online reviews.
Location (20%)
Location-Based Benefits Including, but not limited to, proximity to
hospitals, ambulance response times, senior
resources available, and state and city
financial assistance.
Location Quality Local crime rates, incidents against older adults, air quality, climate.
Showing of Communities