COVID-19 has everyone staying home, but seniors have been instructed to be especially diligent about social distancing due to their increased risk of hospitalization and death from the coronavirus. With many seniors isolating themselves, their normal support systems may not be able to help them for the time being. But, the need for necessities and support remains. Online shopping can be a great way for seniors to procure things that can make them safer, healthier, and happier, while still following proper social distancing protocols.

Caregivers, family members, and friends of seniors can also utilize online shopping to ensure that their loved one has everything they need while staying safe at home. To help you choose the best items for the senior in your life, we've compiled a list of essential products that can help seniors who are aging in place stay happy, healthy and connected to loved ones while they're physically isolated from family and friends. We've also included some ideas for "care packages" that can help support your loved one's health and mood, whether they live independently at home or in a residential care facility.
Tips for Seniors Shopping Online
Seniors, as well as younger adults, are shopping online now more than ever. As of March 12th, online shopping had increased by 52% compared to the previous year. While younger people are likely used to shopping online, seniors may be new to the experience. The following tips can help ensure that seniors shop safely and wisely:

Be aware of "promoted" products or the "ad" search results on Google, as these companies are paying to have their products appear high on search results and may not actually be the best options.
When available, always read reviews of real customers' experience with the product or customer service a company provides.
If you find a product that you want to purchase, you can do a Google search on the item to see additional product reviews from other websites.
The price of the item is likely not the total price you'll pay. Be sure to check the total price, including shipping and tax, before you complete the transaction to avoid any surprise charges.
Make sure your internet connection is secure any time you're entering your bank account or credit card details to prevent fraud and theft.
5 Essentials for Aging in Place
With social distancing and stay-at-home orders in place, seniors may be coping without their usual resources and supports. Loved ones may be unable to visit them, and any regular social outings or activities are canceled for the time being. Not only can the current situation leave seniors feeling lonely, but it can also pose a safety risk for seniors who typically had loved ones come to help them with their daily tasks or check-in on them.

Isolation can have health impacts beyond safety, too. According to the National Institute on Aging, research has shown that loneliness is associated with a myriad of health problems, including high blood pressure, heart disease, obesity, and a weakened immune system, which is especially important to help seniors fight coronavirus. Loneliness is also linked to anxiety and depression. Finding ways to stay connected with our older loved ones, even when we can't be physically together, is vital for both mental and physical health.
The following essentials can help seniors aging in place stay safe during COVID-19 and beyond. Some are intended to prevent potentially dangerous incidents like falls, while other items, like tablets and laptops, can be used to access telehealth services and stay entertained and emotionally connected while physically distancing. All of the products can make this difficult time a little easier for seniors and their families.
Shower Chairs
Data reported by the National Council for Aging Care shows that one in four Americans over the age of 65 falls each year, and 80% of falls happen in the bathroom. Showers, with their slick, hard surfaces, can create a dangerous environment for seniors, especially those who live alone. A shower chair can make showers safer for seniors by eliminating the need to stand and move around, and can help seniors who live alone maintain proper hygiene by making showering easier.
When choosing a shower chair, you should look for one that is sturdy, has a no-slip design and/or floor grips, and is easy to assemble (or pre-assembled). One option that fits the bill is Dr. Kay's Adjustable Height Bath and Shower Chair Shower Bench, which has a five-star rating on Amazon from over 1,000 customers. It is a backless chair, however, so it may not be the right fit for everyone. For more information on the best shower chairs, including standard chairs, stools, and transfer benches, go to our full review of the best shower chairs for seniors.
Walkers
According to the Census Bureau, mobility challenges are the most common disability among older Americans. Mobility difficulties not only make seniors more prone to accidents like falls, but it may also cause them to be less active, which can lead to both mental and physical health problems. A walker can enable seniors who struggle with mobility to move more frequently and safely, even if it's just around their own home or around the corner.
But, different seniors will have different needs when it comes to selecting the right walker. For example, a standard walker with no wheels or two wheels provides more stability and support, while a four-wheeled walker, or rollator, offers more maneuverability. In any case, you should look for a walker that will easily fit in all of the senior's doorways and hallways (some measuring may be necessary).
If your loved one needs more support to move around, this two-wheeled walker by Drive Medical, with thousands of positive reviews on Amazon, may be the right fit. Though it's designed for stability more than maneuverability, it features easy-glide caps on the rear legs for easy movement. If you're more interested in a rollator, Drive Medical's four-wheeled walker has received similarly positive reviews on Amazon. To see more options for high-quality standard and four-wheeled walkers, check out our full review of the best walkers and rollators for seniors.
Laptops
While many young people use laptop computers, seniors may not be as familiar with the devices. But, laptops can be a great addition to seniors' lives, especially while social distancing. Seniors can use laptops to stay in touch with friends and family, for entertainment purposes, and for telehealth, which many providers are using to handle non-emergencies and prevent unnecessarily in-person visits during COVID-19.
There are many high-quality laptops available today from several different manufacturers. When choosing a laptop for your older loved one, consider what they'll primarily be using it for. If they'll mainly be using it for video chats and telehealth, a laptop with a high-resolution camera will likely be best. If it will often be used for streaming, long battery life and loud speakers may be the top priority.
Laptops are sold at many major retailers like Best Buy and Target as well as online. For an easy, simple shopping experience, you can purchase laptops on Amazon, like this highly-rated gaming laptop from Eluktronics. The lightweight design and impressive memory capacity make this device a good choice for gamers and casual laptop users alike. To see more options, view our full review of the best laptops for seniors.
Tablets
The Pew Research center reported that tablet ownership is growing among older adults, with roughly one-third of adults over the age of 65 owning a tablet as of 2017. A tablet can be a great option for seniors who mainly need a device for communicating with friends and family, telehealth, and browsing the web. Tablets are a lightweight, less expensive alternative to a laptop while still offering a larger, easier-to-read screen than smartphones.
Each person will have different priorities when selecting a tablet, but a good rule of thumb is to always check the battery life and sound quality, two important things for video chatting with loved ones or medical providers.
One of the most appealing things about tablets is their low price point compared to many laptops and smartphones. The top-rated tablet on Amazon, the Vankyo MatrixPad, costs under $150 and has a 32 GB memory with the option to add 128 GB. To see more tablet options that can suit seniors, visit our full review of the ten best tablets for seniors.
Medical Alert Systems
While families of seniors who are aging in place may be used to checking in on their loved one regularly, in-person interaction may not be possible at this time. This can cause a lot of anxiety and stress for family members of seniors who live independently as they worry about their loved one's safety while isolating. In addition to concerns regarding loneliness, families may worry that their loved one may have an emergency, such as a fall, and be unable to get the help they need in a timely manner.
Medical alert systems provide peace of mind for family members of seniors aging in place and make it significantly easier for seniors to get the help they need if an emergency does occur. With just the press of a button, seniors can connect with trained emergency operators. Some systems even include motion-sensing technology that automatically triggers a call to an emergency monitoring center if a fall or any other abnormal movement is detected.
If your loved one has mobility challenges or a history of falls, you'll likely want a medical alert device equipped with automatic fall detection (though it should be noted that the technology is not foolproof). You'll also need to consider whether your loved one is better suited for an in-home system, which is designed to only protect seniors in their home and sometimes yard, or a portable mobile device, which is intended for more active seniors and provides protection anywhere with cellular service. In any case, a durable, water-resistant device and a sufficient battery life should be top priorities for anyone looking for a medical alert system.
There are dozens of medical alert companies in the U.S., but not all companies are equal. To start, check out the devices from Medical Guardian, MobileHelp, and Life Fone. All three companies have a history of reliability and offer several different devices, including both in-home and mobile systems with and without fall detection. For an overview of even more companies and devices, read our full review of the best medical alert systems for seniors. For an easy way to compare quotes from various medical alert providers, check out eMedicalAlerts.com.
Care Package Ideas for Older Adults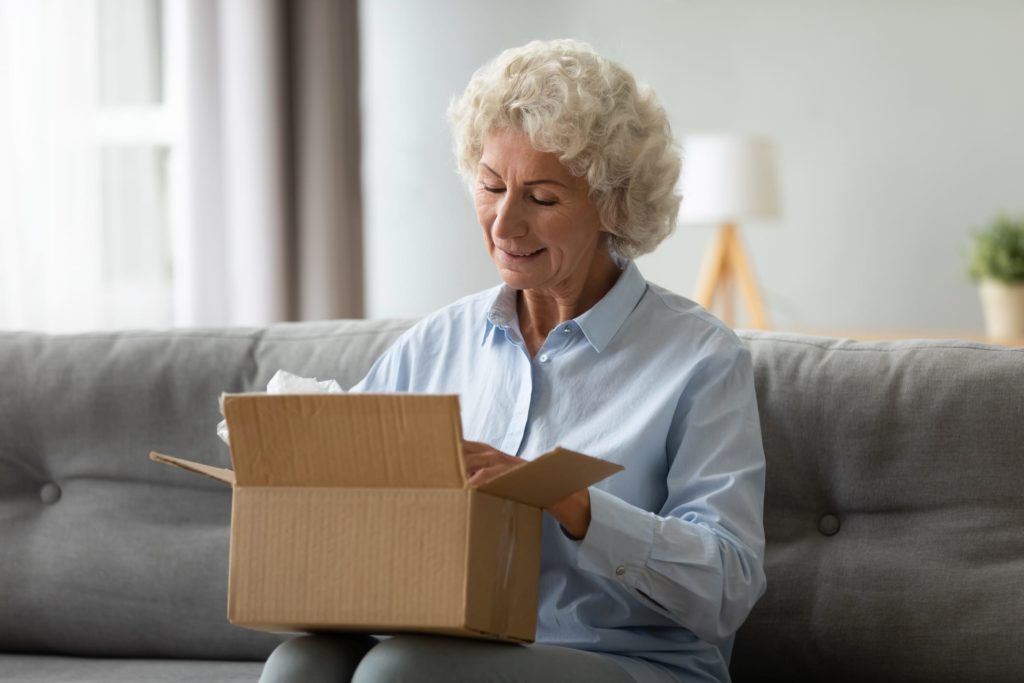 For the safety of residents, many senior living communities are significantly limiting or outright banning visitors for the time being. Visiting or bringing a gift in-person to an elderly loved one or friend in a senior living community may not be possible or safe right now, but there are still ways to show your loved one that you care. Utilizing online shopping to put together a "care package" of items for your loved one or friend is a great way to let them know you're thinking of them even though you can't visit in-person.
Below, you can read our suggestions for items to make a well-rounded care package for your loved one. The suggested categories of items are both practical and fun and can help keep your loved one healthy and entertained while they isolate themselves in their residence.
Vitamins and Supplements
Having a healthy immune system is more important than ever. Taking vitamins is an easy way to ensure one's body has everything they need to fight off illnesses and viruses and can be especially beneficial for seniors, who naturally have weaker immune systems than younger adults and may not get all of the vitamins and minerals they need through food alone.
A good place to start is Vitamin D, which has been proven to promote immune response. Low levels of Vitamin D have also been associated with increased risk of respiratory illnesses, which includes viral respiratory infections such as coronavirus. Sunshine Vitamins offers a year's supply of vitamin D supplements for under $15 on Amazon. Another good option for an immune system boost is Vitamin C, which researchers believe can both prevent and help treat respiratory infections. Amazon manufacturers and sells its own brand of vegan Vitamin C supplements that have over 1,000 positive reviews from customers.
Prostate Supplements
According to the University of Tennessee Medical Center, 30 million men live with prostate conditions that can negatively impact their day-to-day life. Prostate conditions become more common with age, with a whopping 90% of men age 70 or older living with symptoms of an enlarged prostate, a condition known as benign prostatic hyperplasia (BHP). BHP primarily causes discomfort and can lead to urinary tract infections, both of which are never desirable, especially when medical providers may be occupied with COVID-19 patients.
Along with eating a healthy, vegetable-heavy diet, prostate supplements are a simple way to help your older loved one maintain a healthy prostate. The supplements are affordable and easy to obtain through online retailers like Amazon. There are hundreds of options available on the website, including the top-rated Botanica Boost Prostate Supplement for Men. You can learn more about prostate supplements by reading our review of the top 25 prostate supplements for men.
Snacks and Nutritional Drinks
Whether your loved one lives on their own or in a senior living facility, getting snacks and other non-essential food items isn't as easy as it used to be. Adding some food to your care package can help your loved one feel supported and reduce any anxiety they have about running out of supplies. Healthy snacks like carrot sticks, citrus fruits, and fiber bars hold up well in the mail and offer some nutritional value for your loved one. You may also consider nutritional drinks such as Boost for extra assurance that your loved one is getting all of their necessary macronutrients, vitamins, and minerals while isolating. Glucerna is a good alternative for diabetics and can help keep blood sugar levels stable.
Games and Entertainment
Everyone is going a bit stir crazy as the coronavirus social distancing guidelines drag on, but for seniors who live alone, the loneliness and boredom may be more acute than for most. Including games and other items for entertainment, such as puzzles, in your care package can brighten your loved one's day and give them something to occupy themselves while isolating.
This 1,000 piece jigsaw puzzle, available on Amazon, is likely to provide hours of entertainment, and the end result is beautiful, especially for those who enjoy traveling to tropical locations. For those who are new to puzzles, a 300-piece puzzle may be a better option. You may also consider sending your loved one a DVD or two of their favorite films- plenty of classics are available on DVD on Amazon. 
Books
Dr. Alan Castel, Ph.D., refers to reading as "mental gymnastics for the brain," and says that reading may help prevent dementia. Beyond the cognitive benefits, books can provide entertainment, comfort, and serve as a great distraction from potentially anxiety-inducing current events. 
If you don't already know, ask your loved one what their favorite genre of book is. All types of books, from romance to historical biographies, are available online, often in value packs. For example, if your loved one is a fan of western novels, this 18-volume set of works by Louis L'Amour, can keep your loved one occupied and engaged for days, if not weeks.
Brain-game books can also be a great way to keep your loved one entertained and help them exercise their mind. This book has 399 games, puzzles, and trivia challenges to provide hours of entertainment. This option has 365 trivia questions and riddles specifically written for seniors, and is available for under $10 on Amazon.
All of the above items can make your loved one more comfortable while waiting for social distancing measures to be lifted, but none of them can actually prevent the virus' spread. Information about COVID-19 continues to be updated as experts learn more about the virus, but some advice on preventing the virus' spread has remained largely the same. To keep yourself and your loved ones healthy while sheltering in place, the best thing to do is still to simply wash your hands.