Aging comes with a variety of unique challenges, including deterioration of our teeth due to a lifetime of use. Hopefully you've been flossing, but even with the highest levels of dental hygiene, nearly every person will have had at least one cavity by their 60s. In addition to this alarming statistic, over a quarter of Americans will have no teeth by the time they reach age 65. Needing a comfortable solution to this common problem is no reason to despair- there are plenty of dentures on the market that are designed to look beautiful, and be affordable and easy to maintain.
Ensuring your dentures stay firmly in your mouth is easily the biggest problem associated with wearing dentures, but there are many types of products available to help you live without the fear that your dentures may pop out of your mouth. There are some important questions you will want to ask when trying to find the best product for your lifestyle, like:
Are you concerned with problematic ingredients like zinc that shouldn't be swallowed nightly? If so, you'll want to look for a zinc-free product.
Do you value ease of application? If so, you might want to try denture adhesive strips.
Sensitivity to chemicals is common, do you have a need to use all-natural ingredients?
Do you need relief from discomfort caused by ill-fitting dentures? Denture cream may be a solution while you wait for your next dentist appointment for a fitting.
See our list of the 24 best denture adhesives, from creams, powders, and adhesive strips, to figure out what products to try that might work best for you.
Denture Adhesive Creams
Trusted by millions and sold in drugstores worldwide, Effergrip denture adhesive is designed to provide comfortable, long-lasting security when you're worried about your dentures slipping.  The zinc-free formula is safe for those who worry about swallowing the product or being exposed to certain ingredients.
Key Features:
Zinc-free formula is safe for daily use
Strong adhesive ensures dentures stay in place and food particles don't become trapped underneath the dentures
Cost: See Amazon for Latest Price

The extra-strength formula provided by Fixodent Ultra guarantees slip-free leakage protection and cushioning for ill-fitting dentures. Simply apply the paste to your uppers and/or lowers and set into the mouth for all-day security throughout the day.
Key Features:
Extra-strength formula designed for all day hold
Soft cream provides a nice cushion for ill-fitting dentures in a sensitive mouth
Perfect for full sets of partials
Cost: See Amazon for Latest Price
This denture adhesive made our list for being a great holistic choice for those trying to avoid chemicals as much as possible in their daily routine. Using natural ingredients like gum wax and beneficial herbs produces an effective adhesive that reviewers love for its staying power as well as the comfortable experience, even if you have sore and sensitive gums.
Key Features:
Zinc-free formula includes soothing myrrh and aloe vera provide comfort to tender gums
Slip-proof holding power for all day comfort, even through meals
Cost: See Amazon for Latest Price
With the minty fresh flavor and zinc-free formula, this dental adhesive cream works hard to provide comfortable, long-lasting security for loose dentures. Simply apply the cream to gums and set dentures comfortably in place for all-day hold. This two-pack provides a more affordable option for those who appreciate quality at a great value.
Key Features:
Mint flavored for lasting fresh breath
Perfect for both upper and lower dentures
Value pack with two tubes of adhesive
Cost: See amazon for Latest Price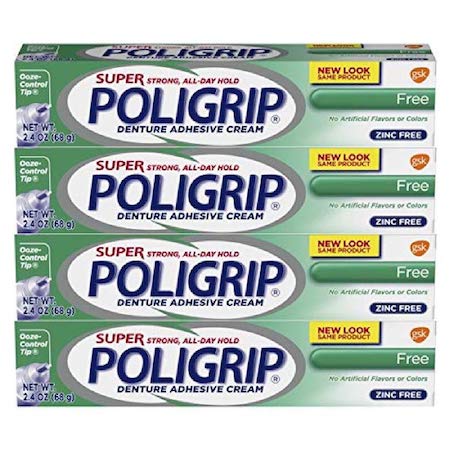 This new formula by Poligrip features a much shorter ingredient list, free of artificial colors, flavors, and zinc. The patented ooze-control tip helps alleviate a common issue with dentures- uncomfortable oozing around the teeth.
Key Features:
Special-shaped tip helps prevent excessive oozing
Zinc-free formula safer for everyday use than other products
Free of artificial flavors and colors
Cost: See Amazon for Latest Price
Y-Kelin denture adhesive cream specialized formula provides all-day hold, suitable even for sensitive gums with a zinc-free ingredient list that focuses on natural alternatives to commonly used chemicals. This product comes in an affordable two pack, providing extra value and convenience for those who need extra security for their dentures.
Key Features:
Two-pack for the cost of one store-brand product
Zinc-free formula designed for sensitivity problems
Long-lasting hold
Cost: See Amazon for Latest Price
Simply apply the Corega denture adhesive cream to your gums, set dentures in place, and press down firmly to enjoy the long-lasting slip-proof comfort provided by this adhesive. The zinc-free formula is mint flavored, for fresher breath and a more positive denture-wearing experience.
Key Features:
Zinc-free formula
Fresh minty taste
All-day hold
Cost: See Amazon for Latest Price
The researchers at Poligrip have formulated a new dental adhesive cream specially designed to actively seek out food particles to keep them out from under your dentures, preventing gum irritation and discomfort. The zinc-free formula is safer than industry standard, especially when you might be prone to swallowing denture cream. Additionally, the ooze-control tip is designed to help prevent excessive application that would lead to swallowing the product, giving those prone to swallowing their dental products another line of defense.
Key Features:
Zinc-free formula safer for everyday use and accidentally swallowing
Advanced dental technology helps prevent cavity discomfort
Two-pack for added value and less time between buying denture cream
Cost: See Amazon for Latest Price
Reviews online exclaim that this product is not only superior to competing denture adhesives, but it is offered at a superior value- when purchased in a four pack, it comes out to just over $5 a tube. Reviewers also say that the Secure denture adhesive is perfect for those with new dentures as well as those who have had to try many products over the years
Key Features:
Zinc-free formula safer for daily use than other brands
Lab-tested holding power lasts for at least twelve hours
Four pack for extra value
Cost: See Amazon for Latest Price
From the makers of Fixodent, the new Plus formula features TrueFeel technology, designed to simulate the feeling of real teeth. This 6 pack allows everyone to access bulk pricing with fast shipping, coming out at only $5 a tube, nearly half of retail pricing when purchased individually.
Key Features:
Perfect for full sets of partials, both uppers and lowers
Zinc-free formula is suitable for everyday use
True-feel technology provides a more natural feeling
Cost: See Amazon for Latest Price
This premium denture adhesive cream is perfect for the person more concerned with high-quality ingredients than a low price tag. OlivaFix uses all-natural olive oil to help soothe weary gums as well as provide excellent sticking power for ill-fitting dentures. Though this denture adhesive is more costly than its competitors, the container contains up to three times more product than a standard tube of adhesive, and is full of superior ingredients.
Key Features:
High-tech formula includes olive oil,
No sticky residue or unpleasant aftertaste
No zinc, parabens, or petroleum-based products
Cost: See Amazon for Latest Price
By replacing the industry-standard of petroleum products with all-natural pine resin to ensure the best staying power for those who need help keeping dentures in place, NaturDent provided shoppers with an eco-friendly and healthier option to the leading competitor. Additionally, this formula is said to leave a fresh taste in your mouth.
Key Features:
Natural pine resin provides excellent staying power for loose dentures without chemicals
Environmentally-conscious ingredients are good for your health and planet
No zinc, parabens, or petroleum products
Cost: See Amazon for Latest Price
This denture adhesive was created by a dental professional to help his patients dealing with the discomfort caused by ill-fitting dentures. Using soothing, moisturizing ingredients like coconut oil and aloe vera is a great way to improve the body's natural ability to fight dryness and the resulting possibility of sores and scrapes. This unique formula also features vitamins A, D, and E to help guarantee that you're always reaching your daily recommended value for best health.
Key Features:
Specially formulated to prevent dry spots and mouth sores
Contains healthy ingredients like coconut oil, aloe vera, and essential vitamins
Cleans gums and dentures
Cost: See Amazon for Latest Price
The Comfort Lining denture adhesive uses thermoplastic technology to provide a soft cushion for dentures to rest on that will last up to a week, providing a quality seal from food particles that is impervious to water. The zinc-free formula is safe and comfortable enough to use immediately following dental surgery and with new and immediate dentures.
Key Features:
Zinc-free formula
Waterproof protection for up to seven days
Soft formula for maximum comfort
Cost: See Amazon for Latest Price
This product was designed to help loose dentures fit like new, and last much longer than a typical denture adhesive paste- from two to five months according to reviews, when used properly. This multi pack is enough material for up to over a year's worth of denture maintenance, potentially saving you thousands of dollars at the dentist.
Key Features:
Lasts much longer than standard denture adhesive
Zinc-free formula
Three pack for extra value
Cost: See Amazon for Latest Price
The comfortable CushionGrip formula provides a waterproof seal for ill-fitting dentures that lasts up to four times longer than the leading competitor. The hybrid adhesive relining gel is easy to apply, zinc-free, and works differently than your standard adhesive cream. It molds to your gums and acts as more of a suction cup than a glue, holding your dentures firmly in place with a water-tight seal.
Key Features:
Thermoplastic material provides up to four days of comfortable slippage protection
Zinc-free formula
Soft material provides ultra-comfortable wear even on sensitive gums
Cost: See Amazon for Latest Price
This at-home solution to gum discomfort caused by denture slippage helps stop gum shrinkage, mouth soreness, and makes your dentures fit like new without the need for a daily adhesive cream. Simply mix the paste ingredients together and apply to dentures to create a long-lasting seal, solving your ill-fitting dentures problem at home and saving thousands in dental costs.
Key Features:
Soft formula feels good on damaged gums
Refit your dentures at home instead of using a daily cream
Six month supply
Cost: See Amazon for Latest Price
Denture Adhesive Powder
This denture adhesive powder is specially formulated to provide long-lasting hold for denture wearers that want to avoid the uncomfortable oozy mess often associated with cream adhesives. Simply sprinkle the powder onto clean, wet gums, and set your freshly cleaned dentures into place, for long-lasting security through meals, conversations, and hours of wear.
Key Features:
Powder formula helps keep adhesive exactly where it needs to be without oozing
Long-lasting holds prevents irritation, chapping, and anxiety over teeth slipping all day
Cost: $10
From the makers of one of the nation's most trusted dental adhesive pastes, Fixodent has created a new adhesive powder, for those that want the same reliable holding power without the potential sticky mess and unpleasant aftertaste of pastes. To use, just sprinkle the powder onto your moistened gums and put your clean dentures into place. This powder quickly forms an airtight bond that keeps food particles and moisture out while keeping your false teeth firmly in place.
Key Features:
Extra strength powder formula provides lasting hold and easy application
No ooze
Cost: See Amazon for Latest Price
A great option for those who dislike the oozing and taste of cream and gel adhesives, PoliGrips's extra strength adhesive powder provides lasting support, is easily applied and doesn't taste or irritate a sensitive gag reflex. The zinc-free formula is safe for everyday use, and doesn't have the metallic aftertaste often associated with other denture products.
Key Features:
Zinc-free powder formula
No taste
Holds all day, through drinks and meals
Cost: See Amazon for Latest Price
Denture Adhesive Strips
These extra-comfortable denture cushions apply easily- simply spray with water and bite down for long wear with vacuum-tight protection against sliding and food particles caught under your dentures. This value pack includes a 30 day supply of cushions for both lower and upper dentures.
Key Features:
Zinc-free formula
All-day strong hold
Maximum comfort with strong cushioned padding
Natural seaweed-derived ingredients
Cost: See Amazon for Latest Price
These premium denture adhesive strips are a favorite because they are so easy to use simply- simply apply and go! The cushioned pads provide extra comfort, particularly when old dentures are loose and causing discomfort. The lower and upper cushions are sold separately with this product. Both types feature minty fresh tasting adhesive.
Key Features:
Ooze-free
Zinc-free
Easy to apply
Mint-flavored for fresh breath
Cost: See Amazon for Latest Price
A handy replacement to messy cream denture adhesives, Ezo denture cushions provide a vacuum-tight seal for maximum comfort and hygiene for your dentures. Providing extra cushioning can be helpful when dentures are in between refittings, helping you eat comfortably without them sliding around in your mouth.
Key Features:
Vacuum grip keeps food out from beneath dentures
No odor, taste, or mess
Provides extra cushioning for maximum comfort when dentures are loose between refittings
Cost: See Amazon for Latest Price
These pre-cut strips provide excellent convenience for someone who simply needs a bit of extra help keeping their dentures in place and sealing out food particles. The thin strips are suitable for both upper and lower dentures, eliminating the need for more than one denture adhesive in your bathroom, and are pre-loaded with the perfect amount of adhesive for a great seal every time.
Key Features:
Zinc-free formulation is safe for everyday use
Easy to apply strips- simply attach to your dentures and use
All-day hold works throughout the day, even thru meals
Pre-cut strips with the exact amount of adhesive
Cost: See Amazon for Latest Price
Paying for Dental Care
Dentures can be a very costly expense, ranging anywhere from hundreds to thousands of dollars, depending on the dental work that needs to be done and whether you need a full set or partials. Some health care plans pay for dentures, but it is best to ask your health insurance provider first when trying to determine how to best pay for your dentures and associated maintenance costs.
Medicare and Other Assistance Programs
Original Medicare parts A and B do not cover routine dental services, though some newer Advantage plans may- check with your Medicare provider to learn exactly what is available to you. There are some other federal resources available for low-income elders who need help with paying for dental costs, such as the PACE (Program of All-Inclusive Care of the Elderly) waiver for those who would qualify for nursing home care- check your local Area Agency on Aging or visit healthcare.gov to find the closest contact who can help you apply for those programs. You can also seek out dental services through your local community healthcare centers, whom are often provided federal funds to help their communities maintain their teeth.
Dental Volunteer Groups
Given the lack of dental care available to low-income adults across the US, there are charity organizations devoted to connecting seniors who need dental assistance with dental professionals who volunteer their time and services to the needy. One program, Dental Lifeline, has offices across the country to provide volunteer dental care. Many states have open waitlists, so check the website to see if there are programs available in your area.
Dental Schools
Another option that could make sense for an elder with the ability to pay for dental care but who wants to save on costly denture expenses would be to seek out services at a local accredited dental school. In exchange for hands on practice with people in need of dental work, the schools often often reduced prices for services in an on-site clinic, or in regularly scheduled community events. Check with your nearest dental schools to see what type of programs they offer in your area.