Find Assisted Living in Your Area
In addition to the typical challenges faced by seniors, which may include everything from declining health to age discrimination, those who identify as LGBTQIA+, or lesbian, gay, bisexual, transgender, questioning, queer, intersex and asexual plus allies, are at risk of further discrimination due to their lifestyle. That added pressure can make it difficult for seniors to seek out long-term care options as they age. The need for a senior living community where they can live alongside peers and receive care from attendants who are accepting of who they are is a serious consideration for those moving into long-term care or independent living communities.
An estimated 39 million seniors aged 65 and older reside in the United States, including 2.4 million individuals who identify as a member of the LGBTQIA+ community. The number of older adults is expected to climb by as much as 6.2% by 2030, and as such, the number of senior LGBTQIA+ community members will grow as well. Due to the increasing population of LGBTQIA+ seniors, it's important for service providers to be more inclusive of LGBTQIA+ individuals as they enter their golden years.
We creat this guide to help seniors in the LGBTQIA+ community find accepting, comfortable senior housing. Below, we provide an overview of senior housing and living options for older LGBTQIA+ adults, including details about each level of senior care. It also includes a list of LGBTQIA+-friendly communities throughout the United States and explains what you should look for when searching for an accepting senior living community.
LGBTQIA+-Friendly Retirement and Independent Living Communities
Retirement villages and communities are housing complexes built specifically for older adults and seniors. These communities don't provide personal care or medical assistance and are made for retired adults who are able to care for themselves. Amenities in these communities vary. While some are simply well-kept communities that are only occupied by older adults or seniors, some provide a full host of amenities, including on-site restaurants and services, planned activities and housekeeping services.
Community Name
Address
Phone Number
Types of Care Provided
About the Community
Fountaingrove Lodge
4210 Thomas Lake Harris Drive,
Santa Rosa, CA 95403
(707) 285-9533

Retirement living
Assisted living
Memory care

Fountaingrove Lodge is an LGBTQ+ retirement community that provides seniors at all levels of care with luxury amenities, including fine dining, fitness classes, social clubs and group outings.
Seashore Point
100 Alden Street Unit 216,
Provincetown, MA 02657
(508) 487-0771

Retirement living
Skilled nursing care

Seashore Point features 81 independent living units that are a mixture of rentals and condominiums. The community is overseen by a condo board that ensures all residents enjoy a clean, well-maintained property. A wellness center is located on-site to provide residents with basic medical care.
A Place for Us
11610 Madison Avenue,
Cleveland, OH 44102
(844) 329-9215
A Place for Us is a retirement community for seniors aged 55 and older. It's located near public transit in a mixed-use neighborhood that features shopping, restaurants and parks.
Rainbow Vista
1350 West Powell Boulevard,
Gresham, OR 97030
(503) 667-5575
Rainbow Vista is a 55+ community that's designed to be a safe, comfortable living option for LGBTQ+ seniors. It features studio and one-bedroom apartments, as well as several community areas, such as a music room, a game room and an on-site gym.
Birds of a Feather
11 Whitehawk Trail,
Pecos, NM 87552
(505) 757-2901
Birds of a Feather is a senior living community that's exclusive to members of the LGBTQIA+ community. It features a variety of lot layouts for purchase, and seniors can choose to build as they please, provided they follow the community's guidelines. Amenities nearby include health care facilities, restaurants and shops.
Palms of Manasota
126 2 Avenue E.,
Rubonia, FL 34221
(404) 667-3676
Palms of Manasota is one of the oldest gay and lesbian retirement communities in the United States. It consists of 21 single-family homes, and the community is maintained by a condo association.
LGBTQIA+-Friendly Assisted Living and Memory Care Communities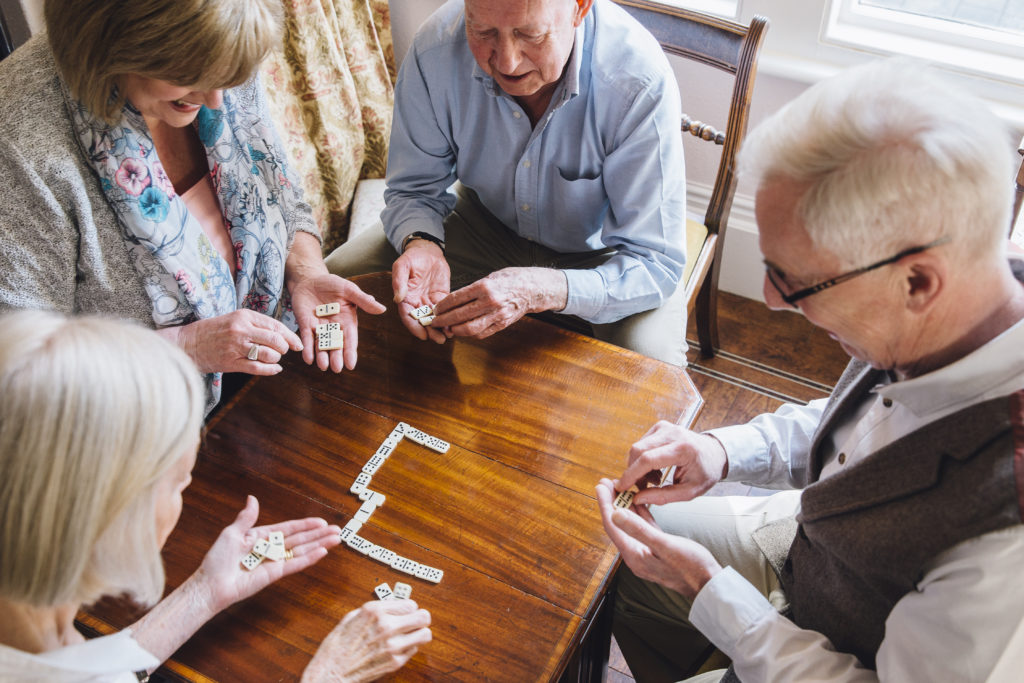 Assisted living communities provide 24-hour care for seniors who need help managing activities of daily living, such as bathing, dressing, grooming and feeding themselves. These facilities typically provide medication reminders, three daily meals, social activities and transportation.
Memory care may be provided within an assisted living facility or in facilities that are exclusive to residents with Alzheimer's disease or other forms of dementia. These facilities offer services and amenities similar to assisted living with the added benefits of activities that are meant to delay cognitive decline and added security for seniors who may be prone to wandering.
Community Name
Address
Phone Number
Types of Care Provided
About the Community
Stonewall Gardens
2150 N. Palm Canyon Drive,
Palm Springs, CA 92262
(760) 548-0970
Stonewall Gardens provides peaceful, discrimination-free living for seniors who require a little extra assistance with daily tasks. Caregivers are available to help around the clock, and amenities include indoor and outdoor common areas, complimentary cable TV, daily meals and snacks and scheduled transportation.
Benton House of Clermont
16401 Good Hearth Boulevard,
Clermont, FL 34711
(352) 218-1518

Assisted living
Memory care
Adult day care

Benton House of Clermont provides seniors with an inclusive, discrimination-free environment, making it a great senior living option for seniors who identify as LGBTQIA+. Its amenities include bright common areas, restaurant-style dining, scheduled transportation and planned group activities.
Fleet Landing
1 Fleet Landing Boulevard,
Atlantic Beach, FL 32233
(904) 789-5094

Independent living
Assisted living
Memory care

Fleet Landing offers senior living options for everybody. Its LGBTQIA+-friendly staff provides round-the-clock care for those who need help with daily tasks or are living with dementia. Amenities include planned activities, on-site physical and occupational therapy and restaurant-style dining.
Belmont Village
5455 Glenridge Drive,
Atlanta, GA 30342
(404) 252-6271

Assisted living
Memory care

Belmont Village is committed to providing judgment-free, inclusive care for all seniors. It offers comfortable amenities for seniors, including chef-prepared meals three times daily, non-medical transportation and planned group outings and activities.
City View Villas
515 N. La Brea Avenue,
Los Angeles, CA 90036
(323) 938-2131

Independent living
Assisted living
Memory care

City View Villas is reviewed well among residents and family members for providing inclusive, LGBTQIA+-friendly care. It features one-bedroom and studio suites, as well as companion suites, and amenities include hiking trails, an on-site spa and beauty salon and housekeeping services.
The Ivy Golden Gate
1601 9 Avenue,
San Francisco, CA 94122
(415) 503-9457

Assisted living
Memory care

The Ivy Golden Gate is a retirement community that promotes inclusivity and diversity. It welcomes all seniors, providing 24-hour care and amenities, such as on-site therapy, all-day dining, a bistro and a fitness center.
Calaroga Terrace
1400 NE 2 Avenue,
Portland, OR 97232
(971) 245-1762

Independent living
Assisted living

Calaroga Terrace is an inclusive assisted living facility that provides LGBTQIA+ seniors with safe and discrimination-free care. Its suites are large and bright, while common areas include living spaces, game rooms and a restaurant-style dining area.
LGBTQIA+-Friendly Nursing Homes
LGBTQIA+-friendly nursing homes can be difficult to come by, unfortunately. While there are many that promote diversity among residents and are committed to nondiscriminatory practices, most are focused on providing medical care without paying added attention to the unique needs of LGBTQIA+ seniors.
As such, it's important for seniors and their family members to remain aware of residents' rights when it comes to nursing home care. These rights include:
The right to be free from abuse: Seniors living in long-term care should never be subjected to verbal, sexual, mental or physical abuse, including discrimination related to sexual orientation.
The right to privacy: Regardless of cognitive or physical ability, residents in long-term care must be granted privacy when it comes to their bodies and their personal matters.
The right to respect: All seniors in long-term care deserve and have the right to be treated with respect and dignity by caregivers, administrative staff and peers.
The right to participate in group activities: Long-term care facilities may not exclude seniors from group activities and outings, including religious and social gatherings, because of their sexual preference or lifestyle choices.
The right to participate in care decisions: Seniors in long-term care have the power to make their own choices about their care planning. That said, those who are unable to make sound decisions have the right to designate a family member or trusted loved one to make decisions on their behalf.
The right to information: Seniors in long-term care and/or their designated representative must be provided with advance notice of changes in services, care, treatment or billing.
If any senior or designated decision-maker feels that these resident rights have been violated, they can contact their state's long-term care ombudsman to file a complaint.
LGBTQIA+-Friendly Housing for Low-Income Seniors
Low-income seniors often struggle to find adequate housing, and, unfortunately, those who identify as LGBTQIA+ frequently face greater difficulties than those who don't. The communities listed below are LGBTQIA+-friendly and provide safe, low-income housing for seniors.
Community Name
Address
Phone Number
About the Community
Triangle Square Apartments
1602 Ivar Avenue,
Los Angeles, CA 90028
(323) 466-4372
Triangle Square Apartments is an LGBT-friendly community for seniors aged 62 and older that features controlled access and energy-efficient amenities, such as Energy Star appliances. It has an on-site community room that hosts regular social and educational programs for residents, as well as a reduced-cost lunch program that's available Monday through Friday.
John C. Anderson Apartments
251 S. 13 Street,
Philadelphia, PA 19107
(267) 428-0269
John C. Anderson Apartments is a low-income apartment complex that's exclusive to LGBTQIA+ seniors aged 62 and older. Its one-bedroom apartments feature modern appliances and layouts, and the building is close to health care facilities, shops, restaurants and entertainment venues.
Town Hall Apartments
3600 N. Halsted Street,
Chicago, IL 60613
(773) 672-6560
Featuring studio and one-bedroom units that are exclusive to seniors aged 55 and older, Town Hall Apartments is accepting of all lifestyles and provides low-income options for members of the LGBTQIA+ community. This six-story building features on-site amenities, such as a fitness room, a computer lab and a family gathering room.
55 Laguna
55 Laguna Street,
San Francisco, CA 94102
(415) 813-3710
55 Laguna is proudly inclusive and provides a welcoming and safe space for lesbian, gay, bisexual and transgender seniors to call home. An on-site service center offers a variety of outreach services for LGBTQIA+ seniors. Amenities include a community room, on-site laundry and a lounge.
North Park Senior Apartments
4200 Texas Street,
San Diego, CA 92104
(619) 282-6647
North Park Senior Apartments is LGBTQ-friendly and open to older adults aged 55 and over. It features 76 suites in various studio, one- and two-bedroom floor plans. A community center is located on-site and hosts a variety of activities and social gatherings each month, and its rooftop terrace features gorgeous views of the city's skyline.
Bayshore Senior Residence
28 Park Avenue,
Bayshore, NY 11706
(516) 397-0900 ext. 41
Bayshore Senior Residence offers one- and two-bedroom suites for low-income adults aged 55 and older. The complex features an LGBT senior center that provides meals, counseling and wellness services, fitness classes and social activities.
Mary's House for Older Adults
PO Box 29561,
Washington, DC 20017
(202) 269-5736
Mary's House is an apartment complex for aging adults. It offers inclusive living for everybody and welcomes all members of the LGBTQIA+ community. Seniors living here can enjoy programs that enable them to socialize with neighbors, and an on-site senior services center offers access to local resources, as well as health and wellness programming.
Crotona Senior Residences
775 Crotona Park N.,
Bronx, NY 10460
(718) 583-1511
Provided by HELP USA, Crotona Senior Residences provides low-income living for LGBTQIA+ seniors. On-site amenities include an outdoor terrace and community garden, as well as a SAGE community center and full-time staff who operate resident programs and provide access to local health, wellness and social resources.
The Residences at Equality Park 
2040 N. Dixie Hwy.,
Wilton Manors, FL 33305
(954) 463-9005
The Residences at Equality Park is a low-income, 48-unit apartment that houses independent LGBTQIA+ seniors who are living with disabilities. The apartment features on-site senior services, which are provided by The Pride Center, a nonprofit organization that strives to support members of the LGBTQIA+ community who are facing food insecurity, health and wellness concerns or other social needs.
Questions to Ask When Looking for an LGBTQIA+-Friendly Senior Living Community
When exploring senior living communities, it's especially important for LGBTQIA+ seniors to ask questions to determine how inclusive the community is and whether it's open to supporting their needs. The information below provides a list of questions that seniors and their loved ones can ask when touring facilities to gather information and make a sound decision about whether the community will be a good fit for their lifestyle.
Resources for LGBTQIA+ Seniors
LGBTQIA+ seniors can access help and support when faced with discrimination or other challenges. The resources below are free to access.
| | | |
| --- | --- | --- |
| Organization | Phone | How it Helps |
| SAGE | (212) 741-2247 | SAGE provides advocacy and social services for LGBTQIA+ seniors across the United States. Its services include assistance in finding safe senior housing, long-term care equality education and a hotline that provides crisis counseling for LGBTQIA+ seniors. |
| National Resource Center on LGBTQ+ Aging | (212) 741-2247 | The National Resource Center on LGBTQ+ Aging is a technical resource center that supports LGBTQIA+ seniors, their families and their caregivers in accessing resources, education and technical support in matters related to LGBTQIA+ aging. |
| LGBTQ+ Elder Hotline | (877) 360-5428 | The LGBTQ+ Elder Hotline is provided by SAGE. This vital resource features crisis counselors and responders who offer immediate help to seniors who are feeling isolated, depressed, suicidal or otherwise in crisis. The hotline is manned 24/7 and offers service in English and Spanish, as well as translations in 180 additional languages. |
| Human Rights Campaign | (800) 777-4723 | The Human Rights Campaign advocates for the rights of LGBTQ+ individuals, including seniors. It provides important resources, such as the Healthcare Equality Index and the Long-Term Care Equality Index, which help seniors and their family members ensure they're accessing safe, effective health care and long-term care services. |
| National LGBTQ Task Force | (202) 393-5177 | The National LGBTQ Task Force is an advocacy organization that protects the rights of LGBTQIA+ community members of all ages. Its work includes intervening in cases of discrimination in health care and long-term care facilities, as well as providing education and awareness for caregivers and family members of LGBTQIA+ seniors. |
| GLAAD | Contact via website | GLAAD has long been an advocate for gay, lesbian, bisexual and transgender Americans. This nonprofit organization promotes acceptance for all people and provides education for straight allies, as well as for those who are still working toward acceptance. GLAAD also provides advocacy services for LGBTQIA+ persons of all ages, offers intervention where necessary and promotes inclusivity. |