Find Assisted Living in Your Area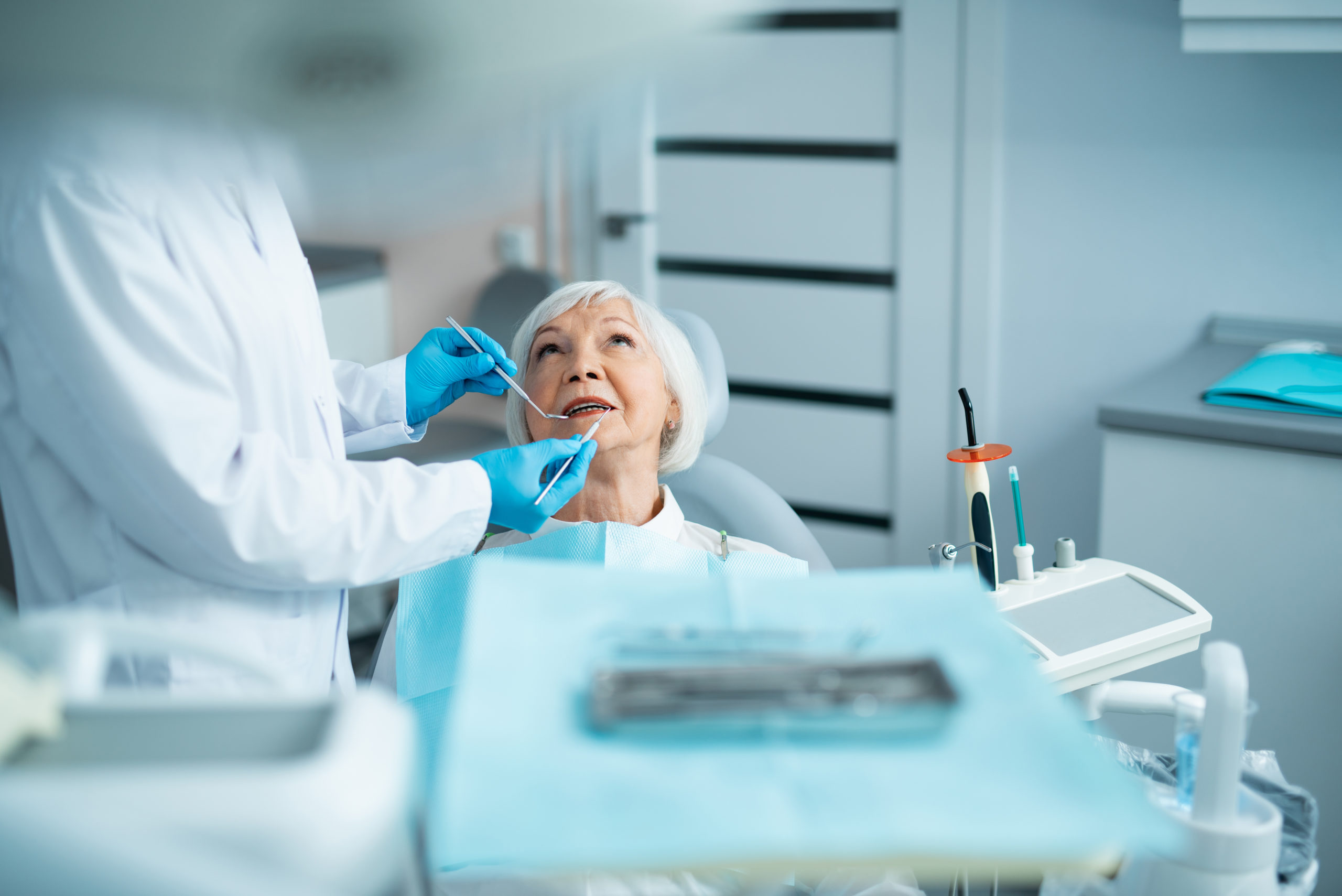 Your teeth do much more than chew food. They provide structural support for your mouth and cheeks, help you speak clearly and make it possible to form a variety of facial expressions.  Healthy gums and teeth are also critical to your overall wellbeing. Poor oral hygiene has been linked to an increased risk of endocarditis, respiratory infections and pneumonia and oral issues can lead to complications for those with other diseases, such as making blood sugar harder to regulate for those with diabetes. Significant tooth loss in seniors may even result in reduced life expectancy.
Unfortunately, changes associated with aging make seniors more susceptible to oral health problems. Making things even worse, seniors on a fixed income may be unable to afford the dental care needed to prevent or address these problems. Data collected in 2019 revealed that almost half of all seniors had no dental insurance, indicating many seniors put off treatment because they lack a form of financial assistance. Further, a significant number of seniors admit that cost continues to be a barrier, whether or not they have insurance. One in five seniors, regardless of insurance status, revealed they delayed visiting a dentist for up to two years to avoid the resulting costs.
This guide aims to help seniors avoid serious dental problems by providing tips on maintaining good oral hygiene and explaining the risk factors that make certain dental issues more common in older adults. It also includes an extensive list of resources to help seniors access free or low-cost dental care before minor dental problems become serious ones. Why Do Seniors Have an Increased Risk of Dental Problems?
While it's true that you can develop dental problems at any age, seniors have some unique risk factors that make them more likely to lose some of their teeth or develop severe gum disease as they age. These are some of the most relevant risk factors:
The Most Common Oral Health Conditions in Seniors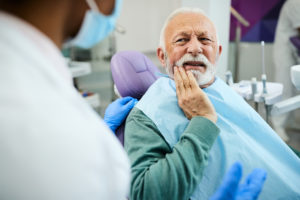 Over time, a lack of preventive care — combined with financial difficulties, chronic medical conditions and/or the use of certain prescription medications — may lead to the development of serious oral health problems. The table below describes some of the most common conditions and explains how they can impact you.
Condition
Description
Why Are Seniors Susceptible?
Oral Cancer

Abnormal growths in the oral cavity
May affect the lips, cheeks, gums, palate and/or tongue
Symptoms may include mouth sores that don't heal, loose teeth, mouth pain, painful swallowing and white/reddish patches inside the mouth

Cells sustain damage over time
HPV, tobacco use, heavy alcohol use, and excessive sun exposure to lips increases the risk
Nearly 80% of cases occur in adults 55 and older

Tooth Decay

Defined as the destruction of tooth enamel
Symptoms include discoloration of the affected tooth, increased tooth sensitivity, bad breath and tooth pain

Gingivitis

Inflammation and infection of the gums
Symptoms include persistent bad breath, swollen gums, bleeding gums, tooth sensitivity, loose teeth and receding gums

Seniors are more likely to have diabetes
Long-term use of tobacco increases the risk
Older adults are more likely to develop dry mouth, a contributor to gum disease

Tooth Loss

One or more teeth fall out of the mouth
Strongly associated with gum disease and trauma
Poor oral hygiene, hormone changes, medications, dry mouth, and tobacco use are risk factors.

Seniors are more likely to have gum disease and tooth decay, increasing the risk of tooth loss
Older adults have a higher risk of falling, which may cause tooth trauma

Dry Mouth

Characterized by a lack of saliva
Symptoms may include dryness, bad breath, sore throat, dry tongue and altered sense of taste

Some seniors don't drink enough liquid
Seniors often take  medications and these may have dry mouth as a side effect
Older adults may have chronic health conditions that contribute to dry mouth
Signs and Symptoms of Oral Health Conditions in Older Adults
Oral health conditions cause a variety of signs and symptoms. If you notice any of the following, schedule an appointment with a dentist as soon as possible.
Symptom
Description
Bleeding or swollen gums

Typically caused by plaque at the gum line
May be caused by ill-fitting dentures
You may see blood on your toothbrush or in the sink when you spit

Loose teeth

Occurs when tooth begins detaching from gums and bone
Tooth may move back and forth when brushing or chewing
Your gums may recede, swell, and bleed

Persistent bad breath
Tooth pain

Pain in and around tooth that can be severe
Potential causes include cracked tooth, tooth decay, dental abscess and infected gums

Hot/cold sensitivity

Causes pain when consuming hot and/or cold foods and beverages
Potential causes include cavities, gum disease, broken fillings and tooth fractures

Receding gums

Occurs when gum tissue pulls away from the teeth
Can cause tooth sensitivity and discomfort around the gum line
Increases the risk for tooth decay

Dry mouth

Characterized by a lack of saliva
May be caused by chronic disease, use of medications or lack of fluid intake
Tips to Help Seniors Maintain Good Oral Hygiene
When Should You See a Dentist?
Most people don't look forward to visiting the dentist, but there are some dental symptoms you really shouldn't ignore. If you experience any of the following, schedule an appointment with a dental professional.
Chipped or cracked tooth: If you chip or crack a tooth, you may experience pain any time you chew something. Without treatment, the damaged tooth may become infected.
Bleeding gums: Healthy gums don't bleed when you brush or floss. If you see blood on your toothbrush or in the sink, it may be a sign of gum disease.
Persistent bad breath: It's normal to have bad breath after eating a garlicky meal or drinking coffee, but if your breath remains bad after you brush and use mouthwash, you may have gum disease, cavities or another dental problem.
Chronic dry mouth: You need plenty of saliva to wash away the bacteria that causes plaque and bad breath. If you always have a dry mouth, consult a dentist before you start to develop cavities.
Tooth pain: Depending on how severe it is, tooth pain can make it difficult to chew, talk or even get a good night's sleep. See your dentist to find out what's causing the pain and address the problem.
Resources to Help Seniors Pay for Dental Care
If you can't afford to pay full price for dental care, several programs are available to defray your out-of-pocket costs.
Medicaid
Medicaid is a government insurance program for applicants with limited income and assets. Almost all states offer categorical eligibility for older adults, meaning you may be eligible even if your financial resources exceed the regular limits. Although Medicaid plans aren't required to include dental coverage for adults, many states cover at least emergency dental services. However, the Medicaid plans for more than half of states lack comprehensive dental care coverage.
Eligibility Guidelines
You may be eligible if you meet the following requirements:
You reside in the state where you plan to receive Medicaid benefits.
You're a U.S. citizen or belong to an eligible immigrant category.
You meet your state's financial eligibility requirements.
How to Apply for Medicaid
Visit the Medicaid website to find the contact details for your state. You can call the telephone number listed or click the state website link for more information.
Medicare
Medicare provides health coverage for seniors and some younger people with disabilities. Although Original Medicare doesn't cover most dental care or procedures, many Medicare Advantage providers cover routine cleanings, dental x-rays, dentures and other dental services.  If you want dental coverage, compare plans carefully to find one that covers the services you need.
Eligibility Guidelines
To enroll in Medicare Advantage, you must meet the following requirements:
Eligible for and enrolled in Medicare Part A and Medicare Part B
U.S. citizenship or lawful resident status
Reside within the region covered by your selected Medicare Advantage Plan
How to Apply for Medicare
If you're eligible for Medicare, apply online through the Social Security Administration website. Once you sign up for Medicare, you can shop for Medicare Advantage Plans and enroll in the one that has the best combination of coverage and affordability. Medicare.gov has a tool that allows you to compare multiple Medicare Advantage Plans and find out how much you can expect to pay for certain services with each plan offered in your area. An alternative way to apply is through SHIP, a free counseling service for recipients of Medicare.
Student-Run Dental Clinics
Many dental schools run dental clinics staffed by students and faculty members. These clinics give students an opportunity to practice their new skills. In turn, patients have access to high-quality dental care at a reduced cost.
Eligibility Guidelines
Each clinic has its own eligibility guidelines and operating schedule. To find out if you qualify, contact the clinic nearest you for information on becoming a new patient.
How to Access Care at Dental Clinics
Use the table below to find a dental school in your area.
| | | |
| --- | --- | --- |
| Dental School | Location | Contact Information |
| The University of Alabama at Birmingham School of Dentistry | Birmingham, Alabama | (205) 934-2700 |
| A.T. Still University-Arizona School of Dentistry & Oral Health | Mesa, Arizona | Fill out the appointment request form on the ATSU website. |
| Midwestern University College of Dental Medicine | Glendale, Arizona | (623) 537-6000 |
| California Northstate University College of Dental Medicine | Elk Grove, California | (916) 686-8914 |
| Herman Ostrow School of Dentistry of USC | Los Angeles, California | (213) 740-2805 |
| Loma Linda University School of Dentistry | Loma Linda, California | (909) 558-4222 |
| UCLA School of Dentistry | Los Angeles, California | (310) 206-3904 |
| UCSF School of Dentistry | San Francisco, California | (415) 476-1891 |
| University of the Pacific Arthur A. Dugoni School of Dentistry | San Francisco, California | (415) 929-6501 |
| Western University of Health Sciences College of Dental Medicine   | Pomona, California | (909) 706-3910 |
| University of Colorado School of Dental Medicine | Aurora, Colorado | (303) 724-2273 |
| University of Connecticut School of Dental Medicine | Farmington, Connecticut | (844) 388-2666 |
| Howard University College of Dentistry | Washington, D.C. | (202) 806-0007 |
| LECOM School of Dental Medicine | Bradenton, Florida | (941) 405-1600 |
| Nova Southeastern University College of Dental Medicine | Davie, Florida | (954) 678-2273 |
| University of Florida College of Dentistry | Gainesville, Florida | (352) 273-6701 |
| The Dental College of Georgia at Augusta University | Augusta, Georgia | (706) 721-2371 |
| University of Illinois Chicago College of Dentistry | Chicago, Illinois | (312) 996-7555 |
| Midwestern University College of Dental Medicine | Downers Grove, Illinois | (630) 743-4500 |
| Southern Illinois University School of Dental Medicine | Alton, Illinois | (618) 474-7000 |
| Indiana University School of Dentistry | Indianapolis, Indiana | (317) 274-7433 |
| The University of Iowa College of Dentistry and Dental Clinics | Iowa City, Iowa | (319) 335-7499 |
| University of Kentucky College of Dentistry | Lexington, Kentucky | (859) 323-6525 |
| University of Louisville School of Dentistry | Louisville, Kentucky | (502) 852-5096 |
| Louisiana State University Health Science Center School of Dentistry | New Orleans, Louisiana | (504) 619-8770 or (504) 619-8700 |
| University of New England College of Dental Medicine | Portland, Maine | (207) 221-4747 |
| University of Maryland School of Dentistry | Baltimore, Maryland | (410) 706-7101 |
| Boston University Henry M. Goldman School of Dental Medicine | Boston, Massachusetts | Fill out the new patient form to request an appointment. |
| Harvard University School of Dental Medicine | Boston, Massachusetts | (617) 432-1434 option #1 |
| Tufts University School of Dental Medicine | Boston, Massachusetts | (617) 636-6998 |
| University of Detroit Mercy School of Dentistry | Detroit, Michigan | (313) 494-6700 |
| University of Michigan School of Dentistry | Ann Arbor, Michigan | (734) 763-6933 |
| University of Minnesota School of Dentistry | Minneapolis, Minnesota | (612) 625-2495 |
| University of Mississippi Medical Center School of Dentistry | Jackson, Mississippi | (601) 984-6155 or (601) 984-6340 |
| University of Missouri-Kansas City School of Dentistry | Kansas City, Missouri | (816) 235-2100 |
| Creighton University School of Dentistry | Omaha, Nebraska | (402) 280-5990 |
| University of Nebraska Medical Center College of Dentistry | Lincoln, Nebraska | (402) 472-1333 |
| University of Nevada, Las Vegas School of Dental Medicine | Las Vegas Nevada | (702) 774-2400 |
| Rutgers School of Dental Medicine | Newark, New Jersey | (973) 972-4242 |
| Columbia University College of Dental Medicine | New York, New York | (212) 305-6100 |
| New York University College of Dentistry | New York, New York | (212) 998-9800 |
| Stony Brook University School of Dental Medicine | Stony Brook, New York | (631) 632-8989 |
| Touro College of Dental Medicine at New York Medical College | Hawthorne, New York | (914) 594-2700 |
| University at Buffalo School of Dental Medicine | Buffalo, New York | (716) 262-9750 |
| East Carolina University School of Dental Medicine | Greenville, North Carolina | (252) 737-7834 |
| University of North Carolina at Chapel Hill Adams School of Dentistry | Chapel Hill, North Carolina | (919) 537-3737 |
| Case Western Reserve University School of Dental Medicine | Cleveland, Ohio | (216) 368-8730 |
| The Ohio State University College of Dentistry | Columbus, Ohio | (614) 688-3763 |
| University of Oklahoma College of Dentistry | Oklahoma City, Oklahoma | Fill out a Prospective Patient Information Form |
| Oregon Health and Science University School of Dentistry | Portland, Oregon | (503) 494-8867 |
| University of Pennsylvania School of Dental MedicineRobert Schattner Center University of Pennsylvania School of Dental Medicine | Philadelphia, Pennsylvania | (215) 898-8965 |
| University of Pittsburgh School of Dental Medicine | Pittsburgh, Pennsylvania | (412) 648-8616 |
| Temple University Kornberg School of Dentistry | Philadelphia, Pennsylvania | (215) 707-2900 |
| Medical University of South Carolina James B. Edwards College of Dental Medicine | Charleston, South Carolina | (843) 876-7645 |
| Meharry Medical College School of Dentistry | Nashville, Tennessee | (615) 327-6669 |
| The University of Tennessee Health Science Center College of Dentistry | Memphis, Tennessee | (901) 448-6468 |
| Texas A&M University School of Dentistry | Dallas, Texas | (214) 828-8441 |
| Texas Tech University Health Sciences Center El Paso-Woody L. Hunt School of Dental Medicine | El Paso, Texas | (915) 215-6700 |
| University of Texas Health Science Center at Houston School of Dentistry | Houston, Texas | (713) 486-4000 |
| Roseman University of Health Sciences College of Dental Medicine | South Jordan, Utah | (801) 878-1200 |
| University of Utah Health School of Dentistry | Salt Lake City, Utah | (801) 587-6453 |
| Virginia Commonwealth University School of Dentistry | Richmond, Virginia | (804) 828-9190 |
| University of Washington School of Dentistry | Seattle, Washington | (206) 616-6996 |
| West Virginia University School of Dentistry | Morgantown, West Virginia | (304) 293-6208 |
| Marquette University School of Dentistry | Milwaukee, Wisconsin | (414) 288-6790 |
Veterans Benefits
Overview
If you served in the Armed Forces, you may qualify for dental care through the U.S. Department of Veterans Affairs. Dental services are provided in VA facilities all over the country.
Eligibility Guidelines
The amount of coverage provided depends on your service history. Full coverage is available if you have a 100% disability rating for a service-connected disability, you receive compensation for a dental condition that's classified as service-connected or you were a prisoner of war. One-time dental care is available to veterans who served for 90 days or more during the Persian Gulf War era and veterans who are enrolled in the Homeless Veterans Dental Program. Veterans with service-connected dental conditions that don't qualify for disability payments, have a different condition made worse or harder to treat by a dental condition, or who are enrolled in the Readiness and Employment program may also qualify for certain VA dental benefits.
How to Apply
Visit the Department of Veterans affairs website to fill out the application form. You'll need to sign in to your VA account before proceeding.
Free Dental Care for Seniors With Limited Financial Resources
With prices rising quickly and many other necessities competing for limited financial resources, some seniors can't afford to pay anything out of pocket for dental care. If this applies to you, one of the organizations below may be able to help. These organizations provide free dental care to those in need.
Dental Lifeline Network
Dental Lifeline Network offers no-cost dental care to seniors over 65, those with permanent disabilities and/or those who need dental care that's medically necessary. Some states also have veteran-specific programs. Contact a program representative in your state to find out more about the eligibility requirements.
State
Clinic Name
Telephone Number
Service Area
Alabama
Interfaith Ministries Adult Dental Clinic
(256) 237-1472
Calhoun County
Alabama
Mercy Medical Ministry and Clinic
(334) 501-1081
Lee County
Alaska
Chalkyitsik Health Clinic – Tanana Chiefs Conference
(907) 848-8215
Chalkyitsik Area
Alaska
Annette Island Service Unit (AISU) Outpatient Medical Clinic
(907) 886-4741
Metlakatla, Alaska (Serving American Indians/Alaskan Natives)
Arizona
Poore Medical Clinic
(928) 213-5543
Coconino County
Arizona
iSmile Dentistry-Tucson (East)
(520) 514-7400
Tucson area (free for veterans only)
Arkansas
Community Dental Clinic
(479) 782-6021
Crawford and Sebastian Counties
Arkansas
Samaritan Dental
(479) 636-0451
Northwest Arkansas
California
Berkeley Free Clinic
(510) 548-2745
Berkeley area
California
Healing California Pop-up Clinics
(626) 537-1778
Statewide with upcoming clinics posted online
Colorado
Mission Medical Center
(719) 219-3402
Pikes Peak region
Connecticut
Goodwin University Dental Hygiene Clinic
(860) 218-1800
Greater Hartford area
Delaware*
Westside Family Healthcare – Dover Dental Office
(302) 678-4622
Dover area
Delaware*
HJMC – Southbridge
(302) 655-6187
Wilmington area
Florida
Flagler County Free Clinic
(386) 437-3091
Flagler and Volusia Counties
Florida
St. Luke Medical and Dental Clinic
(352) 602-4640
Marion, Seminole, Orange and Lake Counties
Georgia
Athens Nurses Clinic
(706) 613-6976
Athens-Clarke County and surrounding area
Georgia
The Ben Massell Dental Clinic
(404) 881-1858
Metro Atlanta area
Hawaii
Aloha Medical Mission Dental Clinic
(808) 847-3400
Honolulu area
Hawaii
University of Hawai'i Maui College-Daniel K. Inouye Allied Health Center
(808) 984-3772
Kahului area
Idaho
Genesis Community Health – Caldwell Clinic
(208) 455-1143
Canyon County
Idaho
Pocatello Free Clinic
(208) 233-6245
Southeast Idaho
Illinois
Community Health Care Clinic
(309) 888-5531
McLean County
Illinois
AspenDental TAG Oral Care Center for Excellence
(866) 824-6223
The West Loop and surrounding areas
Indiana
Southeast Indiana Health Center
(812) 932-4515
Franklin and Ripley Counties
Indiana
Trinity Free Clinic
(317) 819-0772
Hamilton County
Iowa
Community Health Free Clinic
(319) 363-0416
Linn County and surrounding areas
Iowa
Iowa City Free Medical Clinic/Parrott – Stiles Free Dental Clinic
(319) 337-4459
Johnson County
Kansas
JayDoc Free Clinic
(913) 387-1202
Kansas City area
Kentucky
Nelson County Community Clinic
(502) 349-5990
Nelson County
Kentucky
Louisville Dental Society Free Dental Clinic
(502) 384-8444
Louisville area
Louisiana
Community Healthworx
(318) 767-9979
Avoyelles, Catahoula, Concordia, Grant, LaSalle, Rapides, Vernon and Winn Parishes
Louisiana
Calcasieu Community Clinic
(337) 478-8650
Allen, Beauregard, Calcasieu, Cameron and Jefferson Davis Parishes
Maine
Patient Services and Dental Clinic at University of Maine at Bangor
(207) 262-7872
Bangor area (free services for veterans only)
Maine
Mainely Teeth at The Root Cellar
(207) 808-9498
Portland area
Maryland
Mission of Mercy Mobile Dental Clinic
410-390-1314
Brunswick, Taneytown, Frederick, and Reisterstown
Maryland
Health Care for the Homeless – Downtown Baltimore City Medical and Dental Clinic
410-837-5533
Downtown Baltimore
Massachusetts
India Society Worcester Free Health Stop

[email protected]

Greater Worcester
Massachusetts
The Quinsigamond Community College Dental Hygiene Clinic
(508) 854-4306
Worcester and surrounding region
Michigan
CareFree Dental of Dickinson and Florence Counties
Request appointments by sending a message to the clinic's Facebook page
Dickinson and Florence Counties
Michigan
Presbyterian Health Clinic of Branch County
(517) 278-6068
Branch County
Minnesota
Hope Dental Clinic
(651) 789-7605
No geographical boundaries for care
Minnesota
Sharing & Caring Hands Dental Clinic
(612) 338-4640
Minneapolis
Mississippi
Fellowship Health Clinic
(601) 255-5077
Lamar and Forrest Counties
Mississippi
Jackson Free Clinic
(601) 355-5161
Jackson Metro
Missouri
Medical Missions for Christ Clinic
(573) 346-7777
Greater Lake of the Ozarks area
Missouri
Hannibal Free Clinic
(573) 248-8307
Lewis, Marion, Monroe, Pike, Ralls, and Shelby Counties
Montana
Shepherd's Hand Free Clinic
(406) 260-3502
Flathead Valley
Nebraska
People's City Mission Free Clinic
(402) 817-0980
Lancaster County
Nevada
Truckee Meadows Community College Dandini Campus Adopt a Vet Dental Clinic 
(775) 673-7871
Northern Nevada
Nevada
UNLV School of Dental Medicine Outreach Clinics
(702) 895-3011
Las Vegas area
New Hampshire*
Coos County Family Health Services – Dental
(603) 752-2424
Coos County
New Hampshire
Harbor Care Dental Clinic
(603) 821-7788
Nashua area
New Jersey*
Southern Jersey Family Medical Centers – Atlantic City Center
(609) 572-0000
South Jersey area
New Jersey
Neighborhood Health Center-Elizabeth
(908) 355-4459
Elizabeth area
New Mexico
Albuquerque Health Care for the Homeless
(505) 766-5197
Albuquerque area
New Mexico
Villa Therese Catholic Clinic
(505) 983-8561
Santa Fe area
New York
SUNY Erie Dental Hygiene Clinic
(716) 851-1336
Williamsville area
New York
Care for the Homeless Medical and Dental Clinic at POTS
(347) 269-4706
The Bronx
North Carolina
Missions of Mercy Portable Dental Clinics
(919) 234-4027
Statewide (upcoming clinics are posed online)
North Carolina

North Carolina

Blue Ridge Free Dental Clinic

(828) 743-3393

(984) 999-1654

Transylvania, Macon, Jackson and Swain Counties

Chapel Hill and surrounding community

North Dakota
Indian Health Services Standing Rock Service Unit
(701) 854-8220
Standing Rock Sioux Reservation at Fort Yates (Serving Native Americans and Alaska Natives)
North Dakota
Family HealthCare Center Homeless Health Clinic
(701) 551-2449
Fargo
Ohio
Open M Health Services-Harry and Fran Donovan Dental Clinic
(330) 434-0110 ext.413
Greater Akron Area and Summit County
Ohio
Good Samaritan Free Health Center
(513) 569-1900
Hamilton County
Oklahoma
Crossings Community Clinic
(405) 749-0800
Oklahoma County (Serving individuals ages 18 to 64)
Oklahoma
Lighthouse Medical Clinic
(405) 202-8162
Oklahoma City area
Oregon
Caring Hands Worldwide Northwest Dental Clinics
email [email protected]
Statewide with upcoming locations posted online
Oregon
Portland Community College Dental Clinic
(971) 722-4909
Portland area (free exams and sealants only)
Pennsylvania
Water Street Health Services Free Dental Clinic
(717) 358-2017
Lancaster County
Pennsylvania

Pennsylvania

Ann Silverman Community Health Clinic

(215) 345-2260

(410) 390-1314

Bucks County

Harrisburg and Gettysburg

Rhode Island
Rhode Island Free Clinic
(401) 274-6347
Rhode Island
South Carolina
Anderson Free Clinic
(864) 226-1294
Anderson County
South Carolina
Mercy Medicine Free Clinic
(843) 667-9947
Marion, Williamsburg and Florence Counties
South Dakota
St. Francis Mission Among the Lakota Free Dental Clinic
(605) 747-2142 or (605) 319-1275
Lakota tribal members on the Rosebud Reservation
South Dakota
Indian Health Services Rapid City Service Unit
(605) 719-4001
Serves Native Americans and Alaskan Natives who qualify in Rapid City
Tennessee
The Free Medical Clinic
(865) 483-3904
Roane, Anderson and Morgan Counties
Tennessee
Smiles Dental Clinic
(423) 228-3077
South Pittsburg and surrounding areas
Texas
Body of Christ Community Dental Clinic
(254) 613-5052
East Bell County
Texas
HOPE Medical-Dental Clinic
(817) 641-5858
Johnson and Hill Counties
Utah
iSmile Dentistry – Salt Lake City, Utah 
(801) 355-2202
Salt Lake City area (free dental care for veterans)
Utah
Salt Lake Donated Dental Services
(801) 972-2747
Salt Lake City area
Vermont
Vermont's Free and Referral Clinics (VFRC)
(802) 448-4280
Offices in nine counties; contact VFRC for information on your local clinic
Virginia
The CornerStone Free Health Clinic
(804) 769-2996
King & Queen, Essex, Richmond and King William Counties
Virginia
Lloyd F. Moss Free Clinic
(540) 582-1061
Fredericksburg; King George, Caroline, Spotsylvania and Stafford Counties
Washington
Project Access Northwest
(206) 788-4204 or (360) 917-0018
Kitsap, King and Snohomish Counties
Washington
King County Mobile Medical Care
(206) 482-3073 or (206) 482-3075
King County
West Virginia
West Virginia Health Right – Mobile Dental Clinic
(304) 414-5944
McDowell, Boone, Logal, Clay, Roane Counties (veterans may qualify for additional care)
West Virginia
Ebenezer Medical Outreach Free Clinic
(304) 529-0753
Huntington and surrounding areas
Wisconsin
InHealth Community Wellness Clinic
(608) 375-4324
Crawford and Grant Counties
Wisconsin
The Open Door Clinic 
(715) 720-1443
Chippewa County
Wyoming*
Community Health Center of Central Wyoming – Dental Clinic
(307) 233-6049
Fremont and Natrona County
Wyoming
HealthWorks
(307) 635-3618
Laramie County
* Delaware, New Hampshire, New Jersey and Wyoming don't have any free clinics other than Dental Lifeline Network. The clinics listed set their fees based on a sliding scale, meaning they adjust their fees based on your income. Residents in states without additional free clinics can also check if there is an upcoming pop-up clinic coming to their area. Remote Area Medical Volunteer Corps operates clinics that take place across the United States and has an upcoming clinic schedule posted on its website.