Find Assisted Living in Your Area
Many older adults experience health changes as they age, leading them and their families to search for senior care options. Of course, finding adequate senior care comes with its own obstacles. From a comfortable environment to quality health services, there are several factors to consider. For Muslim seniors living in the United States, finding a senior care option that checks all the boxes comes with its own unique challenges.
According to the Institute for Social Policy and Understanding, some Muslim seniors are against the concept of senior care in an assisted living facility and would rather have their children assume the caregiver role. Other seniors are open to joining a senior care facility — provided that the facility meets their cultural and religious needs. Unfortunately, many communities don't offer the things Muslim seniors are looking for, such as access to religious facilities or dietary accommodations. Furthermore, language barriers can prevent caregivers from properly communicating with Muslim seniors.
That being said, there are assisted living homes that fulfill the unique needs of Muslim seniors. In this guide, we'll take a closer look at the barriers older Muslim adults and their families face when it comes to senior living and how to find the right care options.
The Islamic Perspective on Aging and Care for Seniors
When an older adult can no longer live independently, their family may turn to an assisted living home. This helps ensure the senior receives the care they need while alleviating responsibility for the family. For many Muslim seniors, however, religious beliefs make it difficult to pursue senior care.
The religion of Muslims is known as Islam, which translates to "one who submits willfully to God." Like all religions, Islam has certain principles that members are expected to follow. These include things like praying, performing charity and respecting the elderly.
The Qu'ran, which is the main religious text of Islam, emphasizes the importance of treating older individuals with respect. Not only should children obey their parents, but they're also responsible for caring for their parents in old age. According to some Islamic scholars, children who neglect to do so are disrespecting the wishes of Allah.
Due to these religious expectations, older Muslim adults may reject the idea of assisted living. Some Muslim seniors may consider senior living to be disrespectful, while others may worry their children will be punished for not following Islamic traditions. As a result, it can be difficult for children to persuade their parents to accept assisted living care.
Barriers Muslim Seniors Face When Seeking Assisted Living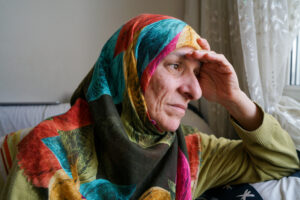 While Islamic religious beliefs suggest that children should care for their elderly parents, many Muslim seniors still recognize the benefits of senior care. For example, seniors with specific health conditions, such as mobility problems, might prefer living in a facility that caters to those unique needs.
Unfortunately, even Muslim seniors who are enthusiastic about senior care encounter barriers when trying to find homes. Here are a few of the top challenges this population faces.
Religious Accommodations 
One problem Muslim seniors may experience when looking for assisted living care is a lack of religious accommodations. Those who practice Islam pray five times a day and need an area that's clean and private.
In addition to a clean prayer space, many Muslim seniors want access to a mosque to practice religious activities. Approximately 43% of Muslims try to visit a mosque at least once a week.
Unfortunately, assisted living homes that have small Muslim populations may neglect to provide these accommodations. For example, some homes may not consider prayer times when scheduling activities, which means Muslim seniors might miss out on events due to their religious needs. Furthermore, not all homes are located near mosques. Even if the home is near a mosque, it might not provide transportation or plan outings there.
Dietary Needs
Almost every assisted living community gives residents three meals a day, as well as snacks. And most promise to adapt to dietary restrictions and allergies. However, this doesn't mean they'll always fulfill the dietary needs of Muslim seniors.
Those who practice Islam generally only eat foods that are halal, or "lawful." It is prohibited to consume the following:
Pork and any pork byproducts
Non-halal meats (or animals that were not slaughtered by Islamic standards)
Birds of prey or reptiles
Alcoholic beverages
If a senior care home doesn't secure halal foods, Muslim residents will not have access to a well-rounded diet. Even some seemingly vegetarian snacks, such as marshmallows or chips, contain pork byproducts that are not halal.
Another dietary challenge for Muslim seniors involves Ramadan, or the ninth month of the Islamic calendar. During this month, Muslims fast throughout the day and only eat meals while the sun is down. Unfortunately, senior care homes often have set meal schedules. This means older Muslim adults might not have access to meals during the night, and thus cannot safely practice Ramadan.
Discrimination 
Another obstacle Muslim seniors face is discrimination. In 2017, almost 50% of Muslims claimed to experience some sort of discrimination or hate. Here are a few examples of discrimination that may occur in senior living homes:
Offensive name-calling
Poor treatment or neglect from caregivers and other residents
Denial of religious requests (such as an area or time to pray)
Rude comments or bans on religious items, clothing and traits (such as hijabs or beards)
Sometimes, discrimination is overt (such as offensive name-calling). In other cases, it's more subtle. For example, other seniors might ignore Muslim residents, or caregivers may wave off religious requests. Whether it's direct or indirect, discrimination leads to an uncomfortable living experience.
Gender-Concordant Care
For many Muslims, gender concordance is an essential part of health care. This involves receiving health care from professionals that are the same gender as the resident or patient.
According to one study, gender-concordant care is one of the top three care requests made by Muslim seniors. Generally, this request is made due to concerns about modesty and privacy.
Depending on the senior living community, gender-concordant care may not always be a possibility. This is especially true for male residents, as over 75% of caregivers are female.
Language Barriers 
One of the biggest challenges Muslim seniors might encounter is language barriers. Approximately 5 million elderly individuals in the United States have a limited English proficiency (LEP). Those who immigrated later in life or spend most of their time within Muslim communities are less likely to have learned English.
The primary language of many Muslims is Arabic, which is the fifth most popular language in the United States. Across the country, there are over 1 million Arabic speakers — however, this doesn't mean senior care homes always have Arabic-proficient caregivers.
Unfortunately, language barriers have a direct impact on the quality of care someone receives. According to one study, those with LEP experienced more problems with health and care access than English speakers. Residents with limited English abilities may not know how to communicate health requests, while caregivers may fail to understand the resident's needs.
Dealing With the Cultural Guilt of Moving a Loved One to Assisted Living
It's not just seniors who experience challenges when it comes to senior care — this move takes a toll on family members as well. It's normal to feel guilty or ashamed about relying on senior care. These feelings are exacerbated when cultural expectations are involved.
As mentioned earlier, Islam suggests that children should assume the role of caregiving. Even if senior care is the most practical option, Muslims might feel like they're betraying their culture by not providing at-home care. Here are a few suggestions on how to deal with this guilt.
Remember the Benefits of Senior Care
Oftentimes, Muslim adults see senior care as a failure on their part. This couldn't be further from the truth. Many families rely on senior care because it's the best option for both themselves and their loved ones.
Assisted living homes can usually provide a level of care you cannot offer at home (such as 24/7 health support). Ultimately, senior care gives the person the support they need while lessening the burden on families.
Talk to Friends and Family
Even though senior care offers many benefits, Muslims may still feel guilty about not caring for loved ones at home. In these cases, it may be helpful to talk to friends or family members – especially people who have gone through the same experience.
If the guilt is overwhelming, or if the senior is hesitant about assisted living, a family therapist can provide support. These professionals work with families to facilitate communication and resolve relationship problems.
Do Thorough Research
A big reason why families feel guilty about senior care is because they're concerned their loved one will be unhappy. To help ensure your loved one's needs will be met, it's important to thoroughly research a senior living community beforehand. If you know the community provides resources your loved one needs, you'll feel more comfortable with this choice.
What to Look for in an Assisted Living Community for Muslim Seniors
Picking an assisted living community for a senior loved one requires careful consideration. Here are 10 key elements to look for.
Comfortable environment: If possible, it's a good idea to visit a senior living home first to observe its atmosphere. A pleasant environment includes private rooms, shared spaces and outdoor areas.
Good location: In addition to a nice internal environment, the home should be located in a prime location, such as near the loved one's family or near a Muslim community. Homes located near Muslim populations are more likely to have Muslim residents.
High-quality caregiving: One of the most important factors is, of course, caregiving. Look for qualified caregivers that are available 24/7 and are sensitive to the unique needs of Muslim seniors. You may also want to see if gender-concordant care is available.
High staff-to-resident ratio: Along with high-quality caregivers, you'll want a solid quantity. A high staff-to-resident ratio means there are enough caregivers available to tend to your loved one's needs.
Specific health services: If your loved one has special health requirements, you'll need a senior care home that can fulfill those needs. For example, if they have dementia or Alzheimer's disease, the home should offer dementia care.
Activities and wellness services: Care is just one part of senior living. The ideal home should also offer amenities like daily activities and wellness services. These can include anything from fitness and art classes to therapy and spa services.
Religious accommodations: Muslim seniors should be able to practice their religion freely, no matter where they are. Make sure the home offers time and a clean, quiet place for prayers.
Language accommodations: Communication is key to acquiring the right health services. If your loved one is not proficient in English, you should search for a home that can meet their language needs.
Halal dining: Before enrolling a loved one in a senior care home, make sure the home offers halal dining options. And if your loved one fasts for Ramadan, be sure that the home can provide food at nontraditional times.
Anti-discrimination policies: A common concern among Muslim seniors is discrimination. Good assisted living homes have anti-discrimination policies in place to protect minority residents.
By taking the time to find a senior care home that meets these requirements, you can help ensure your loved one has a safe, comfortable experience.
Resources for Muslim Seniors 
Resource
Contact
Description
Muslim American Society-Social Services Foundation (MAS-SSF)
Phone: (916) 486-8626

Email: [email protected]

MAS-SSF is an Islamic organization that provides valuable social and mental health services to older Muslim adults. It offers a senior program specifically designed to help with the negative emotions commonly associated with aging (such as depression, anxiety and isolation).
Institute for Muslim Mental Health (IMMH)
Phone: (800) 273 – 8255

Email: [email protected]

IMMH offers mental health services to American Muslims. In addition to explaining the connections between Islam and mental health, the organization helps train individuals who want to support the Muslim community. Its ultimate goal is to provide information that's both accessible and culturally relevant.
Institute for Social Policy and Understanding (ISPU)
Phone: (800) 920-4778

Email: [email protected]

ISPU is a nonprofit organization that discovers news, trends and opportunities that directly impact American Muslims, including the senior population. Some of its resources for Muslim seniors/families include needs assessment tools, focus group discussions and research reports on aging.
American Muslim Community Fund (AMCF)
Email:

[email protected]

AMCF advocates for the Muslim community by donating to social, racial justice and health equity initiatives. Since 2016, the organization has raised over $9 million for Muslim-related nonprofits. It also hosts events and webinars that raise awareness about issues that impact the Muslim community, including senior and health-related news.
Islamic Relief USA
Phone: (855) 447-1001

Email: [email protected]

Islamic Relief USA provides support to Muslim Americans in need. More specifically, it helps all Muslims (including seniors) who are experiencing homelessness, hunger, poverty and health problems. Its offerings include free health services and a food aid program that delivers hot meals to people's doors.