What You Should Know About Electric Wheelchairs
Seniors with limited mobility or underlying health conditions have difficulties being on their feet for long periods or can't do it at all.
Using a manual wheelchair may solve their mobility issues but requires significant upper-body strength.
Electric wheelchairs help older adults with limited mobility or those who cannot operate a manual wheelchair to navigate their homes and perform daily activities.
Medicare and Medicaid recipients have coverage for electric wheelchair purchases.
Various resources, including federal programs, veteran's benefits, non-profit organizations and foundations, and disability, can help fund electric wheelchair purchases.
Decreased mobility is one of the most unfortunate side effects of aging. Over the years, mobility limitations become more prevalent in 35% of older adults over the age of 70 and the majority of seniors 85 years and older. Furthermore, decreased mobility has also been associated with increased fall risk, decreased quality of life, and even death. Fortunately, electric wheelchairs provide a safe and convenient way for seniors who want to live independently and continue doing their favorite activities.
Choosing the right mobility equipment can be overwhelming due to the large selection of electric wheelchairs with different configurations and features. An excellent place to start is to focus on what you need from an electric wheelchair, which usually means consulting with your primary physician.
To help you, we reviewed several electric wheelchair models, picked the best ones, and narrowed them down to a helpful list below. Please note that price and availability are subject to change.
The Best Electric Wheelchairs
Electric Wheelchair
Price
Key Features
Range
Top Speed
Weight Capacity
Turning Radius
Zip'r PC
$1,599
– Superb range

– Anti-tip wheels

– Padded plush seats

15 miles
4 mph
300 lbs
20″
Zip'r Mantis
$1,899
– Superb range

– Flat free tires

– Intuitive joystick control

15 miles
4.9 mph
300 lbs
22.4″
Zip'r Mantis SE
$2,199
– Heavy-duty design

-Highly-adjustable seats

– Plush and padded seats and armrests

15 miles
4.9 mph
300 lbs
22.4″
Feather Power Chair
$2,295
– Only weighs 33 lbs

– Foldable design

– 10 mph top speed

11 miles
10 mph
250 lbs
35″
Drive Medical Cirrus Plus EC
$1,750
– Airline-approved

– Foldable and lightweight

– Swing-away footrests with heel loops for added support

15 miles
5 mph
300 lbs
30″
Pride Mobility Jazzy Air 2
$4,254
– Seat that elevates up to 12 inches

– Bright LED marker lights

– Reclining captain chair

15 miles
4 mph
300 lbs
24.25″
Merits Health P312 Dualer
$3,423
– Power elevating seat

– Switches from front-wheel to rear-wheel drive

– Tight turning radius

18 miles
5 mph
300 lbs
19.6″
Hoveround LX-5
$2,595
– Good maneuverability

– Maximized comfort and support

– Portable charger included

12 miles
4 mph
300 lbs
22.7″
Golden Compass Sport
$5,025
– Luxurious comfort

– Tight turning radius

– Impressive travel range

Up to 34 miles
4 mph
300 lbs
24″
eVolt Traveler Power Chair
$1,338
– Compact and lightweight design

– One button fold operation

– Airline-approved batteries

12 miles
5 mph
220 lbs
26″
ForceMech Voyager R2
$2,398
– Eye-catching design

– Smooth, comfortable ride

– Lightweight

16 miles
4 mph
265 lbs
32″
Hoveround Teknique HD6
$4,395
– Heavy-duty construction

– 600 lbs weight capacity

– Designed for comfort

15 miles
3.3 mph
600 lbs
28″
Pride Go Chair
$1,634
– Lightweight and portable

– Superb range

– Storage compartments

Up to 13.2 miles
3.8 mph
300 lbs
25.5″
Budget Electric Wheelchairs (Under $1,800)
Price: $1,599
The Zip'r PC is an excellent choice if you're looking for a reliable but competitively-priced wheelchair. It doesn't have all the bells and whistles of other electric wheelchairs on this list, but it features an intuitive design and heavy-duty construction. Although features are kept to a minimum, it can handle moderately rough trails and disassembles quickly for easy transport. With a 15 miles range and 20" turning radius, navigating indoor and outdoor areas using this wheelchair is a breeze.
Key Features:
15 miles travel range
Tight 20″ turning radius
Weight capacity: 300 lbs
Price: $1,750
Despite the affordable price tag, the Drive Medical Cirrus Plus EC hasn't made many compromises. With a top speed of 5 miles per hour and 15 miles travel range, the Cirrus Plus EC doesn't skimp in performance and versatility. The lightweight carbon steel frame doesn't just make this wheelchair durable, but aesthetically pleasing as well. Plus, the wheelchair folds and features a lightweight design for hassle-free transport. Comfort is just right with padded armrests and footrests that come with heel loops.
Key Features:
Airline approved batteries
Foldable and lightweight design
Weight capacity: 300 lbs
Price: $1,338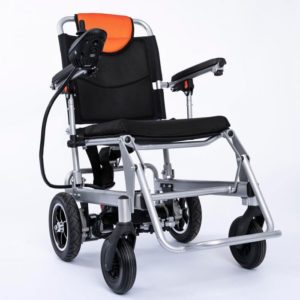 The eVolt Traveler Power Chair is an easy choice if you want a lightweight, portable, and budget-friendly power wheelchair. With a range of up to 12 miles and a 5 mph top speed, this electric wheelchair can get you where you need to go (e.g., short trips around town). This electric wheelchair only weighs 48 lbs with the batteries, so it's also a good traveling companion. It also boasts two 250W motors, so you won't miss out on power and performance. This electric wheelchair is undoubtedly a true bang for your buck.
Key Features:
Weighs only 48 lbs
One button fold operation
Weight capacity: 220 lbs
Price: $1,634
The Pride Mobility Go-Chair is another budget-friendly but a full-featured electric wheelchair. Pride Mobility is known for its high-quality mobility solutions, and the Go Chair is no exception. One of the most noteworthy features of the Go Chair is the large selection of color options, including yellow, blue, orange, and white. It's worth mentioning that the chair is relatively small, so you won't have a hard time navigating standard doorways. Despite the small frame, the Go Chair can accommodate passengers up to 300 lbs with a maximum range of 13.2 miles.
Key Features:
Small and lightweight
Well-padded seats and armrests
Weight capacity: 300 lbs
Other Electric Wheelchairs to Consider (Over $1,800)
Price: $1,899
Like many Zip'r products, the Zip'r Mantis boasts a heavy-duty construction and rugged reliability. This wheelchair can support up to 300 lbs and can go 15 miles on a single charge. Plus, the battery-powered motor allows you to travel at a respectable top speed of 4.9 mph. Seniors will also appreciate the Mantis' intuitive joystick control, which has a relatively low learning curve. In terms of comfort, the Mantis doesn't disappoint with padded plush foam seats for max comfort and support and good adjustability to ensure a seating position that's best for you.
Key Features:
Heavy-duty construction and high-quality materials
Padded plush foam seats
Weight capacity: 300 lbs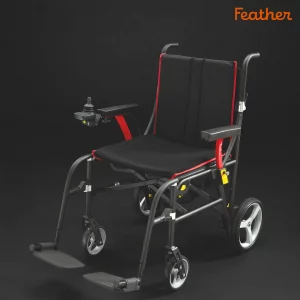 Price: $2,295
Weighing only 33 lbs, the Feather Power Chair is one of the lightest electric wheelchairs you can buy. With its tight foldable design and small weight, this wheelchair doesn't just benefit the user, but their caregivers as well. On top of its ultra-lightweight and foldable design, it doesn't compromise in terms of comfort. The chair folds down to a manageable 13 inches, so it would fit in almost any car's trunk or be stored out of the way. Furthermore, the wheelchair boasts a top speed of 10 mph, making it the fastest wheelchair in its class.
Key Features:
Only weighs 33 lbs
Max speed: 10 mph
Weight capacity: 250 lbs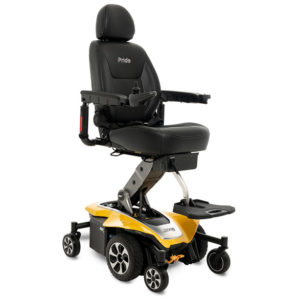 Price: $4,254
The Pride Mobility Jazzy Air 2 is an update from the 2016 model, which retains the same selling point: a built-in suspension that can lift your seating height to 12 inches. With its smaller wheels, high backrest, and elevating seats, the Jazzy Air 2 has a design similar to a power scooter. This power wheelchair is available in ten color options for buyers who prefer a bit of personalization, including Ruby Red, Sapphire Blue, Black Onyx, etc. It's recommended for users weighing 300 lbs or less and has a top speed of 4 mph and 15 miles of range.
Key Features:
Elevating seat up to 12 inches high
High backrest and adjustable armrests
Weight capacity: 300 lbs
Price: $3,423
One of the most noteworthy qualities of the Merits Health P312 Dualer is the ability to switch between rear to front-wheel drive easily. You can switch from RWD to FWD or vice versa by simply pulling a lever and turning the seat 180 degrees. This feature adds excellent maneuverability to the wheelchair, especially in tight and narrow spaces. The P312 Dualer doesn't fold, so you'll have to look elsewhere if you want something more portable. However, it's undoubtedly a heavy-duty electric wheelchair that offers versatility, stability, and comfort.
Key Features:
Power seat elevator
Switches from rear to front wheel drive, and vice versa
Weight capacity: 300 lbs
Price: $2,595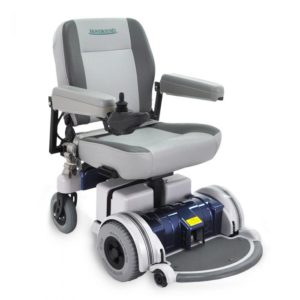 Hoveround is a company known for its cutting-edge mobility solutions, and the Hoveround LX-5 is no exception. At a glance, you'll know that the LX-5 is a high-quality, well-constructed power wheelchair. For a heavy-duty wheelchair, the LX-5 surprisingly has a small footprint. Combined with its 22.7" turning radius, the LX-5 is a great wheelchair for indoor or in-home use. The contoured innerspring seat and adjustable width armrests deliver much-needed comfort and support. Plus, it includes a lightweight, portable charger to charge your unit on the go.
Key Features:
Tight turning radius
Compact design for maneuverability
Weight capacity: 300 lbs
Price: $5,025
Golden is another company known for its high-quality wheelchairs and mobility scooters. The Golden Compass Sport features a stylish, sleek design with cutting-edge technologies to ensure a comfortable and stable ride. It can accommodate users up to 300 lbs and has a decent 24″ turning radius for efficient navigation of indoor and outdoor environments. However, the Compass Sport's standout feature is its 24 miles (up to 34 miles) operating range, which easily beats every model on this list.
Key Features:
Stylish, sleek design
Operating range of up to 34 miles
Weight capacity: 300 lbs
Price: $2,199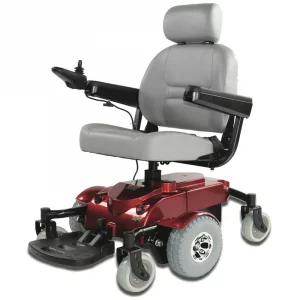 The Zip'r Mantis SE is an excellent all-around wheelchair that should meet most people's requirements. On a full charge, the Mantis SE can travel up to 15 miles at 4.9 mph top speed, with a load capacity of 300 lbs. In addition, the Mantis SE features intuitive controls, thanks to the touch-and-go joystick that lets you quickly steer, safely change direction, set maximum speed, and check battery life. The tight 22.4" turning radius provides easy navigation, especially at home. Lastly, using the joystick controls, you can elevate the wheelchair's ride height up to six inches.
Key Features:
Intuitive, easy-to-use controls
Ride height can be elevated up to six inches
Weight capacity: 300 lbs
Price: $2,398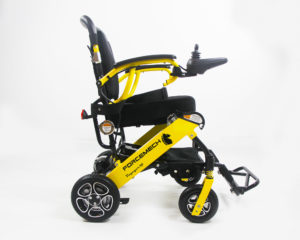 If you want an electric wheelchair with a unique design and bold colors, the ForceMech Voyager R2 is worth looking at. One of the first things you'll notice about this wheelchair is its industrial-inspired design and bold color schemes. In addition, the Voyager R2 only weighs 47 lbs with batteries, so it's an exceptionally travel-friendly wheelchair. In terms of comfort, the Voyager R2's armrests can be flipped upwards, so transferring in and out of the chair is easier. Moreover, the wheels are constructed with a metal alloy core, and have a shock absorption spring for a smoother ride.
Key Features:
Stylish, industrial design
Only weighs 47 lbs (with batteries)
Weight capacity: 265 lbs
Price: $4,395
The Hoveround Teknique HD6 is a bariatric power wheelchair with a weight capacity of 600 lbs to support people with larger frames. Despite its size, the HD6 has an impressive travel range of 15 miles on a full charge and a sizable 3" ground clearance, improving its go-anywhere potential. The wheelchair also comes with customized seats and an oversized footplate base to accommodate bariatric users in great comfort.
Key Features:
Durable, heavy-duty construction
Comes with a lightweight, portable charger
Weight capacity: 600 lbs
Financial Assistance for Electric Wheelchairs
With an average cost of $2,500, modern electric wheelchairs are a significant expense, and not everyone can afford one. The good news is there are several ways to work around the hefty price tags of electric wheelchairs.
For instance, Medicare and Medicaid can help eligible individuals acquire a free wheelchair or a substantial discount. Furthermore, Veterans Assistance (VA) and other state-based, non-Medicaid financial assistance programs are good resources for purchasing a wheelchair on a budget.
Medicare Coverage of Electric Wheelchairs
The good news is that Medicare does cover electric wheelchairs. Specifically, this falls under Medicare Part B (Medical Insurance), which covers durable medical equipment (DME), including mobility scooters and power/electric wheelchairs. However, unlike Part A (Hospital Insurance), where 65 or older individuals are eligible for free, everyone must pay for Part B with a monthly premium if they want it.
Getting Medicare to pay for the cost of electric wheelchairs comes with stringent requirements. For starters, the electric wheelchair must be medically necessary or reasonable for treating a senior's illness or injury, and if the condition prevents them from navigating their home and completing activities of daily living. Furthermore, the senior must be able to get in and out and operate the wheelchair safely or has a caregiver who's always available to assist.
In general, Medicare may cover electric wheelchairs for individuals that meet the following conditions:
You have a condition that impacts mobility.
You have the physical and mental capability to safely operate the wheelchair or have a caregiver to assist.
You're unable to do activities of daily living (e.g., bathing, dressing, getting in and out of bed, etc.) even with the help of a walker, crutch, or cane.
You have a written doctor's order prescribing the use of electric wheelchairs.
Your doctor and supplier are Medicare-enrolled. You may search Medicare's supplier list to verify approved suppliers.
Your doctor or supplier has verified that you can use the electric wheelchair at home.
How Much Will Medicare Cover for an Electric Wheelchair?
Under Part B medical insurance, provided conditions are met, Medicare will cover 80% of the electric wheelchair's cost. This leaves the individual to pay for the rest of the 20% cost. Depending on the type of electric wheelchair and model, the out-of-pocket cost may range from $200 to $1,000 without additional private or Medicare Supplemental insurance.
How Do I Get an Electric Wheelchair Covered by Medicare?
To qualify, you need to complete the following steps:
Meet with a doctor face-to-face to discuss and examine your limited mobility. The doctor must determine that your mobility issues can't be resolved using a cane, crutches, walker, mobility scooter, or a manual wheelchair. Then, the doctor will write up a medical order that you need an electric wheelchair.
Have the doctor send the prescription and medical records to a Medicare-approved electric wheelchair supplier. All paperwork must be sent to the supplier within 45 days after your face-to-face examination. Then, the supplier will work with you and your physician to determine the best electric wheelchair for you to use.
The doctor or supplier will evaluate your home to ensure you have enough space to drive and maneuver the wheelchair. A home evaluation is vital to ensure your living environment is safe and suitable for wheelchair use.
After the home evaluation, the supplier will place an order for an electric wheelchair as prescribed by your doctor. The supplier will deliver the equipment to your home and instruct you and your caregiver on how to use it.
Medicaid Coverage of Electric Wheelchairs
The answer to the question of whether or not Medicaid covers electric wheelchairs is not that straightforward. Although it's federally funded, Medicaid isn't a single program, and coverage may vary from one state to another. In addition, the required conditions for Medicaid to provide durable equipment and the frequency of which they'll do so varies greatly.
Medicaid does pay for electric wheelchairs, but it also largely depends on whether the senior lives in an assisted living facility, nursing home, or home. For seniors in Medicaid-funded long-term care facilities, an electric wheelchair will be provided to them when deemed medically necessary. Meanwhile, those with Medicaid coverage living at home or in an assisted living facility are generally under Medicaid Waiver programs – with each waiver having varying policies regarding DMEs. Typically, waiver policies are closely similar to that of Medicare.
Below is a list of all the states and their Medicaid websites where seniors can apply:
Veterans Resources for Electric Wheelchairs
Unfortunately, there's no clear-cut answer as to whether the VA covers electric wheelchairs or for any specific person. Veterans have coverage benefits for power wheelchairs and scooters, but there are no guarantees. However, various factors determine which type of wheelchair you'll get and how much of the cost is covered. These factors may include the veteran's type of disability, the severity of the injury/disability, whether the disability was sustained while in service, and the person's financial capability. The best step for senior veterans needing electric wheelchairs is to get in touch with the VA directly.
However, there are several funding programs and financial assistance that elderly veterans may use as a resource to acquire electric wheelchairs:
Veteran Resource
Website/Contact
How They Can Help
TRICARE
tricare.mil

1-866-773-0404

Retired senior veterans are eligible for coverage of durable medical equipment (such as electric wheelchairs) as prescribed by the doctor.
CHAMPVA for Life (CFL)
va.gov
Provides funding for the 20% copay not covered by Medicare for durable medical equipment.
Additional Financial Assistance Resources for Electric Wheelchairs
In addition to the financial assistance options outlined above, many state, local, and charitable organizations may help you acquire affordable or free electric wheelchairs.
| | | |
| --- | --- | --- |
| Resource | Website/Contact | How They Can Help |
| American Outreach Foundation | americanoutreachfoundation.com [email protected] | The foundation welcomes donations of new or used mobility scooters or power wheelchairs, and refurbishes them to be re-gifted later. |
| The Wheelchair Foundation | wheelchairfoundation.org / [email protected] | A global foundation that supplies free wheelchairs to people with mobility issues and can't afford the cost of a wheelchair. |
| LifeNets Wheelchair Project | lifenetswheelchairproject.org | This charitable organization supplies wheelchairs to those who need them, but is smaller and mainly relies on wheelchair donations. |
| Friends of Man | friendsofman.org | This non-profit organization doesn't provide electric wheelchairs, but they offer financial assistance for parts replacements and repairs (e.g., joysticks). |
| Latter-day Saint Charities | latterdaysaintcharities.org | This Christian charity organization specializes in humanitarian works, and one of its signature programs is providing free wheelchairs and mobility aids. |
Frequently Asked Questions
Q: How much do electric wheelchairs cost?
The average cost of an electric wheelchair is $2,500. The overall price can significantly vary based on the brand, quality, size, and features of the electric wheelchair. For example, if you're looking for a power wheelchair with elevating seats, be prepared for a significantly higher price.
Q: Can you use an electric wheelchair in the rain?
Yes and no. Electric wheelchairs are not designed for wet conditions like rainy weather. You should avoid operating your electric wheelchair during heavy rain, puddles, and snow. Fortunately, modern electric wheelchairs are water and splash-resistant, so getting caught in a drizzle or light shower is not a problem.
Q: How long do the batteries of electric wheelchairs last? 
Many factors can affect the longevity of wheelchair batteries, including battery type, the weight of the user, and the environment in which the wheelchair is operated. On average, electric wheelchair batteries last between one to two years before they need replacement. You may only get about six months of power if you have a lower-quality battery.
Q: Does Medicare cover electric wheelchairs?
Yes, but only if authorized by a doctor and the electric wheelchair is deemed medically necessary for the senior to complete activities of daily living. Moreover, the doctor's order must indicate the senior's mobility issues can't be resolved by a walker, cane, or manual wheelchair. The senior must also demonstrate they can operate the wheelchair safely or have a caregiver to assist.
Q: How long does it take to recharge an electric wheelchair?
The amount of time it takes to recharge an electric wheelchair varies depending on numerous factors – including battery type, age of the battery, and the charger. A good rule of thumb is to constantly charge your wheelchair overnight after using it for the day. Don't worry because most chargers won't overcharge the batteries.
Q: What does it mean to have "airline-approved" wheelchair batteries?
Older wheelchair batteries are not airline safe, so you can't take the wheelchair when flying. Refer to the owner's manual to know which type of batteries you have and if they're airline approved. If your batteries are deep cycled and have "Gel" or "AGM" labels, then you can take the batteries on flights. In most cases, airline-approved batteries have stickers saying as such.