Find Assisted Living in Your Area

Every fall, millions of students head back to the classroom at local colleges and universities to work toward a degree. While the average age of these students is 18 years old, a whole demographic of seniors is also embarking on the journey to a higher education. In fact, in 2022, approximately 200,000 seniors nationwide were enrolled full-time in some type of college degree program.
To accommodate these seniors, university-based retirement communities (UBRCs) are popping up all around the country. They offer housing, socialization, continued care and learning opportunities. Seniors who continue to work past retirement age can use UBRCs to obtain an advanced degree, while others might return to college to learn a new skill or start over in something they love or are interested in. Some universities also perform medical research, so seniors with chronic conditions or an interest in medicine can take part in general medical research or research on advanced treatment options.
With retirees demanding more from residential care communities, UBRCs provide an environment that's both physically and mentally stimulating. Keep reading to discover more about UBRCs and see if this type of senior housing is right for you.
What Is a University-Based Retirement Community?
UBRCs combine residential senior care with learning opportunities from local colleges and state universities. These facilities are like traditional campus housing but are specifically designed for seniors 55 and older. Some UBRCs are fully integrated, allowing seniors to take advantage of everything the university has to offer, including discounts to sporting events and theater performances, free classes and dining. Other UBRCs operate separately but provide on-site faculty presentations and lectures and free transportation to and from classes.
There are typically three types of UBRCs:
Communities built, owned and operated by the university
Retirement communities built on land owned by the university
Universities that partner with retirement communities located close by
Many senior students are alumni or retired professors who want to show their love and support for the university, while others simply live close by and have a passion for learning. Also, for many boomers, conversations with college-aged students and multigenerational friendships make them feel younger and provide increased energy that can improve their overall quality of life.
Housing Types Offered at UBRCs
Depending on the university, UBRCs offer multiple types of housing arrangements, including apartment-style living, single-family homes, duplexes and townhomes. Communities with skilled nursing facilities may provide individual rooms in a hospital-type setting.
Almost all living quarters include emergency call systems to help keep seniors safe. Bathrooms may be equipped with safety handles and call systems. Residences accommodate the needs of the individual, so some may even have widened doorways and wheelchair ramps.
What's the Difference Between UBRCs and Other Senior Living Communities?
UBRCs provide all the benefits of a traditional senior living community with the addition of access to the local university affiliation. The minimum age to move to either type of facility is usually 55. Aside from this, there are several similarities and differences between senior living communities and university-based retirement communities.
| | | | |
| --- | --- | --- | --- |
| | Residential Retirement Communities | Assisted Living Communities | UBRCs |
| Housing/Room Types | Private homes, apartments, condos | Apartments, condos, private rooms, shared rooms | Private homes, apartments, condos, private rooms, shared rooms |
| Costs | | $4,500/month** | $1,800 to $10,000/month with a one-time buy-in of $200,000 |
| Level of Care | Assisted living, memory care, nursing home care | Help with activities of daily living, memory care | Assisted living, memory care, nursing home care |
| Educational Offerings | Continuing education courses like diet and aging, senior bullying, health issues, finances | Continuing education courses like diet and aging, senior bullying, health issues, finances | College courses and degree programs |
| Common Amenities and Services | Fitness center, activity room, beauty salon, internet, security, health screenings, scheduled activities | Fitness center, activity room, beauty salon, internet, security, health screenings, scheduled activities | Full campus integration |
**Based on the national average from Genworth''s 2021 Cost of Care Survey.
What Are the Benefits of UBRCs for Seniors?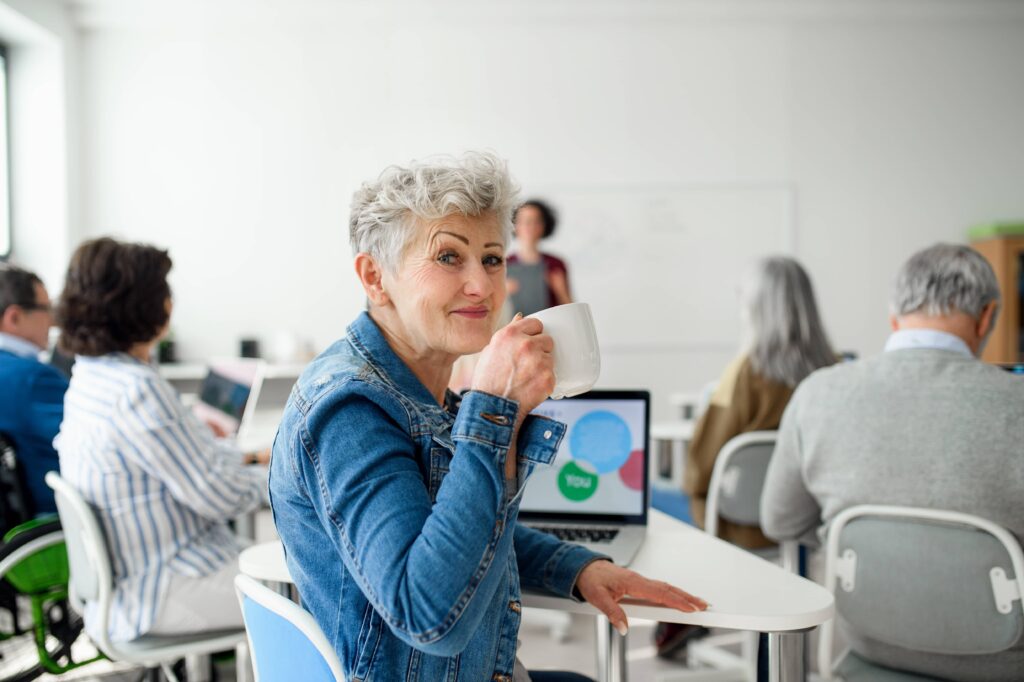 Along with individualized care, an active environment and learning opportunities, UBRCs provide additional perks for both the community and aging adults.
Enroll in Free Classes
Residents may enroll alongside traditional students and have year-round access to full-length college courses. Many seniors already have degrees and may take classes in subjects of interest. Class offerings depend on the university. Some allow seniors to enroll in one college class per semester based on eligible space, while others let seniors audit a full semester of classes.
Contribute to the College Culture
Diversity helps universities provide an enriching educational experience for their students. Seniors can bring a different life perspective and a challenging belief system to their younger peers. Older adults have access to all cultural and sporting events and all the university has to offer, which helps keep them active and involved.
Mentoring Opportunities
Textbooks can only offer so much. Seniors, especially past professionals, provide guidance at all stages of a young adult's career. Having an external point of view from a seasoned professional also helps students correct potential problems, improve their communication skills and increase motivation.
Boost in University Enrollment Numbers
According to the National Student Clearinghouse Research Center, university enrollment numbers fell just over 4% from 2021 to 2022. Many students seek different opportunities and want to avoid the high cost of a degree. With this decline, universities look for new ways to boost enrollment numbers. One way is through UBRCs, where seniors' year-round access to classes increases numbers.
Put Underutilized Land to Use
Many university campuses have hundreds of acres at their disposal. Selling parcels of land to retirement communities gives them needed income and develops the land surrounding the campus for continued use. New developments provide a facelift to the community and can put a university in a more positive light to the surrounding residents.
Job Opportunities for Traditional Students
UBRCs provide additional job opportunities to students through the federal work program. Students can clean rooms, answer phones, greet visitors and assist seniors with yard work and housekeeping.
What To Look For in a UBRC: A Checklist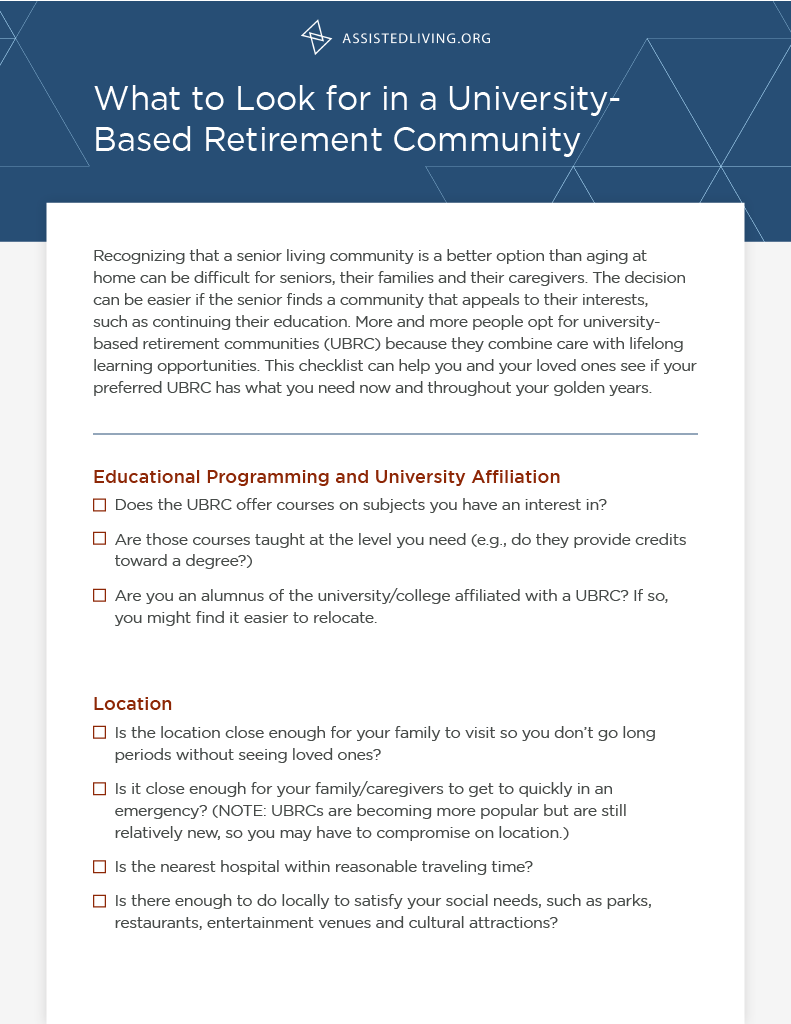 How Much Does a UBRC Cost?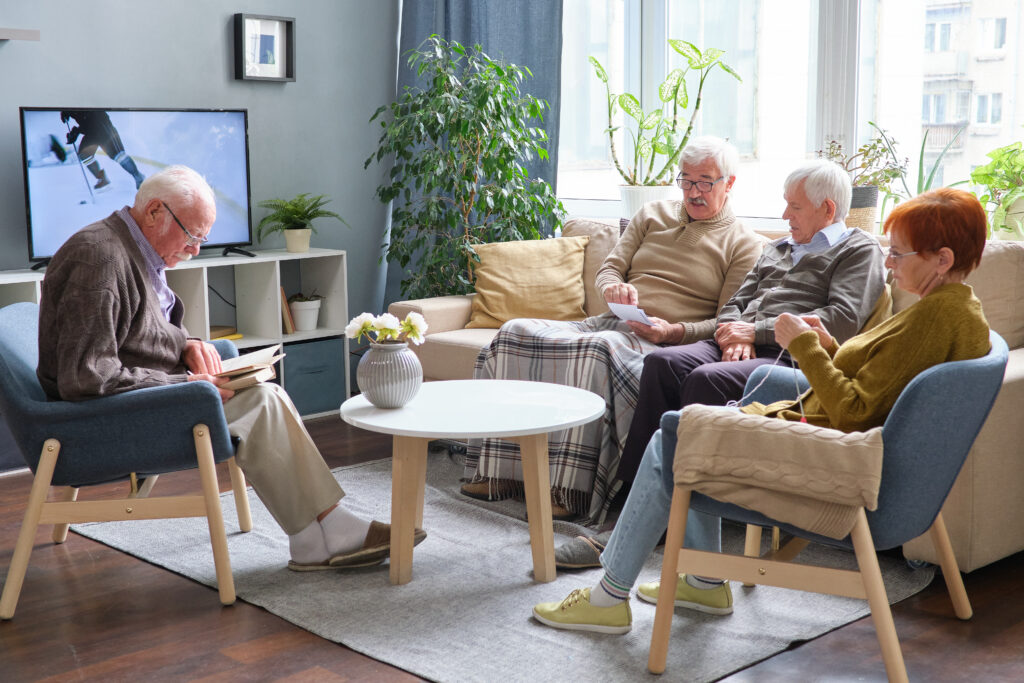 UBRCs vary in cost depending on what university they're affiliated with. Most UBRCs require an average one-time entrance fee of about $200,000 and a monthly fee of around $3,000 to $5,000 that covers things like housekeeping, dining and access to the college's amenities. This entry fee is a down payment for future care and for the size of the living quarters. The actual cost depends on the location, the type of programming and the level of care. For example, at Mirabella at Arizona State University, the buy-in fee is $378,500 for a one-bedroom apartment and $810,200 for a two-bedroom penthouse.
Seniors can compare these costs to the national annual cost of care from Genworth's 2021 Cost of Care Survey.
Home Care: $59,488
Home Health Care: $61,776
Adult Day Health: $20,280
Assisted Living Facility: $54,000
Nursing Home Care: $94,900
Ways to Pay for a UBRC
There are multiple ways to pay for UBRCs, with self-pay being the most common method. Financial assistance is extremely limited. Neither Medicare nor Medicaid covers the entire cost of assisted living. Medicare pays for medically necessary care, including home health care and skilled nursing. Medicaid coverage varies depending on the state because it's state and federally funded. Typically, Medicaid covers medical care, while Medicaid waivers cover the cost of custodial care, such as bathing, grooming, meal preparation and housekeeping.
Other financial options include:
Private Funds
Most seniors use private funds to pay for UBRCs and senior care. Types of private funds may include money from:
Savings
Sale of a home
Social Security income
Pensions
Retirement plans, such as 401Ks and IRAs
Stocks and bonds
Reverse Mortgages
Reverse mortgages are a type of home loan that allows seniors 62 and older to borrow from the equity in their homes. Unlike a regular mortgage, where the homeowner makes payments to the lender, a reverse mortgage makes equal monthly payments to the homeowner, provided they use the home as their main residence. These monthly dividends may be used to pay for UBRCs.
General upkeep and taxes must be kept current. Interest and fees accrue for the life of the loan, so the balance continues to grow. The loan becomes due when the property is sold or changes ownership.
Long-Term Care Insurance
Long-term care insurance is a private insurance policy that helps cover the cost of care for chronic medical conditions. These policies may reimburse payments made for in-home care, assisted living communities, senior care communities, adult day care and nursing homes. Most policies cover activities of daily living, care and room and board and can be costly.
Costs for long-term care insurance vary depending on several things, including:
Age of the applicant
Health of the applicant
Marital status
Gender
Amount of coverage and deductible premium
Insurance company
Veterans Benefits
The Aid and Attendance Housing Benefit helps eligible veterans pay for medical care and daily living tasks. The benefit is in addition to the standard monthly pension. Veterans may apply at any VA regional office. The application process can take as much as 9 months, but benefits are retroactive if approved. Eligible veterans must meet one of the following criteria:
Require assistance for at least two daily living tasks, such as bathing, dressing, toileting and meal prep
Must be bedridden
Require nursing home care due to a mental or physical disability
Visually impaired
Surviving spouses must have been married to a veteran for at least 1 year to receive benefits
Life Insurance
Some life insurance policies offer a cash-out option through a process called life insurance settlement, in which the policyholder sells the policy to a third-party buyer. Typically, the policy must be at least $50,000, and the settlement ranges from 50-75% of the policy's value.
Learn More About UBRCs and Find a Community
Alabama
| | | | |
| --- | --- | --- | --- |
| Name | Address | Phone Number | Description |
| | 400 University Park Drive Ofc, Birmingham, AL 35209 | (949) 287-4600 | Somerby at University Park provides seniors in Birmingham, AL with assisted living and educational opportunities. The University of Alabama's Birmingham campus is less than 10 minutes away, offering free courses for residents over 50 years old. The community's staff is available 24/7 to help with grooming, toileting, and mobility. |
Arizona
| | | | |
| --- | --- | --- | --- |
| Name | Address | Phone Number | Description |
| | 65 East University Drive, Tempe, AZ 85281 | (480) 317-4444 | In Arizona, Mirabella at ASU is a retirement community where seniors can continue their education. They attend daily lectures, college courses and workshops at Arizona State University while the staff handles housekeeping and laundry. Residents can join college classes as visiting instructors or guest learners, and have access to care services, chef-prepared meals and a fitness center. |
| | 13701 East Langtry Lane, Tucson, AZ 85747 | (520) 647-0900 | The Academy Villas is part of the Academy Village in Tucson, offering assisted living in studio and one-bedroom apartments. Residents receive round-the-clock assistance with dressing, grooming and other needs. The community's key attraction is the Arizona Senior Academy, providing lifelong learning opportunities such as lectures, classes, and access to the university library. |
Arkansas
| | | | |
| --- | --- | --- | --- |
| Name | Address | Phone Number | Description |
| | 2421 College Avenue, Conway, AR 72034 | (501) 327-6227 | Located on the University of Central Arkansas campus, College Square Retirement Community offers active independent living for seniors 55 and older. Residents receive special UCA privileges, access to campus amenities and medical facilities, as well as opportunities for personal growth and lifelong learning through classes, sporting events, and theater performances. |
| | 1923 East Joyce Boulevard, Fayetteville, AR 72703 | (479) 442-7220 | Seniors at Butterfield Trail Village in Fayetteville, AR can explore their artistic side through lessons, lectures, and local performances at the arts center. Caregivers assist with daily tasks such as cooking, cleaning, and medication management. Seniors can also participate in exercise programs like deep-water aerobics and yoga for improved balance, mobility, and flexibility, and enjoy restaurant-style dining at The Lodge. |
| | 801 Benton Avenue, Searcy, AR 72143 | (501) 305-3100 | Located on the Harding University campus, Harding Place Retirement Living in Searcy, AR provides independent living accommodations for seniors. Residents receive VIP access to campus facilities and events, including the pool, library and weight room. They can take part in on-site classes, groups, and activities as well as community-based programs for an enriching lifestyle. |
California
| | | | |
| --- | --- | --- | --- |
| Name | Address | Phone Number | Description |
| | 3415 South Campus Drive, Thousand Oaks, CA 91360 | (800) 671-8509 | Located in Thousand Oaks, CA, the University Village is a Type A Life Plan Contract community featuring assisted living facilities with 24/7 compassionate care staff to assist seniors. Residents can participate in activities such as fitness training, woodworking, and aquatic center access. The village is across the street from Californian Lutheran University, where residents can audit classes, attend theater performances, and sporting events. |
| | 620 Sand Hill Road, Palo Alto, CA 94304 | (888) 926-1850 | Located in Palo Alto, CA, Vi is a community for seniors wishing to continue their education with access to world-class academic institutions. Residents can participate in art lessons and free classes at the computer center. Caregivers provide 24/7 care, assisting with daily tasks such as bathing, dressing, and eating. |
| | 1515 Shasta Drive, Davis, CA 95616 | (530) 747-7000 | University Retirement Community, in partnership with the UC Davis Institute, is an academically-focused senior living community where residents can attend classes and lectures while cheering for local sports teams. Skilled nursing care is available short- and long-term, and an on-site rehabilitation center offers therapy services. The dining area serves chef-prepared meals with various dietary options. |
| | 10475 Wilshire Boulevard, Los Angeles, CA 90024 | (424) 401-0705 | Located in Los Angeles, CA, Belmont Village Senior Living Westwood is a university-affiliated community developed in partnership with UCLA. The community offers care options such as independent living, assisted living, and memory care, along with a Circle of Friends program for seniors in the early stages of memory loss. A variety of on-site activities are available to engage residents, providing enriching experiences. |
Florida
| | | | |
| --- | --- | --- | --- |
| Name | Address | Phone Number | Description |
| | 5100 SW 25th Boulevard, Gainesville, FL 32608 | (352) 548-1000 | Oak Hammock in Gainesville, FL, partners with the University of Florida to provide opportunities for learning and engagement. Seniors have access to classes, activities, and events at the university with scheduled transportation. The community offers independent living, assisted living, memory care, and skilled nursing care. An on-site library and access to university libraries are available for additional learning opportunities. |
| | 10100 Hillview Drive, Pensacola, FL 32514 | (855) 497-4117 | Located on Florida's Gulf Coast, Azalea Trace is a senior living community just across the street from the University of West Florida. The community offers access to the university's lifelong learning programs, which include free noncredit classes for seniors aged 60 years and up. Health services are also available on the campus, making it convenient for seniors to get their medical needs met. |
| | 4600 54th Avenue South St. Petersburg, FL 33711 | (727) 914-9756 | Situated in St. Petersburg, FL, College Harbor is the perfect retirement community for seniors who want to continue their education by enrolling in classes at Eckerd College. The community's friendly staff is available around the clock to assist with dressing, showering and mobility. Rehabilitation services and the wellness center are available for medical treatment by visiting health care professionals. |
| | 2110 Hestia Loop, Oviedo, FL 32765 | (407) 917-6418 | Located in Orlando, FL, Legacy Pointe at UCF is an assisted living community affiliated with the University of Central Florida, prioritizing high standards of care and cutting-edge health and wellness programs. The 24/7 staff helps seniors remain independent while offering assistance as needed with daily activities. Residents have access to a daily itinerary of hobbies, physical exercise, and social activities, and can attend university classes as part of a lifelong learning program. |
Georgia
| | | | |
| --- | --- | --- | --- |
| Name | Address | Phone Number | Description |
| | 600 Eagle Lake Trail, Rome, GA 30165 | (706) 368-9955 | Situated on the shores of Eagle Lake, The Spires at Berry College is a university-based retirement community that offers a peaceful retreat surrounded by 27,000 wooded acres. The community is just steps away from the vibrancy of college campus life, offering residents access to on-site amenities and unique opportunities for cultural, spiritual and intellectual enrichment. They can sit in on classes and lectures and attend plays, concerts, and sporting events. |
Illinois
| | | | |
| --- | --- | --- | --- |
| Name | Address | Phone Number | Description |
| | 55 East Pearson Street, Chicago, IL 60611 | (312) 784-8100 | Located on the Loyola University Chicago Water Tower Campus, The Clare is a senior living community set in the midst of the city's top shopping, dining, and entertainment. The community offers on-site amenities such as a state-of-the-art fitness center, an indoor pool, a salon, and a health and wellness center. Residents can take advantage of a variety of planned social events and activities, lifelong learning opportunities, and intergenerational programming. |
Indiana
| | | | |
| --- | --- | --- | --- |
| Name | Address | Phone Number | Description |
| | 1700 Lindberg Road. West Lafayette, IN 47906 | (765) 268-5767 | University Place in West Lafayette, IN, has an affiliation with Purdue University to provide enriching opportunities to residents. Seniors can participate in activities and programs within the community, which includes an on-site library and craft, hobby, and woodworking rooms. Independent living is available for seniors who don't need assistance, with assisted living, skilled nursing, and memory care available for additional support. |
| | 54515 State Highway 933, Notre Dame, IN 46556 | (574) 287-1838 | Situated near the campuses of Holy Cross College, St. Mary's College, and the University of Notre Dame, Holy Cross Village in Notre Dame, IN, has walking paths to connect the community to the campuses. Transportation is provided for residents to attend on-campus performances, and college students often volunteer at the senior community to bridge generations. The community offers a continuum of care, with independent living, assisted living, memory care, and skilled nursing accommodations available. |
Iowa
| | | | |
| --- | --- | --- | --- |
| Name | Address | Phone Number | Description |
| | 2200 Hamilton Drive, Ames, IA 50014 | (515) 357-5000 | Located minutes away from the Iowa State University campus in Ames, IA, Green Hills Retirement Community offers residents easy access to classes and campus events. The community provides a variety of activities and events, with a robust fitness center that includes a pool and fitness programs to enrich seniors' lives and well-being. Independent living, assisted living, skilled nursing, and memory care accommodations are available. |
| | 1922 5th Avenue NW Waverly, IA 50677 | (319) 352-4540 | Eisenach Village & Eichhorn Haus in Waverly, IA, are independent living adult communities offering new learning opportunities for active seniors. Eisenach Village provides maintenance-free living with complimentary access to all sporting events, performances, and classes held by Wartburg College. Eichhorn Haus features accommodations with step-in showers and wide doorways, catering, housekeeping, maintenance, and transportation services, as well as a wellness and activities program. The communities are close to Waverly's restaurants and retail stores. |
Maine
| | | | |
| --- | --- | --- | --- |
| Name | Address | Phone Number | Description |
| | 43 Middle Street, Saco, ME 04072 | (207) 284-7061 | In Saco, ME, The Wardell Retirement Community collaborates with colleges to enhance the lives of senior residents, offering independent living and assisted living programs. Volunteer opportunities for seniors are available in the Geriatrics Practicum through the University of New England, which offers medical students experiential learning. York County Senior College offers on-site college classes customized for learners ages 55 and older. |
Maryland
| | | | |
| --- | --- | --- | --- |
| Name | Address | Phone Number | Description |
| | 10450 Lottsford Road Mitchellville, MD 20721 | (888) 257-9468 | Located in Mitchellville, MD, Collington offers independent living, assisted living, skilled nursing, and memory care. Learning opportunities are abundant, starting with a library of over 5,000 books and periodical rooms housing more than 100 publications. On-site activities, including lectures, interest groups, and recreation, offer additional enrichment. Collington's Artists in Residence program, in conjunction with the University of Maryland School of Music, places two college students within the senior community to connect the generations. |
Michigan
| | | | |
| --- | --- | --- | --- |
| Name | Address | Phone Number | Description |
| | 817 Asa Gray Drive, Ann Arbor, MI 48105 | N/A | University Commons in Ann Arbor, MI, is an independent living community for seniors aged 55 and up. It's situated next to the North Campus of the University of Michigan and surrounded by scenic forests and wetlands. The community comprises 92 condominium units, and many residents are university employees. Amenities include a fitness center, library, woodworking room, and outdoor space for barbecues. |
Massachusetts
| | | | |
| --- | --- | --- | --- |
| Name | Address | Phone Number | Description |
| | 120 Seminary Avenue, Auburndale, MA 02466 | (617) 663-7000 | Lasell Village in Auburndale, MA, is an independent living community focused on lifelong learning. Its residents select goal-oriented education programs, committing 450 hours to learning. The community is co-located with Lasell University, which provides access to college courses, events, and lectures. Volunteering, mentoring, teaching, and tutoring opportunities are available, as well as clubs, outings, and community activities. |
| | 100 Bassett Brook Drive, Easthampton, MA 01027 | (413) 586-0006 | Lathrop Community Town Homes provides independent and supported living in Easthampton, MA, near the UMass Amherst campus. Residents volunteer and participate in community activities. Senior residents can pursue topics of interest through continuing education opportunities at local campuses. Seasonal and local ingredients are used to create gourmet meals served restaurant-style. |
| | 1611 Cold Spring Road Williamstown, MA 01267 | (413) 458-8371 | Sweetwood of Williamstown in Williamstown, MA, is an independent and assisted living community. Located close to Williams College, seniors can access educational and cultural opportunities. The fitness center has personal trainers to assist seniors in strengthening their balance and reducing the risk of falls. Nursing care is available 24/7. |
New Hampshire
| | | | |
| --- | --- | --- | --- |
| Name | Address | Phone Number | Description |
| | 67 Cummings Road Hanover, NH 03755-1263 | (603) 643-8900 | Kendal at Hanover in NH is an assisted living community near Dartmouth College. Residents can attend lectures and audit college courses, while the community provides around-the-clock nursing care and daily chore assistance. Access to the on-site Dartmouth-Hitchcock Clinic is available if needed. An indoor swimming pool and exercise room help seniors improve cardiovascular health and physical fitness. |
New York
| | | | |
| --- | --- | --- | --- |
| Name | Address | Phone Number | Description |
| | 50 Fairwood Drive # 100, Rochester, NY 14623 | (585) 248-3400 | Rivers Run Cottages in Rochester, NY, is home to the Osher Lifelong Learning Institute at RIT, providing educational opportunities for seniors over 50. The community has a partnership with the National Technical Institute for the Deaf, allowing residents to access its library, social programs, hearing tests, and academic events. Landscaping care, snow removal, and weekly garbage pickup are included for low-maintenance living. An on-site fitness center and fun activities are also available. |
| | 2230 Triphammer Road Ithaca, NY 14850 | (800) 253-6325 | The Kendal at Ithaca is a senior living community situated on a 105-acre campus near Cornell University and Ithaca College. It offers comprehensive on-site health care services, well-appointed accommodations, and upscale amenities like an indoor pool, tennis courts, and art studio. Seniors can engage in lifelong learning opportunities and cultural and recreational activities on campus. Fitness classes and art programs are also available. |
| | 1 Bella Vista Drive, Ithaca, NY 14850 | (607) 375-6300 | Longview Senior Living Community in Ithaca, NY, provides independent and assisted living services in a disability-friendly environment. The community has a variety of accessible homes and apartments of various sizes. Seniors receive assistance with household tasks and daily activities, and the association with Ithaca College provides lifelong learning opportunities. |
| | 6 International Drive, Suite 120 Rye Brook, NY 10573 | (914) 417-4201 | Broadview Senior Living at Purchase College in Westchester County, NY, is a university-based senior living community that offers independent living, assisted living, and memory care. The Learning Commons provides multigenerational opportunities for seniors and college students to experience classes, lectures, and social interactions. College programs, performances, and volunteer opportunities are available to seniors. |
North Carolina
| | | | |
| --- | --- | --- | --- |
| Name | Address | Phone Number | Description |
| | 400 Avinger Lane, Davidson, NC 28036 | (704) 896-1100 | The Pines at Davidson in NC is a senior living community that allows seniors to age in place while taking advantage of small college town amenities and activities. Campus trails and gardens, libraries, lounge areas, and a variety of dining venues are available to residents. A wellness center with state-of-the-art exercise equipment, a therapy pool, and a whirlpool is also available. Seniors have opportunities to attend lectures, cultural performances, and sporting events at Davidson College. |
| | 2701 Pickett Road, Durham, NC 27705 | (919) 490-8000 | The Forest at Duke in Durham, NC, offers residents growth and self-discovery opportunities through on-site classes coordinated with Duke University. With more than 400 monthly offerings, seniors can enjoy lectures, classes, clubs, workshops, and off-campus excursions. Independent living accommodations include apartments, cottages, and standalone homes, all within easy access to programming and amenities. Personalized services are available through The Forest at Home program. |
| | 501 Blakey Hall Lane, Elon, NC 27244 | (336) 506-2300 | Blakey Hall in Elon, NC, is a senior living community located within walking distance of Elon University. Seniors can enjoy learning opportunities through classes and entertainment with various campus events. The community offers on-site activities that meet mind, body, and spiritual needs, including lectures and concerts. Civic and volunteer opportunities keep seniors engaged and active. Residents can choose from independent living, assisted living, and memory care. |
Ohio
| | | | |
| --- | --- | --- | --- |
| Name | Address | Phone Number | Description |
| | 2158 Columbus Rd Granville, Ohio 43023 | (740) 321-0400 | Otterbein Granville in Granville, OH, partners with Denison University to offer residents opportunities for growth and learning. The Community Scholar Program allows residents to take noncredit college courses, and seniors can attend a variety of campus events, including plays, concerts, lectures, and sporting events. On-site amenities such as a ceramic studio, woodworking shop, and library encourage exploration and learning. The village-style community offers apartments, cottages, and villas with independent living, assisted living, skilled nursing, memory care, and rehab. |
| | 600 Kendal Drive Oberlin, OH 44074 | (440) 775-0094 | Kendal at Oberlin is a senior living community located next to Oberlin College and Conservatory of Music. Residents over 65 can take free classes at the college, and the college offers additional classes through its Experimental College. Performances at the college are open for seniors to attend. On the senior living campus, residents have access to lectures, clubs, classes, and performances. Levels of care include independent living, assisted living, memory support, and skilled nursing. |
| | 6727 Contreras Road Oxford, Ohio 45056 | (513) 524-7990 | The Knolls of Oxford in Oxford, OH, is affiliated with Miami University, offering seniors social, recreational, and educational enrichment. Residents can learn through the Institute for Learning in Retirement, and through the Scripps Gerontology Center, they can participate in research studies related to aging. Miami University students can also connect with residents, creating multigenerational connections. Seniors can choose from independent living, assisted living, and skilled nursing options to embrace the lifelong learning environment. |
Oregon
| | | | |
| --- | --- | --- | --- |
| Name | Address | Phone Number | Description |
| | 65 West 30th Avenue Eugene, OR 97405 | (541) 342-5901 | Cascade Manor in Eugene, OR, encourages seniors to pursue various learning opportunities at the nearby University of Oregon and attend performances at the Oregon Contemporary Theater. This continuing care community provides skilled nursing care and around-the-clock staff to handle housekeeping chores, assist with daily activities, and schedule medical appointments. Dining options include the Rogue Bistro for lighter fare and the Columbia Dining Room for intimate meals. |
Pennsylvania
| | | | |
| --- | --- | --- | --- |
| Name | Address | Phone Number | Description |
| | 1660 East Street Road Kennett Square, PA 19348 | (610) 388-1441 | Kendal-Crosslands Community in Kennett Square, PA, encourages lifelong learning for its residents with an auditorium for lectures and presentations. The senior community partners with the Osher Lifelong Learning Institute at the University of Delaware, Lifelong Institute at Immaculata University, and Chester County Night School to offer a range of classes. Residents can volunteer and teach others to enrich their lives. Independent living, personal care, skilled nursing, and rehabilitation care levels are available. |
Rhode Island
| | | | |
| --- | --- | --- | --- |
| Name | Address | Phone Number | Description |
| | 355 Blackstone Boulevard, Providence, RI 02906 | (401) 273-9550 | Laurelmead is a senior retirement community offering maintenance-free independent living in a luxurious environment. Seniors can enjoy a range of amenities, including a pool, fitness room, and spa. Restaurant-style dining options are available, and apartments are fully equipped with their own kitchens. Nearby, Brown University and the Rhode Island Institute of Design welcome Laurelmead residents to participate in lifelong learning programs. |
South Carolina
| | | | |
| --- | --- | --- | --- |
| Name | Address | Phone Number | Description |
| | 1500 Trailhead Court, Greenville, SC 29617 | (864) 371-3100 | The Woodlands at Furman University in Greenville, SC, is a vibrant community where seniors aged 50 and older can take university courses, attend lectures, and enjoy athletic events. Licensed nurses provide medical care when needed, and residents receive help with daily chores. Special dietary requirements are accommodated, and chef-prepared meals are served in the restaurant-style dining room. |
Texas
| | | | |
| --- | --- | --- | --- |
| Name | Address | Phone Number | Description |
| | 7480 Beechnut Street, Houston, TX 77074 | (713) 541-2900 | University Place offers seniors the opportunity to attend lectures, visit art exhibits, and access a variety of recreational services at the nearby Houston Christian University. The community offers various care services, from skilled nursing at the University Place Nursing Center to assistance with daily living activities. Pet-friendly apartments include an emergency call system, smoke detectors, and individually controlled heating and air conditioning for peace of mind. |
Vermont
| | | | |
| --- | --- | --- | --- |
| Name | Address | Phone Number | Description |
| | 100 EastView Terrace, Middlebury, VT 05753 | (802) 989-7500 | Located near Middlebury College, Eastview at Middlebury is an exceptional senior living community that offers a variety of living options including independent cottages and apartments, residential care, and memory care. Seniors can take part in college classes and enjoy performances, lectures and campus events, and even intern with students. On-site lectures, groups and classes provide additional ways for residents to stay engaged. |
Virginia
| | | | |
| --- | --- | --- | --- |
| Name | Address | Phone Number | Description |
| | 250 Pantops Mountain Road, Charlottesville, VA 22911 | (434) 972-2622 | Located near the University of Virginia campus, Westminster-Canterbury of the Blue Ridge offers a unique senior living experience. The community provides a full range of care services, fitness programs, cultural events, and intellectual opportunities. Residents can attend lecture series, on-campus exhibitions, and special events, and have access to a fitness center, aquatic facilities, a chapel, and a library. |
| | 2600 Barracks Road, Charlottesville, VA 22901 | (434) 333-7161 | The Colonnades is a welcoming continuing care community that provides seniors with a safe and comfortable residence, plus a full schedule of on-site activities. Residents can participate in bridge, canasta, and mahjong groups, as well as seated exercise classes and a play reading group. The community also offers on-site presentations from the University of Virginia. Staff is friendly and provides assistance with daily living activities, including medication management. Dining, housekeeping, and laundry services are provided. |
| | 160 Kendal Drive, Lexington, VA 24450 | (540) 463-1910 | Kendal at Lexington, situated in Lexington, VA, offers a wide range of learning opportunities through the resident-created Kendal College for Lifelong Learning, including lectures and hands-on classes covering various topics like philosophy, fine arts, technology, and current events. Residents can also audit classes at nearby Washington and Lee University. Independent living, assisted living, long-term care, skilled nursing, and memory support options are available at this continuing care community. |
Washington
| | | | |
| --- | --- | --- | --- |
| Name | Address | Phone Number | Description |
| | 5300 24th Avenue NE, Seattle, WA 98105 | (206) 926-9738 | Seniors living at Merrill Gardens at The University of Washington have access to medical centers, lectures, games and events at the university. Caregivers provide assistance with managing prescriptions and daily living chores. The community offers anytime dining for nutritious restaurant-style meals at the seniors' convenience. Staff handles all cleaning and yard work. |
| | 22975 SE Black Nugget Road, Issaquah, WA 98029 | (425) 600-4816 | University House Issaquah, located in Issaquah, WA, partners with the University of Washington Retirement Association to create an academic feel. The community works with various university departments, including the School of Social Work, to offer counseling and support when seniors transition into assisted living. The Schools of Nursing and Pharmacy provide innovative wellness programs. The community offers life enrichment programs, a fitness center with a pool, and an auditorium for additional resources. |
| | 4400 Stone Way North, Seattle, WA 98103 | (253) 765-0435 | University House Wallingford is a retirement community that partners with the University of Washington Retirement Association, providing seniors with access to certain university programming. Staff is readily available to offer companionship and assist with daily living tasks and medical appointments. Seniors can also participate in exercise programs with a personal trainer at the fitness center and enjoy chef-prepared meals in the restaurant. |