Find Assisted Living in Your Area
Cognitive decline refers to changes in several brain functions, including memory, concentration and thinking. Some cognitive decline occurs with normal aging, which is why many older adults have episodes of forgetfulness or take a little longer to make decisions than they did when they were younger. There is a way to maintain mental acuity during the aging process, however.
One way to slow cognitive decline and preserve the ability to think clearly and recall important events is to read regularly. Reading has been shown to reduce the risk of dementia, improve sleep quality, enhance memory and reduce stress, all of which can help preserve cognitive function. Best of all, reading is fun, and it's something most seniors can do — even if they have mobility issues or other health problems that prevent them from being active.
This guide explains the top benefits of reading for seniors and offers valuable tips to help older loved ones add reading to their daily routines. It also includes instructions for getting a public library card and downloading apps that can be used to borrow e-books for free. By putting these tips into practice, you can help the older adults in your life enjoy the benefits of regular reading.
How Libraries Can Help Seniors
Libraries play an important role in society, especially when it comes to helping seniors access reading material and stay connected to their communities. The infographic below outlines some of the key benefits of public libraries for older adults.

The Top Benefits of Reading for Seniors
Many older adults have arthritis, muscle weakness and other physical problems that make it difficult to engage in physical activity. A lack of physical activity can contribute to cognitive decline, so it's important for these seniors to get regular mental stimulation. Reading stimulates the brain, producing several benefits for seniors who want to preserve as much of their cognitive function as possible. Even if the older adults in your life don't have any chronic health issues, they can still enjoy the following benefits of reading regularly.
Improved Decision-Making Skills
Reading has been shown to help adults improve their decision-making skills, making it a beneficial hobby for seniors. Writing for Harvard Business Review, Christine Seifert explains that reading literary fiction helps people refine their critical-thinking skills and better understand the motivations of other people.
Reading also increases your emotional intelligence quotient (EQ), the skills that help you manage your emotions and understand other people's feelings. When you understand other people's emotions and motivations, you're better equipped to make good decisions. High emotional intelligence even helps seniors consider the consequences of their actions and follow through on the decisions they've made.
Reduced Risk of Dementia
In 2018, JAMA Psychiatry published the results of a study led by Allen T.C. Lee of The Chinese University of Hong Kong. The research team set out to examine the effects of intellectual activity on a person's risk of developing dementia. They evaluated 15,582 Chinese individuals who were at least 65 years old and had no history of dementia, asking each person to provide information about their participation in intellectual activities within a 1-month period.
During the study period, 8.7% of the participants developed dementia. The research team reports that participants who remained dementia-free participated in a wider variety of leisure activities than the seniors who didn't. A larger proportion of the seniors without dementia also participated in intellectual activities compared with the seniors who received a dementia diagnosis. The researchers concluded that participating in reading and other intellectual activities may help prevent or delay the onset of dementia in older adults.
Lower Stress Levels
Reading, like other hobbies, gives you a chance to relax and temporarily forget about the stresses of daily life. Researchers from Yale University School of Public Health believe that reading may even contribute to increased longevity because of its ability to reduce stress. This advantage is especially pronounced in people who read books versus people who read magazines and newspapers. The research team followed more than 3,600 participants for 12 years and discovered that book readers also experienced a 20% reduction in mortality risk compared to nonreaders.
Better Sleep Quality
If you have a hard time falling asleep, reading a book before bed may help. In 2021, a team of researchers from England and Ireland published the results of The Reading Trial. This study aimed to determine if reading before bed has any effect on sleep quality. As part of the study, researchers assigned 496 participants to the intervention group and 495 to the control group.
For 7 days, members of the intervention group read a book every night before bed and then measured their sleep quality. Not everyone completed the trial, but 42% of those who did reported that reading before bed helped them sleep better.
It's easier to take advantage of the benefits of bedtime reading if you practice good sleep habits. That means avoiding caffeine in the late afternoon and evening, exercising early in the day and keeping your bedroom as comfortable as possible. Once you add reading to your nighttime routine, your brain may even start to associate reading with sleep, making it easier to fall asleep after reading a chapter or two.
Enhanced Memory
According to researchers in Taiwan, reading may even help improve your memory as you age. The research team, led by Yu-Hung Chang of China Medical University, selected a sample of nearly 2,000 Taiwanese adults aged 64 and older. They evaluated reading frequency and cognitive function during the initial study period and then followed up via surveys six, 10 and 14 years later.
Even after adjusting for differences in educational level, the participants who read at least once per week had lower levels of cognitive decline than the participants who read less often. The researchers used the Short Portable Mental Status Questionnaire, which asks subjects to recall several facts to measure cognitive function, indicating that reading has specific memory-related benefits.
How to Help Seniors Read More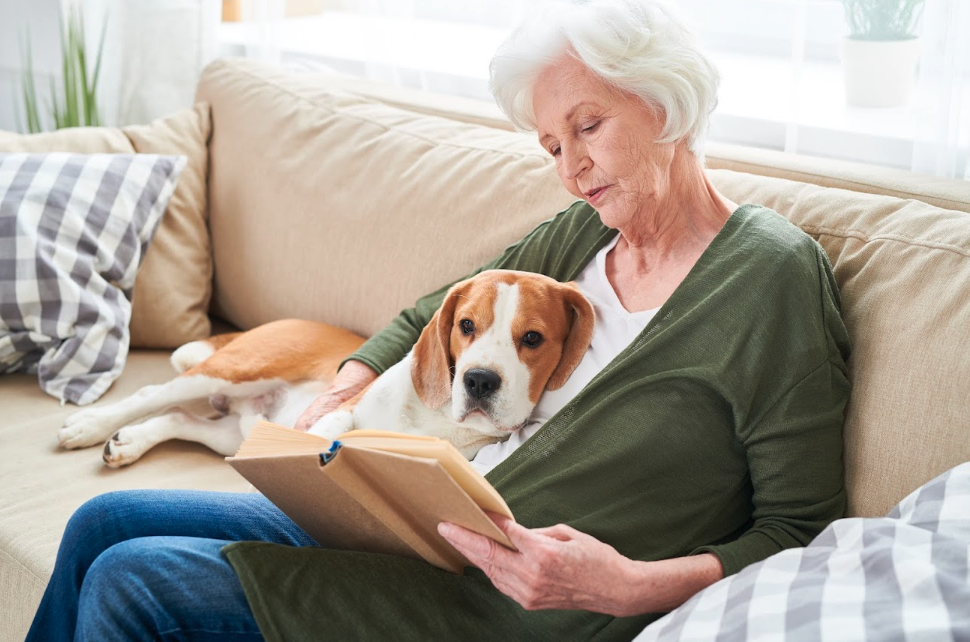 Even enthusiastic readers may have trouble reading as they get older. For some people, vision problems make it difficult to see the text in printed materials. Joint and muscle problems can even make it difficult for seniors to hold books for long periods of time. Fortunately, there are several things you can do to help older loved ones reap the benefits of regular reading.
Purchase large-print reading materials: Regular books typically use 12-point or 14-point type. Large-print books, magazines and newspapers use 16-point or 18-point type, making them much easier to read. Some publishers even release titles in "super large" or "giant" print for readers with severe vision impairments.
Try an e-reader: E-readers have digital displays that make it possible to adjust a book's text size as needed. Many devices also have adjustable backlighting, making it easier to read at night or when you're in a room with poor lighting.
Purchase a book light: A clip-on book light attaches to whatever you're reading, focusing bright light on the text and making it easier to see. Some models have a USB cable, making it possible to charge them via a laptop or desktop computer.
Get a magnifier: A full-page magnifier works with books, newspapers, magazines and other written materials. These devices typically provide 2X or 3X magnification, making it easier to see the letters on the page.
Use a book holder: For seniors with joint problems or muscle weakness, it can be difficult to hold a book for more than a few minutes. With a book holder, there's no need to hold the book while reading it, reducing discomfort.
Download audiobooks: Seniors with severe vision impairments may not be able to see well enough to use large-print books or e-readers. If this applies to your loved one, try downloading an audiobook, which is a voice recording of a book's content.
How to Get a Library Card
If you don't already belong to your local public library, it's a great time to sign up for a library card and gain access to all the books, magazines and newspapers you could ever want to read. The process may differ a little from one library to the next, but you typically need to follow the same basic steps:
Download an application from the library website.
Fill out the application.
Visit a local branch to hand in your application and provide proof of identity and/or residency. If you don't have a driver's license, you may be able to use a passport, state-issued ID, utility bill or other document to fulfill the verification requirements.
Keep your new library card in a safe place.
Borrowing Books Online
Once you have a library card, you can check out books at your local branch, request materials from other branches in your public library system or borrow e-books online and have them delivered to your e-reader. If you plan to borrow e-books, you may need to use an app, such as Libby or Amazon Kindle. Here's how to get these apps and make sure they're ready to go once you have a library card.
Libby
Download Libby on the App Store if you have an Apple device or Google Play if you have an Android device. Once you install the app, follow the on-screen instructions to find your public library. You'll need to sign in with your library card number and the password or PIN you set up when you joined the library. After you log in, you'll be able to search your library's catalog and borrow titles that look interesting.
Amazon Kindle
If you want to read Kindle books on your smartphone, tablet, laptop or desktop computer, you'll need to download the Kindle app. To do this, visit the Amazon Kindle page and choose one of the following options:
Download on the App Store
Get it on Google Play
Download for PC & Mac
Follow the on-screen prompts to install the app on your device. Once the app is ready to use, use your library's OverDrive website to search for available titles. Follow these steps to use the app:
If you don't know the website address, visit OverDrive.com and click the Find a Library link in the upper-right corner of the page.
Search for your library using the library's name, city or ZIP code.
When you find a title you want to read, all you have to do is click the Borrow button. OverDrive will ask if you want to borrow the book for 7, 14 or 21 days.
Make your selection and then click the Borrow button again.
Go to your Loans page and click the Read now with Kindle button next to the new title.
Follow the on-screen prompts to deliver the title to your Kindle e-reader.