When it comes to getting older, maintaining strength and mobility can be one of seniors' biggest concerns. It's important to incorporate daily activities into your routine that encourage fitness, such as a prepared stretching routine, or keep exercise equipment handy for more spontaneous activities.
The Benefits of Exercise for Seniors
Depending on the type of fitness you want to improve, there are a variety of tools you can use. Guided videos are great if you're curious about a specific exercise, or are already experienced and are looking for motivation and encouragement. There are pieces of equipment that are easy to use at home, such as seated machines, stationary machines, resistance bands, and other portable tools that are easy to keep around the house.
Studies show that while walking is an excellent way to maintain overall mood and is certainly not a negative addition to a healthy lifestyle, it does not provide adequate cardiovascular action or muscle resistance to create real and lasting fitness results. Also, studies show that cognitive health is improved best by cardiovascular activity that gets and keeps the blood pumping.  However, you don't need to go to the gym constantly to break a sweat and achieve lasting health improvements, and research notes that even moderate exercise increases metabolic functions within the brain, possibly improving cognition.
A seated elliptical or biking machine, for instance, is a great way to break a sweat while staying home, and is easy on the joints. A rowing machine is another great idea for those that want to maintain muscle structure without putting too much strain on joints and the back. Resistance bands and hand grip devices are also easy tools that don't cost much and work anywhere.
Read on for our list of the best exercise videos and equipment for seniors to see some options that can help you improve your overall health from the comfort of your own home or office.
Top Exercise Videos & Equipment for Seniors
Best Exercise Videos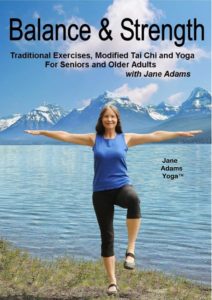 Price: See Amazon for Latest Price
Description:
Out of over 750 customer reviews, this DVD has earned a full 5-star rating, and Amazon editors have named it a top choice in senior exercise videos. Follow Jane Adams as she walks you through a wide variety of gentle exercises for those with and without mobility issues.
Key Features:
198 minutes playtime
Short tutorial for each of the eight Tai Chi forms used in the video
Exercises include sitting, standing, strength, flexibility, and balance improvement
Taught in mirror image with clear instructions
Price: See Amazon for Latest Price
Description:
These highly-rated DVDs are now available in a money-saving value pack, perfect for those who get bored with the same routine every day. Instructor David Dorian-Ross joins his elder friends in relaxing practice in the park. Clear instructions and guided movements make this routine easy to follow along with at home.
Key Features:
Two DVDs- Tai Chi Fit To Go and Tai Chi Fit Over 50
Tai Chi is combined with gentle QiGong for the perfect workout for elders
Low impact exercise
Routines are great for any age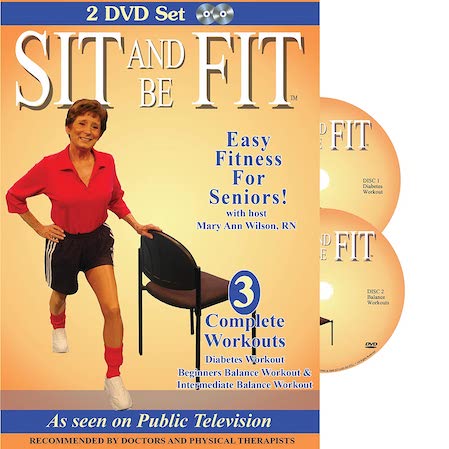 Price: See Amazon for Latest Price
Description:
The Sit & Be Fit Workouts were created by a Registered Nurse, Mary Ann Wilson. They have been designed to specifically target seniors living with poor circulation, diabetes, and balance issues. The entire workout is 81 minutes in length and comes in a set of 2 DVDs. The Sit & Be Fit Workouts collection has been nominated for several awards.
Key Features:
Three complete workouts
81 minutes run time
Great routine for diabetics and those with circulation issues
Designed by a registered nurse
Exercises designed to improve balance, muscle tone, breathing, and more
Price: See Amazon for Latest Price
Description:
If you're looking to revamp your fitness are and routine, this is the product for you. With its library of DVDs, fitness cards, and resistance bands, this system is great for the at-home fitness enthusiast, a senior center, or anyone that wants to include more structure into their workout routine.
Key Features:
Five senior exercise DVDs- seated, vitality, strength, balance, and wellness
Posters for exercise areas include daily routine and meal guide
Balance card included with different exercises for additional guidance
Resistance band included
Water Exercise Equipment
Price: See Amazon for Latest Price
Description:
While exercising in a pool, another great tool to use to help you stay floating upright as well as increase the level of exercise you're getting with added weight, is an underwater barbell, or swim bar.
Key Features:
Lightweight EVA foam provides the right amount of resistance
Three colors to choose from
Each weight measures11″ long x 6″ wide and weighs .66lbs.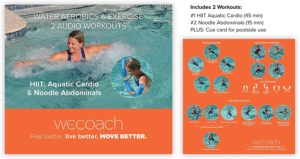 Price: See Amazon for Latest Price
Description:
These audio CDs are perfect for guided water aerobics without hiring a costly trainer. This program is designed to help you achieve goals in your cardiovascular strength as well as overall muscle tone. With easy to follow instructions and included cue cards, it's simple to get a great work out with minimal equipment in a low-impact pool setting.
Key Features:
Two workouts on one CD- 15 minutes Noodle Abs and 45 minutes HIIT cardio workout
Visual aide card to help you perfect your form
Water aerobics is a great low-impact cardio exercise for all skill levels of swimming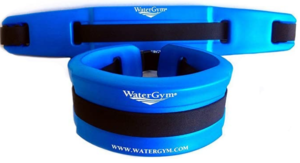 Price: See Amazon for Latest Price
Description:
Aquatic aerobics is a great low-intensity workout for seniors with a pool, and these workout belts are the perfect combination of flotation device and exercise aide to make your routine safe and fun. Available in small/medium and medium/large sizes, reviews state that these belts are built for comfort, with a soft foam waist and elastic straps for the right fit for any swimmer.
Key Features:
Two sizes available, for waists measuring 26"-36", and 32"-50"
Elastic waistband keeps flotation pads in place securely without pinching your waist
Tapered waist keeps pads from digging into the small of your back while swimming
Price: See Amazon for Latest Price
Description:
A more ergonomic version of the classic swimming barbells, the Aqua Sphere Ergobells work great for those that want to participate in aquatic aerobics activities but have a hard time grasping the barbells. These soft, flexible foam tools feel great in the hand and can be gripped in a variety of ways perfect for people with arthritis and other painful joint issues.
Key Features:
Soft, flexible foam is comfortable in your hands and can be held many different ways
Flat holding surfaces make gliding through water easy
Bright color orange makes these easy to find when dropped in the pool
Minimal resistance provides a basic workout, perfect for beginners
Best Seated Exercise Machines
Price: See Amazon for Latest Price
Description:
This low-budget, super convenient option is great for improving your fitness at home or the office. A large LCD screen displays RPM, time, speed, distance and calories burned while you exercise. This machine folds up easily to store away and is very lightweight at only 7.6 pounds.
Key Features:
Easy to assemble and fold up for travel
Tension adjusts easily with a twisting knob for a custom workout
Folds for easy storage
Available in grey or turquoise blue
Price: See Amazon for Latest Price
Description:
The smaller design of this mini stationary bike makes it a great tool to take with you throughout the house and use throughout the day. Exercise has been shown to increase focus and concentration, so working out in front of a good puzzle or at work could increase your productivity as well as your health.
Key Features:
Sitting recumbent exercise machine
Simple assembly
Compact 12.5" high design can be used on the floor, under a table, or on a tabletop
One-touch multi-program display shows speed, calories burned, time, and more
Perfect for use after surgery or for maintaining health in a sedentary lifestyle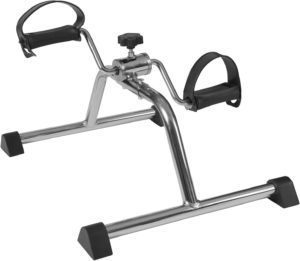 Price: See Amazon for Latest Price
Description:
This simple yet sturdy mini-bicycle exerciser is perfect for those that want an exercise machine they can move around the house. This one is perfect for both on the floor, or on the table being used to exercise your arms. This lightweight tool folds up for painless storage, too.
Key Features:
Easily adjustable resistance for varying levels of exercise
Lightweight design makes it easy to move this around to where you want to sit
Stainless steel frame is extra durable
Folds up for quick storage
Rubber feet ensure this device stays in place and doesn't scratch your floor or table
Price: See Amazon for Latest Price
Description:
This foldable, highly portable stepping machine is perfect for those with circulation issues that need to keep their legs in motion, even though they may also need to be sitting for extended periods of time. The raised balls on the footpads help increase blood flow throughout the feet, and the gentle stepping motion may not provide much exercise, but is perfect for keeping the legs active during resting periods.
Key Features:
Portable and folds easily for storage
Raised balls and textured footpads help improve circulation
Weighs less than one pound
Gentle rocking motion improves circulation, helping prevent cramps and blood clots
Price: See Amazon for Latest Price
Description:
Ergo-Therapy is the use of exercise to treat a disease, and this device was created with the intention of helping longtime sufferers of diseases that make the joints swell up painfully, such as diabetes. Simply rest your feet on this handy tool and it will gently exercise your legs while you relax, helping keep you safe from cellulitis, atrophy, and blood clots, despite mobility limitations.
Key Features:
Silent motor doesn't disturb your daily activities while in use
Dual speed settings
Lightweight and portable
Plugs into 110w wall outlet
Price: See Amazon for Latest Price
Description:
If improving your fitness is the goal, this machine is here to help with an intuitive planning system that helps you log your workouts and plan small increases to the intensity of your workouts. The whisper-quiet machine is also super lightweight, easy to move around, and requires no assembly.
Key Features:
Quiet operation
Lightweight for portability
Large textured pedals provide a relaxing massage while you work out
LED screen shows exercise data
Works with power to help you work out harder, or without power
Price: See Amazon for Latest Price
Description:
This top-of-the-line space-saving home exercise equipment is perfect for someone who wants the full-body workout of a biking routine, without having to leave their house. Featuring a digital monitor that can easily be set to scan through all your personal workout data, the monitor displays how long you've exercised, RPMs calories burned, and how far you've pedaled, to help you achieve your fitness goals.
Key Features:
250-pound capacity
Digital monitor keeps track of time, count, RPM, calories burned, and distance
Magnetic tension bar is easy to adjust to 8 different speeds for a custom workout
Stores upright when not in use to save space
Price: See Amazon for Latest Price
Description:
The Sunny Health & Fitness mini-bike is perfect if you want to cycle but don't want to get in and out of a bike, or don't have the room for larger equipment. This lightweight exercise device is also able to work as an arm machine- simply place it on your desk and grab the pedals to get moving.
Key Features:
Safety straps on pedals
Eight tension levels for varying levels of fitness
Easy to read LCD monitor displays time worked, speed, distance, and calories
220 pounds maximum user weight
Compact, space-saving design
Price: See Amazon for Latest Price
Description:
For a full-body workout without leaving your seat, try the Chair Gym. It features resistance bands and sturdy construction to help you remain firmly in place while stretching your muscles. This home gym is a full system, including instructional DVDs, a meal plan, and a twister seat addition if you want to add abdominal muscle exercises to your routine.
Key Features:
Padded seat and backrest for maximum comfort
Over 50 exercises possible while seated in this chair
Included swivel seat increases your flexibility routine if desired
Supports up to 350 pounds
3 resistance bands of different levels and 5 DVDs included
Price: See Amazon for Latest Price
Description:
This moderately-priced exercise bike is perfect for those who want to get in shape and maintain their fitness levels but have a hard time standing for long periods of time in other exercises, or have other mobility issues. The wide seat and sturdy frame are suitable for elders of all sizes, and it is easy to make sure you're always exercising within a healthy range for you with the built-in pulse monitors in the handgrips.
Key Features:
Supports up to 300 pounds safely
Pulse monitor on hand grips
Large cushioned seat
Easily adjustable knob lets you control the resistance
Seat adjusts with simple to use lever on the side of the seat
Price: See Amazon for Latest Price
Description:
The beloved ThighMaster continues to be manufactured by various companies, and this affordable model is available with quick shipping and in six stylish color choices. Simply sit with this tool between your thighs and squeeze to achieve shapely legs and a nice workout while enjoying your time seated.
Key Features:
Includes bonus comfortable ankle socks
Comes in six cool colors
Handles are covered in soft slip-resistant foam
Perfect for exercising while relaxing in front of the tv or at a crossword puzzle
Best Handheld Exercise Equipment
Price: See Amazon for Latest Price
Description:
Designed for those who want to maintain their existing hand strength, this grip easily adjusts from 30 pounds of resistance to up to 145 pounds with a turn of the dial. The stainless steel spring provides lasting use but is quiet so you can use it anywhere without bothering anyone.
Key Features:
Resistance adjusts from 30-145 pounds
Easy turn dial
Extra-strength stainless steel spring for long-term use
Comfortable non-slip grip
Whisper quiet while using
Price: See Amazon for Latest Price
Description:
This handgrip is highly reviewed by sufferers of arthritis and other joint issues for being so painless to use, making it ideal for people with stiff hands that want a gentle exercise. The tension of the spring easily adjusts from 22 to 88 pounds with the easy-to-turn dial. This set includes a waterproof carrying case as well as two bonus hand grip balls.
Key Features:
Provides 22 to 88 pounds of resistance
Includes two hand exercise balls
Non-slip rubber grip
Great for therapy or increasing hand strength
Price: See Amazon for Latest Price
Description:
This set of resistance bands includes a fun illustrated exercise book designed to help elders increase their strength and muscle endurance. Reviewers rave about how much their older loved ones appreciate the well-planned guides and benefit from the gentle stretching exercises.
Key Features:
18 page printed exercise guide and online video library access
Lightweight and medium-weight resistance bands included
Enclosed bands are great for stretching, yoga, pilates, and more
Chair exercises are effective for strength, coordination, improved sleep, and more
Price: See Amazon for Latest Price
Description:
This alternative to the standard resistance bands is easy for those with muscle weakness to hold and is very helpful in maintaining good form during stretching exercises. There are three resistance levels available, for those of all levels of strength. This lightweight tool helps increase strength in your hand muscles as well as your range of motion.
Key Features:
Wide variety of exercises to choose from for strength training, and flexibility
Three insertable weights for a custom workout
Increases flexibility and strengthens forearm muscles
Comprehensive exercise e-book included
Price: See Amazon for Latest Price
Description:
The modern design of these hand strength trainers contributes to their ultimate flexibility. Seniors have plenty of choice in how they use this tool- those who struggle with grasping a bar or ball will be able to determine the most comfortable way for them to stretch their fingers. This device also creates a fun toy for those who love to fidget, and simply playing with the toy will increase flexibility in the joints of your hand and wrists.
Key Features:
Three strengtheners included of varied sizes
Bright colors and modern design makes this tool fun to use
15 video exercises included
Non-slip and ergonomic for those of all strength levels