According to the World Health Organization, hypertension, or high blood pressure, affects one in five adults across the globe and is the cause of half of all deaths related to stroke and heart disease. Many people are unaware of their heart condition until an event like a heart attack occurs. Monitoring your blood pressure at home is a great way to ensure you are able to detect early warning signs of heart disease, as well as keep on top of existing conditions.
Using an At-Home Blood Pressure Monitor
The American Heart Association (AHA) has created a helpful guide to help you learn to use your at-home blood pressure monitor. The most important things to remember are that you should act the same way as if you were at the doctor's office- sit up straight, feet on the floor, and breathe normally, relaxed. Many monitors have an easy push-button that starts to inflate the wrist cuff, and others will begin to inflate automatically when the monitor is in the correct position. The AHA notes that many times, a reading will be high and it might be a good idea to recheck before panicking at your results. If after waiting for five minutes your levels are over 180/120 or are followed by shortness of breath or chest pains, then you should reach out to your healthcare team or call 911.
Personal blood pressure monitors all have their own qualities, but generally, they are able to store readings for a period of time so you can track your results and share them with your health providers, in addition to being more informed about your own health. Some monitors can store data for more than one user, and other monitors connect to smartphone apps or via Bluetooth to help make tracking your BP results, heart rate, and other health information easier. Simply bring your monitor with you to your doctor's appointments, and talk about your results. Your doctor can also help you verify that your at-home monitor is as accurate as the readings they are taking in the office.
Your blood pressure can be a sensitive issue with your body, and it is extremely important that your blood pressure measurement tools are accurate and in perfect working order, especially when you need to keep track of your BP. If your monitor has bad batteries, for example, inaccurate results could lead to serious health risks for you. Make sure to keep fresh batteries in your monitor at all times, and keep spare batteries with the instruction manual so that you know how to fix any issues with your device. Keep reading to see our choices for 2023's best wrist blood pressure monitors, and learn more about the monitors to figure out which one is best for your lifestyle.
Budget Wrist Blood Pressure Monitors for Seniors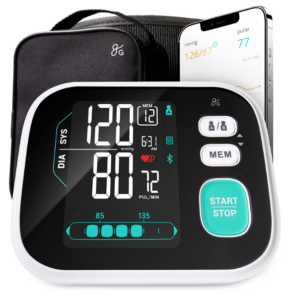 The GreaterGoods wrist blood pressure monitor cuff features everything you would expect from a premium blood pressure monitor. A comfortable, adjustable cuff makes it easy for anyone to check their blood pressure. The large display makes it simple to see the results, and the system allows for multi-user memory of test results. The smartphone app also allows for mobile tracking of health data.
Key Features:

Large, colorful display
Health range monitor and irregular heartbeat sensor
Safe measurement switch prevents over-inflation
Bluetooth-enabled system for smartphone app use
Cost: See Amazon for Latest Price
Coming in at number two on our list, with one of the lowest prices on the market, is the MOBI Health automatic wrist blood pressure monitor. This easy-to-use cuff lets you check your heart health anytime. Simply put the bracelet on and push the button to take an accurate, and fast reading. This monitor can store up to 120 readings, making it easy to track your health for your own records or to share with your doctors.
Key Features:
Stores 120 readings
Blood pressure and irregular heartbeat alerts
Large LCD monitor with big text for ease when reading your results
Cost: See Amazon for Latest Price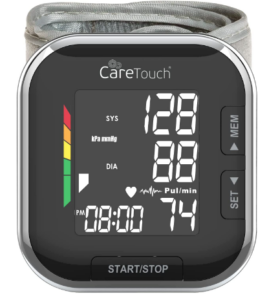 For those who need a blood pressure monitor on the go, the Care Touch Platinum Black blood pressure monitor may be the perfect choice. This compact monitor is perfect for travelers who need access to a monitor wherever they may go. The device offers an irregular heartbeat sensor that can warn users of heart health issues. Blood pressure results are delivered in one minute.
Key Features:
Large, HD backlit screen
Adjustable cuff fits all wrist sizes
Irregular heartbeat sensor
Results displayed in just one minute
Cost: See Amazon for Latest Price
The iProven wrist blood pressure monitor watch is a great solution for the casual user that wants to keep tabs on their blood pressure at home. This lightweight watch-style monitor is comfortable to wear, with a soft band that has a velcro closure. Reviewers note that their results usually align with the readings they get at the doctor's office, verifying this product's claim of accuracy.
Key Features:
Clinically accurate, fast readings
Large, easy-to-read display
Big buttons are easy to press
Fits securely on the wrist with comfortable padded strap
Cost: See Amazon for Latest Price
Vive's Precision personal blood pressure monitor is a great solution if you're worried about keeping an eye on your numbers at home. This self-inflating blood pressure cuff is easy to operate with the touch of a button and includes an easy-to-read user manual to help you get familiar with the machine. Up to two users can store data in this cuff to help both you and a loved one keep track of your blood pressure, pulse, and any irregular heartbeats.
Key Features:
Individually tested for accuracy
User-friendly one-touch operation
Stores data for two users
The self-inflating cuff fits arms up to 16.5" in diameter
Cost: See Amazon for Latest Price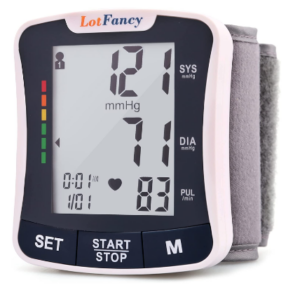 LotFancy provides an affordable and accurate blood pressure monitor with a voice broadcast feature. This provides an audible readout of blood pressure test results –  perfect for those who may struggle to read the results. The device also records up to 120 test results for 2 users. The adjustable wrist cuff offers a comfortable fit for most people. This blood pressure monitor offers a lot of value in a compact, inexpensive package.
Key Features:
Cuff expands from 5.3" to 8.5"
Large LCD display featuring diastolic and systolic pressure and pulse rate
Lightweight product at just 8.6 ounces
Stores data for up to four users; remembers 120 readings
Cost: See Amazon for Latest Price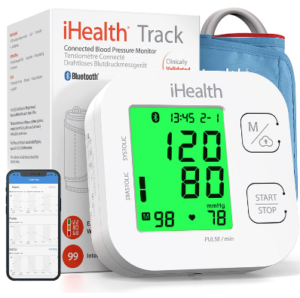 iHealth is known for its superior health products, and its Track smart blood pressure monitor is no different. This device offers Bluetooth connectivity for app use, one-touch testing, an easy-to-read screen, and an adjustable cuff. The red-yellow-green display provides users with a visual signal for where their blood pressure stands. This comprehensive package offers everything someone needs for monitoring their blood pressure on a regular basis.
Key Features:
Easy one-button activation
Large display with color-coded background
Fast and accurate blood pressure and pulse results
App connectivity for iPhone and Androi
Cost: See Amazon for Latest Price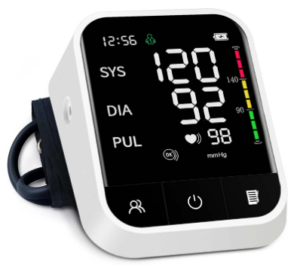 JOPHY offers a high-quality blood pressure monitor at an affordable price. The device features a large readout for easy viewing, and up to 2 users can log their results in the system. The device can be powered by AAA batteries or plugged in with a cell phone charger. The JOPHY blood pressure monitor offers all the information a user needs in a small and convenient device.
Key Features: 
Intelligent alarm indicator for high blood pressure
Powered by 4 AAA batteries or a USB-C cord
Large, backlit screen for easy reading
Up to 2 user logs for tracking progress
Cost: See Amazon for Latest Price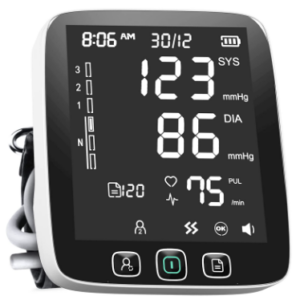 LAZLE provides a top-quality blood pressure monitor with a wide range of features. This device has two user modes for tracking blood pressure progress. Irregular heartbeat alerts let users know they are at risk. One-touch operation makes the device easy for anyone to use, and it turns off automatically.
Key Features:
Adjustable cuff for easy wearing
Large 5.5" display for easy reading
Carrying case for easy transport
Arrhythmia checking for additional peace of min
Cost: See Amazon for Latest Price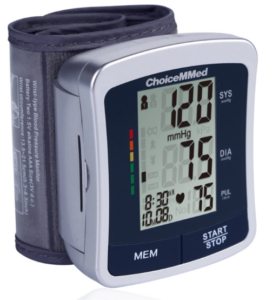 The CHOICEMMED wrist blood pressure monitor makes it easy to check your blood pressure from the wrist anytime you need it. The soft, adjustable cuff makes for comfortable testing. The screen readout offers blood pressure information, pulse rate, date, time, and memory for up to two users. A small carrying case makes it simple to take the blood pressure monitor with you wherever you go.
Key Features:
Two-user memory storage holds up to 120 readings
Fits wrists measuring 5.3" to 8.5"
3.3" device is small and easy to handle
Automatic power off saves energy
Cost: See Amazon for Latest Price
Mid-Range Wrist Blood Pressure Monitors for Seniors
A&D's budget-friendly option, this wrist monitor provides proven accurate results in rapid time, with easy one-button push operation. Its comfortable fabric strap and velcro closure combined with the positioning guide makes it easy to find a secure, comfortable, and proper fit for the most accurate results. The multi-user function makes it simple to store up to 60 test results for two different users.
Key Features:
Correct positioning guide ensures accurate readings
Easy-to-read LCD screen
Stores 60 measurements for up to two users
Five-year warrant
Cost: See Amazon for Latest Price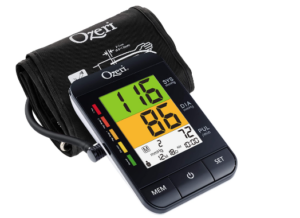 For patients who need visual cues to help them understand their heart health, the Ozeri BP9W may be the perfect blood pressure monitor. The split-screen LCD monitor displays color-coded backgrounds for systolic and diastolic blood pressure so users can see if their numbers are in good, okay, or bad range. Three users can log up to 399 records so the whole family can track their blood pressure progress.
Key Features:
Color-coded readout shows blood pressure status
Irregular heartbeat detection
Portable system for easy travel
Store data for up to 3 user
Cost: See Amazon for Latest Price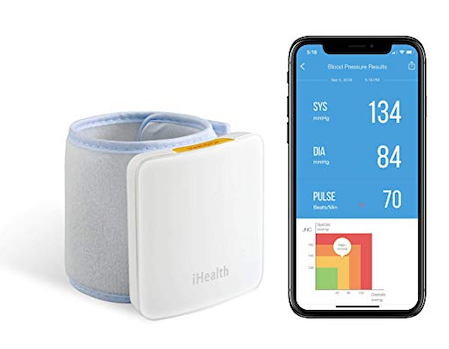 For those who are tech-savvy, a blood pressure monitor with app connectivity may be the right option. The iHealth line of blood pressure monitors features the iHealth Myvitals app for Android and iOS, providing unlimited storage of test results. The iHealth Track also features a large readout, color-coded backgrounds, and simple one-touch operation.
Key Features:
Bluetooth functionality pairs with your smartphone to see and track results
App works with both Android and iPhones
One-touch operation makes for easy use
Large LCD readout allows for clear reading
Cost: See Amazon for Latest Price
The Mark of Fitness blood pressure wrist monitor delivers quick, accurate results, from a comfortable bracelet that is easy to operate independently with the push of a button. Users rave that this monitor is consistently accurate, with their results lining up with those received at their doctor's office.
Key Features: 
Stores data for up to two users
Comes with carrying case for traveling
Large, easy-to-read display
Cost: See Amazon for Latest Price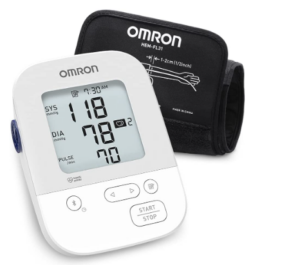 The Omron Silver offers easy use, accurate blood pressure results and advanced technology. The device features a hypertension indicator that lets users know when their systolic blood pressure goes above 130 or their diastolic blood pressure goes above 80. It also offers an easy-wrap cuff for comfort, advanced averaging, and storage of the last 80 readings.
Key Features:
Operates off of 4 AA batteries
Convenient storage case
Stores up to 80 readings
Advanced accuracy, using five times more data points than typical monitor
Cost: See Amazon for Latest Price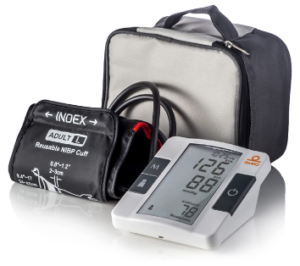 DARIO's blood pressure monitor offers an easy-to-use system that benefits those who need to discuss their heart health with their doctor regularly. This device connects to the DARIO smartphone app where users can collect and retain their blood pressure test results. The app also makes it easy to share the data with a doctor so users can discuss the results with a professional.
Key Features:
App allows for storage of all blood pressure readings
Convenient for sharing data with a doctor
Comes with carrying case and batteries
Large display with easy-to-use buttons
Cost: See Amazon for Latest Price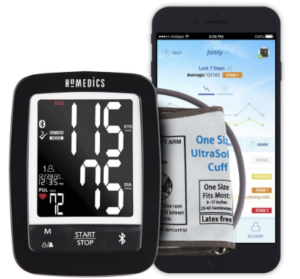 From the trusted HoMedics name, this premium Bluetooth arm blood pressure system offers convenient use and accurate results. The triple-check averaging system tests your blood pressure three times and provides an accurate average. The device can store up to 240 readings, and the large backlit display makes for easy readout.
Key Features:
Triple-check averaging system
Large, colorful backlit display
Store up to 240 readings
Connects with smartphone app for data storag
Cost: See Amazon for Latest Price
The Advantage digital wrist monitor helps you keep track of your blood pressure accurately with its comfortable adjustable cuff and easy-to-use interface. One-touch operation makes it easy to take your blood pressure independently, from the comfort of your own home. Two users can share this monitor, and it stores up to 99 readings with date stamps.
Key Features:
Stores up to 99 readings for two different users
Latex-free cuff adjusts from 5.3"-7.7"
Simple one-touch operation
Auto-shutoff helps save battery power
Cost: See Amazon for Latest Price
High-End Wrist Blood Pressure Monitors for Seniors
For those looking for blood pressure and heart rate readings throughout the day along with other fitness tracking options, the TAOPON smartwatch may be the perfect fit. This wristwatch offers tracking of heart rate, blood oxygen, blood pressure, steps, sleep, and more. The 19 sport modes are designed to track vital health markers during a wide range of activities.
Key Features:
Comprehensive health monitor wristwatch
IP67 waterproof
Consistent heart rate monitor
Bluetooth link to smartphone
Cost: See Amazon for Latest Price
The Advocate personal wrist blood pressure monitor is a great choice for those that want an accurate, simple-to-use device to keep track of their BP. Large buttons and an easy-to-navigate system combine with the extra-large and backlit LCD display to provide accurate readings that can be read with ease, despite lighting and visual impairment.
Key Features:
Remembers last 90 readings
Large, easy-to-read screen
Irregular heartbeat detection
Level-detector that lets you know when you're in the best position to measure your BP
Cost: See Amazon for Latest Price
The A&D Medical UltraConnect Bluetooth blood pressure wrist monitor is perfect for those that want to be able to use their BP monitor by itself, or take advantage of the cool features this device's app brings to the table. The app syncs quickly with your phone via Bluetooth technology and makes it very easy to read your results at home, on the go, or at your doctor's office.
Key Features:
Features irregular heartbeat indicator
Movement sensor ensures proper positioning before taking a reading
Store up to 100 readings in the device and unlimited data in the app
Clinically tested to be accurate
Cost: See Amazon for Latest Price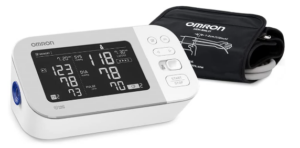 Omron's Platinum blood pressure monitor offers a compact unit that can take care of all your blood pressure monitoring needs. Two user logs can store up to 200 readings so users can track their health. The device takes three readings and provides an average to help with accuracy. For tech-savvy users, the device connects to the Omron app and Amazon Alexa.
Key Features:
Stores 200 readings for 2 users
Connects to App and Amazon Alexa
Blood pressure averaging for additional accuracy
Compact design and storage case for easy transpor
Cost: See Amazon for Latest Price
The Premium Series digital wrist blood pressure monitor by HealthSmart is a great choice for someone who has a bilingual home, thanks to its ability to dictate the results of your reading and the average of the last three in both English and Spanish. Independence-loving seniors love this monitor because it has a large, easy-to-see LCD screen, easy-to-use menu, and simple push-start operation once the monitor is at heart level.
Key Features:
One-handed operation
The high-contrast LCD screen is backlit for easy reading in the daytime or with no light
Speaks in English and Spanish
Records last 120 readings for up to two users
Cost: See Amazon for Latest Price
Paying for Blood Pressure Monitors
Affording a home blood pressure monitor can be difficult for some, but there are a few financial aid options available to help cover some or all of the costs.
Medicare Part B
The Medicare healthcare program offers seniors and other qualifying beneficiaries a variety of healthcare products and services. While Medicare Part A covers hospital stays and inpatient care, Medicare Part B covers outpatient care and durable medical equipment (DME). Medicare defines DME as:
Healthcare products that are durable and reusable
Required for a medical need for a patient
Expected to last at least 3 years or longer
Equipment that is used in the home
Home blood pressure monitors qualify as durable medical equipment. Medicare may cover part of the cost of these devices when a beneficiary has a medical need for them. Beneficiaries must cover their annual Medicare deductible before the program will cover 80% of the cost of a home blood pressure monitor. Beneficiaries must also be prescribed a home blood pressure monitor to have the item covered.
Medicaid
Medicaid is a supplemental, state-operated healthcare program that offers coverage for seniors, the disabled, and others who qualify. Medicaid, much like Medicare, identifies home blood pressure monitors as durable medical equipment (DME).
Every state operates its own Medicaid program, so each state will have different requirements to obtain coverage for durable medical equipment. Below is a list of each state, their DME coverage options, and contact information:
Medicaid programs and waivers can change from time to time. It's important to reach out to your state's Medicaid office to confirm that their DME program is still open and will cover the cost of a home blood pressure monitor.
Veterans Affairs
Veterans Affairs features a healthcare program for veterans of every division of the military. This healthcare program offers coverage for durable medical equipment when it is prescribed and approved by the VA program.
For veterans who wish to obtain durable medical equipment from the VA, below are the steps to apply.
Veterans who need a blood pressure monitor can obtain the items from a VA-approved pharmacy or may be able to make a purchase online and be reimbursed. For questions about obtaining DME through the VA program, the VA website has additional information.
Purchase an older model
Home blood pressure monitor manufacturers are always developing new products with extra features. The newest models may provide more detailed health information, be able to store more data, and come in a more convenient, compact design. However, someone on a budget may rather sacrifice the extra bells and whistles in exchange for savings.
Purchasing an older blood pressure monitor model can significantly lower the overall cost of the product. Manufacturers often lower the price of older models significantly in order to get them off the shelves rather than toss them out. When you find a blood pressure monitor you like, check the company's sales page to see if there is an older model that provides similar features for a much lower price.
Purchase a base model
Much like older models of blood pressure monitors, a lot of companies sell base models that feature just the essentials. While some models provide color-coded readings, large LCD screens, and app connectivity, these base models may just provide systolic and diastolic readings.
Before purchasing a base-level blood pressure monitor, it's important to talk with your doctor about your heart health. They may want you to have a blood pressure monitor that measures your pulse, stores readings, and takes averages so they can look at the data and provide the best care possible. Base models may not offer all the features you need to provide your doctor with detailed health information as you manage your blood pressure.
Purchase from a thrift store
Thrift stores often have a wide range of healthcare products available for purchase. A lot of stores will test these items before they are available for purchase to ensure that they work properly. Visiting a few thrift stores, you may be able to find a good deal on a home blood pressure monitor.
It's best to ask a thrift store employee if they have healthcare products such as a blood pressure monitor available for purchase. These types of items may not be donated as commonly as others. Ask if you can be put on a list to be informed when a blood pressure monitor comes available.
FAQs
What is a normal blood pressure range?
A normal range for blood pressure is around 120 systolic and 80 diastolic. Depending on a person's health conditions, it can be safe and normal to land higher or lower by a few points without worry.
What time of day is best to check your blood pressure?
It's best to check blood pressure in the morning before eating breakfast to get an accurate reading that's not influenced by food or drink. Taking another measurement before or after taking medication can also help a person determine if certain meds have a negative effect. Measuring blood pressure before bed can also provide an accurate reading well after the last meal of the day.
How reliable are home blood pressure monitors?
Home blood pressure monitors are considered to be very accurate. The FDA approves blood pressure monitors for home use before they are made available to the public. Taking a few readings back-to-back can be helpful for accuracy.
Are home blood pressure monitors safe to use?
Yes, blood pressure monitors designed for home use are very safe and reliable. The devices measure blood pressure just like a monitor at a doctor's office and automatically release when done.
How long do home blood pressure monitors last?
Home blood pressure monitors are made to work for many years without any issues. Most companies that sell home blood pressure monitors provide product warranties for months or up to a year.