Find Assisted Living in Your Area
It's no secret that the Chinese culture places great significance on the family structure. In Chinese families, respect and care for the elderly are believed to be some of the strongest values held. However, times have changed, and in many Chinese American families, older adults have become more open to the idea of assisted living communities, which can provide personal care and help with activities of daily living (ADLs), socialization and limited medical assistance. In fact, a study conducted in 2015 indicated that 38% of elderly Chinese adults are open to the idea of moving to a nursing home or senior living facility.
That said, some Chinese American seniors continue to have concerns about moving to an assisted living facility. These range from concerns about language barriers to food. In response, facilities that cater specifically to Chinese Americans have started to open up, creating culturally authentic environments that appeal specifically to Chinese American seniors. Despite the existence of these facilities, many Chinese American seniors continue to feel hesitant about making the move.
This guide covers some of the most common concerns these seniors have about assisted living, tips for caregivers, state and federal resources and advice on how to choose an assisted living facility for Chinese American seniors.
Common Concerns of Chinese Americans Related to Assisted Living
When it comes to assisted living, there are several concerns that Chinese American older adults and their families may have:
Food choices: Chinese American older adults may have specific dietary restrictions or preferences, and it is important to ensure that the assisted living community offers food that is culturally appropriate and meets their dietary needs.
Language barriers: Many Chinese American older adults may not be fluent in English, which can create communication barriers with staff and other residents.
Religion: Religion can play an important role in the lives of Chinese American older adults. For those who are religious, it's important to find an assisted living community that offers religious services or makes accommodations for spiritual practices.
Cultural stigma: Some Chinese American families may feel guilty or ashamed about placing their loved ones in assisted living, as it may be seen as neglecting their duty to care for them.
Socialization: Chinese American older adults may want to be around people who speak their language and share their cultural background.
Staff training: It's important to find an assisted living community with staff that is culturally sensitive and trained to work with Chinese American older adults.
Dealing With Cultural Guilt of Moving a Loved One to Assisted Living
Moving a loved one to assisted living can be a difficult decision for any family, but it can be particularly challenging for Chinese American families who value providing care for their elders. Family caregivers who choose to move their loved ones to an assisted living facility may face extreme guilt or shame about their decision. Here are some ways caregivers can cope with that guilt and see the benefit of assisted living for their senior loved one.
Talk it out: Talk to trusted friends, family members or a counselor about the decision. This can help alleviate feelings of guilt and shame and provide perspective.
Tour potential facilities in person: Take time to visit assisted living communities with senior loved ones before making a decision. This can help ease concerns about quality of life, amenities and cultural accommodations.
Use reason: When feelings of guilt are overwhelming, remembering the reasons for moving a loved one into assisted living can help. In many cases, seniors are safer and better cared for in a facility than they are at home, where caregivers have other obligations to tend to such as work and children.
Join a support group: There are many support groups that exist in towns and cities across the United States that are specifically designed to help family caregivers manage feelings of grief, guilt and stress.
What To Look For in an Assisted Living Facility for a Chinese American Senior
Where You Can Find Mandarin-Speaking Assisted Living Facilities
The below table gives you a preview of some of the Mandarin-speaking senior living communities in the U.S. Communities' available services and amenities can change, so be sure to verify that a community has Mandarin-speaking staff and other necessities before making a decision.
| | | | |
| --- | --- | --- | --- |
| Community | Location | Phone Number | Description |
| | 39022 Presidio Way, Fremont, CA 94538 | (510) 792-3743 | Fremont Healthcare Center in Fremont, CA provides 24/7 skilled nursing care and personalized care plans tailored to meet individual needs. The center offers a range of services including rehabilitation, social and nutritional services, and long-term care plans. Residents requiring assistance receive comprehensive care. |
| | 501 Vía Casitas, Greenbrae, CA 94904 | (415) 461-2300 | Providing breathtaking mountain views and convenient access to local venues, The Tamalpais Marin in Larkspur, California is a retirement community that offers personalized care to residents, including assisted living, skilled nursing, and short-term rehabilitation. Apartments are secured by 24-hour surveillance for enhanced security. |
| | 6071 York Boulevard, Los Angeles, CA 90042 | (323) 254-3407 | York Healthcare & Wellness Centre in Los Angeles, CA offers personalized care plans, including short or long-term care, rehabilitation services, and religious and spiritual services. Residents receive personalized care tailored to meet their individual needs. |
| | | | |
| --- | --- | --- | --- |
| Community | Location | Phone Number | Description |
| | 2450 East Cache La Poudre Street, Colorado Springs, CO 80909 | (719) 377-6735 | Offering personalized care and an active retirement lifestyle for seniors, The Retreat at Sunny Vista is a campus of care community located just minutes from downtown Colorado Springs. Residents receive daily assistance, personalized medical support, life enrichment programs, chore services, and daily meals. Weekly community entertainment and socialization opportunities are also provided. |
| | 3777 West 26th Avenue, Denver, CO 80211 | (303) 552-5367 | Providing affordable care and assistance with daily activities, Dayspring Villa Assisted Living community in Denver, CO fosters independent living for residents. The community is comfortable, active, and welcoming to all residents. |
| | 2855 Owl Hoot Trail, Steamboat Springs, CO 80487 | (970) 329-2709 | Offering a simple lifestyle, Casey's Pond in Steamboat Springs, CO takes care of residents' basic housekeeping needs. Residents can focus on enjoying their retirement with leisurely walks along the paths or relaxing on the patio with the fireplace and fire pit. |
| | | | |
| --- | --- | --- | --- |
| Community | Location | Phone Number | Description |
| | 9664 Hood Road #1141, Jacksonville, FL 32257 | (904) 292-9600 | Almost Home Senior Services Inc in Jacksonville, FL provides adult day care and assisted living services, offering gentle 24/7 care and memory enhancement activities. Residents receive specialized and tailored care to promote socialization, provide a sense of purpose, and help with the challenges of aging. |
| | | | |
| --- | --- | --- | --- |
| Community | Location | Phone Number | Description |
| | 1227 East Golf Road, Des Plaines, IL 60016 | (847) 294-0644 | Offering 24-hour assisted living services, Alden Gardens of Des Plaines in Des Plaines, IL provides team members to assist residents with activities of daily living. The community features five-star amenities such as furnished lounges, four-course meals, scheduled outings, and an ice cream parlor. Apartments come with WiFi, kitchenettes, satellite TV, and emergency call systems. |
| | | | |
| --- | --- | --- | --- |
| Community | Location | Phone Number | Description |
| | 200 Campus Drive, Dodge City, KS 67801 | (620) 682-4059 | Beacon Hill in Minnetonka, MN provides both independent and assisted living services. Residents receive housekeeping services and have access to Presbyterian spiritual and religious services |
| | | | |
| --- | --- | --- | --- |
| Community | Location | Phone Number | Description |
| | 5300 Beacon Hill Road, Minnetonka, MN 55345 | (952) 988-8800 | Offering both Independent and Assisted Living, Beacon Hill in Minnetonka, MN, encourages residents to be independent. With basic housekeeping services provided by staff, residents can focus on their lives. This faith-based community offers Presbyterian spiritual and religious services as well. |
| | 8725 Promenade Lane, Woodbury, MN 55125 | (651) 264-3200 | Stonecrest in Woodbury, MN, is a faith-based senior community offering help at home, independent living, assisted living, and memory care. The community provides apartment homes with health care, recreation, social opportunities, and assistance with activities of daily living. |
| | | | |
| --- | --- | --- | --- |
| Community | Location | Phone Number | Description |
| | 3015 18th Avenue South, Great Falls, MT 59405 | (406) 771-6200 | The Grandview at Benefis, located in Great Falls, MT, is a vibrant community that offers resident-centered care services and homelike amenities. Its continuum of care supports seniors' health and wellness needs at every stage of life. Fireside living rooms, country kitchens, and outdoor gardens offer welcoming common areas, and residents enjoy engaging activities, events, and outings. |
| | | | |
| --- | --- | --- | --- |
| Community | Location | Phone Number | Description |
| | 2000 East Gun Hill Road, The Bronx, NY 10469 | (718) 320-0400 | Kings Harbor Multicare Center offers tailored inpatient and outpatient rehabilitation services to promote a full, active lifestyle. The center's specialized care plans ensure each resident receives personalized care. With partnerships with local hospitals, the center provides a full range of care for residents, including dementia and dialysis treatment. |
| | 1740 84th Street, Brooklyn, NY 11214 | (718) 885-8484 | Bensonhurst Center for Rehabilitation & Healthcare is a faith-based community in Brooklyn, NY, providing skilled nursing care, rehabilitation, and long-term care services. With nutritional counseling, social services, and senior-friendly recreational opportunities, residents have everything they need to improve their quality of life. |
| | 119-19 Graham Court, Queens, NY 11354 | (718) 886-0700 | The Cliffside Rehabilitation & Residential Health Care Center is a multi-lingual community with an Asian Unit that offers multi-lingual doctors, nurses, and support staff. This allows residents to communicate in their native language and helps staff better understand and meet their needs. |
| | | | |
| --- | --- | --- | --- |
| Community | Location | Phone Number | Description |
| | 4 Berea Commons, Berea, OH 44017 | (440) 243-9050 | Generations Senior Living of Berea in Berea, OH, offers a range of care services, including assisted and independent living, skilled nursing, rehabilitation, and hospice care. Residents are encouraged to bring their favorite furniture and keepsakes to make their new living spaces feel like home. |
| | 750 Chestnut Street, Greenville, OH 45331 | (937) 547-8000 | Brethren Retirement Community in Greenville, OH, is a Christian-based community offering a variety of care services, including skilled nursing, assisted living, independent living, rehab services, and respite care. Residents can stay seasonally or move in permanently, bringing their pets and furnishings to their private apartments. The community also features Christian-based services and a team of dedicated professionals. |
Oregon
| | | | |
| --- | --- | --- | --- |
| Community | Location | Phone Number | Description |
| | 12045 SE Pardee Street, Portland, OR 97266 | (503) 761-6939 | Located in Portland, The Hope N Care community offers a unique Chinese elderly care unit with friendly Chinese-speaking residents. Along with freshly prepared Asian food and Chinese/Comcast digital channels, residents have access to specialized diets, behavioral intervention, incontinence care, lifting, diabetic care, skin care, and other special needs services. |
| | | | |
| --- | --- | --- | --- |
| Community | Location | Phone Number | Description |
| | 526 Wood Street, Bethlehem, PA 18018 | (610) 625-4885 | Moravian Village of Bethlehem in Bethlehem, PA, provides specialized care to its residents, who can choose from cottage, apartment, or skilled nursing floor plans. The staff is committed to relieving everyday stresses for residents and their families, ensuring a comfortable and caring community. |
| | | | |
| --- | --- | --- | --- |
| Community | Location | Phone Number | Description |
| | 7831 Park Lane, Dallas, TX 75225 | (214) 369-9902 | The Forum at Park Lane in Dallas, TX, provides restaurant-style dining and a wide range of activities and special events for residents. Staff members create individualized care plans for each resident, offering specialized care for short-term, seasonal, or long-term needs. |
The Cost of Mandarin-Speaking Senior Living and How to Pay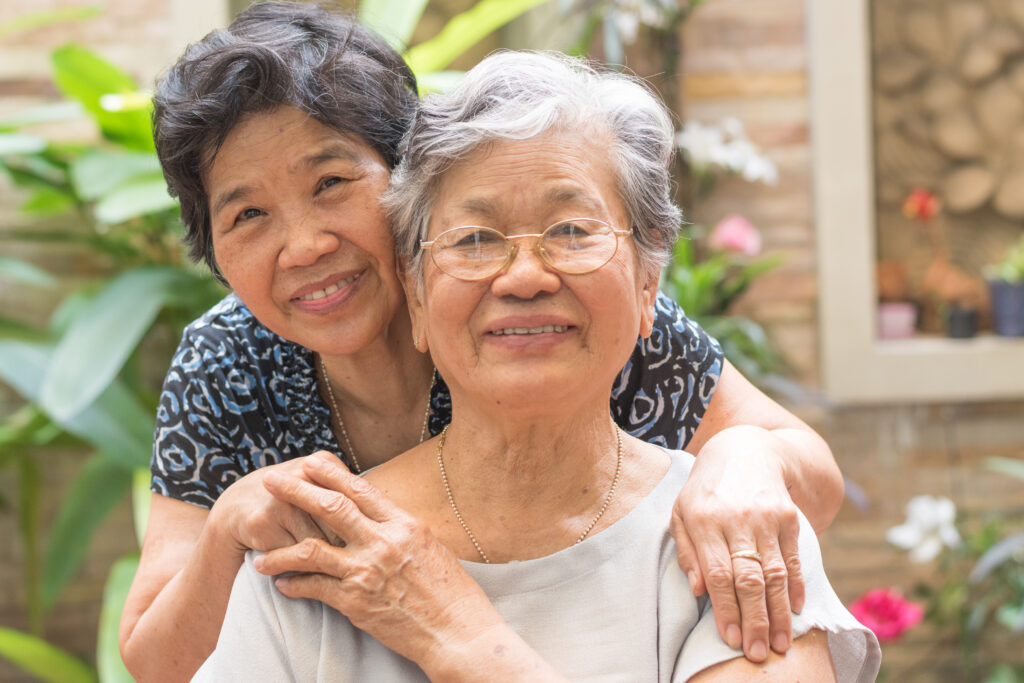 The average cost of assisted living at a facility in the United States is $4,500 per month, and for facilities that offer Mandarin-speaking caregivers and other features that appeal to Chinese Americans, costs should be similar. That said, other amenities and services provided in assisted living communities, as well as the specific geographic region where the community is located, could change the monthly rate significantly.
It's important to remember that assisted living is just one option when it comes to senior living. Home care services or adult day care may be a better fit for family caregivers who only require extra help during the day so they're able to work or provide childcare, while nursing care may be a better option for seniors with advancing medical needs. Here are the average monthly costs for these types of care:
Homemaker services: $4,957
Home health care: $5,148
Adult day health care: $1,690
Nursing care (semi-private room): $7,908
How to Pay for Assisted Living
While the cost of assisted living can feel too high for many seniors, there are programs and benefits to help cover these costs.
National Resources for Chinese American Seniors
Chinese American seniors can access various national programs and organizations that provide advocacy and benefit their general health and well-being.
| | | |
| --- | --- | --- |
| Program | Contact | Description |
| National Asian Pacific Center on Aging | (206) 624-1221 | The National Asian Pacific Center on Aging provides Asian seniors throughout the United States with improved access to health care services. |
| Asian American Federation | (212) 344-5878 | The Asian American Federation provides tools and resources to Chinese American caregivers and seniors to ensure general health and a high quality of life. It also advocates on behalf of Asian seniors in the United States to ensure they have access to equitable health and senior care services. |
| Chinese American Service League | (312) 791-0418 | The Chinese American Service League is a nonprofit organization that strives to better the lives of all Chinese Americans. One of its top initiatives is providing care for seniors, including caregiver training, respite care and case management. |
| Association of Asian-Pacific Community Health Organizations | (510) 272-9536 | This coalition has banded together to provide advocacy and leadership for Chinese Americans, ensuring that everyone within its community has access to quality health care services. |
State Resources for Chinese American Seniors
Further resources for Chinese Americans are generally available at the state level.
| | | | |
| --- | --- | --- | --- |
| State | Program | Contact | Description |
| Alabama | Alabama Department of Senior Services | (800) 243-5463 | The Department of Senior Services connects seniors of all races and ethnicities with local resources, including the state's 13 Area Agencies on Aging. |
| Alaska | Senior and Disabilities Services | (907) 269-3666 | Senior and Disabilities Services works with seniors across the state, providing case management, benefits counseling and help finding long-term care. |
| Arizona | Arizona Area Agencies on Aging | (602) 264-4357 | Area Agencies on Aging provides Arizona seniors with vital services to ensure their well-being and quality of life. That includes case management, meal delivery, Medicare counseling, respite care and transportation. |
| Arkansas | Arkansas Department of Human Services – Division of Aging, Adult & Behavioral Health Services | (501) 686-9164 | This department helps seniors of all races and ethnicities connect with state and local programs designed to support well-being and general health. |
| California | Equity in Aging Resource Center | (800) 510-2020 | This state-operated agency provides older adults from diverse backgrounds with advocacy services to ensure equitable treatment in health and senior care environments. |
| Colorado | Older Adult Services | (720) 737-4909 | Older Adult Services oversees several programs that promote the health and safety of seniors, including the Long-Term Care Ombudsman and Adult Protective Services. |
| Connecticut | Connecticut State Department of Aging and Disability Services | (855) 626-6632 | Aging and Disability Services works with seniors to help them apply for federal benefits and access vital resources at the state and local levels. |
| Delaware | Delaware Aging & Disability Resource Center | (800) 223-9074 | This state-funded and run organization works directly with seniors of all races, helping them access benefits and services designed to improve their health and quality of life. |
| Florida | Office of Minority Health | (850) 245-4941 | The Office of Minority Health operates several initiatives throughout the state geared toward the health needs of Asian- and African-Americans. |
| Georgia | Georgia Division of Aging Services | (866) 552-4464 | The Division of Aging Services operates several programs to protect the health and safety of Chinese seniors and other elderly Americans, including Adult Protective Services and the state's Long-Term Care Ombudsman program. |
| Hawaii | Executive Office on Aging | (808) 586-4400 | The Executive Office on Aging promotes the well-being of all of Hawaii's seniors, offering programs and services such as case management, legal assistance, personal care and transportation. |
| Idaho | Idaho Department of Health & Welfare | (800) 926-2588 | The Department of Health & Welfare provides a variety of resources that benefit Chinese American seniors, including insurance counseling, Social Security benefits help and case management. |
| Illinois | Illinois Department on Aging | (800) 252-8966 | The Illinois Department on Aging operates a senior abuse hotline, along with several other programs and supports to ensure the health and well-being of older adults. |
| Indiana | Indiana Division of Aging | (800) 457-8283 | Programs offered by the Division of Aging include advocacy and protection for senior citizens, family and caregiver training and help with benefit applications. |
| Iowa | Iowa Department on Aging | (866) 468-7887 | The Department on Aging offers various supportive services and programs for seniors and their families. That includes case management, caregiver training, nutrition services and adult protective services. |
| Kansas | Kansas Department for Aging and Disability Services | (800) 432-3535 | This department operates the state's Medicaid program and facilitates access to a range of resources for seniors of all races, including case management services and caregiver training. |
| Kentucky | Aging and Disability Resource Center | (877) 925-0037 | The Aging and Disability Resource Center helps Chinese American seniors and other elderly Americans access benefits and local resources that ensure their health and well-being. |
| Louisiana | Aging and Adult Services | (866) 758-5035 | Seniors of all races and ethnicities can contact Aging and Adult Services for help with benefits applications, referrals to case managers and local resources and advocacy services. |
| Maine | Office of Aging and Disability Services | (207) 287-3707 | The Office of Aging and Disability Services offers advocacy for Chinese American seniors and other minorities, taking complaints of abuse, mistreatment and exploitation. This office also provides seniors with referrals to federal, state and local programs offering various supports. |
| Maryland | Maryland Department of Aging | (410) 260-6400 | The Department of Aging works with Maryland's seniors to ensure access to financial support programs and other local resources. |
| Massachusetts | Executive Office of Elder Affairs | (800) 243-4636 | The Executive Office of Elder Affairs ensures equal access to health, housing and benefits for all seniors, regardless of race, ethnicity, gender, sexual preference or disability. |
| Michigan | Michigan Aging Services | (313) 943-5200 | Michigan Aging Services is the state department that operates all Area Agencies on Aging throughout the state, as well as several other state programs to help seniors in Michigan of all ethnicities. |
| Minnesota | Minnesota Department of Human Services | (866) 333-2433 | The Department of Human Services works with federal and local agencies to ensure all seniors in Minnesota have fair access to benefits, housing, health care and transportation services. |
| Mississippi | Mississippi Department of Human Services – Services for Seniors | (601) 359-4929 | Services for Seniors provided by the state of Mississippi include a Vulnerable Person Abuse Hotline, Adult Protective Services, and various home- and community-based programs, such as outreach coordination and case management. |
| Missouri | Senior & Disability Services | (800) 877-8249 | Senior & Disability Services provides referrals for home- and community-based services provided by the state, as well as case management and care planning services. Chinese Americans may also benefit from the state's adult neglect and exploitation reporting line. |
| Montana | Department of Health and Human Services | (406) 444-2995 | Montana's Department of Health and Human Services helps seniors access a variety of supportive care services, including assisted living, transportation and meal services. |
| Nebraska | Aging and Disability Resource Center | (402) 471-2307 | The Aging and Disability Resource Center is the state agency responsible for helping all seniors access health and supportive services. Programs include the Long-Term Care Ombudsman program, benefits management and respite care. |
| Nevada | Aging and Disability Services | (888) 729-0571 | This office can benefit Chinese American seniors through programs and services such as advocacy and representation, Medicare application assistance, Medicaid waiver administration and adult protective services. |
| New Hampshire | Adult & Aging Care | (603) 271-9203 | Adult & Aging Care facilitates various programs for senior citizens of all backgrounds. That includes Medicare assistance, Medicaid waiver administration, elder abuse reporting and nutritional counseling. |
| New Jersey | Senior Services | 2-1-1 | Services funded by the state in New Jersey include several Area Agencies on Aging, elder day care services, long-term care counseling and Social Security benefits administration. |
| New Mexico | New Mexico Aging and Long-Term Services Department | (800) 432-2080 | The state of New Mexico funds various programs that benefit Chinese American seniors. That includes more than 240 state-funded senior centers, congregate and home-delivered meal programs and health education. |
| New York | Office of Minority Health and Health Disparities Prevention | (518) 474-4695 | This office is dedicated to abolishing discrimination and ensuring equal access to health and senior care for Chinese Americans and other U.S. residents with diverse backgrounds. |
| North Carolina | Aging and Adult Services | (919) 855-3400 | Aging and Adult Services provides a comprehensive range of services for seniors of all ethnicities, including caregiver and provider training, transportation, nutritional support and long-term care counseling. |
| North Dakota | Health Equity Committee | (701) 328-2310 | A branch of North Dakota Human Services, the Health Equity Committee ensures that all Americans of all backgrounds have equal access to safe health care, including assisted living and other senior care services. |
| Ohio | Ohio Commission on Minority Health | (614) 466-4000 | The Commission on Minority Health in Ohio is dedicated to ensuring that all Chinese Americans and individuals from other cultures are provided with equal access to health care services. |
| Oklahoma | Community Living, Aging and Protective Services | (405) 521-2281 | The Community Living, Aging and Protective Services branch of Ohio's Department of Human Services is responsible for investigating complaints of elder neglect, abuse and discrimination, ensuring equitable treatment for all seniors. |
| Oregon | Services for Seniors and People with Disabilities | (503) 945-5600 | Services for Seniors provided by the state of Oregon include referrals to federal and local programs, benefits counseling, respite care and long-term care assistance. |
| Pennsylvania | Disability & Aging Services | (800) 753-8827 | Disability and Aging Services works directly with seniors from all backgrounds to ensure they have access to safe health care, housing and transportation. |
| Rhode Island | Office of Healthy Aging | (401) 462-3000 | The Office of Healthy Aging is committed to improving the quality of life of all seniors in the state through advocacy and programs such as benefits counseling, health education and digital training. |
| South Carolina | South Carolina Department on Aging | (800) 868-9095 | The South Carolina Department on Aging works directly with seniors to provide help with accessing long-term care, health care and benefits. |
| South Dakota | Department of Human Services | (605) 773-5990 | The Department of Human Services administers all statewide programs for seniors, including the Long-Term Care Ombudsman and Adult Protective Services. |
| Tennessee | Tennessee Commission on Aging and Disability | (865) 983-3620 | The Commission on Aging and Disability helps seniors from all backgrounds. Chinese American families may benefit from caregiver training and support, respite care, SHIP counseling and nutritional services. |
| Texas | Aging & Disability Resource Center | 2-1-1 | The Aging & Disability Resource Center connects seniors of all backgrounds with state, federal and local resources to ensure safe, reliable access to vital services such as healthcare, prescription medications, senior care and transportation. |
| Utah | Health & Human Services | (844) 275-3773 | The Department of Health & Human Services ensures that seniors of all ethnic backgrounds have fair access to housing, health care and financial benefit programs. |
| Vermont | Disabilities, Aging and Independent Living | (802) 241-2401 | The Department of Disabilities, Aging and Independent Living is committed to ensuring that seniors of all backgrounds and abilities have fair access to benefits and health care services. This department provides advocacy, investigates abuse and refers seniors to various resources and programs. |
| Virginia | Office for Aging Services | (800) 552-3402 | The Office for Aging Services works with seniors to ensure they can access programs that improve their well-being. That includes Medicaid and Medicare benefits, nutritional support programs, legal aid and long-term care counseling. |
| Washington | Aging and Disability Resource Centers | (800) 833-6384 | Aging & Disability Resource Centers in Washington help local seniors of all races and ethnicities. These centers are staffed with Medicare counselors and social workers who can provide help with benefits applications, case management and finding long-term care. |
| West Virginia | Aging & Disability Resource Network | (304) 558-3317 | The Aging & Disability Resource Network connects seniors in West Virginia with services and support programs to ensure they can live healthy lives. |
| Wisconsin | Aging & Disability Resource Center | (608) 266-1865 | The Aging & Disability Resource Center helps Chinese American seniors and individuals from all other backgrounds find long-term care and health care services. It also provides case management and benefits counseling services. |
| Wyoming | Aging Division | (800) 442-2766 | The Aging Division serves all older adults in Wyoming, providing help with everything from respite care and caregiver training to placement in long-term care facilities. |