Find Assisted Living in Your Area
Between tracking your blood sugar, exercising, preparing healthy meals and pricking your fingers, managing diabetes may seem like a full-time job. Having diabetes and the ongoing close management to ensure wellness, which can include doctor appointments, pharmacy visits and lab work can be overwhelming for you and your loved ones. Meeting health goals can be challenging at any age, and it's even more difficult if you have mobility concerns or other issues that prevent you from staying fit or doing as much as you'd like.
These days, there are innumerable ways for seniors to take charge of their health. This is good news because ignoring diabetes is not an option. The disease can cause serious complications, ranging from blindness to amputation if uncontrolled. Whether you have a family history of diabetes or were surprised by a recent diagnosis, you aren't alone. About 25% of older adults have diabetes, and nearly half have prediabetes, according to the CDC.
For some, making meaningful lifestyle changes can be easier in an assisted living community or another supportive environment. These facilities offer customized care plans, personalized dietary options, glucose monitoring and medication reminders to help you stay on track with your insulin or prescriptions. They also offer fitness programs and walking clubs that can lower your blood sugar and boost your mood.
Not all senior living facilities are equipped to administer insulin or handle diabetes care, but many can. This guide provides a complete rundown of diabetes management options, including ways to pay for medications and supplies, even if you're on a budget. Family members and loved ones will also find helpful information.
How Diabetes Affects Senior Health
Diabetes affects the way your cells communicate and use energy, which can have a tremendous effect on your health and well-being and even your mood. In fact, diabetes can affect every part of your body and lead to a long list of secondary health problems. Creating a multifaceted diabetes care plan that incorporates diet and lifestyle changes with sound medical advice is essential for anyone who has high blood sugar. Diabetes management plans can help to prevent a long list of health problems in the following areas:
Circulation: As glucose levels rise, your blood becomes thicker, which can place extra pressure on the blood vessels and circulatory system. This can increase the risk of high blood pressure, heart attack, stroke or organ damage.
Healing: Healthy circulation is essential for healing. Since diabetes compromises the circulatory system, individuals with uncontrolled blood sugar may experience slower healing, longer recovery times and more infections.
Eyes: Elevated blood sugar levels can eventually damage the delicate blood vessels within the eyes, causing diabetic retinopathy, as well as cataracts and glaucoma.
Skin: Diabetics may suffer from dry skin, as well as chafing and fungal or bacterial infections. Any superficial wounds may be slower to heal.
Dental Health: High glucose levels can help feed bacteria that cause cavities and gum disease. Diabetics should take extra care to protect their dental health.
Cognitive Decline: Diabetes may produce biochemical changes that increase the risk of developing dementia and cognitive impairments. Scientists are working to study this link.
Mood and Energy: Unstable blood sugar levels can cause mood swings and low energy. Approximately 25% of diabetics experience depression, about twice the rate of other groups.
Neuropathy: Biochemical changes in the circulatory system can damage the blood vessels that nourish the nerves. This can cause burning, tingling, nerve pain or a loss of feeling, particularly in the legs or feet.
Feet: Poor circulation and nerve damage put diabetics at risk for a variety of foot problems, including ulcers, blisters, infections, swelling, hot spots and Charcot's. Podiatrists can help to manage these conditions.
Kidney Health: The kidneys are also vulnerable to diabetes due to changes in the cardiovascular system. Since this organ has to work harder to filter excess waste from the blood, diabetes is the leading cause of kidney disease.
Managing Diabetes
Whether you've recently been diagnosed with diabetes or you've been tracking your blood sugar for years, it's important to be proactive about your health and work with your medical providers. Diabetes management and screenings are typically provided by primary care physicians and medical specialists, such as endocrinologists, who specialize in treating hormone-related conditions, such as diabetes. Your assisted living facility or personal care aide can also become part of this network to help you stay on track with your treatment plan and health goals.
Insulin
Insulin is a life-sustaining medication for approximately one in three diabetics. Approximately 7.4 million Americans take this medication on a regular basis. Individuals with Type 1 diabetes may need to take one or more types of insulin several times a day, injected under the skin. In addition to insulin pens, some people choose to use insulin pumps that automatically respond to changing blood sugar levels.
Medications
Physicians today can prescribe a variety of medications for individuals who are unable to control their blood sugar levels through diet and exercise alone. Metformin, one of the most commonly prescribed anti-diabetes drugs, decreases glucose production in the liver and increases insulin sensitivity. Medications can also stimulate the pancreas to produce more insulin for greater blood sugar control. Your doctors can help you find the right medication and dosage.
Lifestyle 
Maintaining a healthy lifestyle can help you manage your blood sugar and reduce your risk of developing diabetes or prediabetes. You can hit your targets by improving your diet and incorporating more movement into your weekly routine.
Staying active every day and getting in a good workout several times a week can help you burn off excess glucose and lower your blood sugar in the long run. Exercise can also increase your insulin sensitivity, which can make your body more responsive to these signals and reduce the burden on your pancreas and endocrine system. People who exercise less than three times a week are at the greatest risk for prediabetes, so it's important to keep moving. Walking, weightlifting, tai chi and swimming are excellent choices. Even 10 minutes is beneficial, according to studies.
Diet
Diabetes-friendly meal plans feature whole foods that can help you reach or maintain a healthy body weight. In addition to managing your blood sugar, nutrient-dense foods can reduce your cholesterol levels and help with high blood pressure, which are important for protecting your heart and cardiovascular system. The dietician at your assisted living facility may be able to come up with a custom meal plan to help you balance your blood sugar and lower your A1C. Following recommendations from the National Institute of Diabetes and Digestive and Kidney Diseases, make sure your diet focuses on these foods:
Fresh vegetables
Berries and fruits
Whole grains
Lean protein
Low-fat dairy
Nuts and seeds
Heart-healthy fats
What Types of Senior Living Communities Provide Diabetes Management Services
If you're thinking about leaving your home and moving into a long-term care community, you may be able to get extra help with managing your glucose levels. Assisted living is an appealing option for many seniors and their families because it allows older adults to maintain an active, socially connected lifestyle. They handle all interior and exterior maintenance, and they can assist with personal care and some medications. Since diabetes is so common among older adults, most facilities are equipped to manage the condition on a limited basis, although they may not be able to administer insulin injections. The level of service depends on the facility's licensure, state regulations, staff availability, medical need and other factors.
Levels of Diabetes Care by Facility Type
| | |
| --- | --- |
| Facility Type | Diabetes Services |
| Independent Living | Independent living facilities provide housing and amenities, rather than personal care. However, diabetes management may be available through a third-party home health care agency. |
| Assisted Living | Assisted living facilities provide medication reminders, help with glucose monitoring and assist residents who can self-administer insulin or take their own medicine. In most cases, insulin injections may only be performed by a registered or licensed practical nurse. |
| Nursing Home | Skilled nursing facilities can assist with all aspects of diabetes care, especially for seniors who aren't stable enough for assisted living. Under Medicare regulations, routine glucose monitoring is included in the facility's daily personal care rate. |
| CCRC | Continuing-care retirement communities provide multiple levels of care based on residents' current needs. CCRCs that have on-staff nurses can typically assist with insulin administration and diabetes management. |
How Senior Living Communities Help With Diabetes Management
With their resort-style amenities and ample on-site activities, there's no question that assisted living facilities provide a higher quality of life and more convenience than most seniors enjoy while living in their own homes. If you've been diagnosed with diabetes or another chronic health condition, the benefits can be even greater. Senior living communities offer residents a multifaceted lifestyle that's designed to enhance their health and well-being. Here are some of the ways assisted living can help you achieve your health goals:
Health-promoting activities and wellness services
On-site fitness programs, including chair workouts and walking clubs
Amenities, such as workout rooms and pools, to maintain your fitness
Diabetic-friendly meals with whole grains and lean protein
Low-sugar and sugar-free desserts to satisfy your sweet tooth
Snacks and drinks to stabilize your blood sugar
Personalized meal plans developed by a dietician
Glucose monitoring to help you track your blood sugar
Medication reminders for insulin and other prescriptions
Help with medications and injections (in some cases)
On-site clinics, including podiatry and primary care
On-call nurses for urgent health concerns
Call buttons in case of an emergency
Monthly or quarterly checkups with the nursing staff
Communication with your medical team in case of health changes
How Much Does Diabetes Care in Senior Living Communities Cost?
Since each facility is different, it's wise to talk to an admissions specialist to determine the exact cost of diabetes management and determine which services are included. Not all facilities are authorized to administer medications or help with insulin injections. If these are services that you may need now or in the future, check before you commit to the facility or sign a contract. You should also be aware that changing health conditions may also affect your ability to remain in a community that's only licensed to provide a certain level of care.
Levels of Care and Monthly Fees
If diabetes management is offered at the facility you're considering, there are several common pricing structures. Some offer inclusive rates that cover room, board and personal care. Others bill for these services separately. Since medication reminders and glucose monitoring aren't required by all residents, you may have to pay extra for these services. Diabetes care may also be available as part of an enhanced assisted living service package, depending on the facility. Each community is different, but in general, you can expect fees to vary depending on the level of care you require, according to research conducted by Genworth Financial and Kiplinger.
| | | |
| --- | --- | --- |
| Level of Care | Daily Cost | Monthly Cost |
| Home Health Aide | $169 | $5,148 |
| Assisted Living | $148 | $4,500 |
| Skilled Nursing Facility | $260 | $7,908 |
| CCRC | $107* | $3,266* |
*After entry fees
What to Look for When Finding a Senior Living Community for Someone With Diabetes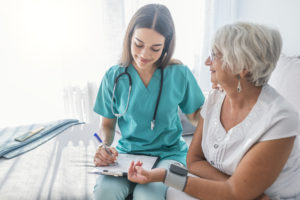 If you have diabetes and you're considering assisted living, it's important to ensure the community you choose fits your needs. We've prepared the following guide to help you evaluate the staffing, training and diabetes care programs at the facilities you visit. When you're comparing facilities, below are some things to consider. Download our checklist for more details about these items.
Health and fitness programs
Staff qualifications and training
Insulin management
Glucose monitoring
On-site medical care
Medication reminders
Routine health checks
Nutrition consultations
Diabetes-friendly dining options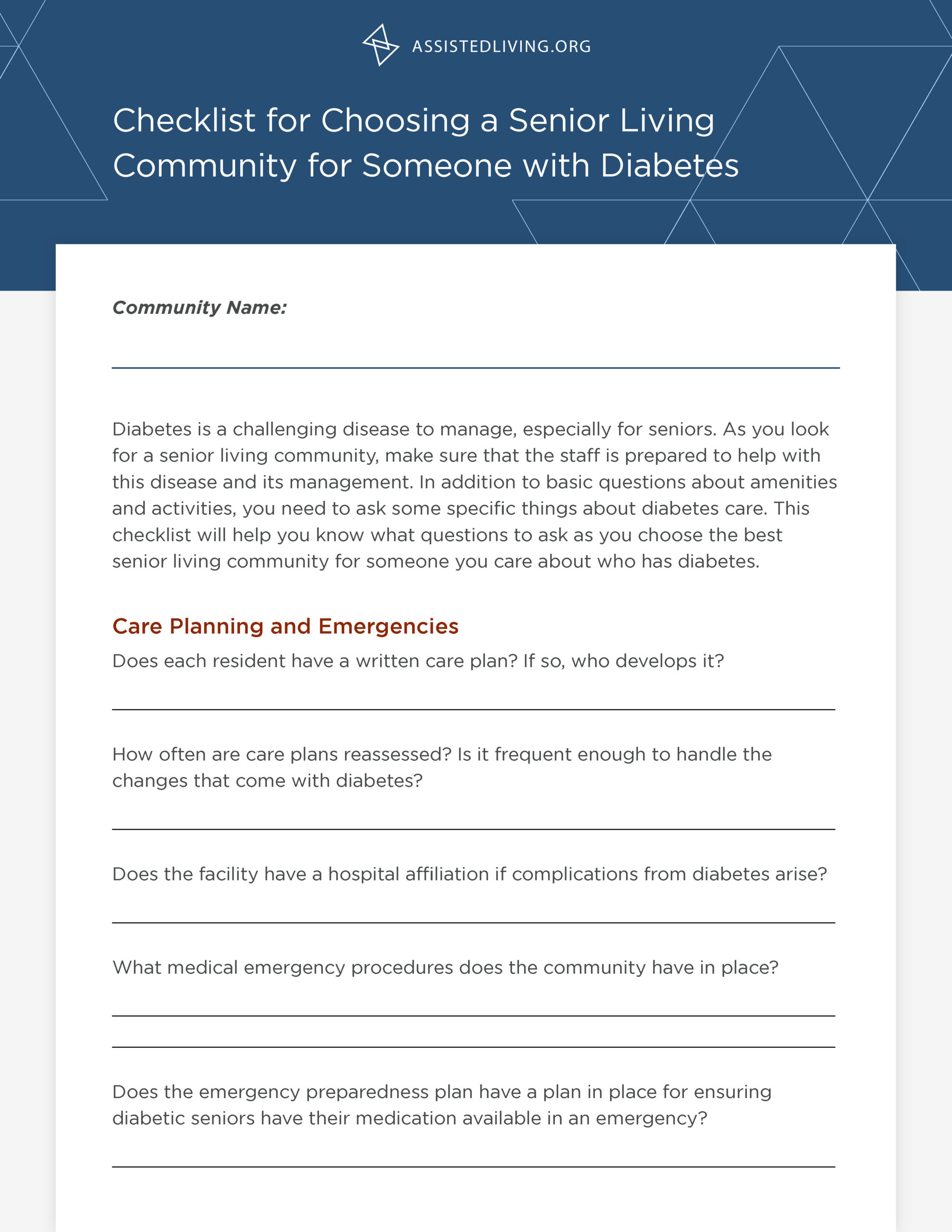 Download PDF
Financial Resources for Seniors with Diabetes
According to the American Diabetes Association, individuals with diabetes spend more than $9,000 per year managing the condition, and their health care spending is more than double that of other Americans. Additionally, insulin is notoriously expensive, and recently, there have been shortages linked to supply chain issues and insulin hoarding. This means that more diabetics haven't been filling necessary prescriptions.
Fortunately, Medicare and most private insurance plans cover medications and glucose testing supplies, and there are many other resources provided by government agencies, drug makers and private organizations to ensure you don't have to skip doses or sacrifice other essentials to pay for your diabetes medication.
Medicare
Medicare is an excellent resource for diabetics who are aged 65 or older or have certain end-stage kidney conditions. This insurance system includes several components that provide diabetes-related benefits.
If you have Original Medicare, Part A will protect you if you need to be hospitalized due to diabetes or another condition. It will also cover skilled nursing in some cases.
Part B pays for preventive care, medical checkups and specialist visits. It also covers lab tests, diabetes screenings, insulin pumps, glucose testing supplies and blood sugar monitors.
Part D can be used to pay for diabetes medications, such as insulin and Metformin, as well as needles, syringes and gauze. Copays may depend on the medication's tier rating.
Part C Advantage Plans typically cover diabetes screenings and testing supplies, and most include prescription medications. Certain Advantage Plans offer a $35 maximum copay for insulin. However, benefits vary.
Medigap supplements can help with the cost of copays or co-insurance when you need prescriptions or diabetes-related medical care.
Medicaid 
Medicaid is an important source of funding for adults with diabetes since this condition affects a disproportionate number of minorities and low-income families. One in 10 Medicaid beneficiaries reports having severe diabetes, which is up to eight times higher than the rate for other insurance plans.
If you struggle to pay for diabetes care and have limited income and assets, you may qualify for Medicaid. The program also covers some types of long-term care. Although the federal government oversees Medicaid, each state controls its own program, which means that benefits and eligibility requirements vary. Only four states have limited protections for individuals with diabetes, but they still cover insulin and glucose test strips.
Medicaid may pay for the following products and services, depending on where you live and other eligibility factors:
Primary and specialty care
Podiatry, in most cases
Hospital stays
Skilled nursing
Home health care
Private-duty nursing
Lab tests
Insulin
Test strips
Syringes and supplies
Diabetes medications
Self-management training
Durable medical equipment
Veterans Benefits
According to the VA, approximately 25% of veterans have diabetes, a rate that's considerably higher than the general population. Fortunately, medical services and diabetes supplies are available through TRICARE and the VA Healthcare System.
The VA recently implemented a new program in partnership with Virta Health to help veterans manage their blood sugar and implement lifestyle changes that stick. Veterans can take advantage of nutritional counseling and weight loss programs. More than 60% of participants were able to reverse their type 2 diabetes and lower their A1C within one year using this program. The VA also offers in-person and virtual medical care and covers glucose testing supplies and lab work. You may be eligible to receive the following services:
Medical exams
Diagnostics tests
Prescriptions from VA physicians
Acute or emergency care
Podiatry
Cardiology
Vision
Dialysis
Assisted living
Caregiver supports
Health counseling
Travel assistance for medical care
Private Insurance 
Thanks to the Affordable Care Act, insurance companies can no longer discriminate against individuals who have diabetes or other preexisting conditions. This means you can't be denied coverage or charged a higher rate based on this diagnosis. In 2014, many states expanded their Medicaid eligibility limits, and insurance plans were required to cover a variety of essential health benefits with no annual copay. If you have a Marketplace plan or receive coverage through a spouse or partner, your insurance should cover the following services:
An annual wellness visit
Diabetes screenings
Laboratory services
Preventive care
Nutrition therapy
Weight loss
Self-management programs
Emergency room and hospital care
Patient Assistance Programs and Other Resources
If you're still struggling to pay for routine medical care or you're worried about the high cost of out-of-pocket expenses, there are a number of other resources available to you. The following programs can help you pay for medications and glucose testing supplies. You may also be entitled to benefits that reduce your Medicare premiums and copays. Religious organizations and local charities, such as the Lions Club, may have funds set aside for people in your situation. Here are some helpful diabetes-related resources that are available nationwide.
| | |
| --- | --- |
| Resource | Description |
| Health Department | If you're uninsured or struggling to pay for diabetes supplies and medical care, contact your local health department for further assistance. Federally qualified health centers provide sliding-scale rates to seniors who meet certain income limits, regardless of their insurance coverage. |
| Medical Equipment Lending Closets | Medical lending closets may be able to provide glucose monitoring supplies, including meters, test strips and lancets. Call 211 to find a local lending closet to see if these items are available in your area. |
| BenefitsCheckUp | BenefitsCheckUp is a free service sponsored by the National Council on Aging. It connects you to resources that can help with the cost of health care, food, housing, utilities and other essentials. Enter your ZIP code to get started. |
| InsulinHelp.org | Sponsored by the American Diabetes Association, InsulinHelp.org offers referrals and application assistance for individuals who need help paying for insulin or anti-diabetes medications. It provides more information about patient assistance programs offered by Lilly, Sanofi, Novo Nordisk and MannKind. |
| American Association of Clinic Endocrinology | The AACE provides a convenient online directory of prescription drug assistance programs and insulin affordability initiatives. You can search for savings programs by drug name or manufacturer. Applications are available for Humalog, Lantus, Novolog, Toujeo and many others. |
| Patient Advocate Foundation Co-Pay Relief | Thanks to funding from the American Diabetes Association and other sources, the Patient Advocate Foundation offers financial assistance to insured diabetics who need help paying their premiums and copays. Applicants who earn no more than 300% of the Federal Poverty Level may receive up to $1,500 in annual assistance. |
| RxAssist | RXAssist maintains a comprehensive directory of patient assistance programs operated by major drug makers, such as Abbott, Johnson & Johnson, Merck, Novartis and others. You can search the database by product name or manufacturer to determine whether your diabetes medication is covered. |
| Rx Outreach | Rx Outreach specializes in providing affordable medications to individuals who may be unable to afford their prescription drugs otherwise. You'll need to complete an application and provide information about your household income to enroll. You can qualify if your household income is up to 400% of the Federal Poverty Level. |
| State Pharmaceutical Assistance Program | Your state may offer a prescription drug assistance program to help lower your out-of-pocket costs. This convenient tool provided by Medicare.gov will show you which programs are available in your area. |