What You Should Know About Hoyer Lifts
According to the Centers for Disease Control, the greatest risk factor for overexertion injuries among medical professionals comes from lifting or repositioning patients.
Hoyer Lifts are powerful units that can make it much safer and easier to move a patient.
These devices feature a U-shaped base, an overhead bar, and a sling that work together to lift, reposition, and lower a patient into a chair or bed.
Hoyer Lifts can greatly reduce the amount of physical strain experienced by both caregivers and patients.
These lifts can cost thousands of dollars for the device and hundreds of dollars for the sling.
Insurance programs, Medicare, Medicaid, and other options are available to help offset the cost of a Hoyer Lift.
Caring for an aging loved one at home can be a challenge, especially if they begin to struggle with mobility and need more assistance moving around. Getting in and out of bed in the morning can be a difficult task for even a youngster without years of joint and muscle stress that compounds overnight, making seniors wake up stiff and sore. For those with existing mobility issues, it can be impossible to get in and out of bed without assistance, and caregivers can become worn out quickly without any help. This is where the Hoyer Lift can become a back and stress-saving device.
What is a Hoyer Lift?
People who are living with immobility can rely on the Hoyer lift to safely transport them from place to place with the help of their caregivers. A Hoyer lift is a mobility tool used to help seniors with mobility challenges get out of bed or the bath without the assistance of another person. Named for its inventor, the Hoyer lift is also referred to as a portable total body lift or a patient lift. These devices can be free-standing, on wheels, or can be secured to a wall or the ceiling, depending on the user's needs and room set-up.
Did You Know?  Seniors are eligibile to receive free, non-binding quotes for bathroom safety modifications.  Get started now.
Types of Hoyer Lifts
There are many types of portable total body lifts, including varieties that can easily move from one room to another, and those that are bolted to the ceiling. Some lift systems can be installed throughout the house to combine these functions, so a person can move from one room to the next easily without the use of a wheelchair. There are several variations of the devices, including:
Power Hoyer Lifts: This style of lift features an electric motor that replaces the muscle strength typically needed to move a person. When activated, a hydraulic pump will move the sling-bearing arm up and to the desired position. These lifts tend to be the most expensive, as well as the safest for caregivers who want to save their backs when moving their loved ones. In the event that the power went out, these lifts are always equipped with a manual handle so no one is ever stuck in a lift due to power loss.
Manual Hoyer Lifts: These lifts use a hydraulic pump system to help you move a person, and are sometimes referred to as hydraulic lifts. With a similar construction to the power lift, the manual lift has a hydraulic level that raises the sling when pulled. These are great budget-friendly options for the at-home caregiver, often costing only a few hundred dollars, which is cheap compared to a power lift. Unless specified, manual lifts do not come with slings- you will usually need to purchase one in addition to the lift.
Sit-to-stand Hoyer Lifts: These personal lift devices help people who can sit up in bed or a chair pull themselves up to a standing position. The sit-to-stand style lifts are only appropriate for those that can bear some weight, as using the device requires the person to use the lift as a tool to help pull themselves up, and most devices can support a person up to 300 pounds. These lifts have varying features, from narrowed edges to open bottoms for ease of access, depending on your needs. While hospital-grade sit-to-stand lifts can easily cost over $5,000, it is now possible to purchase an affordable model that may save you money, but will not compromise on quality or safety.
Ceiling Hoyer Lifts: Ceiling lifts are a great long-term solution for when you want the convenience of moving from one room to the next without having to transfer in and out of a wheelchair. These systems can either be free-standing or secured to the ceiling on tracks. There are many varieties of ceiling lifts, some designed for bathrooms, other for bedrooms, and some designed to help transport throughout the entire house. Many ceiling lift motors are sold separately from the tracks, as well as the body sling- make sure to check that the product you purchase has a track system to install if you don't already have one in your home.
How a Hoyer Lift Works
While there are many different types of lifts, the basic premise is the same across the board- a comfortable sling is laid down under the person that needs help moving, and is attached securely to an arm that extends in various ways to get that person where they need to be. The hydraulic arm lifts the person into the air and in the desired direction. Lifts move in many ways; some rotate, others are set up on a track system. In this way, a person with limited mobility is able to safely get around and caregivers are also spared the extra strain of moving a person manually.
Paying for a Hoyer Lift
We researched the top lifts on the market in 2019 to find the safest lifts that provide the most value. However, depending on your financial situation, it may or may not be affordable to simply order your own Hoyer lift for your home. If you are having trouble paying for your home mobility device, consider financial assistance options such as:
Medicare: Patient lifts are considered Durable Medical Equipment (DME), and with a prescription, may be covered by Medicaid or Medicare assistance.
Veterans Affairs: There may be various programs available for you, depending on what part of the country you live in. Many states, such as Texas, have programs to help veterans access DME, regardless of their ability to pay. Check out this handy guide to see more about Veteran's benefits that could help pay for aging supplies.
If you are unable to qualify for financial assistance, there are other options, such as buying from open-box medical supply companies or buying used or refurbished equipment.
Keep reading to see our list of the best Hoyer lifts for sale in 2019.
Manual Hydraulic Hoyer Lifts
The Drive manual hydraulic patient lift is an excellent choice for the home caregiver who needs to be able to move their loved one from different places in the house. Large 5" rubber-grip casters are easy to lock and unlock, so the person riding will always be secure whether you are moving on a wet surface such as a bathroom or on carpet, or if the lift needs to be stationary for transfers. The adjustable legs extend to a width of 22.5" to 42" to ensure a good fit in many spots.
Key Features:
Constructed of durable silver vein steel
On rolling 5' casters that easily lock securely in place
Adjustable width to suit a variety of locations in the home
6-point cradle design for maximum comfort
Can support up to 450 pounds
Lift weighs 72 pounds and is easily assembled out of the box
Cost: See Amazon for Latest Price
This Hoyer lift is a great solution for someone that needs to be able to lift a person without any extra help. The manual handle operates the hydraulic pump that makes lifting people up to 450 pounds a breeze. The handle is elongated specifically to help caregivers who may be taller than average and don't want to have to bend down so far when using this lift, or may want to help someone up in a smaller space where a longer handle would make using the lift easier.
Key Features:
Adjusts from 20" to 64" high, allowing for people to be picked up from the floor
Six-point swivel bar attachment means a variety of slings can be used
Long handle is great for taller caregivers to prevent back strain
Can hold 450 pounds
Reviewers love that this Hoyer lift rolls easily and safely on carpet or tile flooring
Cost: See Amazon for Latest Price
3. McKesson Drive Patient Lift
This personal total body lift is a great option for someone who will want a handle that facilitates many lifting positions. For example, the lift has a rotating handle so it can fit in tight spaces such as between a tub and toilet so it can be used to help someone get out of the bathtub safely. It is easy to operate the lift without risking personal injury, compromising the safety of the person being lifted, or damaging nearby objects that might otherwise be in the way. The sturdy steel-vein construction can hold a person up to 450 pounds, and reviewers love how easy it is to assemble themselves.
Key Features:
450 pound capacity
Pump handle rotates to allow for use in a variety of positions
Steel-vein construction
This lift weights 150 pounds and is easily assembled at home
Cost: $414
ProBasics manual hydraulic lift is an excellent option, with a low price that beats many competitors on our list, and its design specifically tailored to fit as many positions as possible. The legs adjust in width as well as height, and with this lift, you can pick people up from the floor, a bed, a wheelchair, and any other position.
Key Features:
450-pound weight capacity
Offset legs help lift people from unique settings other lifts may not be able to access
Can be used with 4- or 6-point slings
Height adjusts from 26" to 70.5" at the pin
Easily assembled lift weighs only 83 pounds out of the box
Cost: See Amazon for Latest Price
The Classic Hoyer lift is a great option and is highly rated on Amazon, with one reviewer noting they have used this lift for "40 years, without ever having a problem." This lift can facilitate a variety of slings, either 2-point, 4-point, or 6-point. Durable stainless steel leads to a sturdy lift that is long-lasting, rust-resistant, and easy to keep clean.
Key Features:
400-pound capacity
Legs narrow and widen, as well as raise and lower, for many body sizes and positions
Offset casters provide extra stability and safety
Simple assembly so it can be moved easily
Can be used with either 6-point or 4-point slings
Cost: See Amazon for Latest Price
The Joern's Classic Manual Lift is a secure, easy to keep clean, and even easier to operate personal total body lift. The ergonomically placed pump handle is able to move side to side as well as in the standard direction, to help caregivers safely move their loved ones even in cramped locations.
Key Features:
Holds up to 400 pounds securely
Maximum height of 62.2" from the floor at attachment point
Lift is 125 pounds out of the box
Powder-coated white steel is clean looking, easy to maintain. and rust-resistant
Cost: See Amazon for Latest Price
Electric Hoyer Lifts
Another affordable powered option is the Lumex LF1050 power lift, which features a hydraulic lifting arm to easily adjust to your needed height and safety measures such as an automatic shut off in case the sling hits a barrier. Trusted by professionals and healthcare systems for over 40 years, Lumex provides reliable customer service, and they offer an extended warranty to purchase for this Hoyer lift.
Key Features:
Six-point spreader bar with 360 degree rotation accommodates 2-, 4-, and 6- point slings
Emergency stop and manual lowering features
400 pound capacity
The foot-pedal system helps caregivers work hands-free when moving lift while it's loaded
Cost: See Amazon for Latest Price
Joerns Classic Power Lift is a great choice for those who need flexibility as well as security in helping move their loved ones. The adjustable U-base facilitates easy moving and toileting, and the ergonomically designed handle helps caregivers avoid back strain when operating this lift.
Key Features:
Maximum height of 61.5"
Caster bumpers and leg guards
Holds up to 400 pounds
Cost: See Amazon for Latest Price
Hi-Fortunes Electric Hydraulic Lift is a great choice for those who would appreciate the swan-shaped neck that makes it easy to move around bulky furniture. In order to help caregivers do their daily tasks hands-free, as is often necessary, this lift features a foot brake and adjusts using a rearfoot pedal, and it operates using a simple hand-held remote control. This system comes with a free full-body swing.
Key Features:
400-pound capacity
Lift range is from 33" to 68" off the ground
Foot-controlled brakes and leg adjusting pedal for hands-free convenience
Easy to assemble and disassemble for storage
Cost: See Amazon for Latest Price
The Invacare Reliant motorized patient lift is a perfect option for the home caregiver that wants to save time and energy when moving their loved ones in and out of bed, wheelchairs, bathtubs, and any other position. The 600-pound weight capacity is among the highest available, and the low base of 4.5" inches and adjustable height of 28" to 68" means this lift is appropriate for all sizes of people and spaces. This lift also features extensive safety features, including padded arms, pinch-protection on moving pieces, manual lowering in case of power loss, and an anti-entrapment feature if the boom ever hits an object that might cause it to get stuck.
Key Features:
600 pound capacity
Pinch protection on all moving parts and padding throughout the lift
Legs adjust and lock securely with padded handle
Extra-wide, padded swivel bar rotates 360 degrees for the best lifting range of motion
Many safety features to protect against power failure, pinches, and entrapment
Cost: See Amazon for Latest Price
Stand-Up Lifts
For those that don't mind paying for the trust and reliability of the original Hoyer brand, the Journey Portable Stand-aid Lift is a great option. Designed for maximum portability, caregivers love how easy it is to maneuver this lift through tight places, as well as how comfortable the ride is for their loved ones. This device stands upright and folds away for easy storage.
Key Features:
Folds easily for movement and storage
Holds up to 340 pounds
Adjustable knee pad with many settings to suit a variety of body types and positions
Includes large standing sling
Cost: See Amazon for Latest Price
The Invacare sit-to-stand lift is a great choice for people who need a hand up from the sitting position. With its non-slip rubber-grip wheels and commode opening, this sit-to-stand lift is perfect for toileting. This budget option is highly reviewed for its ease of use, as well as how easy it is to assemble. However, it is noted that this stand does not have locking wheels.
Key Features:
Ergonomic styling and maneuverability makes this lift easy to use and move
Supports up to 350 pounds
Retractable, non-slip footplate makes transferring feel secure to the user
Under-bed clearance of 4.5"
Cost: See Amazon for Latest Price
Lumex's Easy Lift is a highly-reviewed stand lift that is made by a trusted leader in healthcare supplies. With a focus on ergonomics, this lift is comfortable to both stand up in, ride in, and operate. Reviewers note that this lift provides a smooth ride, gliding easily over carpet, and continues to work well after years of hard use.
Key Features:
Ergonomic foot-pedal opening
Adjustable knee pad to suit a variety of heights
Weight capacity is up to 400 pounds
Cost: See Amazon for Latest Price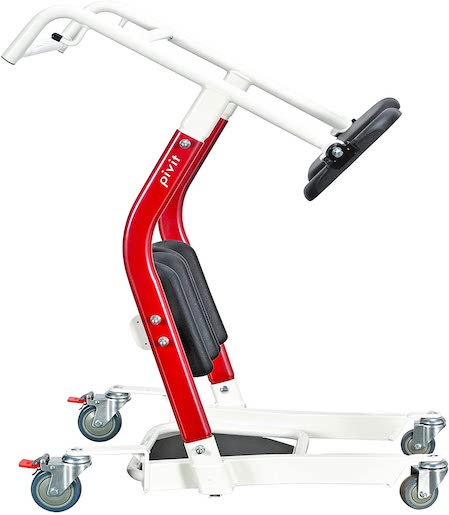 With the user's comfort in mind, the Pivit sit-to-stand transport lift is a great choice for its low cost- the lowest on our list among stand lifts- as well as comfortable padding throughout. This lift is designed to be used anywhere- the wheels are non-slip and reviewers love how easy this lift moves over carpet. Its low profile and wide base opening make this lift fit easily around a toilet, or under a bed.
Key Features:
Maximum weight capacity of 400 pounds
Folding seat with cushions, in case you ever need to ride while kneeling
Easily fits into tight spaces and through narrow doorways
Easy-rolling non-slip casters with foot-operated rear brakes
Cost: See Amazon for Latest Price
Titan 500 is a free-standing total body lift system, and it comes in a variety of options for the perfect fit for your home. This system comes standard with furniture casters, and can easily be moved from room to room while not in use.
Key Features:
Rail system can be either 8′ or 10' long
Includes ergonomic and machine-washable full body sling
Low-voltage remote control needs charging once a week and is long-lasting
Supports up to 500 pounds
Cost: See Amazon for Latest Price
The P-440 portable ceiling lift is a great choice for those with track systems installed, or who want to install track systems throughout their home to facilitate easy moves with no floor space taken up for bulky equipment. Additional features that you can add to your lift for a fee include an extendable reacher arm, a hand-held remote, an attached scale and a desktop battery charger.
Key Features:
Lightweight lift is easy to assemble and move
Built-in safety mechanisms to protect those being transferred as well as caregivers
Carries up to 440 pounds
Used with an existing track system
Cost: $3,770
The Handicare C lift is great for those who want to enjoy the convenience of an assist in lifting their loved ones, without losing any floor space. This ceiling lift is for use with an existing track system installed, such as between a bathroom and a hallway- with its waterproof hydraulic arm, this lift is perfect for bathtub transfers.
Key Features:
Smooth, effortless operation with on-board controls
Compact and lightweight design make this an easy lift to use, even for one person
Vertical straps are extra long to facilitate transfers from as far down as the floor
Quiet and long-lasting motor
Cost: $3,318
Rated as one of the best lifts in its class, the C-450 is an excellent choice for those that want a smooth ride, easy operation, and above all, unparalleled safety. This personal full-body lift is for use with an existing track system, or it is perfect for those looking to install a new personal lift system in their home.
Key Features:
Low battery indicators include light and audible beep
Quick lifting speed
Automatic shut-off in case sling gets caught on something or compromised
Cost: $3,317
Requiring no permanent installation, this overhead lift is great for those who want the flexibility of an overhead lift without a difficult assembly, or who don't want to pay for an additional rail system to install to use with the lift- this system is all-inclusive and ready to assemble out of the box. The three-point system track is designed to allow for maximum safety, with three weighted legs that can be affixed to a wall for ultimate stability. These systems are built-to-order, so the manufacturer warns that shipping could take several weeks.
Key Features:
Weighted legs and easy-levelling feet ensure stability, especially when in motion
Very small surface area is perfect for bathrooms or smaller bedrooms
400-pound capacity
Cost: $6,022
The Voyager portable overhead lifter motor is used with the EasyTrack rail system, which is also portable and perfect for small bedrooms or the bathroom. The lightweight motor uses a long-lasting rechargeable battery and is whisper quiet. It operates by use of a convenient handheld remote control.
Key Features:
440-pound capacity
Long-lasting rechargeable battery
Used with the EasyTrack system, not included
Lightweight motor has hand-held controller
Cost: See Amazon for Latest Price
This freestanding straight-rail system is perfect for a location where lifting occurs commonly, such as by a bed, or in a bathroom. This system is available with tracks in two lengths- 6.5 feet and 11.5 feet. The hand-held control powers this device, which can lift a person up to 440 pounds.
Key Features:
Lift rail height ranges from 88.6″ to 100.4″
Transport height of 66.9″
Weight capacity of 440 pounds
Assembles easily in minutes
Cost: $5,050
Financial Assistance for Seniors Buying Hoyer Lifts
Hoyer Lifts, also known as patient lifts or floor lifts, are large devices that make it easier and safer to move an immobilized patient to and from a seat or bed. These devices can be very expensive, ranging from a few thousand dollars to $10,000 or more. Fortunately, financial assistance is available for patients who need a Hoyer Lift.
Medicare, Medicaid, VA healthcare, and private insurance can all provide partial or total coverage of a Hoyer Lift. Manufacturers also provide financing options and rentals for those who will struggle to cover the cost. Non-profit organizations and disease-specific organizations may also be able to provide financial assistance or low-cost options for patients who need a Hoyer Lift.
Seniors who need an affordable Hoyer Lift will benefit from reading this page and learning about their options. In this article, seniors will learn about financial assistance for Hoyer Lifts, as well as rental options.
Medicare Coverage for Hoyer Lifts
Hoyer Lifts are considered "durable medical equipment" because of their size and function. While Medicare Part A covers hospital stays and inpatient care, it doesn't cover the cost of an at-home Hoyer Lift. However, Medicare Part B provides coverage for durable medical equipment, including Hoyer Lifts.
A few requirements must be met for a patient to qualify for Medicare Part B coverage of Hoyer Lift:
A medical doctor must prescribe the lift as a necessity for the patient.
The patient must pay their Part B deductible before Medicare will provide coverage.
The prescribing doctor and the Hoyer Lift supplier must both be enrolled in Medicare.
Depending on the circumstances, the patient may be required to rent the lift instead of purchasing it.
When these conditions are met, a Medicare beneficiary will only pay 20% of the total cost of the Hoyer Lift after they have paid their deductible.
Obtaining Medicare Part B coverage requires a patient to be 65 years of age, disabled, or diagnosed with End-Stage Renal Disease (ESRD), or ALS (Lou Gehrig's disease). Those who want to obtain Medicare Part B should follow these steps:
Once you have coverage, you can discuss your need for a Hoyer Lift with your primary care physician. They can help you find a Medicare-enrolled DME supplier that sells or rents Hoyer Lifts.
Medicaid Coverage for Hoyer Lifts
Every state has a Medicaid supplemental coverage program, and each state provides different coverages for various healthcare needs. Most states offer a waiver program to help cover the cost of a Hoyer Lift. The table below provides more information on each state's Medicaid program, their durable medical equipment (DME) waivers, and their official website and contact information.
Medicaid programs can change from time to time, so it's important to contact your state's Medicaid office before trying to purchase a Hoyer Lift. Old waivers may no longer be available or new waivers may be made available that can cover part of all of the cost of durable medical equipment.
Veterans Resources for Hoyer Lifts
Veterans Affairs offers a healthcare program that covers durable medical equipment, including Hoyer Lifts. Members of the program can apply for DME through their local VA office. A few requirements are necessary to obtain coverage:
Veterans must be prescribed a Hoyer Lift by their doctor
Requests for DME should be filed within 24 hours of receiving a prescription
VA form 10-10172 must be submitted to the VA healthcare program
DME can be obtained from a VA pharmacy in the patient's local area
Most durable medical equipment requests will allow a veteran to obtain the device they need for up to 30 days. Patients can apply again for continued use of the DME if needed. Veterans can contact their local VA office to learn more and begin the application process.
Additional Financial Resources for Hoyer Lifts
If Medicare, Medicaid, or VA benefits aren't able to cover the cost of a Hoyer Lift for a patient, there are additional options for covering the cost. Below are a few additional financing options that can help cover part or all of the cost of obtaining a Hoyer Lift:
Private Insurance
Many private insurers offer coverage for durable medical equipment. Patients can shop around for insurance programs that fit their needs and cover DME. Policyholders will likely need to pay a deductible before the insurance covers the remaining cost of the lift. Be sure to confirm with your insurer that Hoyer Lifts will be covered by your policy.
Nonprofit Organizations
A wide range of nonprofit organizations are able to help patients obtain durable medical equipment. Some groups obtain gently used DME and resell the products at a discount to those who need them. Nonprofits that focus their efforts on helping those with specific illnesses will also provide DME to those with the disease or physical challenge.
Find a nonprofit organization in your state that provides DME assistance to those who struggle financially.
Hoyer Lift Rental
If a patient doesn't need a Hoyer Lift for years, a rental may be the best option. Most insurance providers are more likely to cover the cost of a rental rather than a purchase of durable medical equipment. The overall cost for both the provider and patient is lower, and many patients don't need a Hoyer Lift for more than a few weeks or months as they recover from a procedure.
Supplier Financing
Manufacturers of Hoyer Lifts want to make it easy for patients to obtain their products. Many suppliers are willing to provide financing for expensive durable medical equipment. Patients can obtain a line of credit with a supplier and make payments over time to help alleviate the heavy financial burden of the purchase. Supplier financing may also feature 0% interest for the first few months of payments.
National and State Resources for Obtaining Hoyer Lifts
A variety of state-level and national-level organizations provide assistance to those who need durable medical equipment such as Hoyer Lifts. Below are just a few organizations that may be able to provide Hoyer Lifts or financial assistance to help seniors obtain one:
| | | |
| --- | --- | --- |
| Resource | Website/Contact | How They Help |
| ALS Association DME Equipment Loan Pool | https://www.als.org/mn-nd-sd/local-care-services/durable-medical-equipment-loan-pool | The ALS (Lou Gehrig's Disease) Association has chapters throughout the country. Some, like the MN, ND, SD chapter, have a loan program that allows patients with ALS to borrow durable medical equipment as needed. Patients can contact their local ALS office to learn about loan pool options. |
| National Assistive Technology Act Technical Assistance and Training (AT3) Center | https://at3center.net/state-at-programs/ | The National Assistive Technology Act Technical Assistance and Training (AT3) Center strives to help people with disabilities to regain their mobility with assistive technologies. Every state has an AT3 Center that provides different services, including loaned DME and low-cost DME. |
| Muscular Dystrophy Association (MDA) | https://www.mda.org/ | The Muscular Dystrophy Association (MDA) works to provide resources and advocacy for those who suffer from Muscular Dystrophy. Their website provides a variety of resources regarding obtaining durable medical equipment and assistive services. |
| National Amputation Foundation | https://amputationfoundation.org/ | The National Amputation Foundation works to help those who have lost a limb regain their mobility and way of life. They offer a wide range of resources for those who struggle with mobility. |
| Foundation for Rehabilitation Equipment & Endowment (FREE) | https://www.free-foundation.org/ | The FREE Foundation provides resources for finding free mobility equipment. The organization only operates in the state of Virginia. |