Whether you are looking for a dynamic gaming experience on the go, an affordable productivity machine, or are simply curious about Apple's latest Macbook offerings, check out our list of the best 10 laptops for seniors of 2023, in no particular order.
What To Consider When Buying a Laptop
Before shopping for a new laptop, keep in mind the following considerations.
How will the laptop be used? Keeping in mind your preferred uses for your new laptop is a great way to help guide yourself through the numerous options available online and in stores. Do you plan to use your computer primarily for checking email, social media, and streaming Netflix? A budget option, or even a tablet, would be best for you. If you intend to use your laptop for work purposes, such as editing pictures and documents, you may want a high-end performance laptop designed to handle multiple tasks simultaneously. A faster processor and more RAM means your computer can handle more, though lesser RAM would be adequate for a casual user. It's also essential to consider whether you'll want to use multi-media features like a webcam, mic, or DVD player, as not every laptop will include these extras.
What software do you need? Laptops always come with an operating system – either Windows (Microsoft), macOS or OS X (Apple), or ChromeOS (Google) – that contains basic software packages appropriate for all levels of users. Nowadays, each operating system has its own digital distribution platform where you can easily download or purchase the apps you need. For Windows devices, it's the Microsoft Store, the Google Play Store for ChromeOS machines, and the Mac App Store for Apple laptops. Please take a peek at the websites when you know what system you want to use, see what apps are available to download, how much they cost and read user review.
What is your budget? As technology improves every year, the price for simpler devices has dropped dramatically, and laptops are now affordable for nearly every budget. Depending on the features you need in your laptop, your cost can vary from just a few hundred dollars to several thousand for a high-end performance gaming computer. If you are on a tight budget, check out some ways to pay for a laptop at the end of our list..
The 10 Best Laptops for Seniors
The following laptops received high ratings from individuals who have purchased them for themselves or their elderly parents and grandparents. Each laptop was evaluated for ease of use, performance, accessibility, functionality, price, and value.
The Toshiba Dynabook Tecra A40-K is a solid business laptop for seniors who want nothing more than productivity from their laptops. The laptop is powered by an Intel Core i5-1240P processor and 8GB of DDR4 RAM, making it an ideal machine for productivity and multitasking. Another selling point of the Tecra A40-K is its crisp 14-inch 1920 x 1080 Full HD display, which is great for multimedia use like watching movies and viewing photos. For connectivity, the laptop has various standard ports, including two USB 4.0 Type-C ports with Thunderbolt support, an HDMI port, and a headphone jack. Storage-wise, you have a 256GB M.2 solid state drive and a microSD slot for storage expansion. Overall, the Toshiba Dynabook Tecra A40-K is a value-rich laptop with enough specs and durability to help seniors plow through the day's tasks with ease.
Pros:
Features Intel Core i5 processor and 8GB of DDR4 RAM for great productivity performance
Simple, dignified design and durable build
Crisp 14-inch 1920 x 1080 Full HD display
Comes with a fast-loading 256GB M.2 solid state drive
Many ports and connectors including 2 x USB 4.0 Type-C ports
Cons:
No optical drive for DVD playback
Small keys and a stiff touchpad
If you have the budget to spare, the HP Pavilion 15 laptop is an excellent all-around computer from one of the most trusted laptop brands. Powered by an Intel Core i7-1165G7 and 16GB DDR4 RAM, seniors can work, watch, and even play games relatively lag-free. The 15.6-inch Full HD micro-edged screen is a great option for seniors who prefer a larger and brighter screen, and the included Bang & Olufsen audio system turns this laptop into a full-on entertainment machine. In addition, the Pavilion 15 comes with a sizable 512 GB M.2 solid state drive, giving your loved one more than enough storage to keep those lovely photos and videos of their grandkids. Finally, you can enjoy up to 8 hours of battery life and a full-size keyboard to get more work done.
Pros:
Powered by Intel Core i7-1165G7 and 16GB DDR4 RAM for fast, reliable performance
High-resolution 15.6-inch Full HD micro-edged screen
Plenty of default storage with 512 GB M.2 solid state drive
Full-size keyboard makes typing a breeze
Up to 8 hours of battery life
Cons:
Can be expensive when not on sale
Keys can be hard to read according to some reviews
The MacBook Air M2 from Apple is a top-tier laptop if you haven't upgraded for years or are a big Apple fan. Apple has done a great job with the MacBook Air in recent years, and the M2 version is no different. One of its best features is the wonderfully slim design at 0.44 inches thick; it almost looks like an iPad when closed. Performance-wise, the MacBook Air can handle anything you throw at it, including work tasks, hundreds of Chrome tabs, and many other demanding applications–thanks to the new M2 chip. The new 13.6-inch Liquid Retina display is also sharper and brighter than previous Air iterations. In terms of battery life, the new MacBook Air can provide 10-14 hours of real-world use and is made even better by the convenient MagSafe 3 charging. Sure, it has a high price tag, but this laptop will serve your loved ones well for many years.
Pros:
Super slim, portable design and lightweight
Best-in-class 13.6-inch Liquid Retina display
Strong performance via the new M2 chip
10-14 hours of battery life and convenient MagSafe charging
Improved 1080p webcam
Cons:
Comes with Apple's luxury brand price tag that starts at $1,199
Low storage size on lower models
Chromebook laptops are known for their entry-level pricing and are popular with students and younger users. The ASUS Chromebook is no different and is ideal for seniors as well. Powered by a relatively dated Quad-Core Processor and 4GB of RAM, this laptop is best suited for light computing tasks, so don't expect heavy multitasking and high-definition graphics. The 11.6-inch HD screen offers a resolution of 1366 x 768, which gets the job done for some light viewing. Apart from the budget-friendly price tag, this Chromebook can take a great deal of heavy use thanks to its rugged quality, military-grade durability, and spill-resistant keyboard. Overall, we highly recommend this laptop for seniors with impaired motor skills.
Pros:
Rugged construction and military-grade durability
Large, spill-resistant keyboard
Up to 10 hours of battery life
Rubberized protective ring to protect against drops
Affordable price
Cons:
The screen might be too small for seniors with poor eyesight
Support will cease on 2025
If you're looking for a well-equipped and well-built laptop for seniors, the Dell Inspiron 15 3000 is worth looking into. It checks many of the boxes you're looking for in a budget laptop. For starters, it has native Windows 11 support, the latest and greatest operating system from Microsoft. It also comes with a 15.6-inch full-HD touchscreen display, making it more user-friendly for tech-challenged seniors. With a Core i5-1135G7 processor and 16GB of memory, it's a step up from many budget laptops in this price range in terms of performance. The laptop also boasts 1TB SSD storage, so you won't have to worry about running out of space soon.
Pros:
It comes with the latest Windows 11 operating system
Sizable 15.6-inch full-HD touchscreen display
Equipped with a Core i5 processor and 16GB of RAM
Solid build and quality
Fast 1TB SSD storage
Cons:
No optical media drive
No USB Type-C ports
Weak screen brightness
The Acer Aspire 5 Slim laptop is perfect for those who don't want to spend more than $500 on a portable computer but still want a reliable, capable computer. Powered by AMD Ryzen 5 5500U Hexa-Core processor and 8GB of RAM, this laptop provides good hardware performance for rock-bottom pricing. The design and build quality are nothing to write home about, but it feels durable enough for light use. It includes a 14-inch 1080p LCD screen with surprisingly decent colors, contrast, and brightness. The webcam is 720p and is competent hardware for occasional video calls. Lastly, port selection is more than adequate with ports like USB Type-A and Type-C, full-sized HDMI, and a 3.5mm audio jack.
Pros:
Comes with Windows 11
Affordable pricing
Excellent port selection
Solid hardware for productivity
Surprisingly good 1080p display
Cons:
Below average battery life
Pre-installed bloatware can be annoying
The HP Chromebook x360 14c is a premium ChromeOS laptop without the premium price tag. For starters, the HP Chromebook x360 14c looks sleek and smart-looking out of the box – it gives a futuristic look. The backlit, full-sized chiclet-style keyboard is relatively large and ideal for sight-impaired individuals. It also features a 14-inch IPS touchscreen display with 1920×1080 Full HD resolution that delivers solid colors and contrast. Plus, it provides good productivity performance with its Core i3 processor and 8 GB RAM. Battery life is outstanding, and you can use it unplugged for up to 7-8 hours. In a nutshell, this Chromebook offers more than what you'd usually expect in this kind of laptop.
Pros:
Sleek and smart design
Large backlit keyboard
14-inch IPS touchscreen works well and offers strong colors and contrast
Great price
Outstanding battery life
Cons:
The screen has low brightness and is not ideal for outdoor use
Heavier than most Chromebooks
The Macbook Pro is always an easy recommendation for someone who wants a highly portable and exquisitely made laptop – the 13-inch M2 Macbook Pro is exactly that and more. This high-end laptop packs the second-generation 'M2' System on Chip which promises a 40% performance increase over the M1 variant, yet it remains the same price as the M1. One of the highlights of this laptop is the 13-inch Retina display that offers stunning colors and 500 nits of brightness. The battery life is also on-point, with the expected usage of 17-20 hours on a full charge. Another underrated quality of the M2 Macbook Pro is its speakers, which offer excellent soundstage for a portable laptop. Overall, it's not the best Macbook Pro out there, but it's an ideal machine for seniors familiar with the Apple ecosystem.
Pros:
Excellent 13-inch Retina display with True Tone
The M2 processor offers 40% more performance than the M1
Backlit Magic Keyboard is highly intuitive and easy to use
Highly portable and lightweight
Long battery life
Cons:
Expensive price tag
The 13-inch screen may be too small for sight-impaired users
Only 2 USB-C ports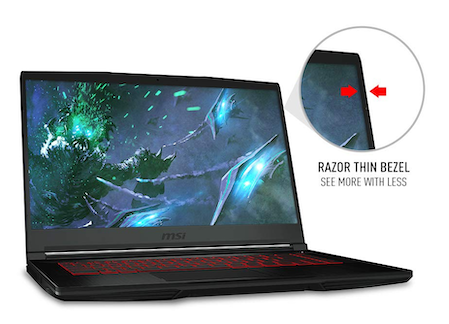 MSI is a global brand known for its gaming laptops and hardware. The MSI GF63 Thin is a solid laptop for power-user seniors who are into entry-level gaming and heavy productivity. Equipped with a Core i5-9300h processor and 8GB of RAM (expandable to 64GB), you should have no problem running less demanding games like Minecraft and most puzzle games. The 15.6-inch full-HD IPS display is quite large, but it's not very bright. It also has a GeForce GTX 1650 graphics card, which works great for light gaming. In addition, the laptop is also reasonably light, thanks to its slim profile and build. Overall, it's one of the most affordable gaming laptops available for a combination of work and play.
Pros:
Affordable gaming laptop
Suitable for lightweight gaming and heavy productivity
Large 15.6-inch full-HD IPS screen
Slim and lightweight
Expandable memory up to 64G
Cons:
Disappointing battery life
The screen lacks in brightness and is not ideal for outdoor use
In the theme of saving the best for last,   the leading everyday laptop is the fast, lightweight, and stylish HP Stream. Featuring many options to choose from through the manufacturer, buyers get the choice of an 11" or 14" screen and a variety of fun colors. This laptop is affordable and an excellent choice for someone who wants the essential functions of a laptop, such as surfing the web, writing, and sharing pictures. The brightly-lit display is easy to see in any light, and the keyboard features brightness controls along with volume and media controls that work seamlessly with windows media player or internet browsers. This computer starts fast and is loaded with Windows 10, the Office 365 suite, 1 TB of cloud storage, and a year's warranty that includes 24-7 online tech support and phone support during business hours.
Pros:
4 GB internal memory has plenty of room for documents and pictures
Large, backlit 14" HD screen
Thin and light, weighing in at less than 3.5 pounds and measuring 13.27" x 8.9"x .7"
Up to 9 hours (video playback); up to 7 hours and 45 minutes (wireless streaming)
Windows 10 Home with one-year limited warranty with 24-7 web support.
Least expensive on this list, coming it at under $30
Cons:
Tends to overheat quickly on flat surfaces
No room to upgrade memory
Sometimes prone to connectivity issues due to a very sensitive Wi-Fi detector
Paying for a Laptop
Sometimes it can be difficult coming up with the funds for a new computer, but there are a few options to try that might help get you the laptop you need:
| | |
| --- | --- |
| Resource | How It Can Help |
| Supplemental Security Income (SSI) | If you are over the age of 65, you may be eligible for this federal program that provides financial assistance for people with lower incomes. |
| FCC Affordable Connectivity Program | While this FCC benefit program is primarily aimed to provide households with internet access, eligible individuals will receive a one-time $100 discount to purchase a laptop from participating stores. |
| PCs for People | PCs for People is a national nonprofit organization that aims to provide low-cost quality computers and laptops, and internet access for people with low incomes. You can also shop from their inventory of donated and recycled laptops for very affordable prices. |
| Computers with Causes | Computers with Causes is a nonprofit organization that donates refurbished computers and laptops to the less fortunate. |
| Local Goodwill | You can call or stop by your local Goodwill store and ask how you can get a free working laptop (i.e., not broken and sold for parts). Alternatively, you can shop at Goodwill for used or refurbished laptops with significantly marked down prices. |
| Local Community Senior Center | Get in touch with your local community senior centers and find out if they have resources to help you get a free laptop. |
| Refurbished Laptops | Refurbished is a term generally used for a product that has been returned, inspected, cleaned, repaired (if necessary), and resold. Refurbished laptops are more affordable than brand-new ones. Check places like BestBuy, Walmart, Office Depot, and your local computer shops for refurbished units. |
| Rent-to-Own Stores | Stores like Aaron's, FlexShopper, and Rent-A-Center offer rent or lease-to-own laptops for reasonable monthly fees, even with a bad credit. |
Additionally, if you only need simple features like entertainment streaming, access to books and music, and an app store, consider investing in a less-expensive machine. See our list of the 10 best tablets for seniors in 2023 for more information on what features are available with the tablets on the market today, often for a much lower price than laptop computers.
Further Resources
For more information about shopping for laptops and accessories, as well as getting the most from your new laptop, the following websites provide additional helpful information.
| | |
| --- | --- |
| Website | How It Can Help |
| Skillful Senior | This helpful website offers tutorials and more to teach seniors how to make the most of their computers. |
| Microsoft Accessibility | Learn how to adapt your computer to common situations faced by seniors with these tips from Microsoft. |
| The Senior's Guide to Computers | This website offers a glossary of basic computing terminology and helpful articles for seniors new to computers. |
| Learn Free.org | Often cited as a good resource for beginners, GCF's Learn Free offers basic computing courses online. |
| Techboomers | This comprehensive tech website is full of easy-to-follow guides and tutorials that cover how to use some of the most popular websites such as Facebook, Amazon, eBay, YouTube, etc. |
| Top Social Networking Sites | While not specifically for seniors, this list of sites will help anyone find the social networking platform that's right for them. Whether you're a casual user just interested in keeping up with friends and family, or harnessing the power of social media for your business, you can find a site here. |