Whether you are looking for a dynamic gaming experience on the go, an affordable productivity machine, or are simply curious about Apple's latest Macbook offerings, check out our list of the best 10 laptops for seniors of 2020, in no particular order.
Considerations
Before shopping for a new laptop, keep in mind the following considerations.
How will the laptop be used? Keeping in mind your preferred uses for your new laptop is a great way to help guide yourself through the numerous options available online and in stores. Do you plan to use your computer primarily for checking email, social media, and streaming Netflix? Maybe a budget option, or even a tablet, would be best for you. If you intend to use your laptop for work purposes, such as editing pictures and documents, maybe you'll want a high-end performance laptop designed to handle multiple tasks at once. A faster processor and more RAM means your laptop will be able to handle more, though lesser RAM would be perfectly fine for a casual user. It's also important to think about whether or not you'll want to use communication features like a webcam and mic, or a DVD player, as not every laptop will include these extras.
What software do you need? Laptops always come with an operating system- either Windows, Apple, or Google- that contains basic software packages appropriate for all levels of users. Windows 10 features access to the Microsoft Store, making the purchase of needed software simple, as do both Google Play stores and the Mac app store. Take a peek at the websites when you know what system you want to use and see what type of apps are available to download, how much they cost, and to see user reviews.
What is your budget? Depending on the type of features you need in your laptop, your cost can vary from just a few hundred dollars to several thousand for a high-end performance gaming computer. As technology improves every year, the price for simpler devices has dropped dramatically, and laptops are now affordable for nearly every budget. If you are on a really strict budget, check out some ways to pay for a laptop at the end of our list.
The 10 Best Laptops for Seniors

The following laptops received high ratings from individuals who have purchased them for themselves or for elderly parents and grandparents. Each laptop was evaluated for ease of use, any accessibility issues, functionality, and price.
The Toshiba Tecra is a solid-performing business laptop that is loaded with all the features you'll need to connect all your devices, including two 2.0 USB ports and two 3.0 USB ports, an HDMI port, a VGA port, Bluetooth connectivity, and Windows 10 Pro. Windows 10 Pro has all the well-loved features of Windows 10 Home, as well as additional secure encryption, and a wealth of formidable business management applications such as group capability, kiosk setup, and rapid network provisioning assistance. Toshiba laptops are trusted for their long-lasting, durable machines as well as the company's excellent customer service, and this first choice is a great one for the senior who has not decided to retire and needs a machine that can keep up.
Pros:
802.11 Wi-Fi, Bluetooth, webcam, mic, 4 USB ports, HDMI port, and VGA port
8th Generation Intel i7 quad-core processor and 12GB of DDR4 RAM makes loading fast
Features Windows 10 Pro 64-bit, with all your favorite Office programs and apps
15.6″ HD monitor with 1366 x 768 LED backlight display
Reviewers appreciate how lightweight this powerhouse is
Cons:
This laptop may take slightly longer to deliver than others on our list
Costs more than other machines on our list, coming in at just under $1,000
Our more expensive HP laptop pick, the Pavillion is a great choice for a powerful laptop from the trusted HP brand. With 8GB of SDRAM memory, 128 GB SSD power, and dual processors, this machine has the storage and processing capability to tackle your everyday tasks, video streaming, photo editing, document creation, and more. The extra-large keyboard with a numeric keypad and control bar at the top combined with the trackpad makes this laptop easy to use for surfing the web as well as working. It connects easily to nearby signals with the high-speed 802.11 wi-fi adapter and Bluetooth 4.0, enabling you wireless connectivity between all your devices, even on the go.
Pros:
Bluetooth 4.0
15.6" HD BrightView glossy backlit display
DVD-writer reads and writes CDs and DVDs like home movies or your favorite music
Full island-style keyboard with number pad and multi-gesture TouchPad
Windows 10 S Mode
Cons:
Initial setup can be difficult, according to reviewers, though HP does provide top-notch customer support
Weighs and costs slightly more than other HP laptops
Apple's Macbook Air is a great solution for someone who loves the Apple brand and wants a laptop that will be easy to travel with, as well as packed with their favorite apps. The next-gen keyboard, slim recycled aluminum wedge-design, and brilliant display featuring four million pixels, all combine to make a truly luxurious experience that any level of user would love to enjoy. Combined with the durability and awesome customer support Apple is known for, the Macbook Air is a top-tier laptop for those who need performance as well as portability.
Pros:
100% recycled aluminum construction is more eco-friendly than most laptops
Up to twelve hours of battery life on one charge
13.3" retina display with TrueTone technology and wide-sound stereo speakers
Available in Space Gray, gold, and silver
1.65GHz dual-core Intel i5 with 8 GB of RAM for fast performance
Cons:
Comes with Apple's luxury brand price tag of over $1,000
Known to provide cost-effective quality, the ASUS answer to the Chromebook is an excellent solution for the multi-tasker that expects their electronics to be just as flexible as they are. The smaller, more portable 11.6" device has a hinge with an 180-degree axis, allowing it to transform into a tablet on command, opening up fully like a book for easy reading and group sessions. The durable design features rubber-grip edging and shock-resistant parts, because drops can happen to anyone. Also, this laptop is clumsy-friendly, with a spill-resistant keyboard. Seniors with vision concerns will love this machine for its easy-to-read keyboard, which has a 15% larger font size than other machines.
Pros:
Spill-resistant keyboard and rubber grips and bumpers make this machine clumsy-proof
One of the least expensive laptops on our list, See Amazon for Latest Price
11.6" monitor with 180-axis swivel turns this laptop into a tablet with ease
Chrome operating system by Google
Seamless integration with Google Docs, making this machine perfect for work and study
64 GB expandable SD memory card slot
Cons:
Battery might need replacing more often than other laptops- user reviews vary
Perfect for those that want a flexible, immersive entertainment experience and access to a world of fun and useful apps from the Microsoft Store, meet the Dell Inspiron 2-in-1 laptop. The quick processor and with the Waves MaxxAudio Pro speakers combine to provide a top-tier Dell CinemaStream experience, easily viewed from either flat like a laptop or tablet, or standing upright in the handy easel position. Document and photo editing is made easy with many free and affordable productivity apps, and plenty of cool games that users of all ages love.
Pros:
14" ultra-vivid HD screen
Laptop easily flips open like a tablet for easy movie viewing and document editing
Loaded with Windows 10 S Home edition
Features Dell's CinemaStream experience with MaxxAudio speakers and a vivid display
Cons:
Loaded with Windows S 10- if you want apps unavailable in the Microsoft store, you'll need to switch to Windows 10, easily done if you follow this tutorial
At 5.6 pounds, this laptop is a bit heavier than others on the list
Costs nearly twice as much as the other 2-1 laptops on our list
The Acer brand is dedicated to providing a comprehensive experience for all types of users, from casual to professional, all at a value. The Aspire E series laptop is perfect for those looking for high-speed processing on-the-go, with beautiful graphics and easy controls. Depending on the level of your workspace needs, you can choose to buy this laptop with the basic programs, or for an extra charge you can include the Microsoft Office 365 Suite, a model installed with Windows 10 Pro, or upgraded storage.
Pros:
Long-lasting battery can be used for up to 13.5 hours without needing to charge
8th Gen Intel Core i3-8130U, 6GB RAM Memory
13.5 hours of battery life
TrueHarmony speakers ensure an immersive listening experience
802.11ac wi-fi featuring ultra-powerful technology wireless antenna
Built-in DVD drive
Cons:
This laptop is noted to have a slightly slower processing speed and as being a bit less durable than other models on the list, likely a result of the very low price tag
The HP Chromebook is a great laptop for those that want a powerful laptop that can convert to a tablet with its flexible and sturdy 180-degree axis hinge. This durable and lightweight option is great for the budget-conscious consumer who uses their laptop for school, work, or general entertainment purposes. Seniors love how easy it is to travel with this laptop, and the variety of fun Android games available to play in addition to the office suite and social media apps that everyone loves to use.
Pros:
14" diagonal 1080p HD monitor
4GB RAM and 32GB storage
Battery lasts up to ten hours on a single charge
Built-in webcam
Reviewers note that this laptop handles streaming games and working long hours well
Cons:
Some users report battery issues in reviews
Apple's high-end laptop, the MacBook Pro has everything you expect from your favorite computer company, including an interactive TouchBar on the keyboard. Combining the classic user experience with state-of-the-art technology, this laptop features a stunning retina-display with TrueTone technology that provides up to 25% more colors than competing sRGB laptops, room-filling hi-fi soundstage speakers, and an ultra-powerful processor, ensuring no lag when streaming your movies or creating your projects. The least expensive version of this laptop comes with 128 GB of internal memory, and a 1.4GHz Intel Core i5 processor, providing more than enough power and storage for the average user. Showing their dedication to providing value to their customers whenever possible without detracting from their computers' quality, the more expensive version doubles the memory and processor speed, for only $200 more.
Pros:
TouchPad at top of the keyboard has display settings, internet navigation, editing, and more
Bright LED backlight and high contrast ratio adjusts automatically to light around you
Dynamic soundstage makes you feel immersed in the music and movies you love
Triple microphones ensure the clearest voice calls and recording possible
Up to a 32 GB internal memory
Cons:
The luxurious Apple experience costs much more than several other laptops on this list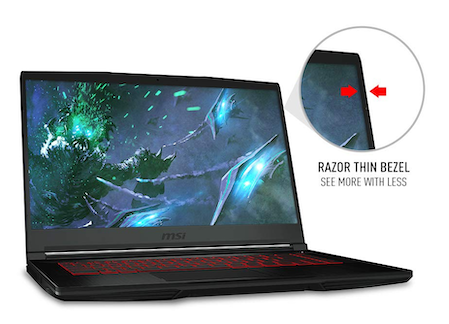 By the makers of some of the highest-reviewed gaming laptops on the market, the MSI GF63 is an ultra-lightweight option for those that want power as well as portability from their computer. Not only is this laptop super-thin, but it is also lightweight- without sacrificing power. Reviewers note that this gaming computer is super-portable and has zero lag when they are gaming, though online gaming might lag if the connection or wi-fi speed isn't high enough. While this laptop is an excellent option for someone who is looking for an intense gaming experience, those who will need more memory and speed will be able to upgrade this machine but the upgradeable ports are noted to be difficult to reach by reviewers.
Pros:
Big keys on a red led-backlit keyboard and trackpad
256 GB memory
Display: 15.6″ 1920*1080 full HD razor-thin bezel screen
Graphics: NVIDIA GeForce GTX1650 [Max-Q] 4G GDDR5
Intel Core i5-9300h 2.4 – 4.1GHz processor and 2 internal fans
Cons:
Reviewers note the trackpad feels less luxurious than on other models
Gaming may lag on slow connections
In the theme of saving the best for last, this writer's personal favorite and everyday laptop is the fast, lightweight, and stylish HP Stream, featuring many options to choose from through the manufacturer, such as the choice of an 11" or 14" screen, and a variety of fun colors. This laptop is affordable and a great choice for someone who just wants the basic functions of a laptop such as surfing the web, writing, and sharing pictures. The brightly-lit display is easy to see in any light, and the keyboard features brightness controls along with volume and media controls that work seamlessly with windows media player or internet browsers. This computer starts up fast and is loaded with Windows 10, as well as the Office 365, 1 TB of cloud storage, and a year's warranty that includes 24-7 online tech support in addition to phone support during business hours.
Pros:
4 GB internal memory has plenty of room for documents and pictures
Large, backlit 14" HD screen
Thin and light, weighing in at less than 3.5 pounds and measuring 13.27" x 8.9"x .7"
Up to 9 hours (video playback); up to 7 hours and 45 minutes (wireless streaming)
Windows 10 Home with one-year limited warranty with 24-7 web support.
Least expensive on this list coming it at under $300
Cons:
Tends to overheat quickly on flat surfaces
No room to upgrade memory
Sometimes prone to connectivity issues due to a very sensitive Wi-Fi detector
Further Resources
For more information about shopping for laptops and accessories, as well as getting the most from your new laptop, the following websites provide additional helpful information.
Skillful Senior: This helpful website offers tutorials and more to teach seniors how to make the most of their computers.
Learn Free.org: Often cited as a good resource for beginners, GCF's Learn Free offers basic computing courses online
Top Social Networking Sites: While not specifically for seniors, this list of sites will help anyone find the social networking platform that's right for them. Whether you're a casual user just interested in keeping up with friends and family or harnessing the power of social media for your business, you can find a site here.
Paying for a Laptop
Sometimes it can be difficult coming up with the funds for a new computer, but there are a few options to try that might help get you the laptop you need:
Refurbished laptops are machines that have been returned by the original owner to the company where the laptop will be repaired and factory reset. These laptops may or may not come with a manufacturer's warranty, make sure to read the fine print to protect your investment.
Buying the newest model means paying the highest price- older versions of a great computer will be less expensive and still a great solution to your laptop needs. Also, some models are available with less storage, which might work great for you and save you some extra money.
Rent-to-own stores like Rent-A-Center, Aaron's, FlexShopper, and No Compromise Gaming offer low monthly payment plans, despite your credit score. Another great option for local deals would be to check pawnshops in your area, though you'll want to make sure whatever you buy has at least a 30-day warranty- you might want to call ahead to make sure before taking a trip out.
Consider investing in a less-expensive type of machine if you only need simple features like entertainment streaming, access to books and music, and an app store. See our list of the 10 best tablets for seniors in 2020 for more information on what features tablets have on today's market.