What you Should Know: 
Low-income seniors or seniors on a budget may not be able to afford the cost of a cell phone and/or monthly cellular service.
Without a phone, seniors may not be able to contact emergency services and may be at a higher risk of becoming socially isolated.
National programs as well as state and local programs can reduce the costs of cell phones and/or service.
Phone service providers offer veteran and senior discounts, and various nonprofits donate free phones to high-need populations.
Cell phones are no longer a product just sought after by the young. According to a study done by the Pew Research Center, 42% of seniors age 65 and over now have a smartphone, and 80% own some type of cell phone. Those numbers are nearly double from just a few years before the study was conducted in 2018.
Since cell phone and smartphone use among seniors has skyrocketed, manufacturers have taken notice. Consumers aren't limited to pricey smartphones that are out of budget for many seniors. They also aren't limited to feature-free flip phones that can only make calls. Today's cell phone companies provide the best of both worlds, making it easy for seniors to find feature-rich cell phones and smartphones that suit their needs and fit their budgets.
Modern cell phones provide connection to fast 4G and 5G networks, providing crystal-clear calls and fast internet access. Most cell phones feature front-facing and rear cameras for taking photos and making video calls. Many cell phone providers also offer consumers a variety of plans, tailored to the amount of use a consumer will need throughout the month. This can greatly reduce the monthly cost of owning a cell phone.
In this guide, we'll explore our top 25 smartphones for seniors. We'll look at phone prices, features, and networks. This list includes a wide range of phones with an array of features, providing an option for every senior who's looking for a cell phone. Listed prices do not include the cost of service plans and are subject to change.
Budget Smartphones for Seniors


Price: See Amazon for Latest Price

Description:
This inexpensive phone is the perfect option for someone on a budget looking for a no-frills phone that will work for texting, calling, and even listening to FM radio. The convenient see-through window makes it easy to check the time and missed calls without needing to open this flip phone. The decent-sized 1.8" screen and large buttons make it easy to use, even for those with vision impairment.
Key Features:
3G GSM network
1.8" display
FM radio
Memory slot expandable up to 32GB
Large buttons
Price: See Amazon for Latest Price
Description:
A compact bar phone, the Nokia 225 4G is a simple but powerful 4G phone with GSM compatibility. The small design makes it easy to carry and features a textured grip and curved shape. It also features FM radio capabilities and a few games for added entertainment. The phone sports a 0.3MP rear camera for taking pictures, along with a 2.4" QVGA screen for easy viewing.
Key Features:
GSM capable
Bluetooth capable
2.4" QVGA screen for clear graphics
1,100 mAh battery for long life
Variety of preinstalled games
FM radio feature for local listening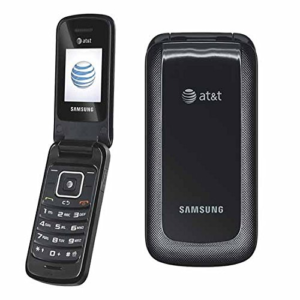 Price: See Amazon for Latest Price
Description:
This durable and lightweight flip phone is a great option for a phone user that just wants to be able to text and make calls with ease. With AT&T's reliable nationwide network, this phone has the highest levels of dependability when reaching out to friends and loved ones. The strong battery in this phone is also a great feature for the moderate user who would like to be able to go up to 10 days between charging their phone.
Key Features:
6 hours of talk time and 10 days of standby between charges
1.8" screen
3G and GSM network capable
SMS and MMS picture text messaging
Loud speakerphone
Flip-phone design is great for those who worry about breaking their phones screen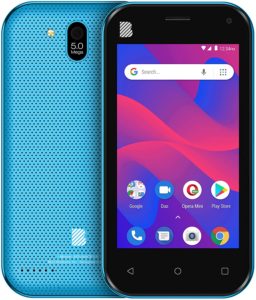 Price: See Amazon for Latest Price
Description:
This smartphone is packed full of technology at an affordable price. The 4" display, 5MP camera, and 16GB of RAM put it on par with many popular phones of the past few years but at a fraction of the cost. Designed for the T-Mobile network, users can enjoy nationwide coverage and fast internet speeds. The BLU Advance L5 is a great option for those who want a good smartphone but don't want to pay a hefty price for the fastest one on the market.
Key Features:
Comfortable, firm grip for easy use
Android 8.1 operating system
1.3 GHz Quad-core processor
16GB internal storage with expandable slot that fits up to 64GB memory cards
5MP rear camera with flash and 2MP front camera with flash
4" display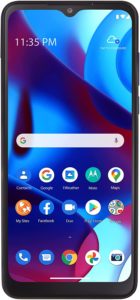 Price: See Amazon for Latest Price
Description:
Tracfone has teamed up with Motorola to provide seniors with a high-quality smartphone for an affordable price. The Moto G Pure features the Android 11.0 operating system, one of the newest available. This phone features 32GB of internal memory for storage of apps and high-quality photos taken with the 13MP rear camera. The 6.5" screen makes for easy reading and viewing. The Tracfone system offers users inexpensive cell phone plans nationwide with no contracts.
Key Features:
Android 11.0 operating system
32GB of internal memory
4G LTE network connectivity
Variety of prepaid phone plans with carry-over minutes
Water-repellent coating for added security
Fingerprint scanner for easy unlocking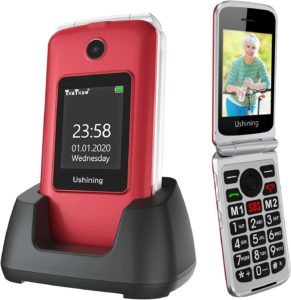 Price: See Amazon for Latest Price
Description:
This AT&T-compatible flip phone is designed for easy use by seniors. The large buttons and SOS button make it easy to call friends or connect with others in an emergency. This MP3 and FM-capable phone provides a variety of entertainment options. 64GB of memory capacity offers plenty of space for photos taken with the 0.3MP camera. The 1,200 mAh battery offers enough battery life for up to 300 minutes of talking or 200 hours of standby.
Key Features:
Large SOS button to make emergency calls and text 5 contacts
3G network compatible and 2G GSM network compatible
Large tactile buttons for easy dialing
Flip phone design for easy carrying
Convenient charging cradle
2.8" screen for easy viewing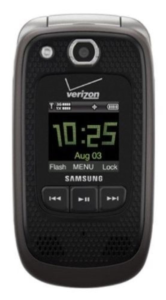 Price: See Amazon for Latest Price
Description:
The sturdy Samsung Convoy is designed for easy use, reliable communication, and durability at military-grade levels. The extra-strong case is dust and sand proof, resistant to breaking when dropped, and can withstand extreme temperatures. With access to a nationwide 3G network and MMS texting, you can take pictures with this phone's 3MP camera and send them to your loved ones with ease.
Key Features:
Dual microphones with background noise cancellation tech for super clear calls
Stereo Bluetooth
Adheres to military standards for resistance to damage from shock, dust, heat, and cold
3G and GPS access
2" screen
3MP digital camera
MMS and SMS texting means you can send pictures via text over the 3G network
Reviewers love this phone's long battery life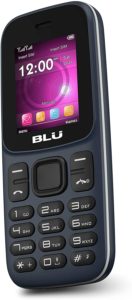 Price: See Amazon for Latest Price
Description:
The BLU Advance Z5 is a great option for seniors looking for a compact and functional cell phone. The small bar style makes for convenient carrying. The 2G network from Straight Talk provides users with a reliable connection for calls and texting. The phone also features an FM receiver, flashlight, and MP4 player. For consumers looking for a basic phone at a very low price, this is a great option.
Key Features:
Very inexpensive phone for calling and texting
Android 4.0 operating system
2G network and GSM support with Dual-SIM slots
32GB internal storage, upgradeable to 64GB
Compact size for easy use and storage
Price: See Amazon for Latest Price
Description:
This low-price high-functionality option is a great choice for those who love to use their phones to text and email their friends, loved ones, and business partners. With a classic Blackberry feel, users enjoy the full QWERTY keyboard and handy navigation button to use their phones for more than just calling people. The built-in stereo and Bluetooth 2.1 functionality means you can write work emails, listen to your favorite news and music, and stay in touch with loved ones, all for a low monthly service fee through the nationwide AT&T network.
Key Features:
Ultra-slim design
Full QWERTY keyboard for quick typing
Long-lasting lithium-ion battery provides 4.5 hours of talk time per charge
Bluetooth 2.1
256MB internal memory
MMS and SMS texting capability over AT&T 3G network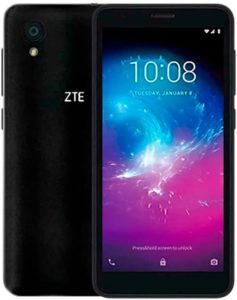 Price: See Amazon for Latest Price
Description:
For those seeking a large-screen smartphone, the ZTE Blade A3 may be one of the biggest. Sporting a 5" LCD screen, this phone is easy to read and easy to use. This AT&T and T-Mobile compatible device offers 4G connectivity as well as GSM compatibility. The Android 9.0 operating system provides fast processing of photos and app usage. The 8MP and 5MP cameras make for high-quality photos and videos.
Key Features:
Fingerprint scanner for quick unlocking
Dual SIM slot makes it easy to stay connected to a variety of networks
32GB of internal memory
Sleek design provides a beautiful look and easy holding
Android 9.0 operating system
4G connectivity and GSM support
Mid-Range Smartphones for Seniors
Price: See Amazon for Latest Price
Description:
The Jethro company has developed many senior-friendly phones over the years. One of its latest models improves on the older ones. The SC490 phone comes with a charging station for simple charging. A 4G LTE phone, it can connect to T-Mobile, Metro, Mint, and other cell phone networks. Up to 8 contacts can be added to the speed dial system. For those looking for a simple but useful cell phone, the Jethro SC490 is a very good option.
Key Features:
Emergency SOS button reaches out to 5 preset contacts
2.8" screen for easy viewing of photos and phone numbers
Big, tactile buttons for quick dialing
No side edge buttons, ensuring no accidental pressing
Hearing aid compatible for easy listening
Sizeable phone provides an easy grip

Price: See Amazon for Latest Price
Description:
For those that want to spend very little money on their phone and monthly service, TracFone has the Alcatel MyFlip for a low cost and features a variety of 4G service plans that go as low as $7 a month when you pay for a year of service. With large buttons, a loud external speaker, and a clear 2.8" screen, those with hearing or vision problems will enjoy this easy to use  phone.
Key Features:
4G LTE on one of the largest nationwide networks
2.8" inner screen and 1.4" outer display
2MP camera and video recorder
Bluetooth 3.0
1.1 GHz Quad-core processor with 4GB of internal memory, expands up to 32GB
Up to 8 hours of talk time on one charge
Reviewers love how easy this lightweight phone is to hold and set up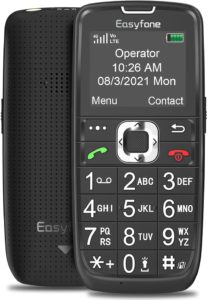 Price: See Amazon for Latest Price
Description:
Easyfone has a great track record of creating cell phones that are easy to use for seniors. The company's Prime A6 is one of its latest models, offering large-size buttons, a comfortable grip, and a powerful flashlight. Compatible with T-Mobile, this 4G phone features 16GB of internal memory and a set of essential apps. An alarm clock, FM radio, calculator, notepad, calendar, and more can help seniors throughout their day.
Key Features:
4G LTE network compatibility
GSM 2G/3G/4G compatibility
Bluetooth connectivity
Powerful flashlight
1,050 mAh rechargeable battery
Convenient charging station
Price: See Amazon for Latest Price
Description:
This 4G cell phone connects seniors to a reliable network for calls with family or friends, and rhe large SOS button offers a fast way to call for help with just a tap. Big buttons make for easy dialing, while the charging base provides simple, wireless charging.. A 5MP rear camera and 2MP front-facing camera can be used to take high-grade pictures, stored on a 4GB internal memory card (upgradeable to 64GB).
Key Features:
SOS button requires a simple touch to reach out to a list of family or friends
Large, tactile buttons provide the feel of a landline phone
2,000 mAh battery for hours of talk time and days of standby time
1.3 GHz Quad-core processor for fast processing of photos and dialing
3.5" color display at 480×320
GSM and 3G compatible
Price: See Amazon for Latest Price
Description:
Alcatel is known for its powerful and reasonably priced smartphones, and its Tetra model is no different. With its  5" screen, this model is perfect for texting, surfing the internet, or watching videos. The quad-core processor offers plenty of speed for downloading files and using apps of all kinds. The Tetra has the look and feel of the popular, pricey smartphones on the market but lands at a much lower price point.
Key Features:
4G LTE and GSM compatible
Large 5" screen
16GB internal memory
Android 8.1 operating system
Quad-core 1.1GHz processor
5MP rear camera, 2MP front camera
Price: See Amazon for Latest Price
Description:
The Easyfone T200 lives up to its name, providing users with an easy-to-use cell phone. The convenient charging station makes this phone feel like a landline model. The SOS button offers added safety, allowing users to reach out to family or friends in an emergency. Eight buttons can be set as speed dial options as well. The 150 hours of standby time provides peace of mind that your phone will be ready for days of use without needing a charge.
Key Features:
Emergency SOS button
4G network, GSM 2G/3G/4G compatible
T-Mobile network compatible
8 speed dial buttons
Convenient charging dock
Large buttons for easy dialing
High-End Smartphones for Seniors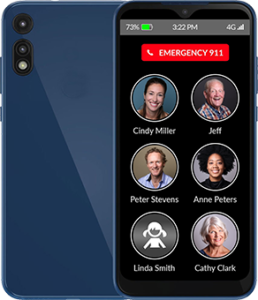 Price: $309
Description:
While pricier than other smartphones on our list, the Raz Mobility Memory cell phone offers more options for peace of mind and safety than other phones. Designed specifically for those with memory loss, this phone makes it incredibly simple for a senior to call friends, family, or emergency services. The screen can be set to always be on, contacts can be reached with one touch, and charging can be done wirelessly with an add-on. Best of all, caregivers can gain remote access to see their loved one's current location, send reminders, edit contacts, check battery levels and  much more.
Key Features:
Large 6.2" touchscreen display
Dedicated 911 emergency button
Alternative RAZ emergency call option to help avoid unwanted 911 calls
Photo & name visuals for up to 30 contacts with one-touch dialing
Compatible with AT&T, Verizon, and other cell phone networks
Wireless charging option of the 3,550 mAh battery
Price: $309
Description:
Another helpful smartphone from Raz Mobility, the MiniVision2 is specifically designed for those with sight issues. The large buttons and voice-command system make it easy for seniors to call anyone they need. An SOS button connects seniors to emergency services or close family in an emergency, and the  1,600 mAh battery allows for up to 7 hours of talk time or up to 200 hours of standby time. Best of all, the phone can read out what's on the screen anytime the user wants. For the senior who struggles with their sight, the MiniVision2 is the best choice on the market today.
Key Features:
Large buttons for easy dialing
Voice-guided reading of all on-screen information
Voice commands for easy control
SOS button for emergency calling
Single-button speed dial
Wide range of daily-use apps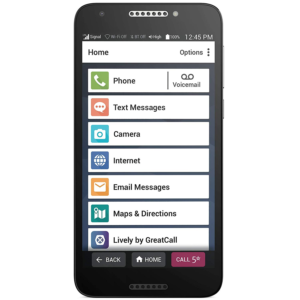 Price: See Amazon for Latest Price
Description:
This easy-to-use smartphone offers users access to the GreatLink app to help keep their loved ones up to date on their health status, as well as an SOS feature with an easy-to-use panic button on the home screen. With all the modern features of a top-of-the-line smartphone, this is a great choice for those who want to use new technology like the 4G LTE network without worrying about learning a complicated system. Users don't have to worry about signing into an annual contract since this convenient phone runs using a simple pay-as-you-go system.
Key Features:
16GB memory with 32GB expansion available
4G LTE
Hearing aid compatible
13 MP camera
Bluetooth 4.2
12-hour battery life during usage and 17 days on standby
Simple to use menu with large font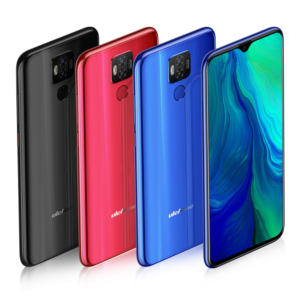 Price: See Amazon for Latest Price
Description:
For those looking for a premium smartphone at a moderately affordable price, check out the Ulefone Power 6. Designed with media lovers in mind, the Power 6 features a large high-resolution curved glass screen perfect for streaming movies in high-def quality. This phone's extensive memory bank of 4GB RAM, 64GB ROM, and up to 256GB of expandable storage means all the apps, pictures, and videos you could take will fit without any space issues.
Key Features:
Bluetooth capable
16MP+2MP dual rear camera and 16MP selfie camera
4GB processor, 64GB internal memory, and up to 256GB of expandable SD space
Waterproof up to one meter
6.3" FHD+ waterdrop 2.5D curved glass screen with 1080 x 2340 resolution
Android 9.0 Pie operating system
Three  colors to choose from (black, red, or blue)
Solid construction with easy-grip cover to  prevent the phone from being dropped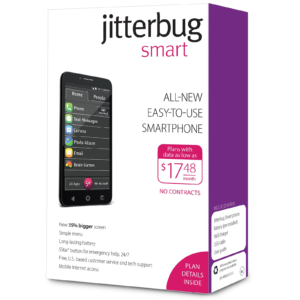 Price: See Amazon for Latest Price
Description:
This smartphone is designed for those who want a simple but modern experience with their cell phone. The extra-large 5.5" touchscreen is 35 percent bigger than the industry standard and perfect for typing while using  high-speed internet provided by the Verizon network. The company offers low monthly no-contract services along with US-based tech support and customer service. This phone made our list of the most senior-friendly phones for its easy-to-navigate menu, hearing aid compatibility, and US-based support.
Key Features:
Operates on Verizon network
Large 5.5" touchscreen display
Menu is organized into a simple list with large print letters for ease of use
Hearing aid compatible
Voice-to-text feature makes emails and texting quick and painless
No-contract plans are great for those on a budget
US-based customer service and tech support
GreatLink app helps loved ones check on your status and health updates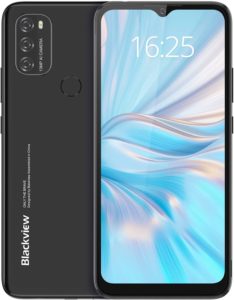 Price: See Amazon for Latest Price
Description:
A high-end smartphone that has it all, the Blackview A70 is a fantastic choice for the consumer who wants to experience the latest technology. The supersized 6.5" full HD screen displays beautiful graphics and photos taken with the 13MP rear camera (or 5MP front-facing camera). 32GB of internal memory provides ample space for storing photos, videos, music, or apps. The 5,380 mAh battery is one of the most powerful on the market, allowing for up to 22 hours of talk time from a single charge.
Key Features:
6.5" FHD touchscreen
Android 11.0 operating system
Dual SIM available
Superfast Octa-core processor
Fingerprint and face ID unlocking
4G network compatible and 2G GSM network compatible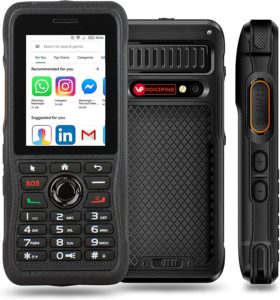 Price: See Amazon for Latest Price
Description:
The VoicePing P-one smartphone offers ease of use in a compact, durable package. This phone is IP54 splash resistant and surrounded by a tough exterior shell case. It can use all kinds of apps including Skype, Zoom, and other calling and video chatting programs. The P-one sports a loud speaker for easy hearing and 4G network connectivity for clear calls. This small but powerful smartphone has everything most seniors want in a smartphone, all with conveniences like large buttons and a bright, colorful screen.
Key Features:
4G network and 2G GSM network compatible
Bluetooth 4.2 connectivity
Quad-Core 1.5GHz processor
2.4" touchscreen display
2,800 mAh rechargeable battery
8GB of storage, upgradeable to 32GB
Price: See Amazon for Latest Price
Description:
For those looking for a sleek and stylish smartphone without a huge price tag, the Oukitel Y1000 is a top-quality choice. The 32GB internal memory provides plenty of storage for pictures taken by the 8MP rear camera. For extra protection against the elements, the Y1000 features IP68-rated water resistance. WIth a drop resistance of 1.5 meters, this phone is likely the toughest on our list.
Key Features:
6.1" touchscreen
Android 9.0 operating system
Three cameras: 8MP + 2MP rear-facing, 2MP front-facing
Fingerprint and face ID technology
3,600 mAh rechargeable battery
GSM 2G network compatibility
Cost: See Amazon for Latest Price
Description:
This top-of-the-line device from the Samsung Galaxy line is a great option for the senior on a budget who wants all the great features of a new Galaxy phone. Its high-tech design features one of the world's first built-in heart rate monitors, which works in conjunction with the S Health app. Combine this with the phone's design built for durability and you have a truly "smart" phone for seniors.
Key Features:
Rugged exterior designed to be dropped without taking damage
16MP rear-facing camera with full picture and video editing suite
Android 4.4 Kitkat operating system is packed with cool features and apps
Internal Memory: 16GB, 2GB RAM – microSD Up to 256GB
Dustproof and water resistant
Intelligent screen adjusts its brightness automatically to lighting conditions
S Health app helps users monitor things like BP, diet, and exercise
Built-in heart rate monitor
Financial Assistance for Seniors Buying Cell Phones
Low-income seniors or seniors on a budget may not be able to afford the cost of a new cell phone and/or cell phone service. While Medicare and Medicaid will not typically help with these expenses, there are other programs that improve the affordability of cellular devices and/or services, such as the national Lifeline, Link-Up, and ACP programs. In fact, customers who decide to bundle their Lifeline and ACP program benefits together may even receive a complimentary cell phone from certain companies in addition to free service. Many service providers also offer special discounts to veterans and/or seniors, and nonprofits may donate phones to high-risk populations or sell low-cost phones online.
Below, we  provide further details about the many resources available to seniors who need assistance with the costs of a cell phone or cell phone service. This will not only include a general overview of each resource, but also information on how to qualify and apply.
Government and National Resources for Free and Low-Cost Cell Phones
The Lifeline Assistance Program, Link-Up Program, and Affordable Connectivity (ACP) Program can provide those who qualify for benefits with financial assistance for cell phone services.
The Lifeline program provides low-income participants in any state, territory, commonwealth, or eligible federally-recognized tribal land with discounts that can be applied to their home telephone service, wireless telephone service, or bundled voice-broadband service plan. This discount is typically up to $9.25 a month unless participants live on tribal lands and can receive a larger discount of up to $34.25 a month. Each household is limited to only one Lifeline service.
A household may qualify for Lifeline if it meets income requirements set at or below 135% of federal poverty guidelines. Alternatively, households may also qualify if a member participates in federal assistance programs, including the following:
Supplemental Security Income (SSI)
Supplemental Nutrition Assistance Program (SNAP)
Food and Nutrition Services (FNS)
Medicaid
Federal public housing assistance (FPHA)
Veterans Pension and Survivors Benefit
Tribal programs such as the Bureau of Indian Affairs General Assistance, the Food Distribution Program on Indian Reservations (FDPIR) and other federally-funded assistance programs.
Lifeline discounts are not automatic. Individuals can qualify online via the National Verifier website or by submitting a paper application. They then have 90 days to contact a phone company and request that Lifeline savings be applied to new or current services.
Those who live in the states of California, Oregon, and Texas should follow the unique Lifeline application process used in their state. If you reside in one of these three states, visit your state's Lifeline website or contact a local phone company for further details.
Those who are eligible for Lifeline and reside on federally-recognized tribal lands may also qualify for Link-Up. The Link-Up assistance program offers discounts of up to $100 to be applied towards the costs of setting up telephone service at a primary residence. Should the costs of beginning services exceed $100, Link-Up also provides interest-free payment plans. The Link-Up benefit can be used once per primary residential address, and enrollees who move may qualify for ACP benefits again as long as their new residence is still on tribal lands. However, not all carriers participate in the Link-Up program or offer discounts on their activation fees.
The Affordable Connectivity Program (ACP) is a U.S. government program that provides households with discounts on broadband internet services. Savings may be up to $30 a month per household or up to $75 a month for households on qualifying tribal lands and can be applied to cell phone plans that include internet access. Discounts of up to $100 for internet-connected devices are also offered by certain providers participating in the program as long as customers contribute at least $10.01 towards the cost of the device. ACP program enrollees may only receive one discounted service and one discounted device per household.
You may be eligible for the ACP program if your household has an income below 200% of federal poverty guidelines or a member of your household receives federal government benefits. Check if you meet these qualifications, and apply online or by mail. Once approved, contact an ACP company to begin receiving discounts on services. Those enrolled in Lifeline do not have to apply for ACP and automatically qualify. These individuals can apply ACP benefits and Lifeline benefits to the same or different service plans.
Free Phones with Bundled Lifeline and ACP Benefits
Some companies bundle ACP and Lifeline benefits together and offer their customers free phones with plans that include unlimited talk and text, high-speed data, and more. These include companies such as StandUp Wireless, Life Wireless, Safelink Wireless, Assurance Wireless, and Access Wireless. Visit company websites for further details.
Cell Phone Discounts for Veterans
Some cellular service providers offer discounts to military veterans as long as they can provide proof of their military affiliation. Companies offering savings to veterans are included in the table below.
| | | |
| --- | --- | --- |
| Company | Discounts Offered | How to Apply |
| T-Mobile | 50% off family lines with T-Mobile's Magenta Military and Magenta MAX Military plans. Additional discounts may be available for those also enrolled in AutoPay. | After adding a military plan, you will receive a text requesting military verification. This must be completed within 45 days. |
| U.S. Cellular | 15% off wireless calling plan charges for individual single line and/or family plans | Verify your military status online. Discounts will be applied within two billing cycles. |
| Verizon | Up to $25/month savings on 5G Do More, 5G Play More, and 5G Get More plans, as well as discounts on Fios plans with bundled Internet, telephone, and television service. | Register online after verifying military affiliation with ID.me. Verizon will send a confirmation email. |
| AT&T | 25% off AT&T unlimited plans, including its Unlimited Starter, Unlimited Extra, and Unlimited Premium plans. | Fill out an online form to check eligibility and receive further directions. |
State and Local Phone Bill Assistance
State and/or local organizations may offer financial assistance with the costs of monthly phone bills. To locate such resources, you can get in contact with your nearest Area Agency on Aging (AAA) office. AAAs are non-profit agencies that exist in every state and provide seniors with referrals and/or services that they can benefit from while aging in place in their homes.
Visit the Eldercare Locator website to find a local AAA. You will need to enter either your zip code or your city and state into the search engine at the top of the page.
Additional Financial Assistance Resources for Free and Discounted Cell Phones
There are also other resources available to seniors who cannot afford a new cell phone or cell phone service in addition to those already mentioned. The following table includes charities, nonprofits, and service providers that offer free or reduced phones and/or service to seniors.
| | | |
| --- | --- | --- |
| Resource | Services Offered | How to Receive Services |
| Secure the Call | Provides recycled cell phones to community partners for distribution to seniors, abuse victims, and others who need a phone to use to contact emergency services. | Senior citizen center or law enforcement agency representatives can call 301-891-2900 to request phones. |
| 911 Cellphone Bank | Donates electronic devices, including phones that can be used to dial 911, to vulnerable citizens nationwide through various agencies. | Representatives of law enforcement agencies or senior centers can contact 911 Cellphone Bank and request up to 10 phones at a time. |
| ShopTheSalvationArmy.com | Enables users to bid on items that are auctioned online, including cell phones and accessories. | Register online. Submit questions through an online contact form. |
| ShopGoodWill.com | Cell phones and other items are available to users through online auctions. | Register online. Visit the Help Center for answers to common questions. |
| T-Mobile Senior Discount | T-Mobile offers Essentials 55+, Magenta 55+, and Magenta MAX 55+ plans with special rates to customers who are 55 or older. | Call 1-800-T-Mobile or message an expert on the T-Mobile website. |
| AT&T Senior Discount | The AT&T Unlimited 55+ Plan is available in-store to Florida residents age 55 and older. | This discount is available to Florida residents who visit an AT&T store. |