Find Assisted Living in Your Area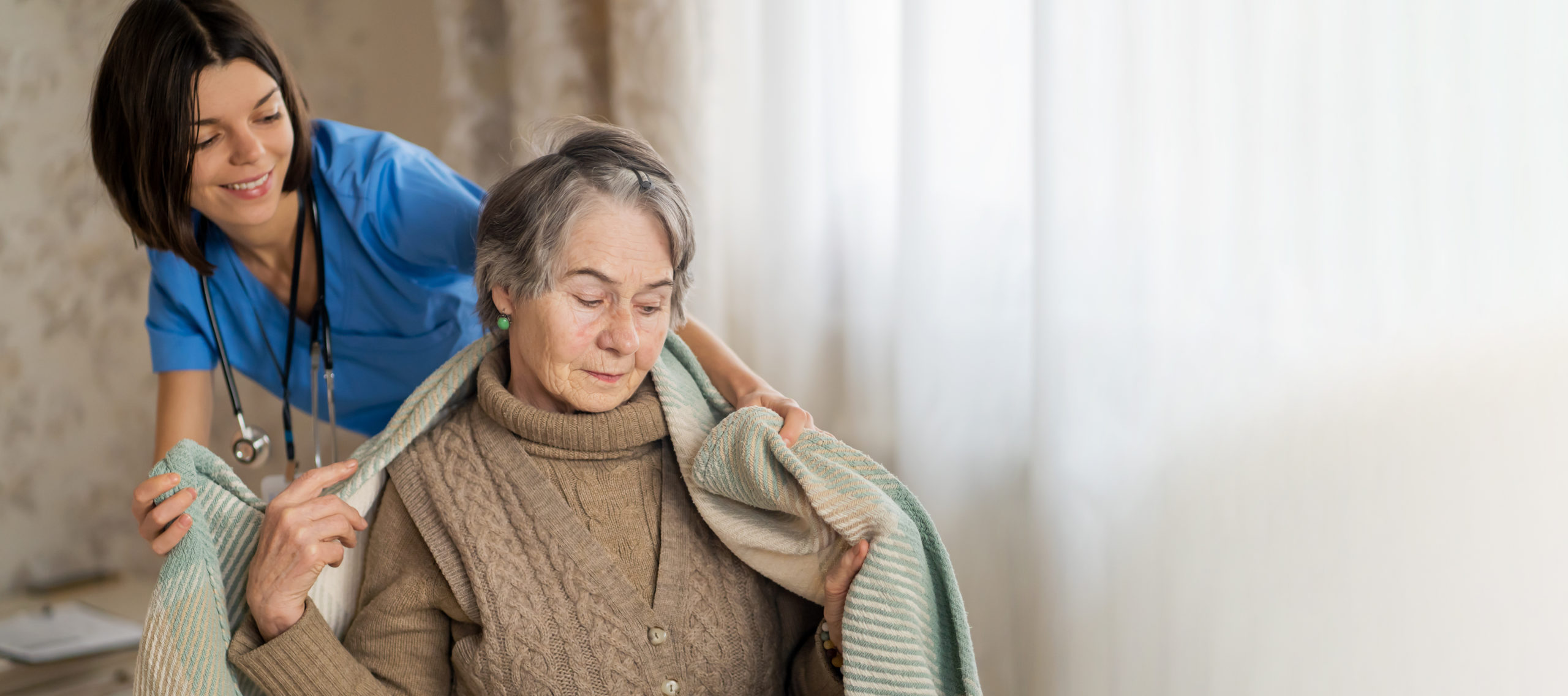 As we grow older, the need grows for us to focus on health care. This is especially true for cancer care, as the chances of developing cancer increase in our senior years.
As of 2022, there are nearly two million new cases of cancer diagnosed each year in the United States. Although anyone can develop this disease, the risk of cancer is 11 times higher in adults over the age of 65 than it is in younger people. Additionally, over the last three decades, the incidence of cancer in older adults has increased by 26% while only increasing by 10% for younger people.
As an older adult, you have certain characteristics that may increase your risk of side effects from cancer treatment or make it more difficult to treat certain cancers. Many seniors have chronic diseases—including heart disease and diabetes—that could make some treatments riskier than others. Seniors with Alzheimer's disease and other forms of dementia may have difficulty remembering to take their medications or attend medical appointments, making their treatment plans less effective.
The following guide explains how a cancer diagnosis is likely to affect your options for senior care. Following a discussion of some of the most common barriers to cancer care, we'll outline the most common senior care options and offer tips for choosing the right type of care for you or a loved one.
Barriers to Cancer Care for Older Adults
Although most people are aware that cancer is a serious disease, there are some barriers that prevent older adults from getting screening tests, having their cancer diagnosed or receiving cancer treatment. These barriers can lead to worse outcomes for seniors who develop cancer. In-home services and residential care options may eliminate barriers to cancer screening and treatment, helping seniors maintain their quality of life.
Barriers to Screening
Many factors affect a senior's willingness to undergo screening for certain types of cancer. Some older adults put off recommended screenings because they worry that they won't be able to afford to pay their deductibles or meet any copay or coinsurance requirements for each screening test.
As a senior, you may not want to get screened for certain types of cancer because you don't want to undergo invasive or uncomfortable procedures. For example, some women avoid getting a mammogram because there is no history of cancer in their families or they fear exposure to radiation. Cultural beliefs also play a role in determining an older adult's attitude toward cancer screening.
In some cases, seniors don't get screened for cancer because they're not aware of the screening guidelines or their doctors haven't recommended specific screenings. For men and women over the age of 75, there's also a question of whether the benefits of cancer screening outweigh the potential risks. Seniors may have heart disease and other problems that make it riskier to be sedated during certain procedures, increasing the risk of complications.
Barriers to Diagnosis
Financial issues prevent some seniors from getting diagnosed with cancer when it's in its early stages and most likely to respond favorably to treatment. To make an accurate diagnosis, a health care professional may need to order blood tests, urine tests, stool tests and/or diagnostic procedures. These services may be subject to coinsurance or copay requirements, increasing the out-of-pocket cost of care. Medicare beneficiaries, for example, pay 20% of the Medicare-approved amount for many outpatient services.
Some seniors also lack social support, making it more difficult to access diagnostic services. For example, seniors who don't drive or don't have convenient access to public transportation may struggle to find family members or friends who can drive them to medical appointments. This is especially true when those appointments are scheduled during normal business hours when family caregivers are likely to be at work.
Poor medical communication and difficulty with scheduling appointments can also prevent an older adult from receiving a timely cancer diagnosis. Patients who don't trust their health care providers may hesitate to ask questions or discuss troublesome symptoms, leaving providers unable to recommend appropriate tests. In underserved areas, it may take weeks or even months to get an appointment with a doctor, delaying necessary exams and diagnostic tests.
Barriers to Treatment
Even when a senior receives a timely cancer diagnosis, it can still be difficult to get the right treatment at the right time. One of the major barriers to cancer treatment is that many older adults have chronic health conditions that make it difficult to find the right treatment regimen.
Certain cancer treatments, such as chemotherapy, may be more toxic when given to an older adult with a serious preexisting medical condition, increasing the risk for serious side effects. Some cancer treatments even have upper age limits as low as 60 or 65, preventing older seniors from getting effective treatment.
Cultural and Personal Beliefs
Cultural and personal beliefs also play a role in determining whether an older adult is willing to undergo treatment for various types of cancer. As some people age, they begin to accept that death is a normal part of life. They may be unwilling to undergo surgery or receive chemotherapy and other cancer treatments because they want to maintain their independence and quality of life for as long as possible.
Financial Hardship
Many people with cancer experience financial hardship during or after treatment, as they may have to pay for chemotherapy, radiation therapy, surgery, laboratory tests, imaging studies and other medical services. Cancer survivors also have to undergo regular screening to make sure their cancers haven't returned.
Seniors with cancer may also have to hire personal care aides to assist with housekeeping, meal preparation and other activities. Even when you have comprehensive health insurance in your senior years, you may still need to pay deductibles, copays, coinsurance and other out-of-pocket costs for your cancer care.
Ageism
Unfortunately, ageism also plays a role in preventing seniors from getting the right cancer treatments. Some health care providers focus on age instead of individual characteristics like fitness level and the amount of assistance the patient requires with activities of daily living. As a result, two seniors may be offered the same treatment even though they have different fitness and activity levels. A treatment selected on the basis of age may not be the most effective one, leading to poorer treatment outcomes for some older adults.
Senior Living Options for Older Adults with Cancer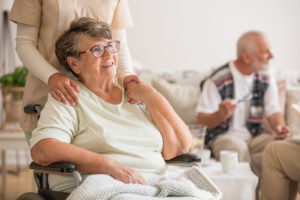 Some seniors with cancer remain in their homes; others receive health and personal care services in residential settings. Older adults living at home may receive care from home health agencies or pay for help with grocery shopping, cleaning and other tasks. For seniors with advanced cancer, hospice services can also be available at home.
Seniors who need more assistance may move to assisted living communities, hospice centers or nursing homes. Each type of care can help seniors with cancer maintain as much independence as possible while addressing their ongoing health needs.
Assisted Living
Seniors recovering from cancer may need help with activities like bathing, grooming and getting dressed, but they may not require the 24/7 care provided in a nursing home. Assisted living is a good alternative.
This type of community provides meals, laundry, medication reminders, housekeeping and other services that can help seniors maintain personal independence as they undergo cancer treatment. Assisted living communities also offer recreational activities to reduce the risk of social isolation and to help residents stay active.
Many assisted living communities have physicians and other health professionals on call 24 hours a day. This ensures that residents with cancer can access medical care if they experience nausea, vomiting, fevers and other side effects of treatment. Assisted living communities also provide transportation to medical appointments, ensuring that seniors with cancer receive regular follow-up care.
Some communities even provide assistance with self-administered medications, which can help residents with cancer adhere to their treatment regimens and avoid complications caused by missed doses.
Nursing Homes
Nursing homes provide around-the-clock nursing care and supervision for seniors who are unable to stay in their homes or live in community settings. While assisted living focuses mostly on social care and social activities, nursing homes place an emphasis on medical care.
For seniors with cancer, nursing home care offers several benefits. The emphasis on medical care is ideal for older adults who are recovering from cancer-related surgery and need skilled nursing until they recover enough to return home or move to assisted living. An older adult with cancer may also stay in a nursing home while waiting to qualify for hospice admission.
Some seniors with cancer experience complications that can make it difficult to walk or move around. Nursing homes have physical therapists, occupational therapists and other rehabilitation professionals on staff to help these seniors recover as much function as possible. Residents also benefit from having on-call physicians and skilled nursing providers available whenever needed.
Home Care
Home care may include personal care, home health services or hospice care. Personal care typically centers on activities of daily living and help with household tasks. For example, a personal care aide may prepare nutritious meals or help a senior get dressed each morning.
Home health services are provided by licensed health care professionals. A senior with advanced-stage cancer may need a home health nurse to come several times per week to help with pain management or to administer intravenous medications. Older adults with cancer may also receive home visits from physical and occupational therapists, medical social workers, or respiratory therapists, among other medical professionals
Hospice
Hospice care helps seniors with cancer manage their symptoms and improve their quality of life. This type of care is usually provided to older adults with a life expectancy of no more than six months, so care providers are responsible for addressing a wide range of physical, emotional and spiritual needs. Hospice nurses make regular home visits and are available by telephone 24 hours per day in case seniors or their family members have questions or concerns.
In some cases, hospice care is provided in a nursing home or other residential setting. This type of hospice care works the same way as home hospice. Nurses, social workers and other professionals provide a variety of services designed to keep seniors with cancer comfortable and address their spiritual and emotional needs.
Choosing the Right Care Setting
If you've been diagnosed with cancer, it's important to choose the right care setting. Think about these factors as you consider your options.
Cancer Diagnosis
Cancer staging provides important information about the extent of a person's cancer. For example, staging can indicate how large a tumor is, what type of cells it contains and whether it has spread to other parts of the body.
If you have early-stage cancer, you may feel well enough to stay at home and receive care from home health professionals and personal care aides. In its later stages, however, cancer spreads into nearby tissues. This can cause pain, nausea and other symptoms that require more attention from care providers. Talk with your doctor to determine what kind of care makes the most sense based on your diagnosis.
Age
Your age also plays a role in whether you should choose at-home care or residential care. If you're in your early 60s and don't have any other medical conditions that make it difficult to perform activities of daily living, it may make more sense to receive home care so that you can continue living in your home once you recover from cancer.
If you're in your late 70s or early 80s, however, it may be wise to move to assisted living to ensure you have help available 24 hours per day. As your medical needs change, you may even decide to move from assisted living to a nursing home.
Home Setting
Before you make a decision, think about your home setting. If you live in a spacious home with plenty of room for medical equipment, you may be able to stay at home even if you need to bring in an adjustable bed, infusion pumps or other items. If you live in an apartment or a house with limited space, however, you may fare better if you choose a residential care option for the duration of your treatment.
It's also important to think about any hazards that could make it difficult to recover from cancer or to move around your home while receiving cancer treatment. If your spouse or other live-in family member smokes, you may need to stay elsewhere to avoid exposure to the carcinogens in tobacco products. You also need to be mindful of the air quality in your home. It's a good idea to have your home checked for radon and other hazards before making a decision about where you'll stay while you recover.
Some hazards can make it difficult to move around safely, especially if you use oxygen or need to stay connected to an IV pump during your cancer treatment. Before you decide what kind of care you need, take a look around your home and see if you notice any of the following hazards:
Extension cords stretched across walking paths
Poor lighting
Loose tiles or carpeting
Area rugs without slip-resistant backing
Lack of grab bars in the bathroom
Exposed wiring
Clutter in stairways or other walkways
If you decide to stay in your home, you may need to hire a home service professional to address some of these hazards.
Re-evaluate Often
Once you make a decision, be sure to re-evaluate any time your circumstances change. For example, if you opted to receive home care, you may need to switch to residential care if you develop another health condition or experience serious side-effects during treatment. It's also possible for your condition to improve so much that you can transition from a nursing home to a community setting.
Choosing an Assisted Living Facility for Cancer Care
If you think assisted living is the right option, it's important to move to a community that can meet your needs as a senior living with cancer. Before choosing an assisted living community, take the time to compare several options to determine which one has the right combination of services and amenities for your circumstances. The checklist below walks you through the process of choosing an assisted living facility for cancer care.
Click on the image below to view the full checklist.
National Assisted Living Communities and Nursing Home Chains Offering Cancer Care
Many national assisted living chains offer services and amenities to help residents with cancer manage their symptoms and avoid treatment-related complications. All the major chains offer scheduled transportation to medical appointments; you may even be able to find an assisted living community with on-site laboratory services or on-call physicians.
Hospice Care for Cancer Patients
Hospice care is for people with life expectancies of six months or less. If you've decided not to pursue treatment, or you've already tried several treatment options that were not successful, you may want to consider this type of care.
Hospice care is quite different from traditional medical care, as the focus is on relieving pain and keeping seniors with cancer and other terminal illnesses as comfortable as possible. You and your physician may decide that it's time for you to enter hospice if you're experiencing any of the following:
You don't feel like eating and have lost a significant amount of weight.
You've been making frequent trips to the emergency room.
You're spending more time admitted to the hospital than you are at home.
Your health has been declining rapidly even though you've done everything recommended by your health care team.
You're struggling to get dressed, bathe, groom yourself or perform other activities of daily living.
You have severe pain that isn't controlled with your regular pain medications.
You're frequently sleepy or feel confused.
You don't want to pursue aggressive treatments and would rather focus on improving your quality of life.
If you think hospice care is the best option, these organizations can help you find the right provider:
| | | |
| --- | --- | --- |
| Organization | Website | How They Can Help |
| National Hospice and Palliative Care Organization | https://www.nhpco.org/ | NHPCO has a Find a Provider tool that allows you to search for hospice providers by name or ZIP code. The website also offers more information about hospice care. |
| Medicare.gov Hospice Compare | https://www.medicare.gov/care-compare/?providerType=Hospice | For seniors who want to use their Medicare Part A benefits to pay for hospice care, Medicare.gov has a comparison tool with information about the number of residents served, the date the hospice provider was certified by Medicare and whether the provider has served anyone enrolled in Medicare Advantage within the past year. |
| Hospice Foundation of America | https://hospicefoundation.org/ | The Hospice Foundation of America has a page titled "How to Choose a Hospice Provider," which includes questions to ask and people to include in the decision-making process. |
| The National Association of Home Care & Hospice | https://www.nahc.org/ | The National Association of Home Care & Hospice offers a tool to help users find a hospice care agency by city, state or ZIP code. |