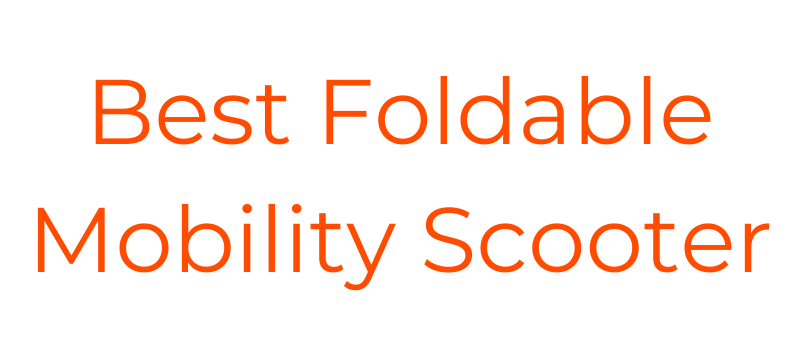 Zip'r Traveler Mobility Scooter
Starts at $799
Maximum Speed: 4.25 mph
Product Weight: 99 lbs
Key Feature: Foldable and Disassembles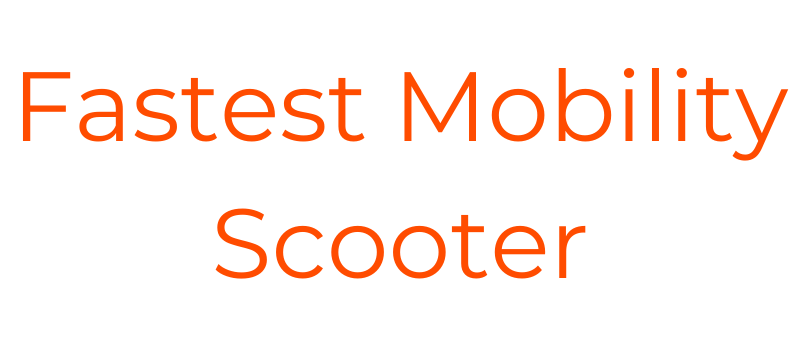 Breeze 3-Wheel Heavy Duty Mobility Scooter
Starts at $1,699
Maximum Speed: 4.5 mph
Product Weight: 181.6 lbs
Key Feature: 20-mile range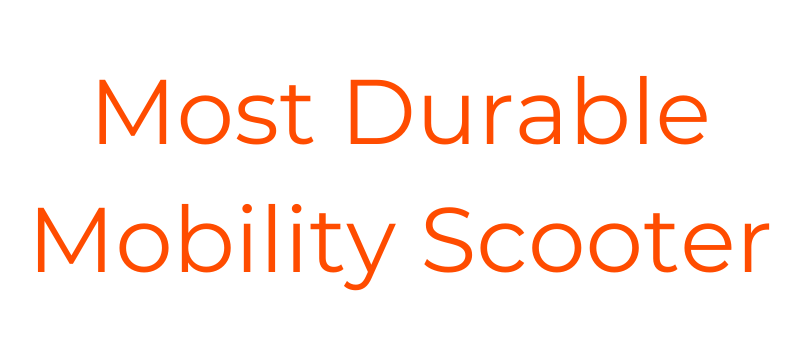 4-Wheel XTRA Mobility Scooter
Starts at $899
Maximum Speed: 4.25 mph
Product Weight: 109.7 lbs
Key Feature: Flat-free tires
---
What You Should Know About Mobility Scooters:
Seniors who have limited mobility may need more support than a crutch, cane, or walker can provide.
Mobility scooters allow individuals to navigate their homes and successfully perform daily activities, but they are expensive.
Medicare and Medicaid provide financial assistance for mobility scooter purchases to their beneficiaries.
Additional resources are available to veterans, low-income seniors, and seniors with disabilities that can reduce the price of mobility scooters.
---
It's common for seniors to face a decrease in mobility as they age. Many factors can contribute to this change, including arthritis and osteoporosis, cognitive disorders like Parkinson's disease, or cardiopulmonary conditions. One thing is certain, though – most seniors still want to lead active lives that involve moving throughout their homes and public places. Mobility scooters are helpful devices seniors can use to maintain an active lifestyle in a safe, stress-free way.
There are a variety of mobility scooters available, ranging from simple, compact models to fully-loaded vehicles. The type of mobility scooter you purchase will depend on various factors, including where and how you plan on using your scooter, your specific mobility needs, and your budget. We reviewed many models to put together this list, which features three- and four-wheeled models, as well as mobility scooters specifically designed to be easily transportable.
It's important to consult with your physician when deciding if a mobility scooter is right for you. Mobility scooters are motorized vehicles, and a physician can help you determine whether or not a scooter suits your needs and if you are healthy enough to operate one. Please note that price and availability are subject to change.
The Best Mobility Scooters
Budget Scooters (Under $1,000)
Price: $749.99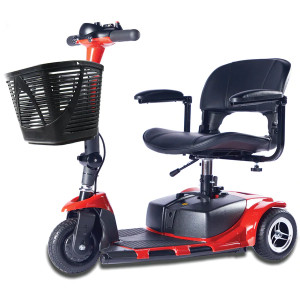 The Zip'r Roo 3-Wheel Mobility Scooter is a lightweight and easily transportable option for seniors on the go. Whether you need a scooter for your travels or a trip to the grocery store, this TSA-approved scooter can be disassembled into five pieces for simple transport. The double 12V 12AH rechargeable batteries provide a driving range of up to 12.4 miles after being fully charged by the off-board 2-amp charger. The smaller size of this scooter allows for easy maneuverability in tight spaces, and the three flat-free tires make for a sturdy and reliable ride.
Key Features:
Top speed of 3.7 mph
Drive range of 12.4 miles
Weight capacity: 265 lbs
Price: $799.99
The Zip'r Roo 4-Wheel Mobility Scooter is another model in the Zip'r Roo line, offering a sturdier ride with four points of contact on the ground. This scooter also disassembles into five manageable pieces for travel and is a relatively lightweight option for low-stress transport. Although the lighter frame makes it easier to carry, it only allows for a max weight capacity of 265 pounds. Flip the scooter on with the ignition switch, and adjust speeds effortlessly with the speed knob. This model comes equipped with a horn, headlights, and a removable front storage basket.
Key Features:
Lightweight frame
Top speed: 3.7 mph
Weight capacity: 265 lbs
Price: $799.99
The Zip'r 3-Wheel Traveler Mobility Scooter is a great mid-range model offering higher top speeds and a thicker seat for a fast and comfortable ride. Rider's feet straddle the wheelbase on either side of the battery for a greater sense of stability, and the swivel seat with foldable arm rests provides an easy way on and off the scooter. This scooter is outfitted with three flat-free anti-tip wheels with a decent ground clearance of 2.5 inches. As with the other Zip'r models, the 3-wheel Traveler can disassemble into five pieces, making it easy to bring wherever it's needed.
Key Features:
Weight capacity: 265 lbs
Top speed: 4.25 mph
Adjustable comfort swivel seating
Price: $849.99
The Zip'r 4-Wheel Traveler Mobility Scooter is the larger, sturdier version of the 3-Wheel Traveler. The straight-forward controls allow users to easily drive the scooter with the front control panel, where they can check their battery level and adjust speed or direction with the turn of a knob or push of a button. Although slightly heavier than the 3-wheel version, this scooter can be disassembled into five separate pieces for easy transport. A plush seat and four flat-free anti-tip tires provide a comfortable, reliable, and safe ride with a driving range of up to 12 miles.
Key Features:
Driving range: 12 miles
Sturdy four-wheel base
Weight capacity: 265 lbs
Price: $849.99
The Zip'r 3-Wheel XTRA Mobility Scooter offers unique features, as suggested by its name. Most notably, users enjoy an extended wheelbase designed to provide extra foot room on their scooter. This 3-wheel model weighs in at 103.9 pounds, with a top speed of 4.25 miles per hour. Not only does the XTRA provide more foot room, but the scooter also offers an impressive turn radius of 25.8 inches. Riders will be able to maneuver in tight spaces like grocery store aisles and make sharp turns easily. The sturdy metal storage basket on the front of the scooter allows riders to store items while they ride.
Key Features: 
Top speed: 4.25 mph
Weight capacity: 265 lbs
Tight turn radius
Price: $899.99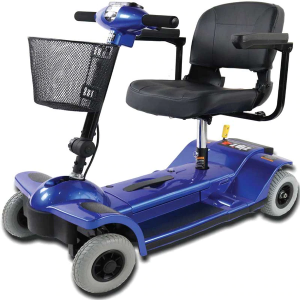 The Zip'r 4-Wheel XTRA Mobilty Scooter is the 4-wheel model within the XTRA series. Riders will have a comfortable ride in the 16-inch padded seats. As with the 3-wheel version, this scooter is also equipped with an extended wheelbase for even more leg room than the standard models. The 4-wheel XTRA scooter can disassemble for easy transportability, dividing the 103.9-pound weight across five separate pieces. This model also has a small turning radius for tight turns and a 2.5-inch ground clearance for unlevel terrain. The 12V 14AH rechargeable batteries have a drive range of 12 miles on a full charge.
Key Features:
Top speed: 4.25 mph
Weight capacity: 265 lbs
Extended wheelbase
Other Scooters To Consider (Over $1,000)
Price: $1699.99
The Zip'r Breeze 3-Wheel Heavy Duty Mobility Scooter is the company's best-selling heavy-duty scooter. With a top speed of 4.5 miles per hour, the Breeze is the fastest mobility scooter offered by Zip'r. The scooter can travel a notable driving range of up to 20 miles on its two 12V 35AH rechargeable batteries. The 18-inch supportive plush seat provides a comfortable and adjustable ride for users weighing up to 300 pounds. The larger size of this scooter doesn't impact its transportability, as it can disassemble into five pieces and fit into standard-size vehicles. The control panel is equipped with enhanced features such as headlights, battery range, and even turn signals.
Key Features:
Top speed: 4.5 mph
Weight capacity: 300 lbs
Plush 18-inch adjustable seats
Price: $4,849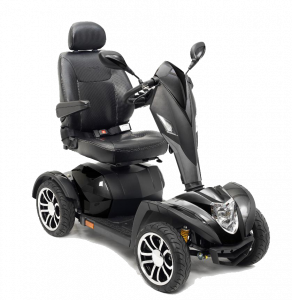 The Cobra GT4 Heavy Duty Power Mobility Scooter provides users with cutting edge technology and high performance. Safety features include seat belts, dual rear mirrors, anti-tip wheels, turn signals, and hazard lights. Ergonomic delta control handles enable users with limited hand dexterity to operate the scooter with ease. Maneuver over uneven surfaces with a stable four-wheel configuration and 7-inch ground clearance for up to 35 miles per charge.
Key Features:
Top speed: 10 mph
Turning Radius: 82"
Ergonomic delta control handles
Price: $1,599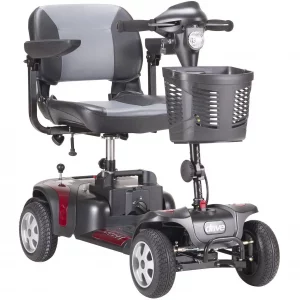 The Phoenix 4 Wheel Heavy Duty Scooter is one of the only travel scooters on the market that provides a weight capacity for individuals greater than 300 pounds, with a max capacity of 350 pounds. It easily disassembles into four pieces for effortless transport. The 20AH batteries can be charged via the charging port or offboard for a driving range of up to 15 miles per charge. Four non-tip wheels and a 3.75-inch ground clearance give users a gentle ride in outdoor terrain.
Key Features:
Top speed: 4 mph
Turning radius: 54 inches
Quick and easy disassembly
Price: $1,699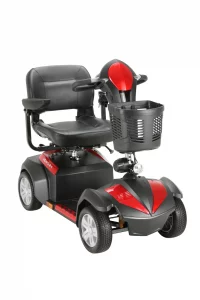 The Ventura 4 Wheel Scooter is an upgrade from a standard compact travel scooter. Thick padded seats and armrests are adjustable and foldable for transportability. Double 20AH rechargeable batteries give users a 15-mile driving range per charge at a top speed of 5 miles per hour. Users will feel safe and comfortable with the scooter's anti-tip wheels, ergonomic controls, and adjustable tiller. Bring personal items with you wherever you go using the detachable front basket with flip-down handle.
Key Features:
Top speed: 5 mph
Turning radius: 54"
Folding 18 inch seat
Price: $1,338.95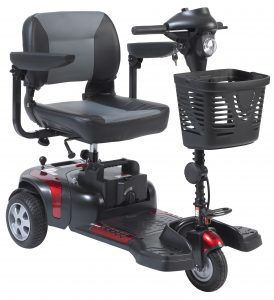 The Phoenix 3 Wheel Heavy Duty Scooter is a higher-end compact scooter that still provides easy transportability along with advanced comfort and ergonomic features. It can be disassembled into four pieces and comes with a flip-down seat. A "finger pull" throttle makes it easy to control your speed while holding onto the handles. Users can navigate close quarters indoors with its compact size. The scooter's two 20AH batteries can be charged off board and provide 15 miles of driving range.
Key Features:
Top speed: 4 mph
Maximum drive range: 45 miles
"Finger-Pull" throttle for easy operation
Price: $2,824
The ZooMe Auto-Flex Folding Travel Scooter weighs in at only 60 pounds due to its aluminum alloy frame. This scooter provides a highly transportable option for users with its light weight and manual-release triggers, allowing the scooter to be folded up instead of disassembled. Users will feel stable on a variety of terrain types with the scooter's four-wheel configuration. The adjustable seat and tiller create a custom ride for individuals of all heights.
Key Features:
Top speed: 4 mph
Turning radius: 47.2"
Lightweight aluminum alloy frame
Price: $1,107.74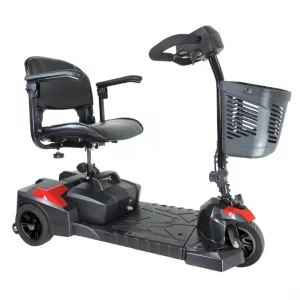 The Scout Compact Travel Power Scooter is a three-wheel scooter that provides mobility on the go at an affordable price. This scooter can be disassembled into five pieces, making it easy for users to load into a vehicle and take it wherever they need to go. The compact size of the scooter allows for nimble maneuvering indoors down narrow aisles and around obstacles. The two quick-connect 12AH rechargeable batteries provide a driving range of 9 miles per charge.
Key Features:
Top speed: 4.25 mph
Turning radius: 45.5"
Quick connect batteries
Price: $6,412.95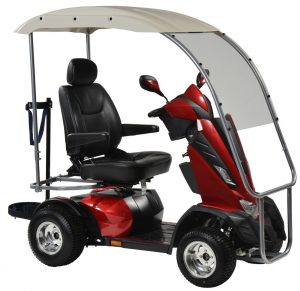 The King Cobra Golf Vehicle Executive Power Scooter is an attractive, high-performance option for individuals who want all the bells and whistles. Although designed as a personal golf vehicle (PGV), this scooter is a great outdoor option with its 8-inch ground clearance, hard-top canopy, and 6-inch turf tires. The King Cobra PGV is fitted with built-in cup holders, a USB charging port, a storage compartment, and one-touch tiller adjustment. Two 75AH rechargeable batteries provide up to 35 miles of driving range per charge.
Key Features: 
Top speed: 10 mph
Turning radius: 83"
Hard Top Canopy and Golf Bag Attachment
Price: $2,174
The ZooMe Flex Ultra Compact Folding Travel 4 Wheel Scooter weighs in at only 58.6 pounds, making this a lightweight ride. Users can get up to 13 miles of driving range per charge with the double 10AH rechargeable batteries. Made with the ZoomMe "Flex" feature, this scooter folds up for easy transportability with a single motion fold and unfold. There's no worrying about assembling or disassembling pieces when you're out and about with this scooter – just fold and go.
Key Features: 
Top speed: 4 mph
Turning radius: 53"
Lightweight and portable
Financial Assistance for Seniors Buying Mobility Scooters
Seniors may find that moving around their homes and performing daily activities becomes more challenging over time without assistance. Unfortunately, assistive devices such as crutches or walkers may not provide them with the support they need. Mobility scooters–electric vehicles with three or four wheels–are a better option for these individuals. However, mobility scooters are expensive.
Seniors on a budget can receive financial assistance through Medicare or a Medicare Advantage plan to improve the affordability of mobility scooters. Medigap supplemental insurance helps bring down the out-of-pocket costs for Medicare beneficiaries even further. Financial assistance is also available to low-income seniors who qualify for Medicaid and veterans enrolled in the VA health care system.
Seniors who want a free or low-cost mobility scooter can use this guide to learn about state and federal assistance programs. Contact information and other details are also provided for various companies and nonprofit organizations that provide discounted or free mobility vehicles.
Medicare Coverage of Mobility Scooters
Medicare provides coverage for power-operated scooters and classifies them as durable medical equipment (DME). However, individuals must be enrolled in Medicare part B, also known as Medicare's Medical Insurance, to receive this benefit.
Steps to Getting Medicare Coverage
Those enrolled in Medicare Part B must follow certain steps to be approved for mobility scooter coverage. If any of these steps is skipped, coverage may be denied.
Ensure the doctor treating you for the medical condition that requires a scooter is enrolled in Medicare.
Get a written order from this same doctor saying that you have a medical need that necessitates in-home scooter use. Not just any medical condition or need qualifies. Patients must have limited mobility, as well as all of the following:
A health condition that causes significant difficulty when moving around the home.
An inability to do daily activities of living such as bathing, dressing, or toileting, and a cane, crutch, or walker provides inadequate assistance
The ability to safely get on and off of a scooter as well as operate it or the help of an individual who can assist.
 Take the doctor's written order to a Medicare-approved supplier. A list of such suppliers is available on the Medicare website.
Work with the supplier and provide them with any additional paperwork. For example, Medicare will need either a doctor or supplier's verification that the scooter can successfully be used in their home following an in-home visit.
Medicare Costs for Mobility Scooters
Out-of-pocket costs for a scooter depend on if individuals have met their annual Part B deductible. Once this has been met, individuals pay 20% of the Medicare-approved amount and Medicare pays the remaining 80%.
Medicare Advantage Coverage of Mobility Scooters
Medicare Advantage plans, which are required to provide the same level of coverage as Medicare, should also cover mobility scooters as durable medical equipment. However, plans will have different costs and supplier requirements. Contact your provider to receive plan-specific information.
Medicare Supplement Insurance for Mobility Scooters
Medigap policies, or Medicare supplement insurance, is sold by private companies to help cover out-of-pocket costs for Medicare beneficiaries. Of the ten different Medigap policies, some cover the Part B deductible, and all cover at least a portion of the Part B coinsurance that Medicare beneficiaries will otherwise be responsible for after a mobility scooter purchase. Get in touch with representatives of your supplement insurance plan for further details.
Medicaid Coverage of Mobility Scooters
Medicaid programs cover DME such as mobility scooters when it is medically necessary and if it can be successfully used and operated in a patient's home. Most state Medicaid programs require prior approval before patients make a mobility scooter purchase and may otherwise deny coverage. Approval will only be given for qualifying medical reasons.
The general steps and requirements to get approval for a mobility scooter through Medicaid are as follows:
You must be eligible for Medicaid coverage.
The provider treating you for the medical condition that requires a mobility scooter must fill out a medical necessity form and/or provide clinical documentation confirming the medical necessity of a mobility scooter and its effectiveness for your condition. A prescription may also be required.
This prescription or documentation must be given to a DME provider.
The DME provider and medical professionals must work in collaboration to determine whether the mobility scooter will restore your ability to do the activities of daily living. This includes taking measurements and guaranteeing successful scooter use in all in-home areas.
The DME provider must submit a prior authorization request along with the required supporting documentation to Medicaid.
Requests may be approved, denied, partially denied, or put on hold by Medicaid pending further information. It is possible to appeal denials. You can find your state's Medicaid contact information in the table below:
Veterans Resources for Accessing Mobility Scooters
Veterans who are enrolled in the VA health care system, or qualify based on certain exemptions, may receive prosthetic services and items (including mobility aids) as part of the VA's Medical Benefits Package. Eligibility requirements include:
A discharge status that is not dishonorable unless the VA Regional Office makes an exception
A service-connected disability, illness, or injury requiring the use of a prosthetic aid
A prescription for a prosthetic appliance from a VA doctor.
Contact a prosthetic representative at a nearby VA medical center or outpatient clinic for additional information about this benefit.
Certain businesses selling mobility scooters offer special deals to veterans. The following table includes details about these veterans' discounts.
Government and National Financial Resources for Mobility Scooters
State AT programs and nationwide AT reuse centers can provide a free or reduced-cost mobility scooters to those with disabilities. Find out more about these options below.
Using federal assistance and other funding sources, statewide AT programs offer financing for assistive technology (including seating, positioning & mobility assistive technology) as well as equipment demonstrations, loans, and reuse programs to those with disabilities. Find AT Program information in your state on the Center for Assistive Technology Act Data Assistance website.
This national AT reuse center website helps individuals with disabilities find AT reuse locations where organizations provide reassigned or refurbished AT equipment. Individuals can narrow their search by program and equipment type as well as ages served. Select mobility equipment for programs that may offer mobility scooters.
Additional Financial Assistance Resources for Mobility Scooters
The following organizations operate in select areas. All help those who qualify receive mobility-related equipment, including mobility scooters.
| | | |
| --- | --- | --- |
| Organization | What They Do | Contact Information |
| Easterseals | Serving Indiana, Illinois, and Kentucky, this Easterseals performs mobility evaluations, contacts insurance, and inspects scooters and accessories. | Call 812-492-0659 or email [email protected] |
| American Outreach Foundation | The foundation ships scooters to those who qualify in Coachella Valley, CA. | Call 760-673-7982 or email [email protected] |
| The Foundation for Rehabilitation Equipment & Endowment (F.R.E.E) | Mobility-related equipment is given to low-income uninsured or under-insured Virginia adults. | Contact program representatives at any of six locations. |
| Goodwill Home Medical Equipment | Sells refurbished medical equipment for pick up or delivery in and around Bellmawr, NJ. | Call 609-812-2210 |
| Independence First | Accepts donations and provides free items, including mobility scooters, to individuals in Milwaukee, WI. | Call 414-226-8385 or 414-226-8363 |
Frequently Asked Questions
Should I get a 3 or 4 wheel scooter?
The type of scooter you choose should suit your needs. A three-wheel scooter usually has smaller seats and less foot room, but they are able to maneuver well indoors with a tight turn radius and provide an overall compact design. The four-wheel configuration is going to be a steadier ride with more foot room, larger seats, better outdoor function, and improved hill-climbing capability.
What is the average speed of a mobility scooter?
The average speed of a mobility scooter is 4 miles per hour, and lower price point scooters rarely exceed 5 mph. Of course, there are other options for individuals who would like something faster or slower.
Do I need a license to drive a mobility scooter?
No. You do not need a license to drive a mobility scooter. However, if you're driving a scooter that is considered a recreational vehicle and exceeds the average 3-5 miles per hour, you will need to check with your local state and federal laws.
How do I choose a mobility scooter?
A mobility scooter should fit and serve your personal lifestyle. Think about where you plan to use the scooter the most. Will you be using it indoors, outdoors, or both? Consider what kind of seat, controls, and fit would meet your needs. Do you want the leg room and stability of a four-wheel scooter or will a compact three-wheel scooter work better? Also, think about transportability and if you will need to fit it into a vehicle.
Can Veterans get free mobility scooters?
Veterans who have the medical need for a power wheelchair or scooter may be eligible to receive one free of charge through grant funding. If a veteran is interested in getting a free mobility scooter, they should contact their local mobility clinic to set up an evaluation appointment with a therapist.