Find Assisted Living in Your Area

People age, but that doesn't mean discarding things they once had more energy for, including sex. In fact, the CDC's Sexually Transmitted Disease Surveillance 2020 data shows historically high cases of chlamydia, gonorrhea and syphilis among the country's elderly population. Two reasons may be that seniors are more likely to underestimate their risk of catching an STD, and physicians are less likely to discuss sexual health with them. Seniors need to be more aware of sexual health, particularly sexually transmitted diseases (STDs), so they can enjoy a safe and active sex life.
There's the social stigma, too, which may be preventing embarrassed seniors from seeking treatment. Additionally, there's the lack of knowledge dating back to the type of sex education delivered in their school years. These factors may also be contributing to the rise of STD cases in retirement homes. This guide considers the sexual activity of older adults, improving their sex education and finding ways they can protect themselves from STDs. It also touches on the subject of sexual abuse within retirement homes.
Are Older Adults Still Sexually Active?
People are living longer than ever before, but the sexual activity of seniors is rarely studied. An exception is A Study of Sexuality and Health Among Older Adults in the United States, which was published in The New England Journal of Medicine in 2007. Researchers asked 3,005 adults (1,550 women and 1,455 men) aged between 57 and 85 if they still engaged in sexual activity.
Those who engaged account for:
73% of the 57-64 age group
53% of the 65-74 age group
26% of the 75-85 age group
The report concluded that seniors are sexually active, with men being more likely to engage in sexual behavior than women.
Misconceptions About Older Adults and Sex
The subject of older adults having sex is polluted with misconceptions. Some of the most common include:
Seniors lose interest in sex as they age: While it's true sexual desire declines with age, it doesn't disappear. Almost three-quarters of those aged 57 to 64 engage in sexual activity, falling to one-quarter among the 75 to 85 age group, based on the 2007 study described above.
Seniors are not physically capable of having sex: While symptoms of aging, such as arthritis, can make sex more challenging, they don't prevent seniors from enjoying sex if they take precautionary measures.
Precautionary measures aren't necessary: Seniors are less likely to use condoms because they believe post-menopausal women can't get pregnant (which is mostly true, but there have been rare cases). However, seniors are just as prone to contracting common STDs as younger adults, as well as more serious STDs, such as HIV/AIDS (which is increasing among the elderly population).
Nursing care facility residents can't have sex: The Nursing Home Reform Act (part of the Omnibus Budget Reconciliation Act of 1987) guarantees rights to privacy, confidentiality, respect and expression for nursing home residents. The right to privacy while engaging in safe and consensual sexual expression is included.
Residents with dementia or Alzheimer's shouldn't have sex: The previously mentioned Act doesn't discriminate against seniors with cognitive impairments. The nursing facility's interdisciplinary team must consider the pros and cons for residents who express a wish to engage in sexual activity and not prevent them because of personal opinions/prejudices.
Improving Sexual Health Education for Seniors
Sex education has evolved since today's seniors were at school, changing the focus from sex within marriage to prioritizing understanding STDs. It's likely you or your loved one's sex education focused on the former, resulting in limited awareness of STDs that might not have been compensated for by life experience. Consequently, improving education is vital to promoting better sexual health among seniors. It's important that this education focuses on relevant topics.
Age-Related Changes in Sexuality
Older men may find it more difficult to achieve and maintain an erection, and impotence, also known as erectile dysfunction, is more likely. Women may notice their vaginas have shortened and narrowed and the walls have become thinner and stiffer. There will likely be less lubrication, and it might take longer for lubrication to happen naturally.
Causes of Sexual Problems in Seniors
There are too many causes of sexual problems in seniors to discuss here, so the following list focuses on the most common issues:
Alcohol: Drinking more than the recommended amount of alcohol can delay the woman's orgasm and cause erection problems in men.
Arthritis: Sex can be uncomfortable if the senior experiences pain in their joints. Exercising or surgical treatment can alleviate the problem, as can taking warm baths and changing sex positions.
Chronic pain: Sex is uncomfortable if the senior experiences chronic pain, or they may skip sexual activity because the pain has exhausted them. Chronic pain is an avoidable part of aging and can be treated.
Dementia: While some seniors with cognitive impairments may express greater interest in sex, they may not have the mental capacity to understand or judge the appropriateness of their behavior (or that of others toward them). The safest solution is to involve the retirement home's management, who will work with an interdisciplinary team to find the best way forward for the resident.
Depression: It's believed between 1% and 5% of seniors living in communities experience depression, but this increases to 13.5% in seniors who require home health care. Depression is associated with decreased sex drive and antidepressant drugs can also affect the libido. The senior should talk to their health care provider if they're feeling depressed.
Heart disease: This condition causes the arteries to harden, restricting blood flow. It can make it difficult to get or keep an erection, and therefore to orgasm. If the senior has previously had a heart attack, they may be more reluctant to engage in sexual activity, even though it's generally safe if they follow their physician's advice.
Incontinence: Aging makes it more difficult to control the bladder and pressure on the stomach during sex can cause urine leaks. Consequently, some seniors may feel too embarrassed to have sex. But changing positions, urinating before sex, adopting bladder control behaviors and taking doctor-prescribed medications can alleviate the problem.
Medications: The side effects of some drugs can dissuade seniors from having sex. Side effects include a decline in desire, an inability to orgasm, problems ejaculating and vaginal dryness. The best solution is to speak to your health care provider, who may be able to prescribe a different medication.
Stroke: A stroke can affect a person's ability to have sex, but changing positions or using a medical device suggested by your physician can help.
Surgery: Stress about surgery can make sex feel less important, particularly if the surgery involves the genitalia or breasts. It's prudent to speak to your physician or surgeon if you're concerned surgery may make it more difficult or impossible to engage in sexual activity.
Physical Health as a Barrier to Sex
Maintaining physical health is important for many reasons, not least the ability to have sex safely. For example, obesity is known to increase erectile dysfunction in men. The best solution is to adopt a healthier lifestyle and work with your residential care facility's team to develop a personalized health and fitness plan.
Maintaining an Active and Enjoyable Sex Life
The best approach to maintaining an active and enjoyable sex life is to talk to your partner if you have concerns. Don't hide the changes you're experiencing and try to deal with them alone. Get to know your partner's likes and dislikes and encourage them to be equally open with you.
Talk to a therapist, either alone or with your partner, particularly one who's trained in the sexual health of seniors. If you notice changes in your partner's behavior, it's time to talk to them and not assume they're no longer interested in you. They might be experiencing vaginal dryness or erectile dysfunction and feel too embarrassed to discuss it with you. There are medications that can help, such as vaginal estrogen and sildenafil.
Who Is Most At-Risk of STDs In Senior Living?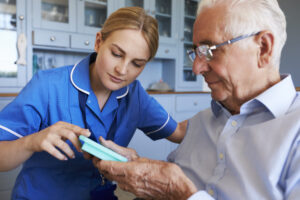 Any senior who engages in sexual activity is at risk of contracting an STD, but some are more at risk than others, including:
Women: American women typically outlive men by almost 6 years, according to data from 2021. Consequently, there are fewer men for women to choose from, which sometimes results in them engaging in risky sexual behavior.
Dating app users: A 2021 study found more than 33% of seniors have found dates this way. The problem is they may know little about their new partner and their sexual history.
Men with erectile dysfunction: Men taking drugs for erectile dysfunction are known to have higher rates of STDs (although a causal link hasn't yet been established).
Those with weakened immune systems: Growing older weakens the immune system, making all seniors more vulnerable to contracting an STD.
Common STDs Affecting Seniors in Retirement Communities
STD
Definition
Symptoms
Testing
Treatment
Gonorrhea
A venereal disease spread through unprotected oral, anal and vaginal sex
-Thick green or yellow discharge from the penis or vagina
-Pain when urinating
-Rectal symptoms include pain, unusual discharge and bleeding
Usually a urine sample, or a swab if the senior engages in anal or oral sex
An injection of antibiotics is most common (usually to the buttocks or thigh)
Chlamydia
A very small bacterium often transmitted through unprotected oral, anal and vaginal sex
-Discharge from the penis or vagina
-Burning sensation when urinating
-Swollen testicles (although this is uncommon)
-Rectal symptoms include pain, unusual discharge and bleeding
Urine sample or vaginal swab tested in a laboratory
A 7-day course of doxycycline or levofloxacin or a single dose of azithromycin
HIV
A virus that can lead to AIDS (acquired immunodeficiency syndrome)
Stage 1: Flu-like symptoms lasting 2-4 weeks

Stage 2: No obvious external difference but the infection is spreading and can be passed on through sex

Stage 3: Full-blown AIDS, which damages the immune system and can result in death if there's no HIV treatment

Blood sample
HIV can be controlled (but not cured) by either pills or injections
Shigella flexneri
A bacterial infection spread after contact with Shigella-infected feces or food prepared by someone with the infection
-Diarrhea (sometimes bloody)
-Fever
-Stomach cramps
-Feeling the need to release the bowels despite the bowls being empty
Stool sample
Usually prescribed antibiotics
Neisseria Meningitidis
Bacteria that can cause meningococcal disease, which can be fatal
-Fever
-Headache
-Stiff neck
-Chills
-Vomiting
-Body aches
-Confusion
-Diarrhea
Sample of blood or cerebrospinal fluid (from near the spinal cord)
Antibiotics immediately, followed by (depending on the stage of the condition) breathing support, medications, surgery and/or wound care
How to Protect Seniors From STDs in Retirement Communities
Creating a culture of transparency that also respects residents' privacy is vital to protecting seniors from STDs in retirement communities. Some other protective measures include:
Providing sexual health classes, such as the right way to use a condom
Providing free condoms
Arranging regular STD checks
Ensuring those with an STD receive their medications as per their physician's instructions
Identifying Possible Signs of Sexual Abuse
Sexual abuse is thankfully uncommon but not unknown in residential care facilities. It can be perpetrated by staff, other residents or criminals who have entered the property. The following includes tell-tale signs of sexual abuse.
Physical Signs
Unexplained bruises
Sudden problems sitting or walking
Contracting an STD
Problems urinating or discolored urine
Underwear bloody or torn
Unexplained tears to the anus or vagina
Emotional/Psychological Signs
Avoiding social interactions, especially with particular people
Extremely agitated or anxious
Symptoms of PTSD, such as nightmares
Sudden and unexplained changes of behavior
Self-harm or suicide attempts
Fear of being left alone
Disrupted sleep
Unusually angry or hostile
What to Do If You See Signs of Sexual Abuse
If you see signs of sexual abuse committed against seniors you should call the Long-Term Care Ombudsman in your state. The ombudsman has the authority to investigate complaints concerning licensed residential care facilities.
Where to Report Elder Abuse in Each State
Every state has an adult protective services department dedicated to helping seniors facing abuse, exploitation or neglect by people who should be caring for them. Long-term care residents can get help from their local Adult Protective Services department or Long-Term Care Ombudsman. The following table includes at least one phone number for each state.
| | |
| --- | --- |
| State | Contact Number |
| Alabama | (800) 458-7214 |
| Alaska | (800) 730-6393 |
| Arizona | (877) 767-2385 |
| Arkansas | (800) 582-4887 |
| California | (800) 231-4024 |
| Colorado | (303) 866-5700 |
| Connecticut | (866) 388-1888 |
| Delaware | (800) 223-9074 |
| District of Columbia | (800) 521-1639 |
| Florida | (888) 831-0404 |
| Georgia | (866) 552-4464 |
| Hawaii | (808) 586-7268 |
| Idaho | (208) 334-3833 |
| Illinois | (800) 252-8966 |
| Indiana | (800) 992-6978 |
| Iowa | (800) 532-3213 |
| Kansas | (877) 662-8362 |
| Kentucky | (800) 372-2973 |
| Louisiana | (866) 632-0922 |
| Maine | (207) 621-1079 |
| Maryland | (877) 402-8219 |
| Massachusetts | (617) 727-7750 |
| Michigan | (866) 485-9393 |
| Minnesota | (800) 657-3591 |
| Mississippi | (800) 222-8000 |
| Missouri | (573) 526-0727 |
| Montana | (800) 332-2272 |
| Nebraska | (800) 942-7830 |
| Nevada | (888) 729-0571 |
| New Hampshire | (800) 442-5640 |
| New Jersey | (877) 582-6995 |
| New Mexico | (866) 654-3219 |
| New York | (855) 582-6769 |
| North Carolina | (800) 662-7030. |
| North Dakota | (800) 462-5465 |
| Ohio | (800) 282-1206 |
| Oklahoma | (405) 521-6734 |
| Oregon | (800) 522-2602 |
| Pennsylvania | (800) 490-8505 |
| Rhode Island | (401) 785-3340 |
| South Carolina | (888) 227-3487 |
| South Dakota | (605) 773-3656 |
| Tennessee | (877) 236-0013 |
| Texas | (800) 252-5400 |
| Utah | (800) 371-7897 |
| Vermont | (800) 564-1612 |
| Virginia | (804) 565-1600 |
| Washington | (800) 562-6078 |
| West Virginia | (800) 834-0598 |
| Wisconsin | (800) 815-0015 |
| Wyoming | (800) 457-3659 |