Find Assisted Living in Your Area
Seniors go through many physical changes as they age. Some of these, such as the loss of muscle mass, make it difficult to maintain a healthy weight. As a result, obesity is a concern for many older adults and their caregivers. Obesity isn't a personal failing, but it's important for seniors to understand that it does have health risks. People living with obesity are more likely to suffer from high blood pressure, type 2 diabetes, high cholesterol, coronary artery disease and stroke. Obesity also increases the risk for obstructive sleep apnea, cancer, arthritis and poor physical functioning.
Despite these risks, obesity is one of the most common medical conditions in the United States. As of March 2020, it affects 41.5% of adults aged 60 and older. People with obesity also have higher medical costs due to the increased risk of heart disease and other complications. Unfortunately, some seniors also face weight bias when they go to the doctor, attend community events and engage in other activities. Weight bias refers to stereotypes, negative attitudes, judgments and discriminatory actions against people who are overweight or obese.
This guide explains how moving to a senior living community may benefit older adults with obesity. It includes tips for advocating on behalf of seniors with this medical condition, a list of senior communities that offer helpful programs for residents with obesity, and several resources to help seniors and their caregivers learn more about nutrition and physical fitness.
Benefits of Senior Living for People With Obesity
Seniors who don't drive and have a hard time getting transportation to local stores may rely on frozen dinners and other convenience foods, making it difficult to control their caloric intake. Arthritis, muscle weakness and other health conditions may also make it difficult to shop for ingredients and prepare nutritious meals, increasing the risk of obesity and other health problems.
A lack of physical activity also plays a role in the development of obesity. Seniors with disabilities may be unable to go for long walks or exercise for more than a few minutes at a time. Poor balance, muscle weakness and other physical issues associated with aging may make older adults hesitant about exercising due to fears that they'll fall and break a bone or sustain a head injury.
Senior living offers a solution to many of these problems. These are just a few of the weight-related benefits of moving to a senior living community:
Meal plans: Many communities offer meal plans that can be customized according to your nutritional needs. If you're trying to lose weight or avoid weight gain, you may also be able to ask dining services staff to prepare low-calorie meals or omit certain ingredients from each dish.
Social connection: If you live alone, it can be difficult to stay motivated when it comes to exercising or following a diet. Senior living communities provide opportunities to make new friends, giving you access to people who can serve as accountability partners as you work to lose weight. It's also safer to exercise if you have a friend nearby.
Planned activities: Senior living communities typically have many activities planned each week, giving residents more opportunities to move around. Your local community may even offer fitness programs, cooking classes and other activities to help you better understand what you should eat and how much activity you need.
On-site rehabilitation: Some communities offer on-site physical therapy. If an injury or chronic medical condition has been preventing you from exercising, a physical therapist can help you regain strength and improve your physical functioning. As you recover, you may find it easier to exercise, leading to weight loss.
Health monitoring: If you're trying to lose weight, it's important to track your progress over time to make sure what you're doing is working. Many communities offer on-site health monitoring, which may include weigh-ins, blood pressure checks and glucose monitoring. These services make it easier to determine if you need to tweak your approach to losing weight and maintaining health.
How Caregivers Can Advocate for Seniors Living With Obesity
All seniors deserve respect, but many people with obesity report they've been discriminated against due to their weight. Sadly, this discrimination even occurs in health care settings, leading to subpar care and poor outcomes for many patients. Follow the tips below to advocate on behalf of your older loved one.
Recognize obesity as a disease: When you talk to or about your loved one, use person-first language. They're not an obese person; they're a person with obesity. It's important to recognize obesity as a disease rather than a lack of willpower. Make sure that personal care aides, neighbors and anyone else who has contact with your loved one is aware of the distinction.
Fight against weight bias: If you attend medical appointments with your loved one, pay attention for signs of weight bias. A health care professional with weight bias may ignore complaints about pain and other symptoms, claiming that they're the result of laziness or overindulgence instead of listening carefully and ordering appropriate tests. Listen for words like "lazy" and "noncompliant," as they may indicate that a provider isn't taking your loved one seriously due to their obesity.
Switch providers: Don't be afraid to find a new doctor, dietitian, nurse practitioner or other health care professional if someone displays weight bias toward your loved one. If the discrimination is severe, consider filing a report with the provider's licensing body.
Make accommodations: Your loved one may find it difficult to enjoy certain activities due to their weight. For example, many performing arts venues have narrow seats, causing discomfort. To make it easier for your loved one to get out and enjoy life, make accommodations whenever possible. You may need to ask for accessible seating, bring a cushion to increase their comfort or rent a wheelchair to ensure your loved one can enjoy the activity.
Avoid nagging: It's not easy to stick to a healthy eating plan or make time for exercise most days of the week. If you want to have a conversation about your loved one's meals or exercise habits, avoid nagging. Discuss the issue in a nonjudgmental tone.
Offer to help: Encourage good nutrition by offering to shop for healthy ingredients, purchase a book of low-calorie recipes or invest in tools designed to make cooking easier for older adults. You can even make and freeze healthy meals for when your loved one doesn't feel well or doesn't have the energy to cook.
Join forces: To encourage your loved one to exercise, look for ways to incorporate physical activity into your routine. For example, if you normally spend the afternoon watching television together, suggest that you go for a short walk instead. If they're able to leave the house, try walking around a local shopping mall or enrolling in a low-impact exercise class that you can take part in together.
What To Look For in a Senior Living Community for Someone With Obesity
If you want to lose weight and live a healthier life, it's important to find a senior living community that offers access to nutritious foods and programs to help you stay physically active. The checklist below explains what to look for when you're ready to find a community that meets your needs. Click below to download.
Senior Living Facilities That Offer Obesity Management and Care
Many senior living communities have dining services and fitness programs that make it easier for residents to lose weight and prevent chronic health problems. The table below lists some of these facilities and explains the services they offer to seniors with obesity.
| | | |
| --- | --- | --- |
| Community | Location | Description |
| Blue Ridge Assisted Living and Memory Care | Blue Ridge, GA | Blue Ridge Assisted Living and Memory Care offers chef-prepared meals designed to meet the nutritional needs of each resident. Meal plans can be customized to limit ingredients such as sodium or increase intake of specific nutrients. The community also offers exercise programs and walking trips to help residents lose weight or maintain a healthy weight. |
| Buckner Calder Woods | Beaumont, TX | Calder Woods offers personalized senior living plans, which may include special menus to help residents with weight loss or other nutritional goals. Residents also have access to physical therapy and social activities that can help them get more exercise. |
| Clarendale at Indian Lake | Hendersonville, TN | Clarendale at Indian Lake has a Health & Wellness Navigation Program focusing on eight dimensions of wellness. One of those dimensions is physical wellness, which emphasizes good nutrition and regular physical activity. |
| Clermont Park | Denver, CO | Clermont Park has multiple dining options, giving seniors the opportunity to choose nutritious foods that help them meet their individual needs. The community also has state-of-the-art fitness equipment to help residents stay active. |
| Friendship Village of Bloomington | Bloomington, MN | At Friendship Village of Bloomington, every resident participates in a wellness review to set individual goals for nutrition, physical activity and other aspects of their well-being. The community has two dining options, giving residents access to a variety of nutritious foods. |
| Heritage Springs Assisted Living and Memory Care | Las Vegas, NV | Heritage Springs offers the EverFit program, which is designed to help seniors stay active no matter their fitness level. Residents have access to strength and balance classes, walking programs, aquatic fitness activities and more to keep them moving. Heritage Springs also offers healthy meals tailored to residents' dietary needs. |
| Hidden Meadows On the Ridge | Sellersville, PA | Hidden Meadows features the Sensations dining room, which offers multiple menus to suit residents' personal preferences and nutritional needs. The Dimensions Health & Fitness program also gives residents access to an on-site fitness center and instructor-led fitness activities. |
| Lakeside At Mallard Landing | Salisbury, MD | Part of the same group that owns Hidden Meadows on the Ridge, Lakeside at Mallard Landing offers the Sensations dining and the Dimensions Health & Fitness programs. Residents have the opportunity to participate in a variety of fitness activities and enjoy meals planned to accommodate their personal nutrition needs. |
| Magnolia Springs Southpointe | Indianapolis, IN | Magnolia Springs has a Health & Wellness Navigation team that aims to help residents overcome health-related challenges. The community also offers restaurant-style dining, with meals that can be tailored to each resident's dietary needs. |
| Pickersgill Retirement Community | Towson, MD | Pickersgill Retirement Community gives residents direct input when it comes to menu planning, ensuring the availability of healthy foods and beverages. Other wellness programs offered to promote a healthy lifestyle include a Weight Watchers group, nutritional education sessions and on-site exercise classes. |
| Sierra Winds | Peoria, AZ | The staff at Sierra Winds take a holistic approach to wellness, offering programs and activities to help residents improve their physical, emotional and mental well-being. Sierra Winds also has fitness classes, walking paths, an on-site fitness center and meals prepared with fresh ingredients. |
| The Montebello on Academy | Albuquerque, NM | The Montebello on Academy, a Five Star Senior Living community, offers flavorful meals designed to maximize each resident's health. Dining staff are happy to accommodate special dietary needs and accept feedback on menu items. The community also offers fitness classes and other programs to help residents stay healthy. |
| The Summit | Hockessin, DE | The Summit offers gourmet meals that can be customized according to each resident's dietary needs. Residents also have access to walking paths and a fitness center with senior-friendly equipment to help them keep their bodies moving. |
| Tribute Senior Living | Proper, TX | Tribute Senior Living offers the Mark V menu, which emphasizes meals made with high-quality, organic ingredients. Residents also have access to Tribute Fit, which features a walking program, exercise classes and personalized fitness plans. |
| Varenita of Simi Valley | Simi Valley, CA | Varenita of Simi Valley offers group exercise classes, personal training and other fitness programs to help residents stay active. The dining program features chef-inspired meals made with ingredients sourced from local farms, making it easier for residents to control their caloric intake and get the nutrients they need. |
For more information about choosing a senior living community for an older adult with obesity, contact a family advisor at (888) 307-1103.
Resources for Seniors Struggling With Obesity and Their Caregivers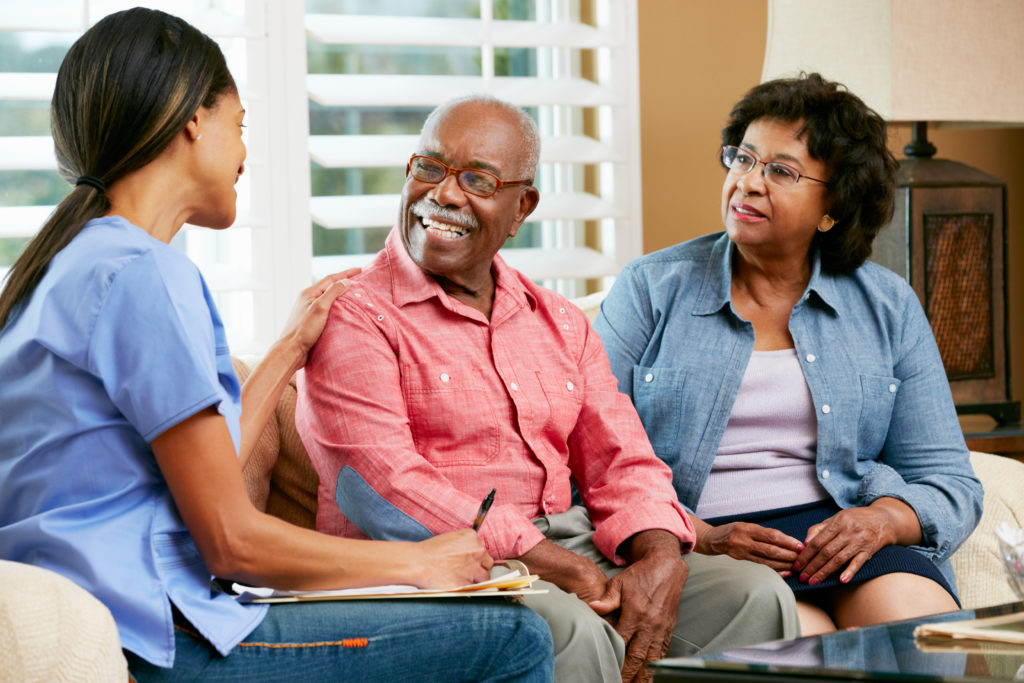 Losing weight is a little easier when older adults are armed with accurate information about fitness and nutrition. The table below lists several resources that can help seniors and their caregivers prepare nutritious meals, exercise safely and learn more about the health risks of obesity.
| | | | |
| --- | --- | --- | --- |
| Resource | Website | Contact Information | Description |
| Meals on Wheels | mealsonwheelsamerica.org | Use the online directory to find a local provider. | Meals on Wheels is a network of organizations that deliver nutritious meals to seniors throughout the United States. Many participating organizations offer menu plans for participants who want to lose weight or need to limit their intake of certain ingredients. |
| Silver Sneakers | silversneakers.com | (866) 584-7389 | Silver Sneakers offers senior-friendly fitness programming at gyms and health care centers throughout the United States. Seniors also have access to live online classes and on-demand video workouts. Some Medicare plans cover the cost of the programs offered by Silver Sneakers. |
| USDA MyPlate | myplate.gov | [email protected] | MyPlate offers tools and resources to help users plan well-balanced meals. It also provides information about the five major food groups and their recommended serving sizes. |
| USDA FoodData Central | usda.gov | [email protected] | FoodData Central is a searchable database containing thousands of foods, making it easier to plan healthy meals. For each food, the database displays the calorie count for the selected serving size, along with a complete nutritional profile. |
| MOVE! Weight Management Program | move.va.gov | (800) 698-2411 | The National Center for Health Promotion and Disease prevention offers the MOVE! program to veterans receiving care from the Department of Veterans Affairs. Participants gain access to workbooks and other tools to help them lose weight or maintain a healthy weight. |
| Dietary Guidelines for Americans | dietaryguidelines.gov | [email protected] | The USDA issues Dietary Guidelines for Americans to help people of all ages understand their nutritional needs. The current guideline document has a section dedicated to the nutritional needs of older adults, making it easier for seniors to know what they should be eating. |
| Choosing a Safe and Successful Weight Loss Program | nih.gov | (800) 860-8747 | The National Institute of Diabetes and Digestive and Kidney Diseases explains how to choose a safe weight-loss program. |
| Strength Training for Older Adults | cdc.gov | (617) 636-3737 | The CDC and Tufts University offer a 108-page book to help seniors get started with strength training. It includes an equipment checklist, a glossary of fitness-related terms and illustrations to help readers perform each exercise safely. |
| Paul Eugene Fitness | youtube.com | Visit the Paul Eugene Fitness website for more information. | Paul Eugene Fitness has a YouTube channel filled with exercise videos designed for seniors and younger adults with limited mobility. Eugene has more than 30 years of experience teaching fitness classes, and he also hosts a fitness show on WPXI in Pittsburgh. |
| National Heart, Lung and Blood Institute | nih.gov | (877) 645-2448 | The NHLBI offers information on obesity and its health risks. The website also has sample menu plans, a BMI calculator and other tools to help users plan nutritious meals and manage their weight. |
| American Diabetes Association | diabetes.org | (800) 342-2383 | The American Diabetes Association offers recipes and other tools to help people with diabetes manage their weight and keep their glucose levels in range. |