COVID-19 Rules for Assisted Living in Chandler
For assisted living communities, COVID-19 rules and regulations are typically set at the state level. You can view specific rules on our guide to assisted living in AZ. These rules change often, and many communities have policies in place that go above and beyond what's required by the state, so you should contact your local community for more information. Additionally, you can contact your local Area Agency on Aging to learn more.
How to Pay for Assisted Living in Chandler
In Chandler, the average cost of assisted living is $3,975 per month, a rate that includes room and board, as well as access to scheduled activities and assistance with daily living tasks.
Assisted Living in Chandler vs. Nearby Cities
Chandler is one of the smaller cities situated within the Phoenix metropolitan area located on the southeastern tip of the city. The average cost of assisted living care here is comparable to that of the state as a whole but is $525 per month less than the national average. Chandler's cost is comparable to the southern Arizona cities of Tucson and Yuma. Assisted living care in northern Arizona, such as Flagstaff at $5,000 per month, tends to be more expensive than in the rest of the state.
Chandler: $3,975
Arizona: $4,000
National: $4,500
Tucson: $4,050
Prescott Valley: $4,500
Yuma: $3,800
Flagstaff: $5,000
Assisted Living vs. Other Types of Care in Chandler, AZ
An assisted living environment is designed for seniors who are relatively independent but require occasional assistance with maintaining a home or dealing with a chronic disease. In Chandler, the cost for this level of care is just under $4,000 a month. In comparison, a semi-private room in a nursing home averages $2,440 more each month. Seniors who receive care in their own Chandler-area homes pay almost $6,000 per month, a difference of almost $2,000 when compared to assisted living services.
Homemaker Services: $5,958
Home Health Aide: $5,958
Adult Day Health Care: $2,167
Assisted Living: $3,975
Nursing Home (semiprivate room): $6,418
Nursing Home (private room) $7,908
Note: Data for Chandler was unavailable, so data for the nearest city, Phoenix, was used instead.
Financial Assistance for Assisted Living in Chandler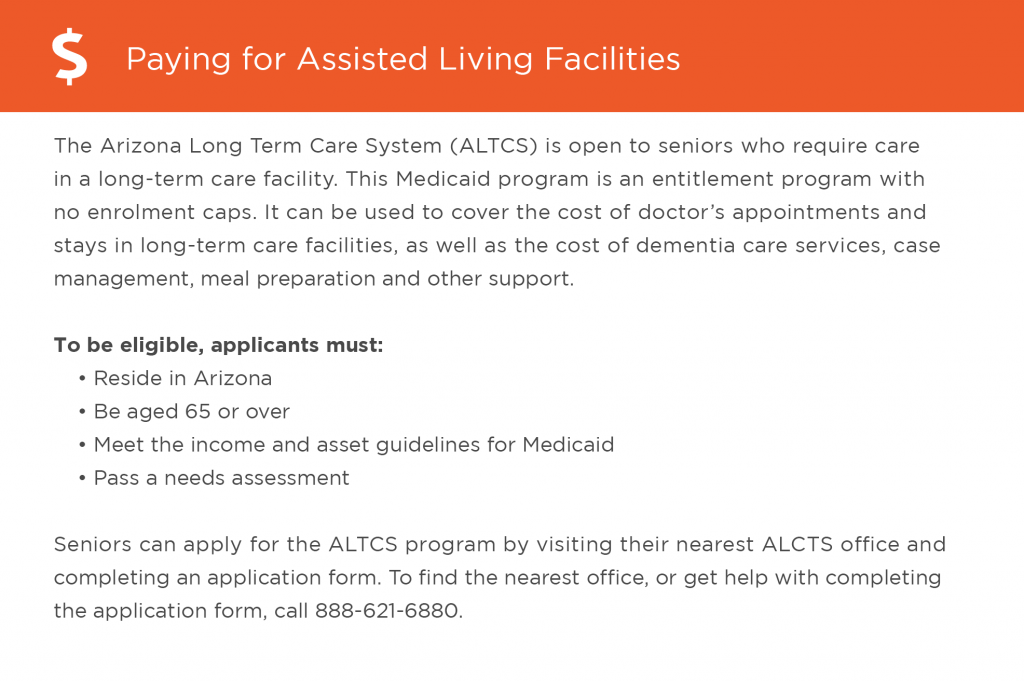 Other Ways to Pay for Assisted Living in Chandler
Since not everyone can afford to pay for assisted living out-of-pocket, it's important to find alternative methods to help make assisted living more affordable. Some of these options include:
Veterans Benefits
Life Insurance Policy
Long-Term Care Insurance
Reverse Mortgage
For more information about your options for making assisted living more affordable, visit our guide to Assisted Living in Chandler.
Free and Low-Cost Assisted Living Resources for Seniors in Chandler
The city of Chandler is one of many in the Phoenix metro area that offers seniors access to special programming and services. However, with so many different programs available, it can be hard for seniors to navigate through all of the options to find those that would benefit them the most. The table below provides a succinct directory of free and low-cost assisted living resources for Chandler seniors.
| | | |
| --- | --- | --- |
| Resource | Contact | Service |
| Chandler Senior Center | (480) 782-2720 | The Chandler Senior Center offers programming for the area's 50+ senior population, from planned activities and events to opportunities for community excursions. The center also has a selection of social services, including blood pressure checks, ride service and legal aid. |
| Long-Term Care Ombudsman | (602) 264-2255 | The LTC Ombudsman advocates for seniors in assisted living communities when they feel like they've been mistreated or ignored by their care providers. They facilitate discussion between communities and seniors to provide solutions to problems that residents experience within the assisted living facility. |
| Area Agency on Aging, Region One | (602) 264-4357 | The Area Agency on Aging in Maricopa County manages this 24-hour helpline for seniors who are looking for a specific service but don't know who to call for information. Seniors can learn about how to apply for financial assistance or legal help, or find support groups or local service providers. |
| Arizona Department on Economic Security | (602) 542-4446 | The Department of Economic Security is a government entity that offers services for many ages. Older adults can find help with filling out Medicare paperwork through the SHIP program or work with the state's Legal Assistance Program to create Advanced Directive or Guardianship papers. |
Assisted Living Laws and Regulations in Chandler
Assisted Living Communities in Chandler are required to follow a set of rules and regulations that are determined by the state. For more specific information, talk with your local community or Area Agency on Aging. The Top Assisted Living Communities in the Chandler Area
In order to find the top assisted living communities in the Chandler area, our team of researchers:
Sorted through 32 communities using our unique methodology
Spent over 15 hours researching assisted living communities in Chandler
Read more than 255 reviews left by residents and their family members
After filtering out facilities that didn't meet our high standards, we were left with 10 assisted living communities that earned our seal of approval. Through this process we discovered that the average cost of assisted living in the city of Chandler is $3,975, which is lower than the state average of $4,000 and also lower than the national average of $4,500.

Christina Drumm-Boyd
Certified Senior Advisor (CSA) and Geriatric Care Manager (GCM)
Christina Drumm-Boyd
Certified Senior Advisor (CSA) and Geriatric Care Manager (GCM)
Christina is a Certified Senior Advisor (CSA) and Geriatric Care Manager (GCM) who is passionate about seniors and their families. Along with her staff, Christina works hands-on with each client to find the best solutions for the challenges that often come with aging.
Read on for in-depth information about the top assisted living facilities in Chandler, a brief dive into our methodology for determining the best assisted living communities, and a searchable directory of 32 communities in the Chandler area.
AssistedLiving.org Trusted Communities
AssistedLiving.org spent dozens of hours researching the top assisted living communities in the Chandler area to allow seniors and their families to find the community that's right for them. Click through the facilities listed below to read in-depth reviews, what residents are saying, and details such as base pricing, room types, and more. Renaissance Luxury Apartment
1-Bedroom Apartments, 2-Bedroom Apartments, Companion Suites
Assisted Living, Independent Living, Memory Care Renaissance Luxury Living at Sun Lakes is conveniently located about 22 miles from downtown Phoenix, where seniors can experience the city's vibrant arts and culture scene. This sophisticated community offers several levels of care and an array of impressive amenities, including numerous common areas, an outdoor swimming pool, a spacious theater and a sprawling patio with plenty of seating. Residents of faith can also take advantage of worship services at the beautifully appointed chapel.
What Residents are Saying:
Reviewers frequently comment on the community's friendly staff and the quality of amenities. One writes, "The resident suites are clean and versatile. The staff has been very supportive and helpful during my mom's move. There are so many activities to keep you busy. The food has always been great in the dining area."
4.17 out of 5 stars
(78) Reviews
9508 E. Riggs Rd., Chandler, AZ 13205
Brookdale Chandler Ray Road
Gardens at Ocotillo Senior Living
Pennington Gardens Assisted Living & Memory Care
Our Methodology
It's not what we research, but the way we research that makes AssistedLiving.org stand out. We start by identifying problems and challenges in the senior care industry by gaining insight from conversations with industry professionals, older adults, and those that care for them. Next, our research team led by industry experts apply our data-driven research techniques to understand the magnitude of the challenge and how to overcome it. Finally, we present our findings in easy-to-understand guides and studies and share our actionable results with influencers and caregivers, as well as the general public.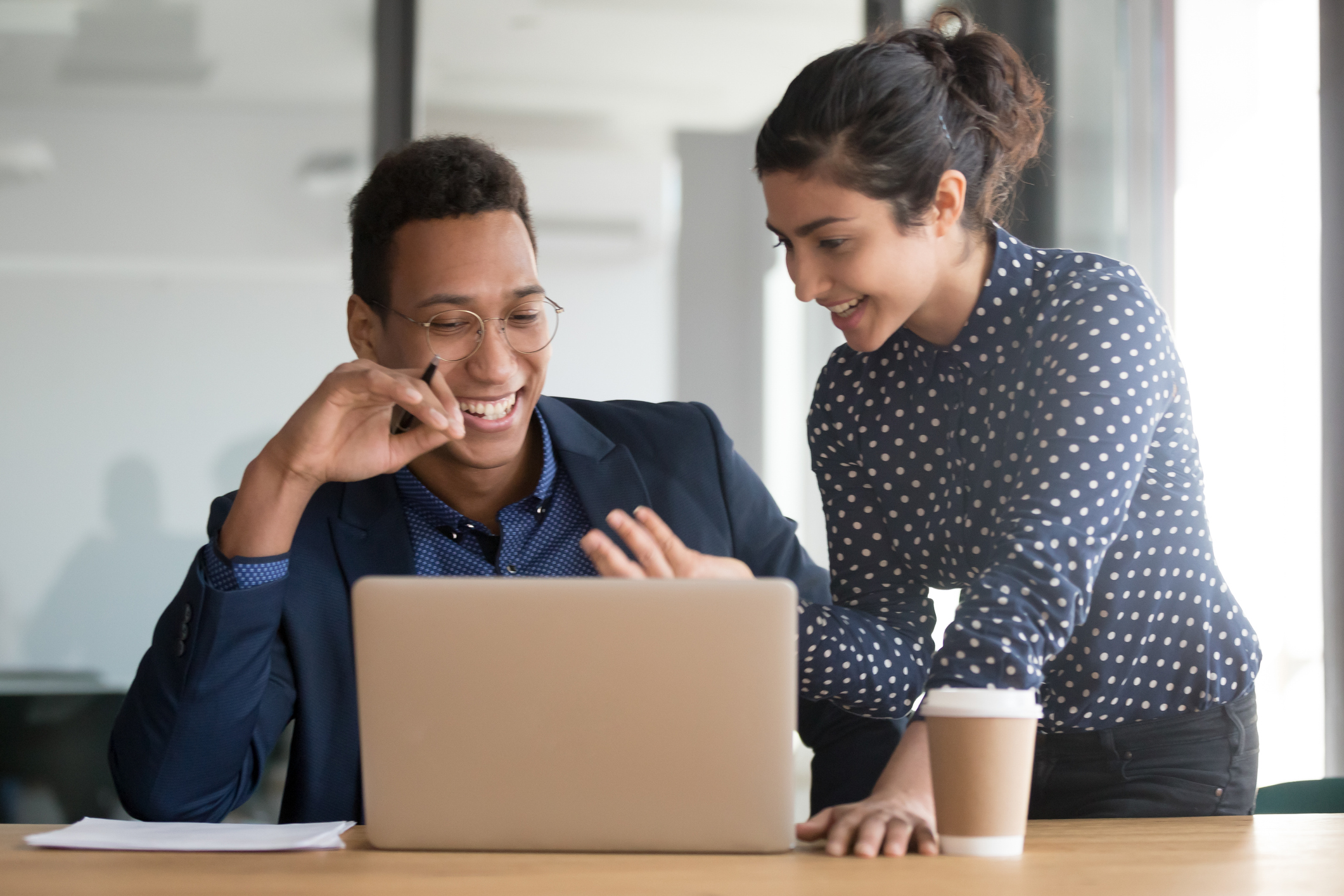 Facility Features (40%)
Facility Health Services Graded on health services provided
on the facility including, but not
limited to, on-site nursing,
pharmacy, skilled nursing,
medicine administration, etc
Facility Amenities Graded on the available
amenities.
Affordability Financial assistance acceptance
and overall costs and value.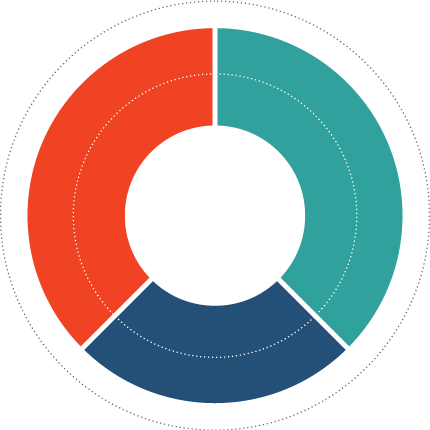 Residential Quality (40%)
Resident Satisfaction Polling & survey of overall facility satisfaction.
Facility Complaint and Violations Number of complaints and violations the facility had. Taking into account improvement over time.
Online Reviews Aggregated verified online reviews.
Location (20%)
Location-Based Benefits Including, but not limited to, proximity to
hospitals, ambulance response times, senior
resources available, and state and city
financial assistance.
Location Quality Local crime rates, incidents against older adults, air quality, climate.
Showing of Communities