COVID-19 Rules for Assisted Living in Sun City, AZ
For assisted living communities, COVID-19 rules and regulations are typically set at the state level. You can view specific rules on our guide to assisted living in AZ. These rules change often, and many communities have policies in place that go above and beyond what's required by the state, so you should contact your local community for more information. Additionally, you can contact your local Area Agency on Aging to learn more.
How to Pay for Assisted Living in Sun City, AZ
Compared to the national average, the cost of assisted living in Sun City, Arizona, is 13% less at $3,975. It also compares favorably to the state's median price of $4,000.
Assisted Living in Sun City vs. Other Nearby Cities
Sun City has some of the most affordable assisted living services in Arizona. Only Yuma at $3,800 per month costs less. Seniors will have to pay a higher price in several nearby cities, including Tucson, where the average price is moderately more expensive at $4,050 and Prescott, which is on par with the national average of $4,500. Flagstaff, where residents have to pay an average of $5,000, 25% more than those in Sun City, is home to Arizona's most expensive assisted living costs.
Sun City: $3,975
Arizona: $4,000
National: $4,500
Prescott: $4,500
Flagstaff: $5,000
Tucson: $4,050
Yuma: $3,800
Assisted Living vs. Other Types of Care in Sun City, AZ
Depending on individual needs, Sun City residents have other care options. At $5,958, homemaker services and home health aides provide varying care and assistance for those who favor in-home care. Homemaker services help with daily tasks, such as cleaning, running errands and cooking meals while home health aides may offer the same services as well as medical care. Caregivers seeking respite can take advantage of adult day health care that provides care to seniors during the day in a community-based setting for $2,167 per month. A semiprivate room in a nursing facility has a monthly average cost of $6,418 and is suited to those looking for high levels of care.
Assisted Living: $3,975
In-Home Care: $5,958
Home Health Care: $5,958
Adult Day Health Care: $2,167
Nursing Home (semiprivate room): $6,418
Note: Data for Sun City was unavailable, so data for the nearest city, Phoenix, was used instead.
Financial Assistance for Assisted Living in Sun City, AZ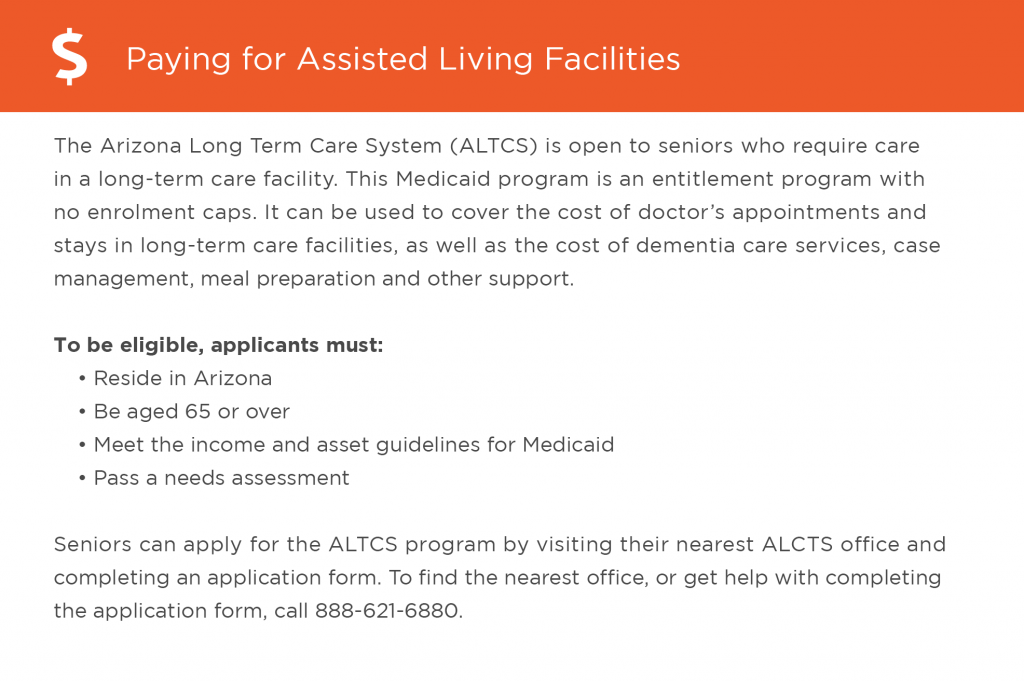 Other Ways to Pay for Assisted Living in Sun City, AZ
Since not everyone can afford to pay for assisted living out-of-pocket, it's important to find alternative methods to help make assisted living more affordable. Some of these options include:
Veterans Benefits
Life Insurance Policy
Long-Term Care Insurance
Reverse Mortgage
For more information about your options for making assisted living more affordable, visit our guide to Assisted Living in Sun City.
Free and Low-Cost Assisted Living Resources for Seniors in Sun City, AZ
Numerous nonprofit organizations and government entities throughout Arizona offer free and low-cost resources to seniors to help them remain active and maintain their independence. They offer advice on benefits, provide programs that encourage healthy lifestyles and help to educate seniors and the families of their rights.
| | | |
| --- | --- | --- |
| Resource | Contact | Service |
| Veterans Aid and Attendance | (844) 698-2311 | Veterans looking for help to meet the cost of senior care, including assisted living, can apply to the Veterans aid and attendance program. It helps qualified veterans and their spouses with assisted living costs. Applicants must be eligible for a VA pension. In addition, the applicant must also meet specific medical requirements, the minimum being they must need assistance with activities of daily living. |
| Arizona Area Agency on Aging | (602) 264-2255 | The Arizona Area Agency on Aging runs many programs to enhance the quality of life of residents and caregivers. They offer a variety of healthy living classes, such as matter of balance, which teaches seniors how to reduce their fear of falling and increase their activity levels. Participants learn to identify fall risks, practice balance exercises and view fall risks as controllable. The pain management program helps seniors maintain an active lifestyle by teaching pain management techniques. |
| Long-Term Care Ombudsman | (602) 264-2255 | The Long-Term Care Ombudsman is tasked with educating the residents and families of Maricopa County on the rights of residents and issues relating to service and care. It investigates complaints by community residents to ensure their rights are being upheld. |
| Arizona Department of Economic Security. Legal Services Assistance | (602) 264-4357 | Arizona's Legal Assistance Program offers information, advice, assistance and advocacy to those aged 60 and over. The program aims to preserve seniors' independence, dignity and financial security. Furthermore, it provides access to the system of justice and supports older adults in their fight to protect their rights. Will writing, guardianship, and advanced directives are among the legal services available. |
| The Arizona Center For Disability Law | (520) 327-9547 | The not-for-profit public interest law firm is dedicated to protecting individuals with disabilities and/or disability-related problems. They provide information, outreach training on legal rights and represent those who have nowhere else to turn for legal help in negotiations, administrative proceedings and court and investigate abuse and neglect. |
Assisted Living Laws and Regulations in Sun City, AZ
Assisted Living Communities in Sun City are required to follow a set of rules and regulations that are determined by the state. For more specific information, talk with your local community or Area Agency on Aging. The Top Assisted Living Communities in the Sun City Area
In order to find the top assisted living communities in the Sun City area, our team of researchers:
Sorted through 99 communities using our unique methodology
Spent over 15 hours researching assisted living communities in Sun City
Read more than 790 reviews left by residents and their family members
After filtering out facilities that didn't meet our high standards, we were left with 10 assisted living communities that earned our seal of approval. Through this process we discovered that the average cost of assisted living in the city of Sun City is $3,975, which is lower than the state average of $4,000 and also lower than the national average of $4,500.

Christina Drumm-Boyd
Certified Senior Advisor (CSA) and Geriatric Care Manager (GCM)
Christina Drumm-Boyd
Certified Senior Advisor (CSA) and Geriatric Care Manager (GCM)
Christina is a Certified Senior Advisor (CSA) and Geriatric Care Manager (GCM) who is passionate about seniors and their families. Along with her staff, Christina works hands-on with each client to find the best solutions for the challenges that often come with aging.
Read on for in-depth information about the top assisted living facilities in Sun City, a brief dive into our methodology for determining the best assisted living communities, and a searchable directory of 99 communities in the Sun City area.
AssistedLiving.org Trusted Communities
AssistedLiving.org spent dozens of hours researching the top assisted living communities in the Sun City area to allow seniors and their families to find the community that's right for them. Click through the facilities listed below to read in-depth reviews, what residents are saying, and details such as base pricing, room types, and more. Studios, 1-Bedroom Apartments, 2-Bedroom Apartments, Condos, Detached Homes
Assisted Living, Independent Living From chef-prepared meals to upscale amenities and personalized care services, residents of The Heritage Legacy can enjoy an elevated senior living experience right in the heart of Sun City. The community offers a variety of programs that promote social, cultural, educational and physical well-being and numerous areas to enjoy the sunshine. Residents can go for a dip in the outdoor pool, relax in the whirlpool spa, take a leisurely stroll along the walking paths or test their skills on the putting green. Floor plans range from cottages to studio, one-, two- and three-bedroom residences, all of which include private baths, individual climate controls and fully equipped kitchens.
What Residents are Saying:
The great food at The Heritage Legacy is one of the perks residents often talk about. One said, "There, the food was really the best that I had ever had anywhere. Another plus for this community was that it was in a location that was very convenient. They had a grocery store right across the street."
4.34 out of 5 stars
(17) Reviews
13813 West Woodside Drive, Sun City, AZ 13377
Thunderbird Senior Living
Brighton Gardens of Sun City
The Forum at Desert Harbor
Our Methodology
It's not what we research, but the way we research that makes AssistedLiving.org stand out. We start by identifying problems and challenges in the senior care industry by gaining insight from conversations with industry professionals, older adults, and those that care for them. Next, our research team led by industry experts apply our data-driven research techniques to understand the magnitude of the challenge and how to overcome it. Finally, we present our findings in easy-to-understand guides and studies and share our actionable results with influencers and caregivers, as well as the general public.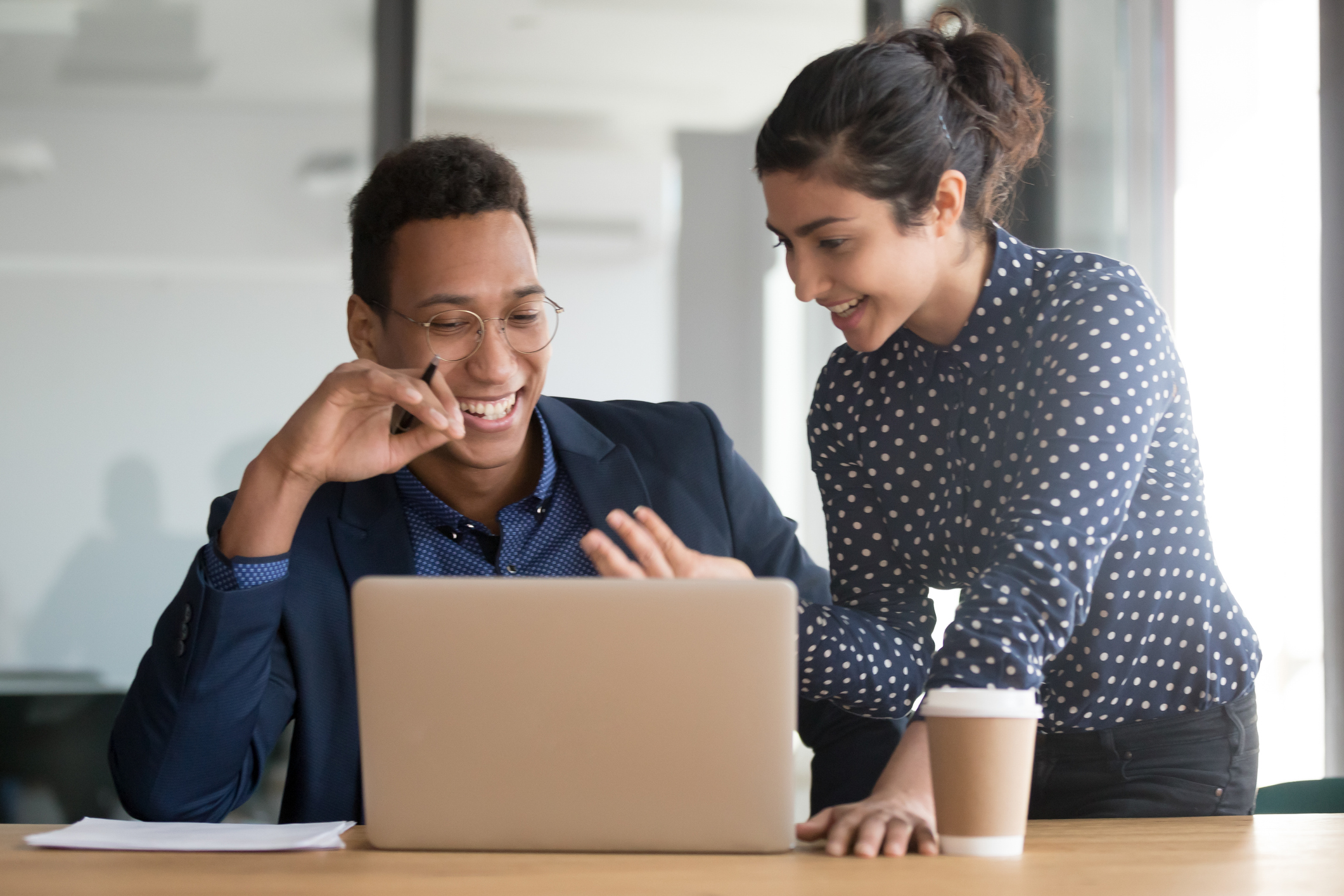 Facility Features (40%)
Facility Health Services Graded on health services provided
on the facility including, but not
limited to, on-site nursing,
pharmacy, skilled nursing,
medicine administration, etc
Facility Amenities Graded on the available
amenities.
Affordability Financial assistance acceptance
and overall costs and value.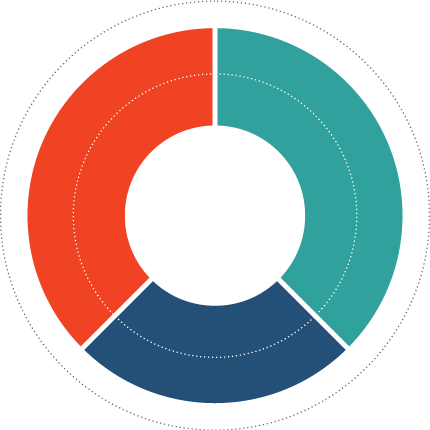 Residential Quality (40%)
Resident Satisfaction Polling & survey of overall facility satisfaction.
Facility Complaint and Violations Number of complaints and violations the facility had. Taking into account improvement over time.
Online Reviews Aggregated verified online reviews.
Location (20%)
Location-Based Benefits Including, but not limited to, proximity to
hospitals, ambulance response times, senior
resources available, and state and city
financial assistance.
Location Quality Local crime rates, incidents against older adults, air quality, climate.
Showing of Communities