COVID-19 Rules for Assisted Living in Oceanside
For assisted living communities, COVID-19 rules and regulations are typically set at the state level. You can view specific rules on our guide to assisted living in CA. These rules change often, and many communities have policies in place that go above and beyond what's required by the state, so you should contact your local community for more information. Additionally, you can contact your local Area Agency on Aging to learn more.
How to Pay for Assisted Living in Oceanside
Seniors in Oceanside can expect to pay around $5,475 per month for assisted living, which is almost $1,000 more than the national median of $4,500.
Assisted Living in Oceanside vs. Nearby Cities
At an average monthly cost of $5,475, assisted living in Oceanside costs a little more than the California state average of $5,250. The most expensive city in the state is San Francisco at $6,319 per month, while the cheapest option is Visalia at around $3,450. Seniors living in the state capital of Sacramento pay an average of $5,225 for assisted living each month. Those in the popular city of Los Angeles pay the same amount as the state average at $5,250 on a monthly basis.
Oceanside: $5,475
California: $5,250
National: $4,500
San Francisco: $6,319
Visalia: $3,450
Sacramento: $5,225
Los Angeles: $5,250
Assisted Living vs. Other Types of Care in Oceanside
Seniors living in Oceanside have access to a choice of care options to suit their requirements. At the low end of the cost scale, adult day care costs around $2,058 per month. Both home care and home health care are good options for seniors wanting to age in place. They have a monthly charge of $6,387 and $6,473 respectively. Nursing home care costs around $9,384 for a semiprivate room.
Adult day care: $2,058
Assisted living: $5,475
Home care: $6,387
Home health care: $6,473
Nursing home (semiprivate room): $9,384
Note: Data for Oceanside was unavailable, so data for the nearest city, San Diego, was used instead.
Financial Assistance for Assisted Living in Oceanside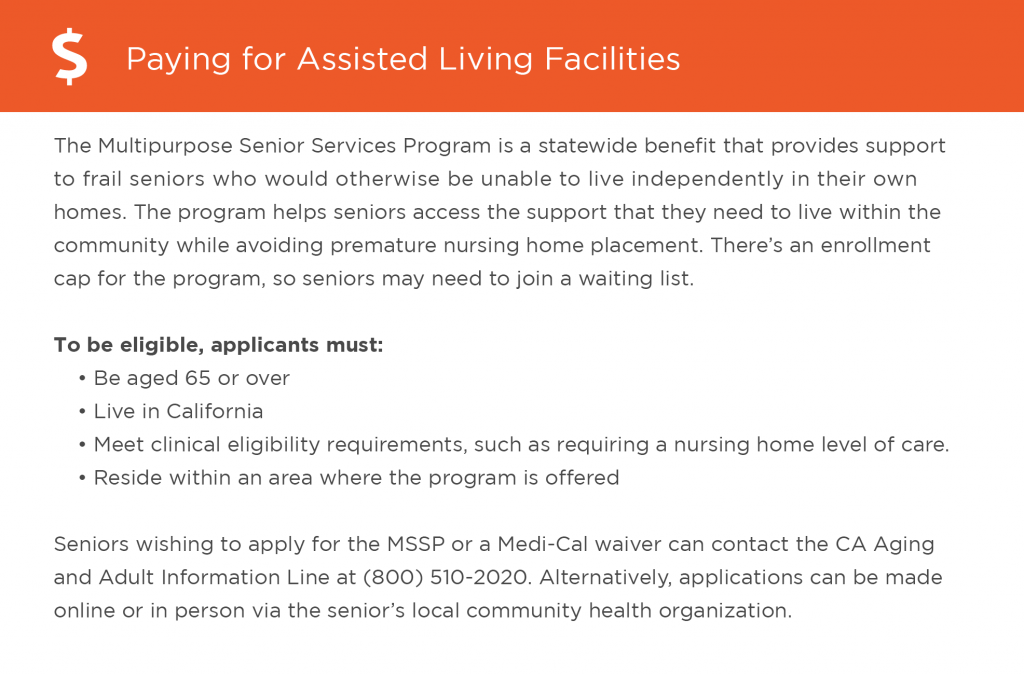 Other Ways to Pay for Assisted Living in Oceanside
Since not everyone can afford to pay for assisted living out-of-pocket, it's important to find alternative methods to help make assisted living more affordable. Some of these options include:
Veterans Benefits
Life Insurance Policy
Long-Term Care Insurance
Reverse Mortgage
For more information about your options for making assisted living more affordable, visit our guide to Assisted Living in Oceanside.
Free and Low-Cost Assisted Living Resources for Seniors in Oceanside
Seniors in Oceanside who are currently in assisted living and those who are looking to make the move in the near future may find the following resources of interest. These free resources are provided by the government and various nonprofit organizations.
| | | |
| --- | --- | --- |
| Resource | Contact | Service |
| City of Oceanside Country Club Senior Center | (760) 435-5250 | The City of Oceanside runs the Country Club Senior Center. The center offers activities and programs for seniors aged 55 and older. Seniors can partake in a meal with friends at lunch each day from Monday to Friday. A variety of activities are run throughout the week, and these may include tai chi, bridge clubs, board games, art classes and regular field trips. |
| Serving Seniors | (619) 235-6572 | Serving Seniors is a nonprofit organization serving the needs of seniors in San Diego and surrounding areas. The organization advocates on behalf of seniors and educates local officials on the needs of the elderly. It runs a health and wellness program where low-income seniors can undergo regular health checks and attend wellness classes. Volunteers provide benefits counseling and assist seniors in applying for any benefits they may be eligible for. |
| Go Oceanside | (760) 435-5155 | Go Oceanside provides free transportation for seniors in the city. Volunteer drivers are available seven days a week to take seniors where they need to go. Rides need to be booked at least seven days in advance to ensure that a driver is available. The Grocery Program provides door-to-door transportation to grocery stores. The driver will wait outside while the senior shops and then take them safely home. Go Walk is a program where volunteer drivers pick up seniors at their home or community and take them to a safe walking area. The driver will either wait while the seniors go for a walk or walk with them to ensure their safety. |
| Veterans Association of North County | (760) 722-1277 | The Veterans Association of North County is a nonprofit organization created by veterans to help other veterans and their families in Oceanside and surrounding areas. A veteran services representative is available to assist eligible seniors and their families to navigate life after military service. They can help seniors to apply for military pensions and any other benefits that they may be eligible for. Additionally, they can assist with health card enrollments and burial services. |
Assisted Living Laws and Regulations in Oceanside
Assisted Living Communities in Oceanside are required to follow a set of rules and regulations that are determined by the state. For more specific information, talk with your local community or Area Agency on Aging.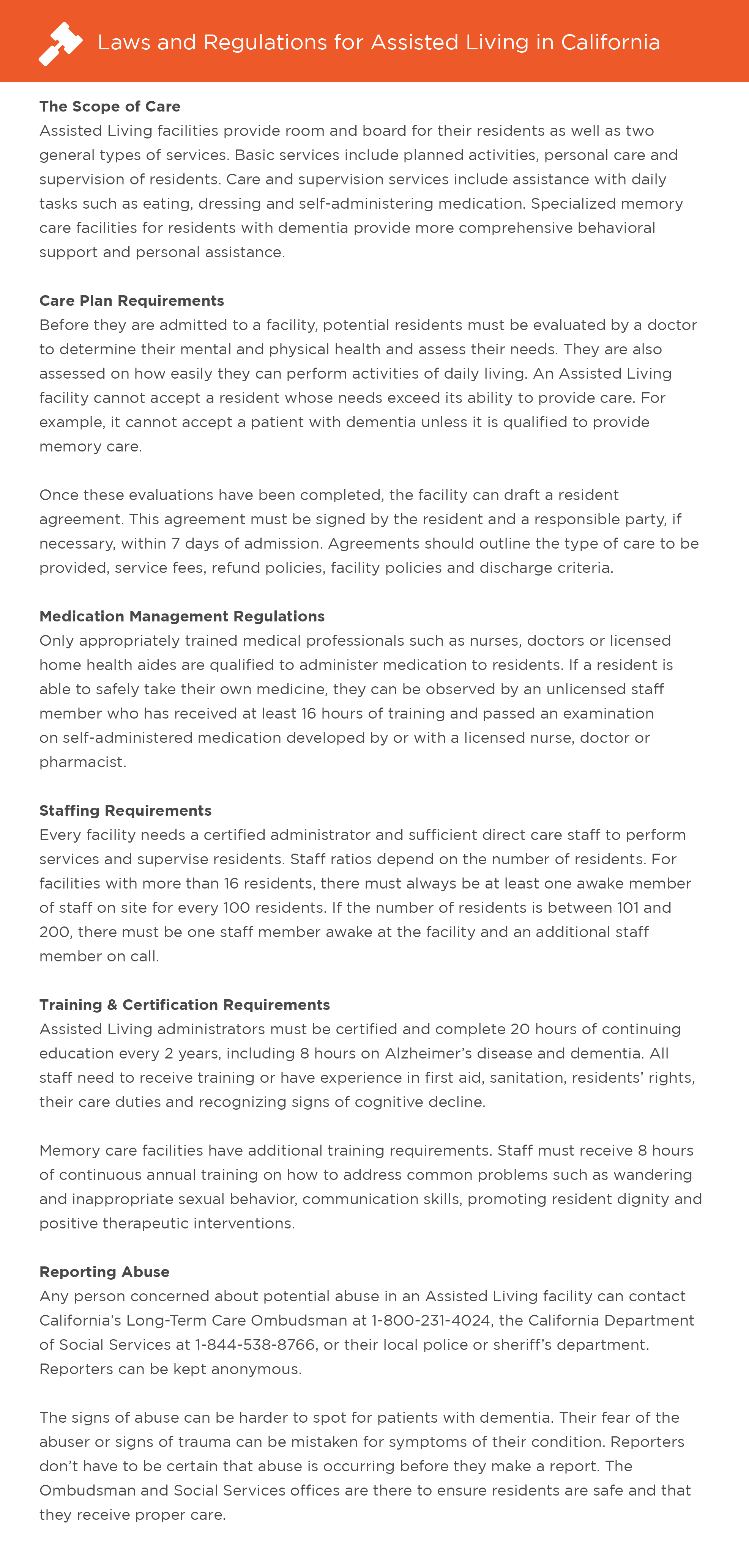 The Top Assisted Living Communities in the Oceanside Area
In order to find the top assisted living communities in the Oceanside area, our team of researchers:
Sorted through 33 communities using our unique methodology
Spent over 15 hours researching assisted living communities in Oceanside
Read more than 260 reviews left by residents and their family members
After filtering out facilities that didn't meet our high standards, we were left with 10 assisted living communities that earned our seal of approval. Through this process we discovered that the average cost of assisted living in the city of Oceanside is $5,475, which is higher than the state average of $5,250 and considerably higher than the national average of $4,500.

Jonathan Frank
Licensed Social Worker and Certified Dementia Practitioner
Jonathan Frank
Licensed Social Worker and Certified Dementia Practitioner
Jonathan Frank is a Licensed Social Worker with over 10 years experience working with the geriatric population in a variety of different settings. He received his Masters degree from Rutgers University with a certificate in Aging and Gerontological Services. Additionally, he is a Certified Dementia Practitioner accredited by the National Council of Certified Dementia Practitioners. Jonathan also has Bachelors degree in psychology and worked as an Emergency Medical Technician for 14 years. His passion lies with the elderly and ensuring they age with dignity.
Read on for in-depth information about the top assisted living facilities in Oceanside, a brief dive into our methodology for determining the best assisted living communities, and a searchable directory of 33 communities in the Oceanside area.
AssistedLiving.org Trusted Communities
AssistedLiving.org spent dozens of hours researching the top assisted living communities in the Oceanside area to allow seniors and their families to find the community that's right for them. Click through the facilities listed below to read in-depth reviews, what residents are saying, and details such as base pricing, room types, and more. Ocean Hills Senior Living
Studios, 1-Bedroom Apartments, 2-Bedroom Apartments, Companion Suites
Assisted Living, Independent Living, Memory Care
Assisted Living: $4,000, Independent Living: $3,000, Memory Care: $4,900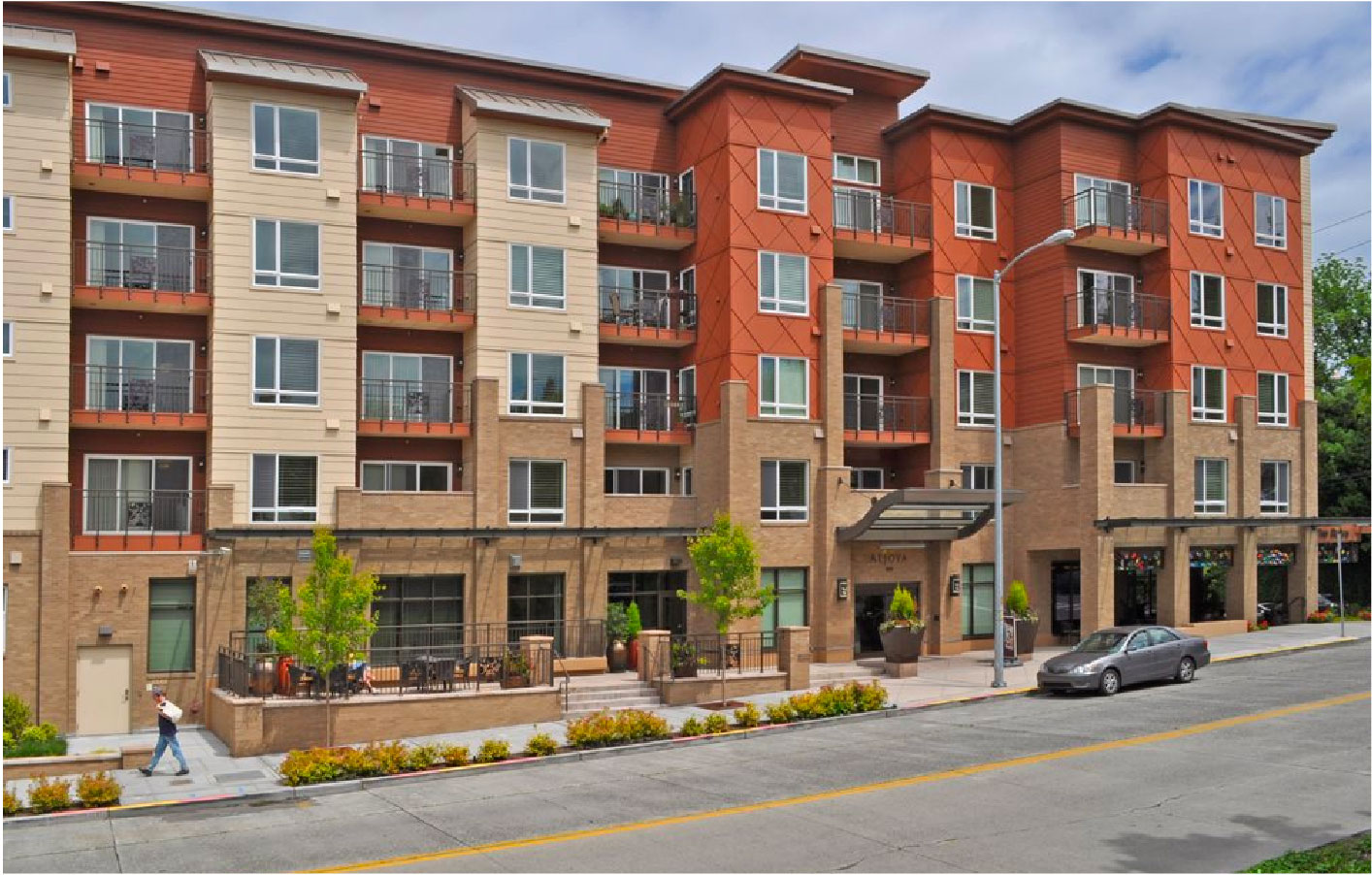 With its convenient location close to the Carlsbad Highlands Ecological Reserve and the Ocean Hills Country Club, this assisted living and memory care community combines quality care with upscale amenities. Seniors can choose from six unique pet-friendly apartment floor plans that include barrier-free bathrooms, built-in storage spaces and individual climate controls. The entire facility is equipped with advanced fire detection and suppression systems, and amenities include an enclosed court yard, multiple sunrooms and a dedicated area for walking dogs.
What Residents are Saying:
Visitors are impressed with the luxurious setting, mentioning the well-kept grounds and open courtyards. Families praise the attentive staff who tailor activities for their loved ones' enjoyment. "I love OHSL!! The staff takes great care of my 92-year-old dad. He now calls it home. The med techs are responsive," says one family member.
3.86 out of 5 stars
(11) Reviews
4500 Cannon Rd., Oceanside, CA 11213
Pacifica Senior Living Oceanside
Merrill Gardens at Oceanside
Our Methodology
It's not what we research, but the way we research that makes AssistedLiving.org stand out. We start by identifying problems and challenges in the senior care industry by gaining insight from conversations with industry professionals, older adults, and those that care for them. Next, our research team led by industry experts apply our data-driven research techniques to understand the magnitude of the challenge and how to overcome it. Finally, we present our findings in easy-to-understand guides and studies and share our actionable results with influencers and caregivers, as well as the general public.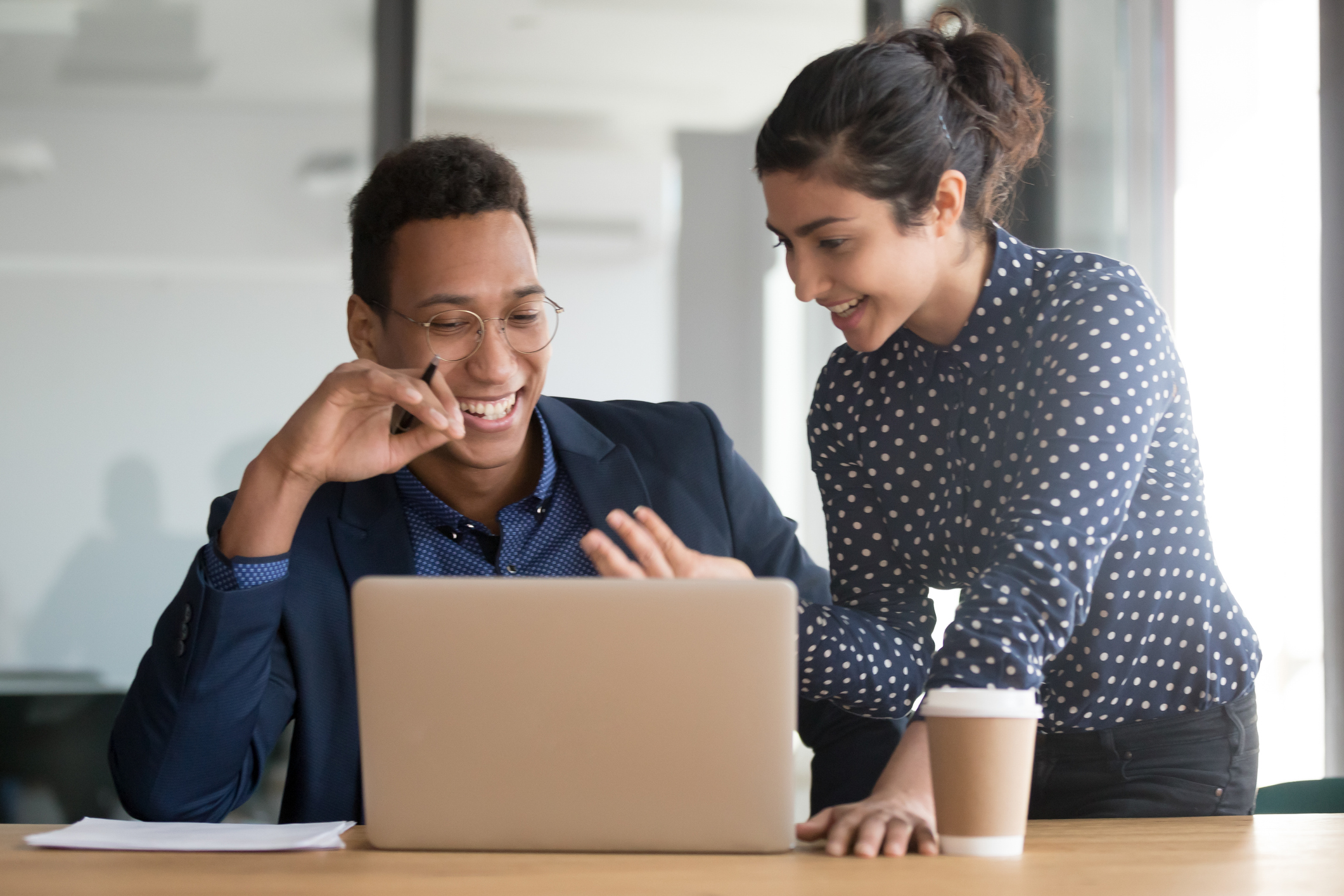 Facility Features (40%)
Facility Health Services Graded on health services provided
on the facility including, but not
limited to, on-site nursing,
pharmacy, skilled nursing,
medicine administration, etc
Facility Amenities Graded on the available
amenities.
Affordability Financial assistance acceptance
and overall costs and value.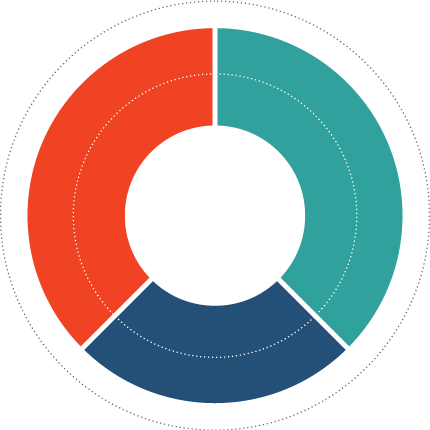 Residential Quality (40%)
Resident Satisfaction Polling & survey of overall facility satisfaction.
Facility Complaint and Violations Number of complaints and violations the facility had. Taking into account improvement over time.
Online Reviews Aggregated verified online reviews.
Location (20%)
Location-Based Benefits Including, but not limited to, proximity to
hospitals, ambulance response times, senior
resources available, and state and city
financial assistance.
Location Quality Local crime rates, incidents against older adults, air quality, climate.
Showing of Communities