COVID-19 Rules for Assisted Living in San Jose
For assisted living communities, COVID-19 rules and regulations are typically set at the state level. You can view specific rules on our guide to assisted living in CA. These rules change often, and many communities have policies in place that go above and beyond what's required by the state, so you should contact your local community for more information. Additionally, you can contact your local Area Agency on Aging to learn more.
How to Pay for Assisted Living in San Jose
Averaging $6,000 per month, the cost of assisted living in San Jose is considerably higher than the California state average and the national average.
Assisted Living in San Jose vs. Nearby Cities
To the east of San Jose, in the inland city of Modesto, the average monthly price is much lower at $4,000. Going west from San Jose, prices remain lower in Santa Cruz, averaging $5,550 per month. Moving north along the coast, the cost in San Francisco is much higher, with an average price of $6,319 per month. Further north up the coast, Santa Rosa has one of the highest prices in California; one month of assisted living there costs $7,048 on average.
San Jose: $6,000
California: $5,250
National: $4,500
Santa Cruz: $5,550
Modesto: $4,000
San Francisco: $6,319
Santa Rosa: $7,048
Assisted Living vs. Other Types of Care in San Jose, California
The prices for other types of care in San Jose vary widely. At $7,102 per month on average, homemaker assistance and home health aide services are significantly more expensive than assisted living. Adult day health care is the most affordable, costing $1,820 per month on average. Nursing homes are the most expensive care option, with one month in a semiprivate room averaging $11,863.
Assisted Living: $6,000
Home Care: $7,102
Home Health Care: $7,102
Adult Day Health Care: $1,820
Nursing Home (semiprivate room): $11,863
Financial Assistance for Assisted Living in San Jose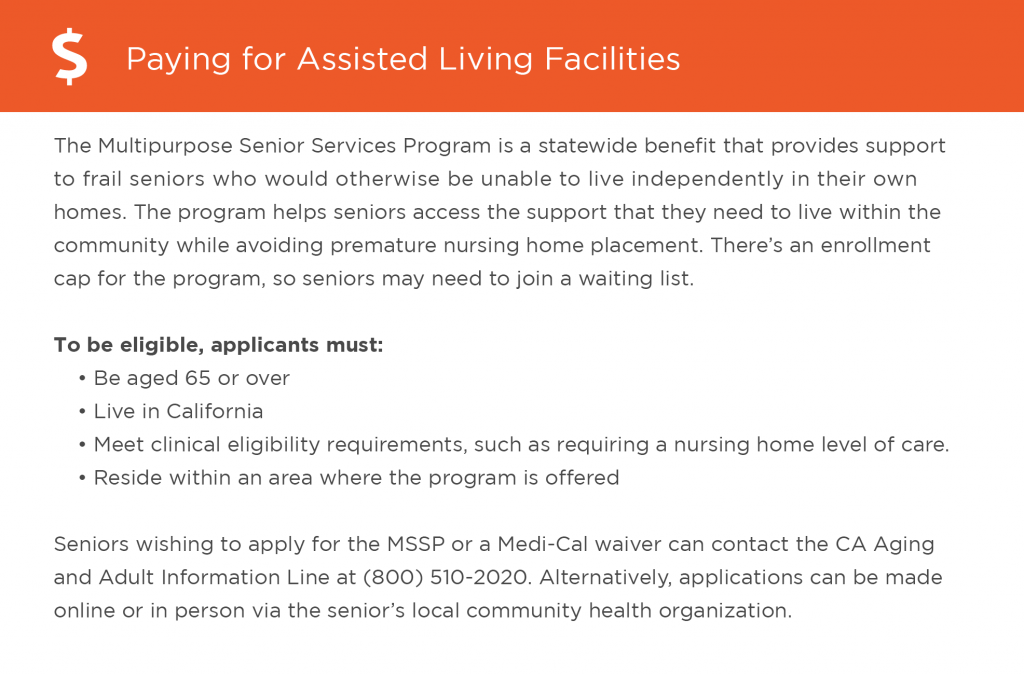 Other Ways to Pay for Assisted Living in San Jose
Since not everyone can afford to pay for assisted living out-of-pocket, it's important to find alternative methods to help make assisted living more affordable. Some of these options include:
Veterans Benefits
Life Insurance Policy
Long-Term Care Insurance
Reverse Mortgage
For more information about your options for making assisted living more affordable, visit our guide to Assisted Living in San Jose.
Free and Low-Cost Assisted Living Resources for Seniors in San Jose
Many free or low-cost resources are available for seniors in San Jose. These organizations assist with employment, nutrition education, advocacy, legal help and more.
| | | |
| --- | --- | --- |
| Resource | Contact | Service |
| Sourcewise | (408) 350-3200 | As the Area Agency on Aging for San Jose, this nonprofit connects older adults to the information and resources they need. Trained specialists evaluate each senior's requirements, guide them through available options and provide referrals to appropriate services. Its Senior Employment Services Program helps low-income adults 55 and older gain permanent employment by partnering with local organizations to offer paid, on-the-job training that develops occupational skills, work experience and confidence. The Health Insurance Counseling & Advocacy Program provides one-on-one counseling to help seniors understand their Medicare benefits and health care options. The Connections, Health, Aging & Technology Program provides iPad access, computer training and technical support to adults 60 and older. |
| Santa Clara County Department of Aging and Adult Services | (408) 755-7600 | This department promotes a safe and independent lifestyle for older adults in San Jose and Santa Clara County. The Santa Clara County Senior Nutrition Program provides nutritious meals approved by registered dietitian nutritionists at more than 40 dining sites seven days a week. A donation is requested, but no one is denied food due to inability to pay. Ethnic, vegan and vegetarian options are available. Low-income registered participants of this program who need help getting to dining sites can receive bus passes, gas cards or subsidized paratransit rides through the Senior Nutrition Transportation Program. Its Adult Protective Services program helps older victims of abuse by investigating, preventing and remedying maltreatment. |
| Cypress Senior Center | (408) 244-1353 | Seniors can participate in health, education, art and music classes at this center. Special cultural events and holiday celebrations are available. It is open Monday to Friday and offers a computer lab, cooking room and dance room. |
| Senior Adults Legal Assistance | (408) 295-5991 | This nonprofit elder law office provides free legal services and community education to adults 60 and older. Services include advice, referrals and legal representation related to assisted living, elder abuse, Social Security, Medicare, Medi-Cal, advance health care directives and wills. |
| RYDE | (669) 220-0831 | A curb-to-curb transportation service, RYDE helps adults 65 and older get to appointments and visits with friends. Rides are available Monday to Friday, and fees are based on income and travel distance. |
Assisted Living Laws and Regulations in San Jose
Assisted Living Communities in San Jose are required to follow a set of rules and regulations that are determined by the state. For more specific information, talk with your local community or Area Agency on Aging.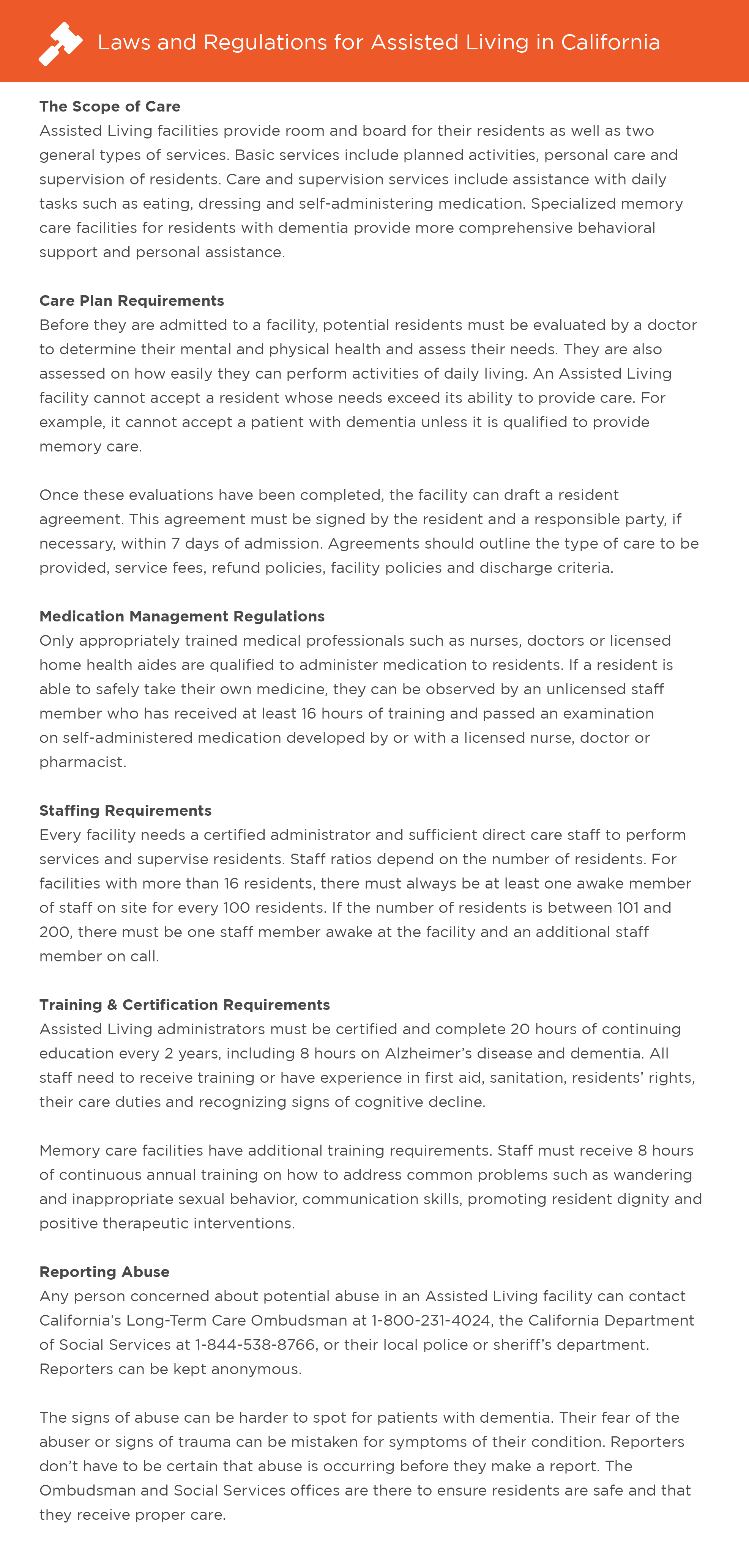 The Top Assisted Living Communities in the San Jose Area
In order to find the top assisted living communities in the San Jose area, our team of researchers:
Sorted through 114 communities using our unique methodology
Spent over 39 hours researching assisted living communities in San Jose
Read more than 912 reviews left by residents and their family members
After filtering out facilities that didn't meet our high standards, we were left with 26 assisted living communities that earned our seal of approval. Through this process we discovered that the average cost of assisted living in the city of San Jose is $6,000, which is higher than the state average of $5,250 and considerably higher than the national average of $4,500.

Christina Drumm-Boyd
Certified Senior Advisor (CSA) and Geriatric Care Manager (GCM)
Christina Drumm-Boyd
Certified Senior Advisor (CSA) and Geriatric Care Manager (GCM)
Christina is a Certified Senior Advisor (CSA) and Geriatric Care Manager (GCM) who is passionate about seniors and their families. Along with her staff, Christina works hands-on with each client to find the best solutions for the challenges that often come with aging.
Read on for in-depth information about the top assisted living facilities in San Jose, a brief dive into our methodology for determining the best assisted living communities, and a searchable directory of 114 communities in the San Jose area.
AssistedLiving.org Trusted Communities
AssistedLiving.org spent dozens of hours researching the top assisted living communities in the San Jose area to allow seniors and their families to find the community that's right for them. Click through the facilities listed below to read in-depth reviews, what residents are saying, and details such as base pricing, room types, and more. Independent living, assisted living, memory care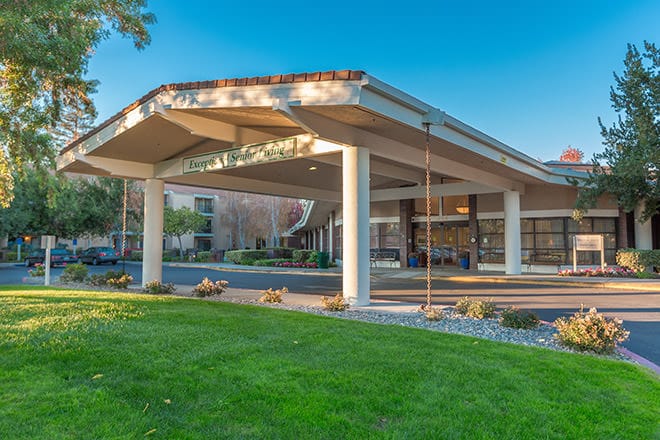 Brookdale San Jose is ultimately customizable according to the needs of each resident. There are three plans from which residents can choose, but the goal of each one is the resident's comfort. The community is pet-friendly, so residents can bring a furry friend for companionship. Independent living residents benefit from housekeeping, laundry care, and meal services so they are not burdened by these tasks. All residents can enjoy walking trails, the fitness center, a library, a beauty salon and barber, and even a swimming pool. Residents with more medical needs are well cared for at this facility. All assisted living and memory care residents have an individual care plan to attend to their specific needs. Concierge services, transportation to outings and appointments, and medication management are just a few of the perks residents receive.
What Residents are Saying:
Residents appreciate the varied options of care. One resident family member says, "My father had an increasingly high need for care, and the staff here accommodated him from assisted living through hospice."
4.2 out of 5
(32) Reviews
1009 Blossom River Way, San Jose, CA 8528
Carlton Senior Living San Jose
Belmont Village Sunnyvale
The Terraces of Los Gatos
Merrill Gardens at Willow Glen
Pacifica Senior Living Union City
Sunnyside Gardens Assisted Living & Memory Care
Saratoga Retirement Community
Cedar Creek Alzheimer's & Dementia Care Community
Our Methodology
It's not what we research, but the way we research that makes AssistedLiving.org stand out. We start by identifying problems and challenges in the senior care industry by gaining insight from conversations with industry professionals, older adults, and those that care for them. Next, our research team led by industry experts apply our data-driven research techniques to understand the magnitude of the challenge and how to overcome it. Finally, we present our findings in easy-to-understand guides and studies and share our actionable results with influencers and caregivers, as well as the general public.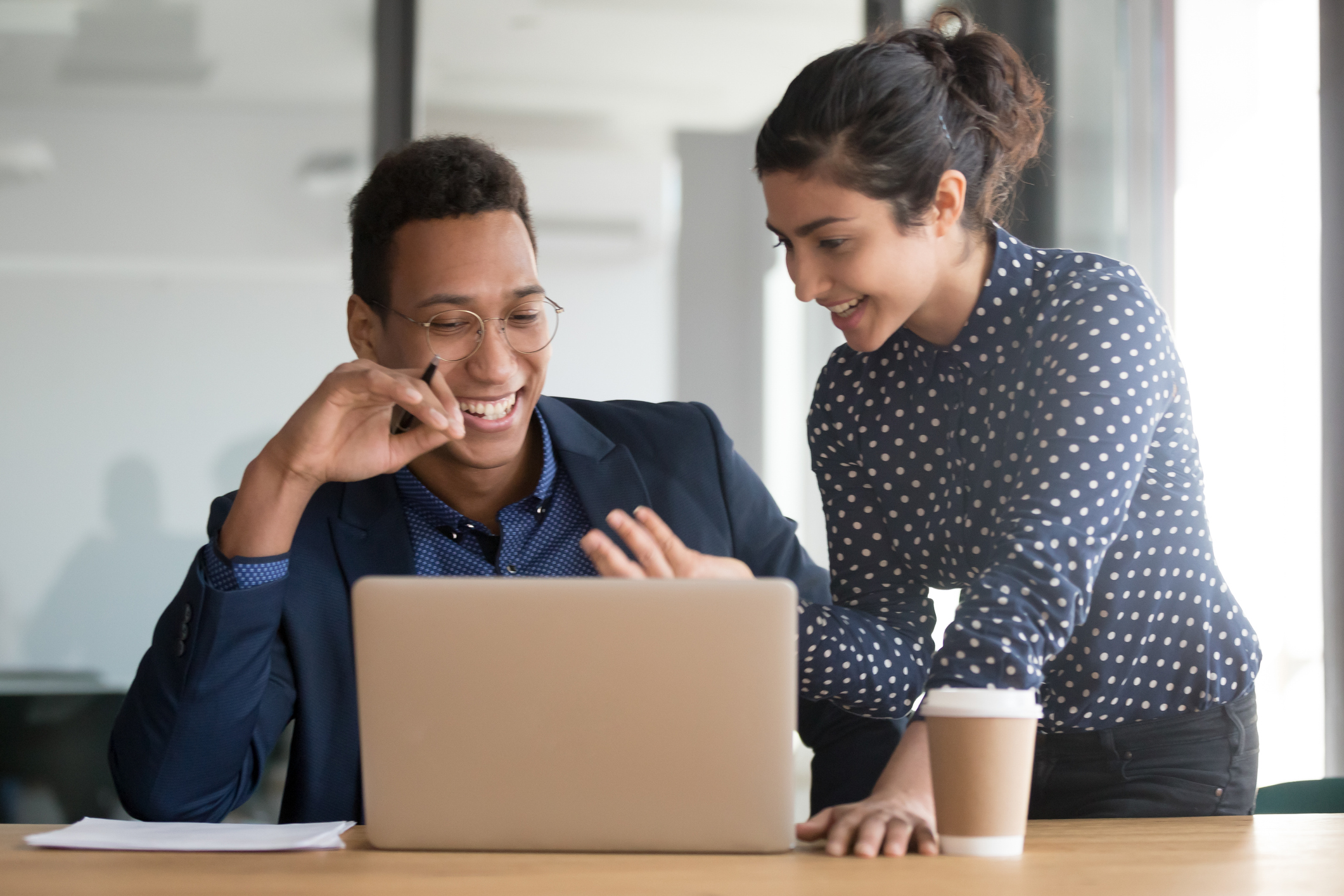 Facility Features (40%)
Facility Health Services Graded on health services provided
on the facility including, but not
limited to, on-site nursing,
pharmacy, skilled nursing,
medicine administration, etc
Facility Amenities Graded on the available
amenities.
Affordability Financial assistance acceptance
and overall costs and value.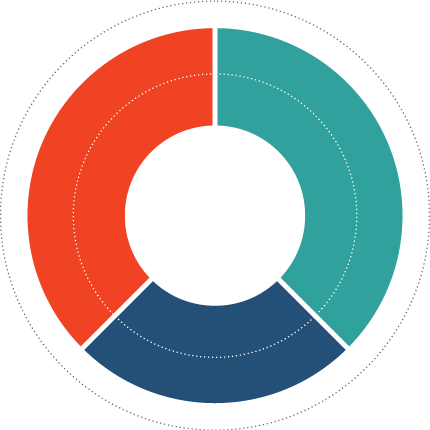 Residential Quality (40%)
Resident Satisfaction Polling & survey of overall facility satisfaction.
Facility Complaint and Violations Number of complaints and violations the facility had. Taking into account improvement over time.
Online Reviews Aggregated verified online reviews.
Location (20%)
Location-Based Benefits Including, but not limited to, proximity to
hospitals, ambulance response times, senior
resources available, and state and city
financial assistance.
Location Quality Local crime rates, incidents against older adults, air quality, climate.
Showing of Communities