COVID-19 Rules for Assisted Living in San Mateo
For assisted living communities, COVID-19 rules and regulations are typically set at the state level. You can view specific rules on our guide to assisted living in CA. These rules change often, and many communities have policies in place that go above and beyond what's required by the state, so you should contact your local community for more information. Additionally, you can contact your local Area Agency on Aging to learn more.
How to Pay for Assisted Living in San Mateo
With fees averaging $6,319 per month, San Mateo is at the high end of the affordability scale in California for assisted living. The typical senior pays approximately $1,069 more than the average Californian and $1,819 more than the norm for the country.
Assisted Living in San Mateo vs. Nearby Cities
For seniors considering assisted living in the Bay Area, San Jose is a more affordable option, as its average fees of $6,000 are $319 per month below San Mateo's. Moving down the coast or inland can also see savings, as Santa Cruz's seniors typically pay $5,550 and Stockton's pay $3,649.
San Mateo: $6,319
California: $5,250
National: $4,500
San Jose: $6,000
Santa Cruz: $5,550
Stockton: $3,649
Assisted Living vs. Other Types of Senior Care
San Mateo's typical assisted living fee of $6,319 is significantly more affordable than most other types of care. Only adult day centers offer lower rates — usually in the region of $1,950 per month. However, seniors will need to factor in their existing home maintenance costs if they compare day centers with assisted living. This is also true for homemaker services and home health aide support, which typically cost $6,864 and $7,150, respectively. The costliest option is nursing home care, with fees averaging $11,566 per month for a semiprivate room.
Assisted Living Facility: $6,319
Homemaker Services: $6,864
Home Health Aide: $7,150
Adult Day Health Care: $1,950
Nursing Home Facility (semiprivate room): $11,566
Note: Data for San Mateo was unavailable, so data for the nearest city, San Francisco, was used instead.
Financial Assistance for Assisted Living in San Mateo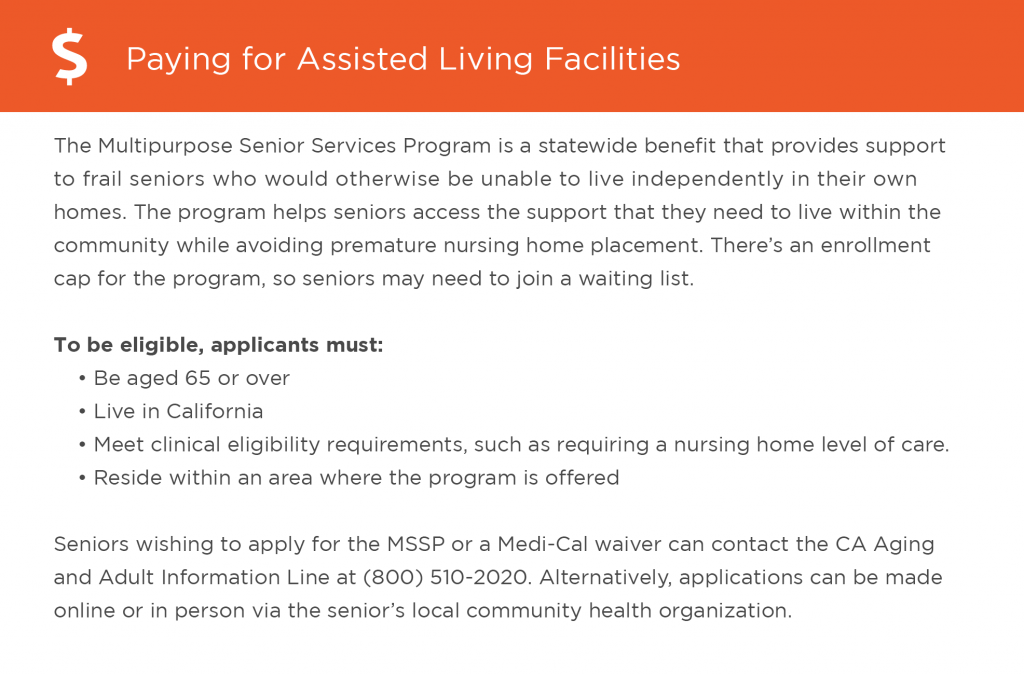 Other Ways to Pay for Assisted Living in San Mateo
Since not everyone can afford to pay for assisted living out-of-pocket, it's important to find alternative methods to help make assisted living more affordable. Some of these options include:
Veterans Benefits
Life Insurance Policy
Long-Term Care Insurance
Reverse Mortgage
For more information about your options for making assisted living more affordable, visit our guide to Assisted Living in San Mateo.
Free and Low-Cost Assisted Living Resources for Seniors in San Mateo
There are many organizations in and around San Mateo that provide free and low-cost resources for older citizens. They include nonprofits that offer legal advice and tax assistance and government agencies that investigate complaints in care facilities and help veterans get their full entitlement of benefits.
| | | |
| --- | --- | --- |
| Resource | Contact | Service |
| County Veterans Service Office | (650) 802-6598 | The County Veterans Service Office of San Mateo helps U.S. military vets, their spouses and their families get the local, state and federal benefits they're due. It can also refer vets to other resources dedicated to helping those who served, such as the California Veteran College Fee Waiver. |
| San Mateo Senior Center | (650) 522-7490 | San Mateo Senior Center is a hub for city residents aged 50 and older. It's popular with seniors who love to play music, as it has its own band and chorus. There are also classes for members who want to learn more about computers and technology, and there's standard senior center fare too, such as bingo, billiards and book discussion groups. |
| Long-Term Care Ombudsman | (650) 780-5707 | Seniors with concerns about the standard of their care can raise their concerns in confidence with the Long-Term Care Ombudsman. This will likely trigger an investigation, with the ombudsman pursuing a resolution with the care provider on the senior's behalf. Other services include providing copies of inspection reports for seniors comparing facilities in San Mateo for their long-term care. |
| The Legal Aid Society of San Mateo County | (650) 558-0915 | The society provides legal advice and support to San Mateo County residents aged 60 and older. It can help those who may be victims of elder abuse, worrying about debts or concerned about who will make their health care decisions should their condition deteriorate. The society also helps seniors get the benefits they should and prepare final wills and testaments. |
| AARP Foundation Tax-Aide Program | (888) 687-2277 | The AARP Foundation Tax-Aide Program is a free service for all, with priority given to seniors and the disabled. Its purpose is to help clients prepare and submit their taxes. There is an online version, where seniors can use free software and get help from IRS-certified volunteers when they need it. Alternatively, they can drop off their tax documents at the nearest AARP-approved location, where a volunteer will prepare their taxes for them, with the senior only becoming involved at the final stage before submission. |
Assisted Living Laws and Regulations in San Mateo
Assisted Living Communities in San Mateo are required to follow a set of rules and regulations that are determined by the state. For more specific information, talk with your local community or Area Agency on Aging.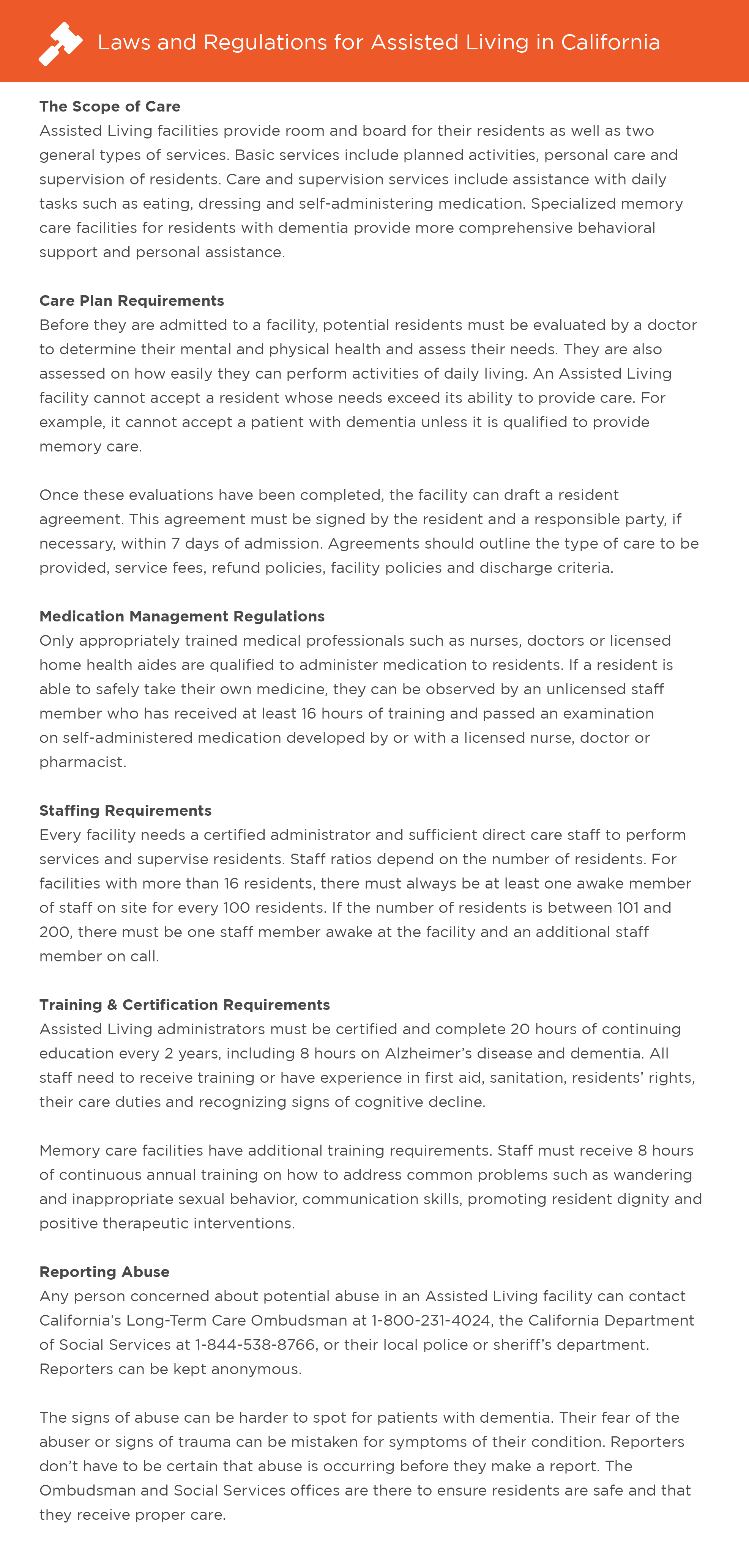 The Top Assisted Living Communities in the San Mateo Area
In order to find the top assisted living communities in the San Mateo area, our team of researchers:
Sorted through 97 communities using our unique methodology
Spent over 15 hours researching assisted living communities in San Mateo
Read more than 775 reviews left by residents and their family members
After filtering out facilities that didn't meet our high standards, we were left with 10 assisted living communities that earned our seal of approval. Through this process we discovered that the average cost of assisted living in the city of San Mateo is $6,319, which is considerably higher than the state average of $5,250 and also considerably higher than the national average of $4,500.

Jonathan Frank
Licensed Social Worker and Certified Dementia Practitioner
Jonathan Frank
Licensed Social Worker and Certified Dementia Practitioner
Jonathan Frank is a Licensed Social Worker with over 10 years experience working with the geriatric population in a variety of different settings. He received his Masters degree from Rutgers University with a certificate in Aging and Gerontological Services. Additionally, he is a Certified Dementia Practitioner accredited by the National Council of Certified Dementia Practitioners. Jonathan also has Bachelors degree in psychology and worked as an Emergency Medical Technician for 14 years. His passion lies with the elderly and ensuring they age with dignity.
Read on for in-depth information about the top assisted living facilities in San Mateo, a brief dive into our methodology for determining the best assisted living communities, and a searchable directory of 97 communities in the San Mateo area.
AssistedLiving.org Trusted Communities
AssistedLiving.org spent dozens of hours researching the top assisted living communities in the San Mateo area to allow seniors and their families to find the community that's right for them. Click through the facilities listed below to read in-depth reviews, what residents are saying, and details such as base pricing, room types, and more. Studios, 1-Bedroom Apartments, Companion Suites
Assisted Living, Memory Care, Hospice, Day Services, Respite, Skilled Nursing Conveniently located within walking distance of several parks and gardens, Sunrise of San Mateo offers seniors exceptional opportunities to stay fit and active. This welcoming facility provides a range of sun-filled common areas, such as a library, fireplace lounge and coffee bar where residents can relax and socialize between fulfilling activities. Sunrise of San Mateo has long-tenured staff. These specially trained professionals work to develop individualized service plans to meet each resident's unique needs. Restaurant-style dining is also a highlight at this facility with sumptuous daily menu offerings, such as shiitake ginger chicken and braised beef brisket with potato pancakes.
What Residents are Saying:
Visiting relatives are impressed by the abundant amenities. One says, "They have all-day dining. They have a beautiful dining room. They also have a bistro where they can get juice, cookies and crackers. They have a shuttle bus service almost every day of the week... On every floor, they have a TV in the sitting room."
4.21 out of 5 stars
(68) Reviews
955 South El Camino Real, San Mateo, CA 10522
Pacifica Senior Living Burlingame
Our Methodology
It's not what we research, but the way we research that makes AssistedLiving.org stand out. We start by identifying problems and challenges in the senior care industry by gaining insight from conversations with industry professionals, older adults, and those that care for them. Next, our research team led by industry experts apply our data-driven research techniques to understand the magnitude of the challenge and how to overcome it. Finally, we present our findings in easy-to-understand guides and studies and share our actionable results with influencers and caregivers, as well as the general public.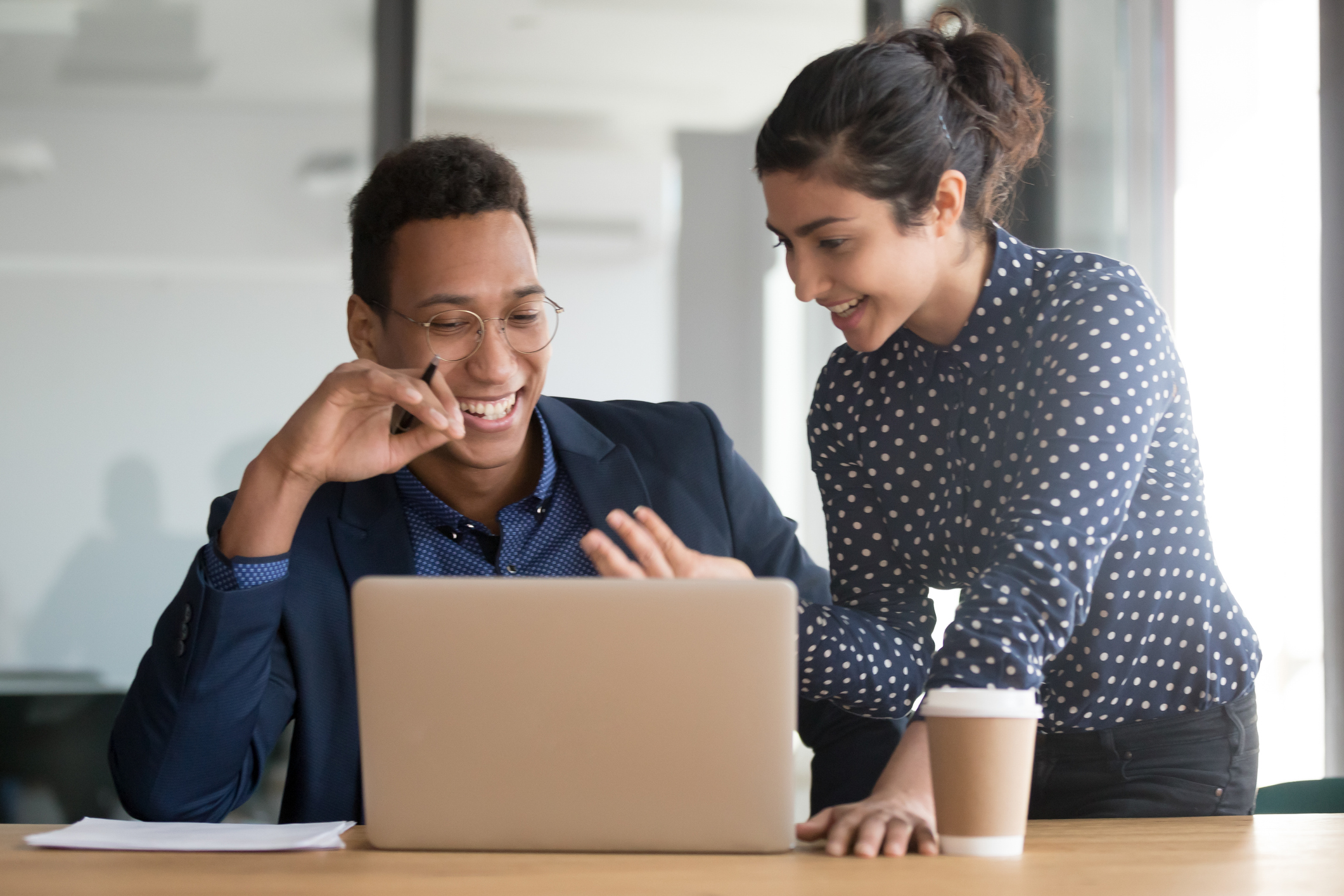 Facility Features (40%)
Facility Health Services Graded on health services provided
on the facility including, but not
limited to, on-site nursing,
pharmacy, skilled nursing,
medicine administration, etc
Facility Amenities Graded on the available
amenities.
Affordability Financial assistance acceptance
and overall costs and value.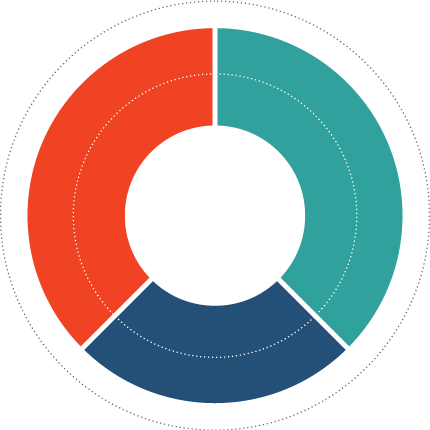 Residential Quality (40%)
Resident Satisfaction Polling & survey of overall facility satisfaction.
Facility Complaint and Violations Number of complaints and violations the facility had. Taking into account improvement over time.
Online Reviews Aggregated verified online reviews.
Location (20%)
Location-Based Benefits Including, but not limited to, proximity to
hospitals, ambulance response times, senior
resources available, and state and city
financial assistance.
Location Quality Local crime rates, incidents against older adults, air quality, climate.
Showing of Communities