Find Assisted Living in Your Area
Americans continue to live longer than ever, resulting in a growing population of seniors. In 2023, 16.8% of the U.S. population is age 65 and over, up from 14.9% in 2015. Moreover, as many as 70% of these seniors will require long-term care or residential living options at some point in their lives. In the past, seniors had limited choices for long-term care with skilled nursing care being the only option in many cases.
Today, assisted living has expanded dramatically, with over 30,000 assisted living communities in the United States in 2023. While all communities provide similarbasic care, each facility has unique amenities, services, living environments, and community cultures.
We created this guide to help seniors and their families learn more about assisted living, including the services and costs you can expect to pay. We also cover details of financial assistance options for assisted living and the aspects we feel are most important to focus on when choosing a community for yourself or a loved one.
What Is Assisted Living?
Assisted living is a type of residential senior care that provides older adults with personal care assistance and assistance with activities of daily living (ADLs). Residents of assisted living facilities (ALFs) can retain as much independence as possible while still receiving assistance with tasks such as laundry, meal preparation, and grooming. Most facilities also offer opportunities for socialization and entertainment, such as planned activities and seminars. These frequently have on-site amenities such as fitness centers, barbershops, and formal dining rooms to make their occupants feel more involved in the community.
Assisted living communities do not provide skilled medical care like nursing homes do. However, assisted living facilities assist residents with medication management, transportation to and from doctor's appointments, and minor first aid. Staff also remain on-site around the clock to assist residents during any emergencies.
What Are The Benefits of Assisted Living?
Choosing an assisted living community for long-term care comes with several benefits, including:
Staff is available 24/7
Though ALFs are not the best fit for seniors who need high-level medical care, the staff is on-site at all hours of the day and night to assist residents when needed. Staff is always present to provide support during emergencies, which should give peace of mind to both residents and their families.
Communities have on-site amenities for residents to enjoy
Most ALFs feature on-site amenities such as a fitness center, art studio, barbershop, beauty salon, and common areas. Having these amenities on-site makes them easy for seniors to enjoy while eliminating the need to organize transportation. On-site amenities also serve as a community meeting place where residents can get together and enjoy activities as a group.
Care is tailored to each individual's needs
ALFs provide care to residents on an as-needed basis. A resident who only needs assistance with one or two ADLs can access the care they need and otherwise live independently. Meanwhile, someone who needs more help and can no longer have the same independence can also receive that level of care.
Residents can choose how they'd like to spend their time
Other than scheduled meal times, residents have their entire days to spend as they please. They can decide whether to spend their day relaxing, using group transportation to run errands, or participating in on-site events. And because amenities and activities are available on-site, seniors who no longer drive or struggle with mobility still have plenty of options. Alternatively, less social residents have the freedom to spend their days independently.
Residents have many opportunities to socialize
Assisted living communities provide many opportunities for residents to form friendships and socialize. On-site events and activities like musical performances, art classes, and holiday parties present many chances for residents to engage and mingle, helping to stave off feelings of isolation that often come with old age.
Community staff handles all exterior and interior home maintenance
Household tasks like cleaning and landscaping can be physically taxing and dangerous for those with mobility or balance challenges. Thankfully, the assisted living staff handles all interior and exterior maintenance, including apartment repairs and housekeeping. Residents live free from the burdens of home maintenance to better enjoy all that the ALF has to offer.
What Services Are Provided in Assisted Living?
Assisted living residents live independently in their apartments but have access to personal care services and trained staff around the clock. While these communities do not offer skilled medical care, they provide residents with many other services. The most common assisted living services include:
Personal Care Services: Personal care activities, or the activities of daily living, include everyday tasks such as getting dressed in the morning, bathing, and eating. Assisted living staff is available 24/7 to help residents complete their ADLs.
Laundry and Housekeeping: ALFs typically provide essential housekeeping services, including vacuuming, dusting, and changing linens. Staff is also available to help with unexpected messes like spills. Laundry services are standard for assisted living communities, though many apartments do not have in-unit washers and dryers.
Interior and Exterior Maintenance: As a resident of an ALF, seniors will never have to worry about exterior maintenance or landscaping. Maintenance staff is also available to help residents with interior maintenance or repairs, such as fixing a leaky faucet.
Transportation: Most communities provide transportation for outings like grocery shopping and other group trips. They also provide residents with scheduled chauffeur services for personal needs like appointments or errands, though private transportation sometimes costs an extra fee.
Social Activities and Events: Assisted living communities offer group activities to make it easy for residents to socialize. Most offer organized events like exercise classes, visiting lecturers, and book clubs. They also usually have common rooms or community amenities for casual socializing. Residents may also participate in scheduled group outings. As part of their licensing standards, some states require ALFs to provide a minimum number of hours of social activities per week.
Health Care: ALFs do not provide the same level of medical care as nursing homes. However, they offer some health services to residents, such as emergency first-aid and medication management. Some communities schedule on-site visits from doctors or nurses, assist residents in setting up appointments, or arrange transportation so they can see physicians off-site.
Safety: Assisted living staff are present 24/7 to be ready in an emergency. On-site staff may not always be medically trained, but they are trained to get residents the care they need. Many communities also utilize medical alert systems that enable residents to signal that they need assistance.
What Are The Signs That It's Time for Assisted Living?
Assisted living offers a wide range of services that can benefit seniors with independent living challenges. Yet, it can be difficult to determine if your loved one is a good fit for assisted living, just as it can be challenging to know whether they would benefit from nursing home care or physical rehab instead. Consider these signs that it's time to move to an ALF as a way to gauge whether you or your loved one would benefit from these facilities:
Personal Care Challenges: One of the main reasons seniors choose to relocate to assisted living is difficulty with personal care tasks. If your loved one is starting to struggle to complete ADLs like dressing, grooming, and bathing, assisted living is likely a good fit. ALF staff assist with these personal care tasks as needed, so residents can live independently while still having access to assistance.
A Decline in Cleanliness: As seniors' mobility declines, keeping up with housework becomes increasingly difficult. If a loved one's home or clothing has become dirty, this may be a sign that they're struggling to keep up with housework. ALFs relieve seniors of these responsibilities while allowing them to retain their independence.
Loneliness: Living at home can leave seniors feeling isolated and lonely, especially if they no longer drive. Prolonged periods of loneliness have been linked to health problems like depression, obesity, and Alzheimer's disease. The community environment of an ALF can offer a positive change for many seniors.
Safety Worries: Falls, injuries, or other accidents in the home are a common problem for seniors, especially for those who live alone. Assisted living staff are on-site 24/7 to offer emergency assistance, so you never have to worry about your loved one being without help.
Difficulty Driving: Many seniors eventually give up driving, leaving them isolated at home. ALFs typically provide transportation for residents to their appointments, social events, and general errands.
Frequent Forgetfulness: While some mental decline is a normal part of aging, forgetfulness affects some people more than others. Forgetting to attend appointments, lock doors, or take medications can have severe consequences. ALFs provide a safe environment for seniors, including reminders, transportation, and general assistance with daily activities. If memory loss becomes more severe, some communities have dedicated memory care units.
How Much Does Assisted Living Cost?
In the United States, assisted living costs an average of $4,774 per month. However, this national average reflects a high variation in cost between different states. For example, in New Hampshire, the average cost of assisted living is $6,442 per month, one of the highest costs for assisted living in the country. Yet, in Alabama, assisted living costs an average of $3,716 per month.
In addition to location, other factors can affect how much a community costs. Assisted living communities with more amenities or those that have been recently renovated are likely to cost more than communities that offer more basic services. If amenities like a state-of-the-art fitness center or finely appointed apartment are important to you, be prepared to spend more.
Cost structures also vary between different communities. Most ALFs charge an all-inclusive monthly rate that includes private or shared accommodations, meals, personal care assistance, access to community amenities and activities, and housekeeping services. However, some may simply charge a "rent" fee for the apartment and then charge separately for extras like laundry, meals, transportation, and even personal care assistance. Make sure you understand what is and is not included in a community's listed price before signing a contract to move in.
How Can I Pay for Assisted Living?
Many seniors utilize one or more forms of financial assistance to pay for assisted living. Importantly, Medicare does not cover ALFs, something many seniors and their loved ones are surprised to learn when they first start looking into assisted living. Still, there are other options available. Below, we break down some of the most common sources of financial aid available to seniors today.
Medicaid and Medicaid Waiver Programs
Medicaid provides some financial assistance for seniors who qualify to help them afford assisted living accommodations. Unlike Medicare, which is federally regulated, Medicaid is a joint program between federal and state government programs. Thus, each state can set its own Medicaid guidelines, where coverage of assisted living costs can vary. Currently, 47 states and Washington D.C. offer some form of assisted living coverage, usually in the form of waivers.
Medicaid waivers allow states to add benefits and coverage to their programs that may fall outside of federal guidelines, such as coverage for long-term care. The Home and Community-Based Services (HCBS) waiver program, for instance, expands care coverage to give seniors more autonomy over the type of care they use. The availability and coverage of HCBS waivers vary by state, so check your state's Medicaid coverage and eligibility guidelines.
Veterans Benefits
The Department of Veterans Affairs offers several financial assistance programs for aging veterans, including the Aid and Attendance Benefit. Aid and Attendance (A&A) is a monthly payment that eligible veterans receive in addition to their standard monthly VA pension to help finance long-term care services, including assisted living.
To be eligible for A&A, veterans must first be eligible for a VA pension. Veterans must also meet certain eligibility criteria, such as needing assistance with ADLs. Thus, A&A is often used by veterans who need assisted living. To receive the benefit, veterans must also undergo an examination by a physician and complete the accompanying VA form.
Life Insurance Settlements 
While not their primary purpose, life insurance policies can sometimes help seniors pay for long-term care like assisted living. Sometimes, a third-party company will buy the policy for a lump payment of 50-75% of the policy's initial value. In others, insurance companies allow policyholders to access their benefits early as an "accelerated death benefit." As with the previous option, accelerated death benefits are usually less than the full value of the policy's initial death benefit. However, having liquid cash to use during one's lifetime can be worth it if assisted living has become a necessary expense.
Regardless of what avenue you choose to achieve a life insurance settlement, forfeiting your life insurance policy's death benefit is a significant decision. Be sure to weigh the pros and cons of accessing your benefit now and consult reliable resources before deciding.
Reverse Mortgages
In some cases, seniors can use a reverse mortgage loan to help cover assisted living costs. Reverse mortgages allow homeowners to convert some of their home's equity into cash by taking out a loan against the value of their home. The payment is typically tax-free and enables seniors to move to a residential care community like an ALF without feeling like they need to rush to sell their home prematurely to have the money for their care.
Reverse mortgages have their limitations and are not the right choice for everyone. Notably, they can "use up" a home's equity, leaving fewer assets for the homeowner's spouse or heirs. Additionally, scam companies or untrustworthy loaners can take advantage of desperate homeowners. When possible, use the federally-insured Home Equity Conversion Mortgage (HECM) loan. In addition to being backed by the federal government, HECM loans typically result in larger advances at a lower total cost than loans from private companies.
Long-Term Care Insurance
Long-term care (LTC) insurance is a type of private insurance policy that covers senior care, including personal and custodial care services. This type of insurance is more likely to cover assisted living than Medicaid or private health insurance plans. However, these policies are usually not available to be purchased by seniors – they have to be bought earlier in life, often before retirement or at least prior to needing assistance with daily living activities.
Additionally, different LTC insurance policies offer dramatically different coverage. Make sure to check the policy's fine print to determine if assisted living is covered and the maximum amounts that the policy will pay per day or year for those services.
Who Oversees Assisted Living Communities?
Assisted living communities are regulated at the state level. Each state's Department of Health and Human Services, Department of Social Services, or similar organization creates and enforces assisted living laws and regulations.
States have their own long-term care models, so the exact services provided by their programs may differ. While the specific criteria vary, these categories are the main metrics for how these organizations monitor the assisted living facilities under their jurisdiction:
Scope of Care: How much care are ALFs legally allowed to provide? Can they only provide personal care services, or can they offer some medical services?
Admissions Requirements: Under what circumstances may a person be admitted to an ALF? What conditions, behaviors, or needs disqualify someone from residing in an ALF (for instance, high-level medical needs or aggressive behaviors)?
Staff-to-Resident Ratios: How many staff members must a community have on-site at all times to adequately meet the needs of their residents?
Staff Training: How much training must staff undergo before beginning employment? Are there any continuing education requirements? Do the requirements change based on the specific staff position?
Care Plans and Monitoring: What evaluations must be completed prior to resident move-in? Do they have monitoring requirements or need an updated care plan as their situation changes?
Memory Care: Are ALFs permitted to care for people with dementia or Alzheimer's disease? What specialized training must staff undergo to provide memory care? Are there any building requirements for dedicated memory care units?
How Do I Choose An Assisted Living Community?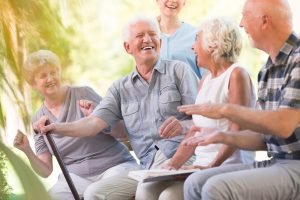 Selecting an assisted living community for yourself or a loved one is a significant task. Determining the right community for your needs will depend on your budget, care requirements, interests, health status, and personal preferences. Since there are so many different elements to consider, we recommend thinking about the following categories to save time by focusing your search on the communities that truly meet your needs.
Budget: How much can you comfortably spend per month on an ALF? How does this compare to the average cost in your area? Knowing the average costs in your city compared to your budget can help you manage expectations or modify your plan to find care that better fits your budget.
Care and Health Needs: Does your loved one need assistance beyond the basic ADLs? For example, is a chauffeur service necessary, or is an on-site nurse needed to help with medication administration? Besides offering assistance with ADLs, services available at facilities can vary, so be sure you know what services you need to be available on-site.
Interests and Sociability: Do you plan to pursue your hobbies and interests while living at an ALF? If so, are any on-site amenities required for you to achieve this, such as an on-site swimming pool, art class, or movie screen? Do you plan to socialize with other residents? Your answers to these questions should help you look for communities with certain on-site amenities, group activities, or transportation options.
Tastes and Preferences: What is most important to you when it comes to an ALF? Do you care most about having spacious apartments, a spotlessly clean facility, or high-end features? Clarifying what matters most to you can help you narrow your search to only the communities that meet your personal standards.
What Are the Top Factors to Consider When Choosing an ALF?
What is the cost of the ALF?
Since all types of senior care are expensive, consider a community's monthly cost before visiting a facility you can't afford. Keep in mind that the pricing structure varies between communities, in addition to the monthly cost. While one facility may charge an all-inclusive monthly fee, others may charge for services as needed. Clarify what's included (and not) in a facility's monthly cost as part of your research.
To learn about the average cost of assisted living in your area, check the Genworth Financial Cost of Care Survey using your ZIP code.
What services does the ALF offer?
Though all ALFs provide personal care services, not all facilities have on-site nurses trained to provide medical care. Some offer basic first aid but otherwise focus on ADLs. Research the services available at each of the communities you consider, especially if certain therapy services are your priority. Consider the healthcare services you or your loved one may also need in the future.
Where is the ALF located?
The facility's location can have a significant impact on the resident's quality of life since being near loved ones and friends has been shown to improve a senior's mental and physical health. The relative locations of local parks, social gatherings, doctor's offices, grocery stores, and more should play a part in deciding which community is right for your situation.
If the prospective resident has family members in multiple states, consider researching the average cost of assisted living care in each area to get a sense of the value proposition.
What is the size of the ALF? 
While some ALFs only house a few residents to give them a more hands-on care experience at the expense of socialization, some are larger communities of apartments with a more thriving social scene. However, these larger communities could have more mobility challenges and less personalized care. The challenges each resident faces, and the level of care they need should factor into the size of the communities you research.
What kind of community culture does the ALF have?
Since ALFs become the resident's new home, the community "vibe" of the facility should factor into your decision. When you tour the place, consider whether the staff seems attentive and positive. Note whether the facilities like gyms or pools are being used. Observe any community activities you can to get a sense of how happy people are to be living there. If you can't schedule a tour, read online reviews and focus on the resident's experience in the community.
While these factors can help narrow your search, your present and future needs determine the community that is the right fit for your situation. Visit the listings below by selecting your city and state to learn more about assisted living options in your area.
Frequently Asked Questions
What Is the Difference Between a Nursing Home and an Assisted Living Facility?
The biggest difference between a nursing home and an assisted living facility is that nursing homes provide skilled medical care, while assisted living facilities do not. Rather, assisted living facilities provide personal care services such as housekeeping, assistance with daily living activities, and transportation. Thus, nursing homes are better suited to care for those in need of regular medical care and therapy services.
How Much Does Assisted Living Cost?
Assisted living costs an average of $4,774 monthly in the United States. It is more expensive than independent living and less expensive than skilled nursing care. Assisted living costs vary by location and depend on the community's amenities and other features.
When Is It Time for Assisted Living?
Every situation is different. However, assisted living becomes a real possibility when someone can no longer independently complete their daily living activities. In addition to needing assistance with ADLs, other signs that it is time for assisted living include accidents or injuries occurring in the home, mobility challenges, and a decline in cleanliness.
What Services Are Usually Included in Assisted Living?
Personal care assistance, prepared meals, and housekeeping/maintenance services are usually included in assisted living. Transportation is also frequently included in an assisted living community's monthly cost. High-level medical care and therapy services are usually not available in assisted living communities.
How Do You Choose an Assisted Living Facility?
To choose an assisted living facility, consider factors such as your budget, how much care you need, your preferences for facility features and amenities, and the community culture you're looking for. Research facilities in your area using Google searches and care site databases to understand your options and try to visit your top choices in person or in a virtual tour.
Learn More About Assisted Living in Your Area